The Recipe Is in the Name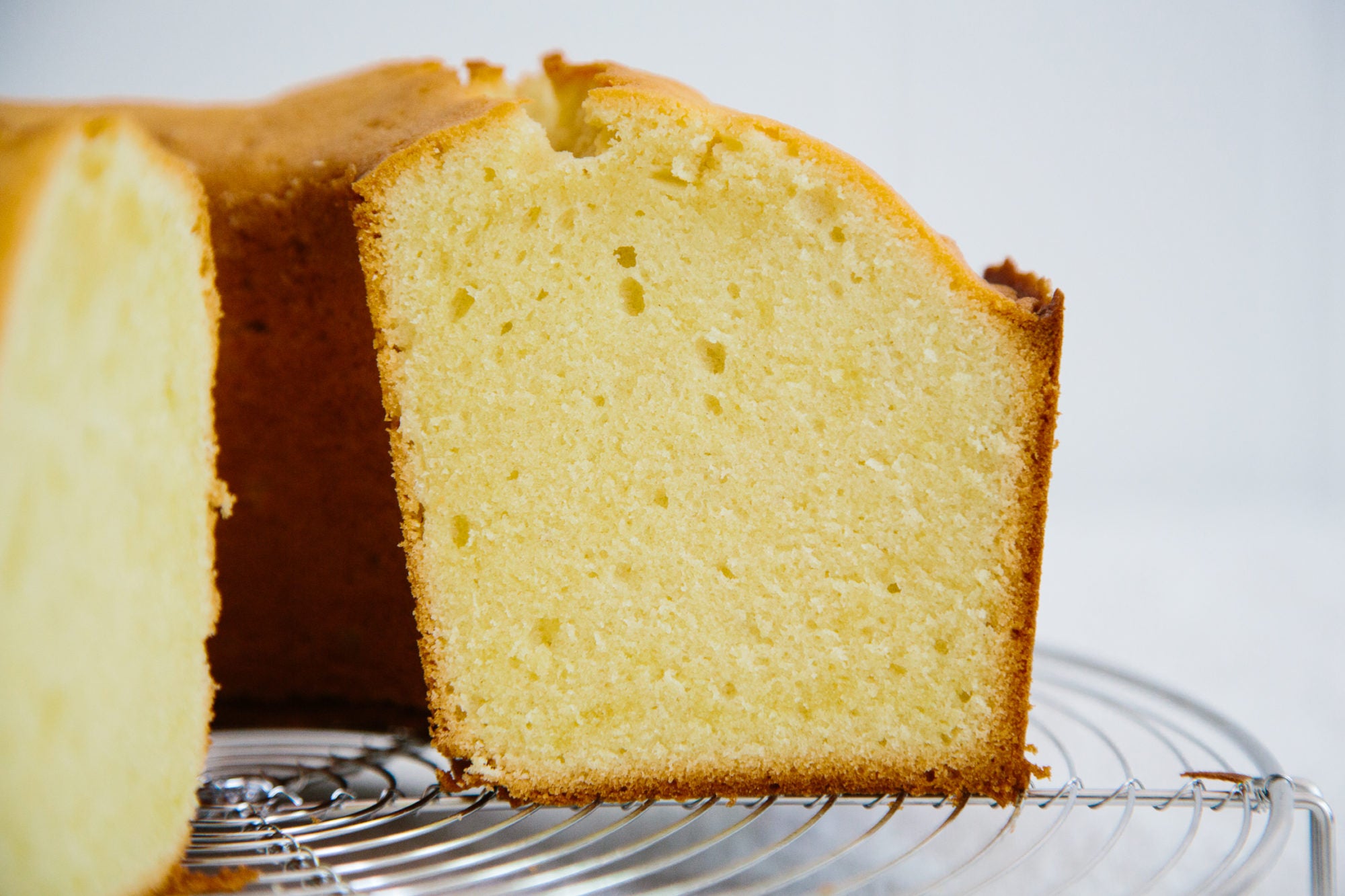 The beauty of a pound cake is in its shelf life and its reliable, easy-to-remember ratios.
The pound cake is a cake that's been through a lot. Wars, death, the invention of the hand mixer. It's graced the tables of queens and been pulled out of modest larders to present to guests. The recipe is so simple that if you were suddenly air-dropped onto another continent or into another era with a totally different unit of measurement, chances are you could probably scare up a pound cake.
Back when pound cakes were first being made, in the early 18th century, home baking was an all-day, once-a-week affair. There were no standardized measuring cups, no hand mixers, and ovens had to be kept hot with labor and fire-building. Baking was time-consuming and required keeping an oven hot, and a lot of bakers preserved their sanity by getting all of the breads and cakes done for the week in one go. Since baking happened on a weekly schedule, it was key for cakes to keep well at room temperature—which more often than not meant they needed a lot of butter fat.
The pound cake became the all-purpose household cake for entertaining. Thin slivers could be nibbled on throughout the week or slices served to unexpected guests. To make the cake last a few weeks, it could even be wrapped in brandy-moistened cheesecloth and stored in a cool, dark cabinet.
Since these were the days before standard measurements, manufactured kitchen tools, and greater literacy rates, a recipe so simple lent itself to naming the cake, thereby making it easy for any baker to remember. The "pound" part of pound cake refers to its ingredients: a balanced combination of one pound each of butter, sugar, flour, and eggs. The traditional blueprint of a pound cake contained just those four things, with flavorings, spices, or additions such as liquor or dried fruits giving the baker some creative flexibility. Vanilla as a flavor did not become widely used until later in the 19th century, so bakers often added in a shot or two of wine or brandy, rose or orange flower water, almond extract, citrus zests and juices when available, or popular spices of the time, such as caraway, nutmeg, mace, and cinnamon.
Innovations and curiosity led to adaptations of the traditional formula, with the addition of chemical leaveners such as baking powder and liquids like milk or cream. Purists insist that once these alterations are made, you lose the dense texture and fine crumb of a "true" pound cake, giving you a plain old butter cake. Stick to this original formula for a sturdy, buttery cake that will last throughout the week, and revive it with a few minutes in the toaster and a bit of jam if it starts to go stale.