The Queer Food Chroniclers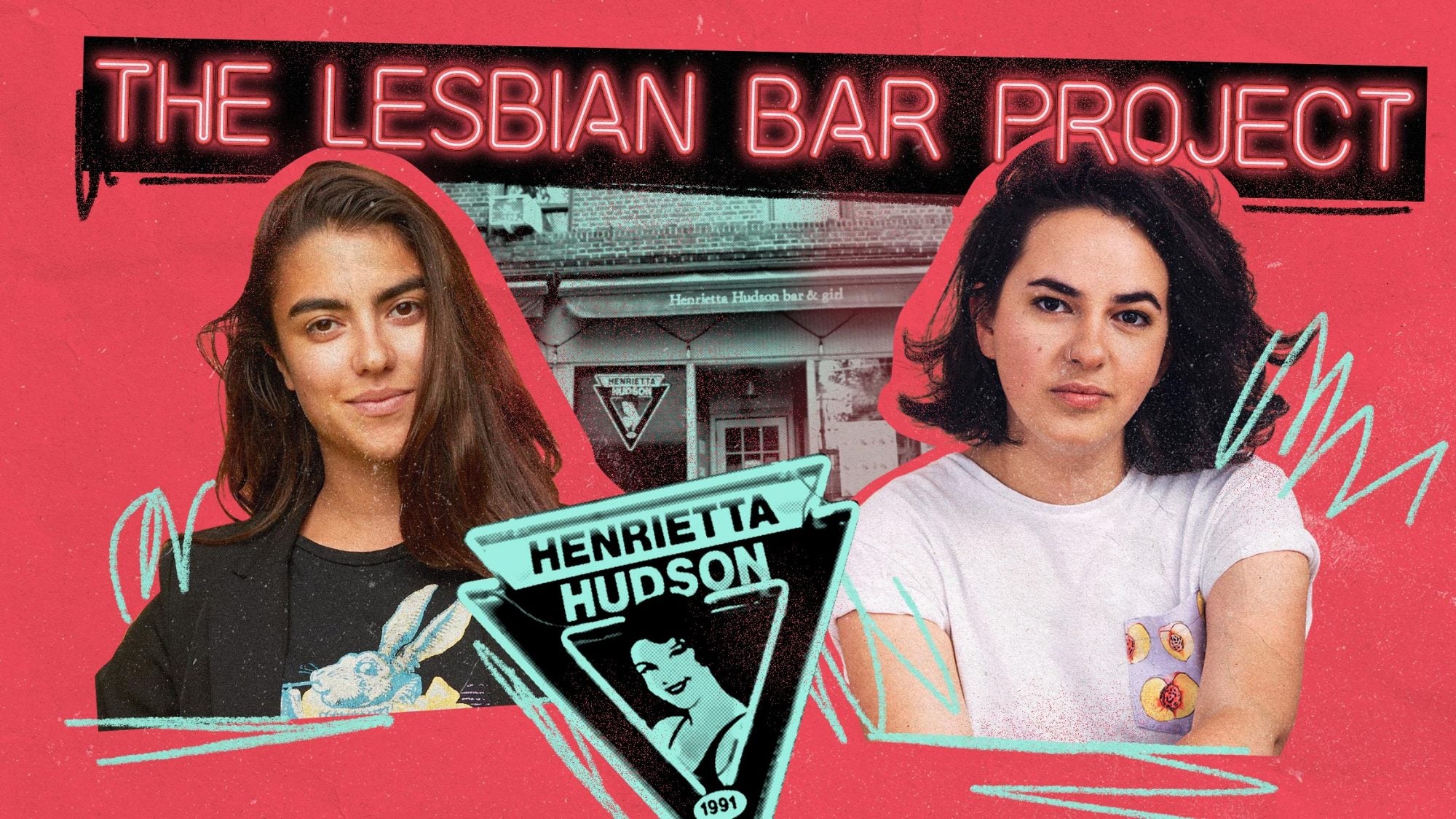 Filmmakers Elina Street and Erica Rose are on a mission to document the LGBTQIA+ people and spaces shaping America's food and drink culture.
When COVID-19 temporarily shut down their industry in March 2020, filmmakers and friends Elina Street and Erica Rose got to talking. Their last in-person drink had been at Ginger's, a neighborhood bar in Park Slope that happens to be one of less than 20 remaining lesbian bars left in the United States. They started to wonder what might happen to these last few bars hanging on during a time when the nightlife industry was under unprecedented duress.
Within just a few months, Rose and Street had partnered with Jägermeister's #SavetheNight campaign to create the Lesbian Bar Project, launched with a 90-second short film that raised over $117,000 to support lesbian bars across the country. They're now working on a second, longer documentary that will be released in June.
In the meantime, the pair has just released the first installation of a new series (presented by EFFEN Vodka) that explores the idea of queer food. Kia Feeds the People, the first five-minute documentary, introduces the cooking and ethos of Kia Damon, a Brooklyn-based chef who's in the process of launching a local community organization to fight food apartheid.
I spoke with the filmmakers about what drew them to these two topics, and why COVID made this work all the more urgent.
You released the Lesbian Bar Project in October. Was that your first collaboration as filmmakers?
Erica: Yes, that was our first collaboration. We had been friends before. It felt really right to partner for that project because we were both out of work, and we were both reminiscing about the last time we were able to be in a space together (that was at Ginger's Bar in Brooklyn). And I think lesbian bars have been central pillars in our own personal development.
The PSA version of the Lesbian Bar Project was released back in October. We raised over $117,000 for the bars. And we're gearing up for a new iteration of the Lesbian Bar Project this year, which is an eight-to-twelve-minute documentary through the lens of the bar owners, community activists, and patrons. The idea is that we're looking at the central question of "Hey, there are less than 20 lesbian bars left in the country. Do we still need them?" We're looking at the mitigating factors that have led to the disappearance, and, ultimately, we're celebrating them. And it's a call to action, because these bars have done so much for the community, and now we have to show up and support them.
You've mentioned that, at some point in the '80s, there were reportedly about 200 lesbian bars across the United States, and now that number has dwindled into the double digits. Why is that?
Erica: There are a lot of factors. Gentrification is part of it. There are a lot of "gayborhoods," but lesbians never really had centralized neighborhoods. You can argue that Park Slope was one, but it never really had the kind of permanence that Hell's Kitchen has or that Boystown in Chicago has, or WeHo in LA.
There's assimilation. I think, before gay marriage, it was central to be able to gather in these spaces where people were not only able to meet partners but they could also feel safe. And now that, ostensibly, gay people have a bit more power and visibility and tolerance in this country, I could go down the street with my girlfriend at a heteronormative bar and feel relatively safe. So I think there's this cultural shift [toward the idea] that we might not need our own gathering spaces.
Then there's the wage gap—two men have a higher income together than two women. There's also discrimination against women-owned businesses. It's harder to get a business loan, and it's harder to get a liquor license.
And then there's the move to online. Online dating was such a factor in this. A lot of how we've met people has shifted.
What was the process like, of finding those 15 featured bars that still exist?
Elina: It's actually really hard, because a lot of those bars don't necessarily advertise as lesbian bars. Because there are so few, they're hard to find. When we started last March, there were a lot of articles published about the fact that there were only 15 bars remaining in the United States.
When we launched the campaign, we got a bunch of emails from places that call themselves lesbian bars. So we did some research, and when we reopen the pool fund, we're going to add some new bars that we found out about through the campaign.
Another interesting thing about the PSA is that it was put together during COVID, so a lot of the visuals are these great archival photos. Did that archival research lead down any interesting rabbit holes that you want to follow up on with the new installation?
Erica: The piece opens with a clip from Mona's 440 Club, which is argued to be the first lesbian bar in the country [in San Francisco]. It galvanized us to find archival material like that—never-before-seen, intimate [material] in these spaces. Because there's little documentation about what these bars were like in the '30s, '40s, '50s, '60s, '70s.
Elina: It's a really interesting trajectory, because the PSA was sort of nostalgic—reminiscing about the past. And now that we're able to film in person, there will be more of the present-day in this new iteration.
In terms of filming, Kia Feeds the People was a big accomplishment to pull off during COVID—what was that like?
Erica: Production in general right now is hard. You have the factors of social distancing, COVID testing, making sure that everyone feels comfortable and safe to the extent that you can. It's definitely hard to navigate, but we had assembled an incredible team, and everyone was pretty well versed in shooting during COVID.
Elina: They were really excited for Kia's organization, too. That was a plus. Because our industry closed last year for a few months, and that was difficult, and now we're hungry for work, but we have to stay very cautious. So when there are projects that are for a good cause, it brings everyone together, and it reminds us of the love we have for our art, which we sometimes take for granted after working in the industry for so long. But there was something really human and pure about this one.
So many documentaries where you see chefs cooking take place in studios or in restaurant kitchens, so it was kind of unique to see Kia cooking in an apartment, in a home setting (and then later at a neighborhood pop-up). Was that important to the story you were telling? 
Erica: It was really important, because what we were doing was exploring the theme of queer food, and a lot of that is integral to a chef's personal identity. We wanted to show the intimate side of her life that people don't get to see. She's so public-facing, and she's so mission-driven, and we wanted to balance that with the quiet parts of her life. And that's making breakfast for herself and her partner in the morning, having breakfast together, dancing in the living room—them being silly and carefree. And Kia's queer identity is infused in her cooking, because she's all about cooking for her chosen family and giving access to people who don't necessarily have access to delicious and nutritious food.
Elina: When we talked about filming her in a bigger kitchen that wasn't her home, she offered to do the pop-up, so that's why we were able to open it up to the community and to the public. When Erica and I did some background research on where queer food really comes from, a lot of it was outdoor potlucks. It all ties in together with the chosen family theme, but also with what Kia's doing with her organization.
Erica: It was really interesting looking at the history of potlucks and how queer women, especially, gathered. Yes, there were lesbian bars, which we've been covering in our other project. But a lot of times, there were socioeconomic divisions, and a lot of women couldn't afford to go out, or they had children and didn't have the time to. How they gathered was through food, and through community, and being in each other's houses. And it was also a way to be somewhat under the radar.
We're getting to a place now where there are all these pop-ups of queer food (Ursula in Crown Heights just did a series of queer pop-ups). It's kind of taking that intimacy and that care that so many people had when they weren't able to be visible and out, and bringing that into the restaurant scene today.
In addition to being the name of the documentary, "Kia Feeds the People" is also the name of the organization that Kia's working toward opening to fight food apartheid in Brooklyn. How did you get involved with the project and with Kia?
Erica: I had read about Kia in a lot of places. Them did a really amazing story on her. She had won Chopped. She was all over the scene. When we were thinking about what queer food was, and potential subjects to capture, she was an obvious choice. She was somewhat of a savant, being a head chef at 24 and making her name, and she didn't come from these revered culinary institutions. She really built up her name from her dedication and skill set. We reached out to her, and we had this beautiful initial conversation with her, where we just talked about identity and food and her backstory.
We hope to kind of have this as a series. In the way that Chef's Table looks at different chefs, we want to look at different parts of the queer food movement, through different characters.
Do you have a sense of what more you want to do with the series?
Erica: We want to look at not just chefs but people who are reimagining food in a way that is uniquely queer, and uniquely able to give access and perspective, to tell a story through food. Hopefully there will be more this year.
BOOKS TO BUY, READ, AND COOK FROM:
Last week, we talked to Sheldon Simeon about furikake ranch, rainbow sprinkle mochi, and his new book, Cook Real Hawai'i.
In her second book, The Arabesque Table, Reem Kassis weaves together historical techniques and dishes with her own modern sensibility.
Finding Freedom is the memoir behind the The Lost Kitchen, the Maine restaurant with some of the most coveted dining reservations in the world.
Nadiya Hussain (of Great British Baking Show fame) is back with Nadiya Bakes, which is available for preorder now.
Summer's on its way, and it's time to get your tiki bar set up with Chloe Frechette's Easy Tiki.