The New Rules of Nonstick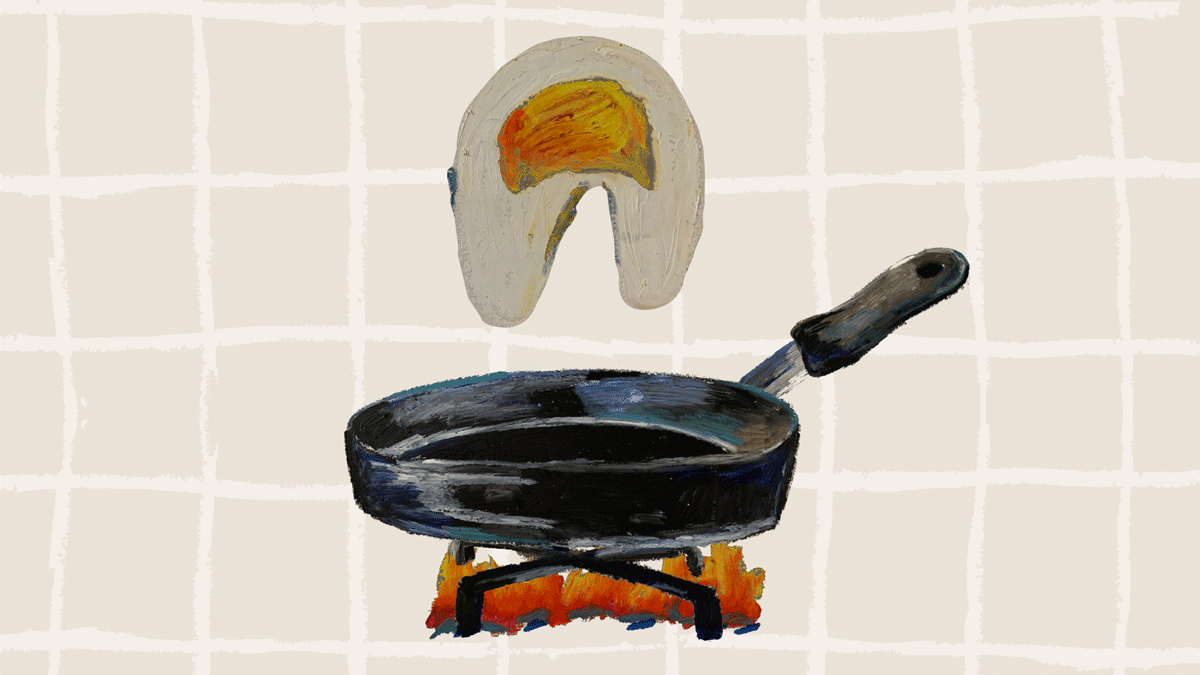 Almost a century after the technology first hit the market, these pans are finally starting to live up to their promises.
About three and a half years ago, on a quest to fill a new apartment's kitchen with dependable, competent, maybe even stylish, cookware, I took to Twitter to ask an optimistic, certainly naïve, and—now, yes, I see it—foolish question: What's a good nonstick pan that looks nice and can go in the dishwasher and will last forever?
Like so many home cooks (and cooking gear heads) of our era, I wanted to buy my way to a frictionless life (and frictionless omelets), and I believed that for every type of product money can buy—white cotton T-shirts, toilet brushes, dumbbells—there is a best, most beautiful, most durable version to buy. I figured that every nonstick pan that had previously failed me because the thin aluminum body had warped, or because the plastic handle loosened, or because the nonstick surface had begun to deteriorate and flake off, had only failed me because I hadn't spent my money wisely. What I didn't realize was that some of these past disappointments were simply because nonstick coatings as a category, which have existed for generations at this point, are still very much a work in progress.
Although the basic formula for Teflon and similar polytetrafluoroethylene (PTFE)-based coatings was invented in the 1930s, there has since been almost a century of finessing and redesigning. Well-established midcentury brands who debuted nonstick cookware in the '50s and '60s are still pouring money and resources into research and development. And as a whole new wave of direct-to-consumer kitchenware brands enters the scene, the arms race is on in the $12 billion (and growing) global cookware market to create the most stylish, functional, durable nonstick pans possible.
Fissler, a cookware company based in Idar-Oberstein, Germany, introduced its first nonstick pan in 1956. "In the 1950s, this was just a one-layer coating, so it was really easy to clean, but you still needed oil or fat for frying," says André Koch, the company's head of brand and communication. "It was really revolutionary at that time because it solved a really huge consumer problem—that food sticks in a stainless steel pan."
The ensuing generations of Fissler pans incorporated a multilayer coating, which means that you could feasibly cook without any oil; a water-based coating was adopted in order to reduce the solvents that contributed to CO2 emissions.
Jennifer Dalquist, executive vice president of sales and marketing for Nordic Ware, tells me that one of the challenges in creating a pan that won't shed its coating after the first few uses comes down to how the coating is applied to the pan itself. Manufacturers have to make sure that the water used to wash the pans before they're coated is free of oil and dirt, and has a neutral pH. And just as you might sand a piece of wood before painting it, it's best to roughen up the surface of the aluminum pan before applying the coating.
"It was really revolutionary at that time because it solved a really huge consumer problem—that food sticks in a stainless steel pan."
"If you go back 25, 35 years ago, that was a common complaint about nonstick coatings across all companies, all products—that coatings would blister or fall off or peel off. A lot of that is directly related to how well you clean and prepare the parts before you apply the nonstick coating to it," Dalquist says.
My own first memory of nonstick pans was a set of black Circulon pans that my parents bought from a department store at the local mall. MJ Truong, a product and design innovation specialist at Circulon's parent company, Meyer, explains that the brand was quite revolutionary when it launched in 1987, as the first to introduce nonstick hard-anodized aluminum cookware to the market.
"When you hard-anodize aluminum (imagine an electrified bath with special ingredients in the water), it actually becomes black, as a superhard microlayer forms on the surface of the pan," Truong explains. This makes the surface incredibly hard (twice as hard as stainless steel) and incredibly porous, so it's even easier for a nonstick finish to bond to the pan.
Two decades later, in 2007, another breakthrough hit the scene when two Belgian friends named Jan Helskens and Wim De Veirman decided to create an alternative to the PTFE-based coatings that had reigned supreme since the invention of Teflon in the '30s—an environmentally friendly alternative for the 21st century. The technology they came up with was Thermolon, the first ever ceramic nonstick coating, and the major selling point for their new brand, GreenPan.
The idea was to turn sand, or silica, into a solution-gel that can stick to pans. The result is a glossy surface that's hard to the touch and feels a little like glass. The "green" ceramic coating offered a way to opt out of using synthetic polymers like PTFE, which were coming under increased scrutiny for their potential links to cancer (of particular concern was the use of perfluorooctanoic acid, or PFOA, which has since been eliminated from the manufacturing process).
"It's advanced a lot since then," says Jacob Maurer, the CEO of GreenPan's parent entity, the Cookware Company. "When electric vehicles first came on the market, you could only drive them so far, and you had to recharge them overnight. And now you can do that very easily and very quickly. And it's the same with ceramic nonstick. The first generation of product was great but it had some drawbacks. So we continued to improve upon that."
Fourteen years into tweaking the application and curing processes, GreenPan is now in its seventh generation of coatings, and the world of ceramic nonstick has ballooned, as more and more companies have embraced it for its environmentally friendly claims, its nontoxic promises, or simply for its aesthetics (the transparent coating means that the inside of the pan, in theory, can be any color—not just a grainy black).
When Our Place, an online, direct-to-consumer cookware company, launched in September 2019, its first product was the Always Pan, a nonstick skillet with a variety of attachments that promised to "replace your fry pan, saute pan, steamer, saucepan, non-stick pan, spatula, and spoon rest" in a variety of earthy, soft matte finishes that beg to be photographed. It's been a hit on Instagram, even at a price of $145, which has raised some eyebrows from reviewers.
When Jordan Nathan decided to launch his cookware company, Caraway, in 2019, part of the impetus actually came from a bad experience he had with a traditional Teflon-lined nonstick pan. He had turned the heat on under a nonstick pan to begin cooking a meal, but got distracted by a phone call and wandered away for 45 minutes, ultimately filling his apartment with fumes that made him feel sick. He decided that the pans Caraway sold would be ceramic nonstick, even though they're more difficult to manufacture and, as he admits, involve "a little more maintenance than something like Teflon."
But when it comes down to it, for a category of products designed for convenience, pretty much all nonstick pans are a bit high-maintenance. Even as companies layer diamonds, steel, and silicon carbide into their pans, promising to make nonstick pans dishwasher-safe, scratch-resistant, and long-lasting, every pan comes with its caveats.
While many of the pans of today technically can go in the dishwasher and advertise this loudly on the packaging, most of the companies I spoke to advise against it if you want your pan to last.
Amanda Hesser, the CEO of Food52, remembers thinking that the Teflon pan her mom bought in the 1980s was magical. "I also remember there were a lot of rules imposed by my mom around which utensils you could or could not use with it, how you had to wash it, how it had to be stored (with a paper towel on its surface so any pan stacked on top of it wouldn't scratch the surface)," says Hesser. "It was The Pan With a Lot of Rules."
While many of the pans of today technically can go in the dishwasher and advertise this loudly on the packaging, most of the companies I spoke to advise against it if you want your pan to last. And it's best to avoid sprayable cooking oils too, as some of them can create a residue that's impossible to get rid of. And while ceramic nonstick pans technically won't make you sick if they get hotter than the 450-degree maximum advised for PTFE nonstick pans, using them over high heat or in extremely hot ovens will begin the process of degrading the coating.
Even pans that can supposedly stand up to metal spatulas will usually do better without them. "If you're using a metal tong to flip a steak, that's fantastic," says Maurer. "But if you have a choice between a metal spatula and a silicone one to flip a pancake, the silicone one is always going to be nicer to the coating."
Hesser points out (and a comprehensive Wirecutter review of nonstick backs her up) that PTFE nonstick pans have a reputation for lasting a few years longer than ceramic nonstick pans, which adds a new wrinkle to the environmentally friendly claims of Team Ceramic. But most companies I spoke with agreed that consumers who use their pans regularly will probably want to replace them every 3 to 5 years either way—a staggeringly short lifespan compared to most stainless steel cookware.
This short life is part of why nonstick pans have never fully taken over in professional kitchens, where carbon steel reigns supreme. For Sohui Kim, a chef and partner at Insa and Gage & Tollner in Brooklyn, it's simple math: "Rather than invest in many nonstick pans, it's better to invest in a really great steel pan and season it for longer use, like a lifetime of use." Kim made the exception at her now-closed restaurant The Good Fork, but only for cooking her dumplings, which had delicate skins and were much harder to detach from steel pans.
The short lifespan is also an argument against replacing every pot and pan in your kitchen with nonstick. You'll miss the brazen stir-frying abilities of a well-seasoned steel wok, and the super-hot searing power of cast iron. But it's also a lot of money to spend every few years, especially if—and god forbid—you fall victim to one of the wedding gift-ish $400 to $600 sets of nonstick cookware designed to monopolize and monochromatize your kitchen. Stick with a dependable $30 to $40 pan, and don't throw out your heirloom steel or cast iron.
Four years after buying my own Calphalon pan, with a hard-anodized aluminum body, a three-layer nonstick coating, and a stainless steel handle, the pan isn't really nonstick anymore. The surface is bumpy and uneven, and parts of the coating are corroded to reveal rusty aluminum underneath. It was a good pan while it lasted, but at the end of the day, the best nonstick pan is a new one.