The Most Indulgent Way to Eat Vegan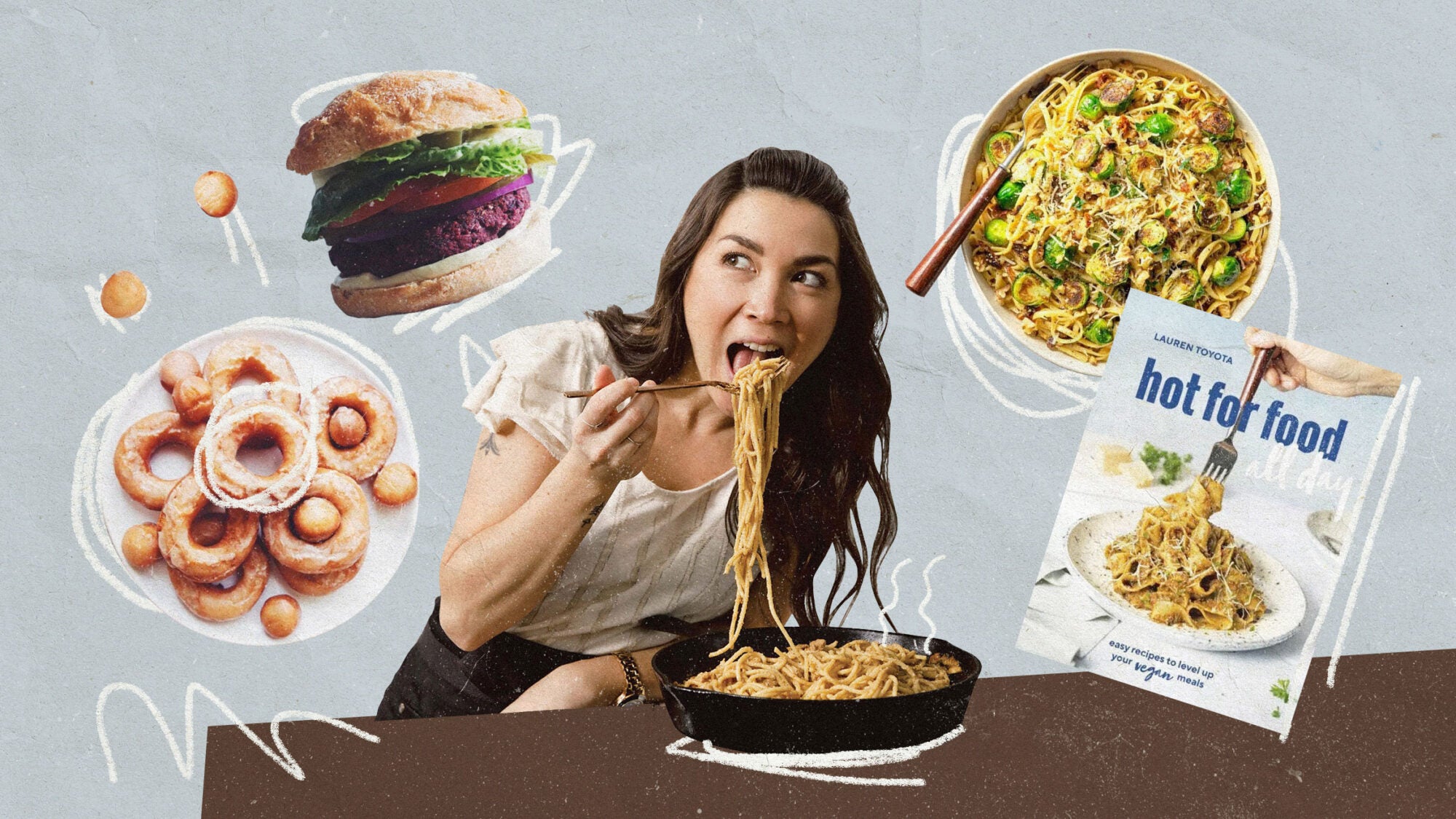 Lauren Toyota preaches a dairy-free approach to nachos, dips, melts, and milkshakes.
Despite what skeptics, carnivores, and '90s cafés might have you believe, there's a lot more to vegan cooking than whole grain sandwiches full of sprouts and tofu. It can be creamy, cheesy, savory, spicy, and wildly complex. And, most important, as YouTuber and former MTV VJ Lauren Toyota has set out to prove, food doesn't need animal products in it to be really comforting.
Her first book, Vegan Comfort Classics, preached this gospel with buttermilk biscuits, Buffalo chicken dip, and Southern fried cauliflower. Her latest book, hot for food all day, brings this style of indulgence into everyday cooking, equipping readers with the pantry ingredients and know-how needed for riffing on recipes and improvising along the way.
There are easygoing breakfast scrambles, nourishing weeknight pastas (including no fewer than six spins on mac and cheese), and a salted caramel tahini milkshake that I would happily pay $12 for at a fancy ice cream shop. I caught up with Toyota to hear more about her latest contribution to the canon of vegan cookbooks.
Your first book, Vegan Comfort Classics, came out in 2018. Have there been any big changes in vegan food culture between then and the publication of your newest book, hot for food all day?
Maybe not so much in the culture, exactly, but the industry has revolutionized and evolved so much. The types of products, variety, and brands that have come out since then is huge. The technology advancements have been big, too. We're seeing a lot of ingenuity from fermenting fungi to replicate dairy proteins to all the developments with plant meat. I love it and am a big supporter of this growth.
Was there anything in particular that you wanted to accomplish with the new book that was really different from your first cookbook?
I definitely wanted to make an outstanding book and not succumb to the sophomore slump! That's something that was referenced a lot when I worked in the music/entertainment industry and something the publisher even warned me about when going into this. It might be true that second books don't sell as well; however, I'm really proud of the book. I feel that, creatively, it really speaks to how hot for food has grown, how I've grown, and how my tastes have expanded. I wanted to bring a lightness and a freshness to not only the recipes but the overall look of the photography, and I believe I did that.
You write in your introduction that you want these two cookbooks to act as sort of vegan bibles. I have to ask, before you started writing your own books, did you have vegan bibles? What were/are some of your favorite cookbooks to cook from?
I really didn't. I haven't really used many cookbooks in general. As I started looking for inspiration for the first book, I did start looking at more cookbooks to see what was out there—how they were organized and things like that. But as someone who built a business out of creating and developing recipes, it was never in my best interest to pay too close attention to what everyone else is doing. One of the first vegan cookbooks I did get on my journey was Alicia Silverstone's The Kind Diet—I always appreciated her casual approach to veganism and her inclusion of macrobiotic recipes in that book.
Did you have any big epiphanies with hot for food all day—recipes that you tried for the first time that just totally blew your mind?
I think those moments came when I was thinking of the ways to level up leftovers. That was the most fun for me, because it's how I naturally cook for myself. I felt a lot of freedom and creativity when thinking of those recipes. There were more ideas for those things, and I had to scale back, just due to page limitations and the number of recipes I needed to stick to.
What's an ingredient or flavor that's really inspired your home cooking lately?
I've come back to using as much miso as possible! I've always used it and loved it, but I'm trying to think bigger with it now.
One of my favorite things about the recipes in both of your books is that you prove vegans can eat all of the same cheesy, melty foods that non-vegans can. There's mac and cheese. There are grilled cheeses. There are nachos. If you were trying to convert a skeptic to the world of vegan cheeses, is there a particular recipe of yours that you would point them to? And what about specific products to start experimenting with?
Definitely! My nacho cheese is the ultimate recipe for this. I think I've already converted so many cheese lovers with it, but I know there are still plenty of people out there who haven't made it. You must! It's exactly like the pump cheese you'd get at the movie theater. But it's not processed, and it's made with vegetables and seasonings. It's also soy free and nut free, which is a bonus. As far as products go, there are really soooo many. I love a lot of them—Daiya cutting board collection shreds; Daiya havarti block; Violife Parmesan, feta, mature cheddar block, and slices; Follow Your Heart medium cheddar and smoked gouda slices; Treeline fermented cashew cheese spreads; Miyoko's roadhouse cheddah cultured cheese spread and fish-free lox cultured cream cheese. Try them all!
This interview has been edited and condensed for clarity.
THREE EXCITING RECIPES FROM HOT FOR FOOD ALL DAY:
Easy Brussels Sprouts Pasta
Linguine and crispy brussels sprouts are punched up with sun-dried tomatoes, lemon juice, and plenty of garlic.
Ragu Bolognese
Proof that you can make a rich and textured ragu, no meat required.
Classic Onion Dip
A combo of onion powder, dehydrated onion, and vegetable bouillon bring a triple whammy of umami.
MORE BOOKS TO BUY, READ, AND COOK FROM:
Another classic that belongs in every vegan's cookbook library is Afro-Vegan, Bryant Terry's best-selling ode to the plant-based dishes of the African diaspora.
Last week, we talked Minnesota and meringue with Zoë François, author of Zoë Bakes Cakes.
Tables of Contents brings together writing and recipes from Alexander Chee, Carmen Maria Machado, Idra Novey, Tommy Pico, Emma Straub, and Angela Flournoy into a cookbook that supports the ongoing food relief work of Food Issues Group.
Longtime blogger and author Heidi Swanson, of 101 Cookbooks fame, has a new cookbook: Super Natural Simple.
A few months ago, we spoke to Hetty McKinnon, the editor behind the biannual food journal Peddler. Her new book, To Asia, With Love, comes out April 6.