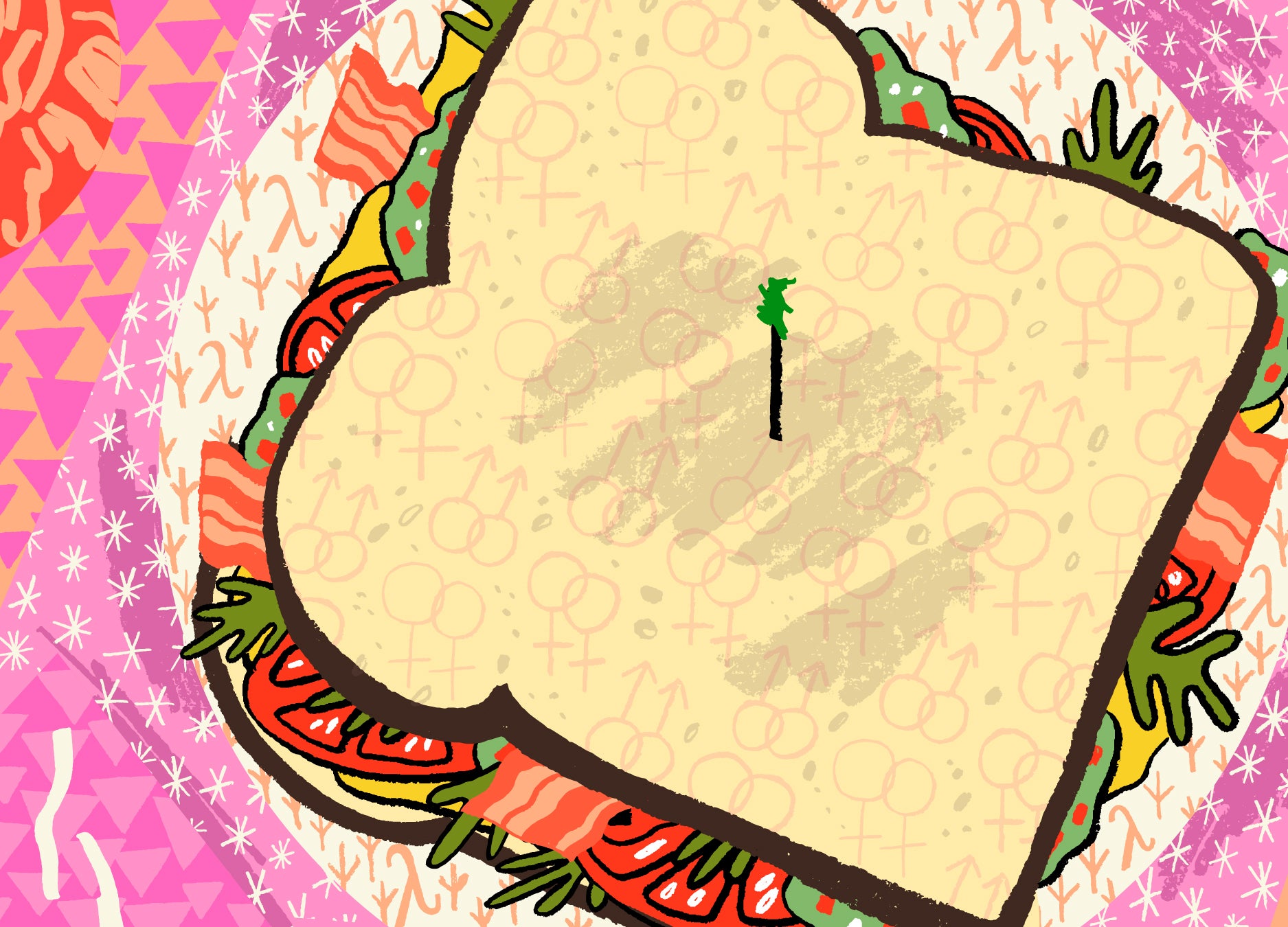 A more inclusive spin on the classic BLT. Just add guacamole and cashew queso.

As a gay man–ish person, I operate from the point of view that everything is inherently queer unless stated otherwise. Food is no exception. (See: John Birdsall's "America, Your Food Is So Gay.") From phallic vegetables to yonic fruit, camp cuisines to gay diets, what we eat has a natural lean toward sexuality. Okay, okay: No fruit or vegetable has come out of the closet. No dish has posted a lengthy Instagram confession about its identity. No cuisine has been outed by Gawker. But food is universal and, as universality goes, so is queerness. This inevitably leads me to the LGBTQ Sandwich.
On the surface, the LGBTQ Sandwich is an Internet joke that confuses a BLT with an "LGBT." The concept is a riff on the brilliant 2016 "bone apple tea" meme, a joke at the expense of food culture via botched culinary lingo. Rational Internet fables suggest the LGBT sandwich to be a BLT with guacamole, an evolution of the simple bacon, lettuce, and tomato sandwich to feature a smear of guac. But friends, it can be so much more. The idea for a better LGBTQ sandwich struck my boyfriend and I last year while brainstorming the publicity for a gay mini-magazine we launched. The overlap between "BLT" and "LGBTQ" was too obvious to not play with: We'd host BLT-riffing LGBTQ Sandwich dinners celebrating queer food. We never got around to hosting said dinners, but the LGBTQ Sandwich lived on, made in private after ruminating on the dish for months.
So what is an LGBTQ Sandwich? Is it indeed a take on the all-American BLT? Like the queer community, the answer is steps left of center. The L represents lettuce, but here, it's arugula. The G actually starts with G: guacamole (its etymological root is literally testicular, by the way). The B and T are bacon and tomato, naturally. The Q is included as (vegan) queso, an inclusive sauce to be spread and interpreted however it wishes. Honor Philadelphia's decision to add brown and black stripes to the flag and serve all this between slices of multigrain bread. 
This sandwich is easy to make and made to share. The extra guacamole and queso can be used as dips. In fact, you can fashion the sandwich however you like. Don't eat meat? Mushroom is just as bi. Don't like arugula? Stay loyal to the L. You do you, but no matter what, eat it with pride.