The Korean Art of Refreshing With Hot Soup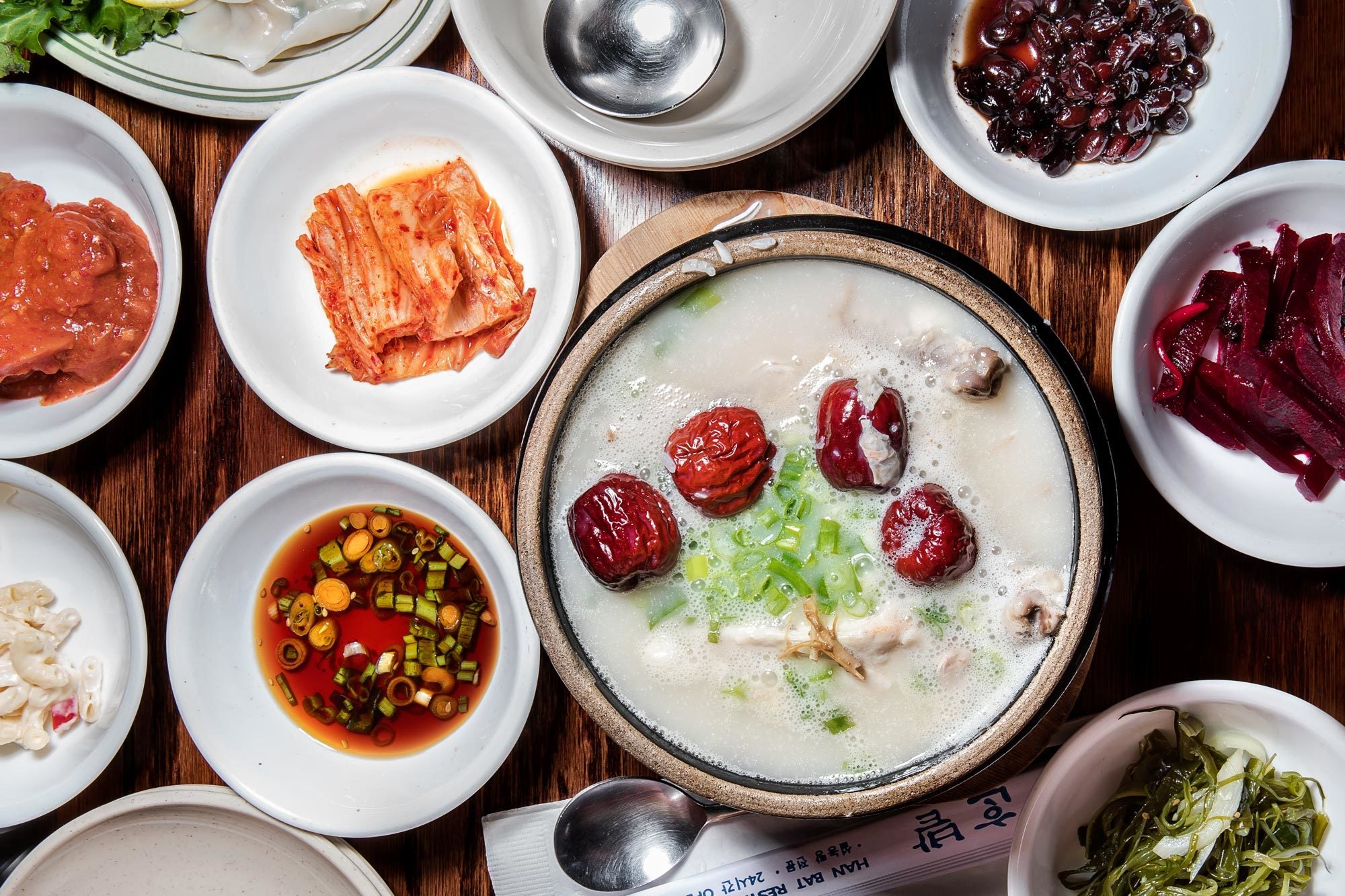 To say "Ahh, shiwonhada!" embodies all the restorative, relaxing, and renewing properties to be found in a steaming bowl.
There are some experiences during Korean childhood that are so universal, you almost take them for granted. The bowl-shaped haircut between the ages of three and seven. Taste testing throughout your mom's all-day kimchi-making sessions. And, of course, going out to eat with your family at a Korean restaurant that serves boiling hot soups in sturdy stone dolsot-ttukbaegi bowls.
As a kid, you sit there, eating the scalding soup and plates of banchan portioned out for you, listening to the conversations happening at the table. At some point in the dinner, inevitably, one of the adults will utter this expression: "Ahh, shiwonhada!" ("아, 시원하다!")
At least, that's what happened to me many times, having dinners with my mom and dad at soup houses like Busan Gukbap in Fort Lee, New Jersey. The phrase, as my parents explained it to me, means, more or less, "That's refreshing."
Herein lies the puzzle: How could something so hot be considered refreshing? In my childhood, this question persisted as an unsolved mystery.
The Korean Food Research Institute, the only government-funded food science research organization in South Korea, describes the sensation of shiwonhada as a "physical sense of openness experienced as a sensation of relief in the chest, stomach, and digestive system." And it's true. The term captures the feeling of a warm-to-boiling food gently entering the soft tissues of the mouth, gliding down the throat, and making an elegant, nonabrasive landing in the stomach.
Herein lies the puzzle: How could something so hot be considered refreshing?
"Ahh, shiwonhada!" also tends to act as an expression of ultimate pleasure upon eating something that just really hits the spot. It can be directed toward any type of food that provides those serendipitous moments of elevated satisfaction, but it's most often associated with hot foods.
Irene Yoo, of the Yoo Eating creative food platform and YouTube channel, derives the sensation from jogaetang (clam soup in clear broth), but it's not limited to soup (or to Korean foods) for her. "Sometimes it's a really good egg sandwich or pizza," she tells me. "Just something that, when you finally take the first bite, you relax while happiness washes over you."
Chef and author of Everyday Korean Seung Hee Lee tells me that Mexican dishes like caldo de pollo or caldo de camarón sometimes do the trick. "Their spice levels and acid levels really give me that satisfaction. I feel whole when I eat it, and like I'm heading toward the trajectory of feeling renewed again."
This need for recuperation is a universal feeling. Haven't we all had nights when we've gotten a little too drunk, then suffered painful mornings? Waking up, you feel groggy, dehydrated, and overburdened—particularly in the stomach. Akin to Pedialyte and Gatorade, Koreans turn to hot, brothy soups as a lifeline. Haejangguk is a category of guk that's tailor-made for chasing away a hangover.
They are lighter-bodied, broth-based (typically beef or vegetable) soups (tangs) with a high liquid-to-solid ingredient ratio. Though not a direct equivalent, the Vietnamese noodle dish Bún bò Huế has a similar freshness and, moreover, is suspended in a delicate stock made of beef and pork bone. Comparatively, jjigae, like kimchi or budae jjigae, are thicker, saltier stews, which satisfy in a more full-bodied, stick-to-your-ribs kind of way that lingers instead of treading lightly.
So, with a few slurps and moans of ahh, detoxing with a steamy, brothy meal provides a feeling of blockage or suffocated energy getting cleared away. "Maybe that's why, when Koreans eat hot soups, we say 'shiwonhada,' even though the actual soup may be boiling and spicy. It's nourishing, filling, and satisfying." says illustrator Eunsan Huh of the My Korean Childhood Instagram. "And I guess, after you sweat from eating the hot soup, you'll also be cooler."
There's real science to back this up. When you consume something hot, your body temperature changes according to the ambient temperature and unleashes cooling mechanisms. Fluid replenishment aids in the breakdown of toxic acetaldehyde compounds garnered from alcohol consumption. Kongnamul-guk, bean sprout soup, is a go-to type of haejangguk. Its preparation involves gently cooking bean sprouts with anchovy stock and salt, while keeping their freshness and fibrous crispness intact. To effectively cleanse the morning after a night of drinking, one might turn to this vegetal elixir. Bean sprouts contain high levels of aspartic acid, which promotes the creation of dehydrogenase, a critical enzyme needed in acetaldehyde breakdown.
If a food imparts a certain soul-revitalizing quality, really anyone can say the magic word.
Just like I did, Korean kids everywhere ask adults why they say "shiwonhada" when eating hot dishes. The adults tend to answer with something along the lines of, "You'll know once you get older and experience real life." It has been demonstrated that Koreans, specifically middle-aged men (called ahjussi) in their forties and fifties, are more familiar with the phrase and sensation compared to those in their twenties and thirties. But the food-inclined in this younger generation tend to protest this generalization. "I think that image may be due to media portrayals," argues Lee. "But I've definitely heard other people say it. They may not make the same exaggerated noises [that older Korean men do], but it's something that is understood and felt beyond that group."
The media interpretations Lee is referring to are those of South Korean film and television. K-dramas, variety shows, and commercials congregate hunky males and hyperbolize images of them slurping away at their bubbling guks. A large part of gauging that shiwonhan-mat (or refreshing taste) is the physical act of holding the entire bowl to your face instead of spooning from it; gravity catalyzes the smooth sliding of food through your system. You gulp it down, and you can't help but say, "Ahh, shiwonnnn-hada!" "You gotta draw out the 'won' for emphasis," says Huh. Pop culture has upheld the stereotype that it's an ahjussi-specific sensation. But in this case, age (and gender) is rather arbitrary; and besides, according to Yoo, "You know half the time those ahjussis say that, it's because they're hungover, right?" If a food imparts a certain soul-revitalizing quality, really anyone can say the magic word.
While it might be tempting to pin that quintessential shiwonhan-mat to a particularly spicy, umami, or acidic flavor note, it goes beyond the tip of the tongue or the back of the throat. It is a bodily, emotional sensation of catharsis. It relaxes mental and physical tension and is akin to taking a deep, cleansing breath into a state of grace. Food writer and recipe developer Hana Asbrink puts it best when she tells me, "I just know the 'shiwonhan' quality when it helps release some otherwise unknown inner turmoil."
Maybe it's because I'm not a soju-loving ahjussi, but I don't think I've ever reached the point of proclaiming out loud, "Ahh, shiwonhada!" after eating any food. But it might be time for me to venture to Koreatown and try again. I won't push it; as I've learned, the reaction comes naturally. When the time comes, I hope it's loud enough to confuse a young kid a few tables away from me.