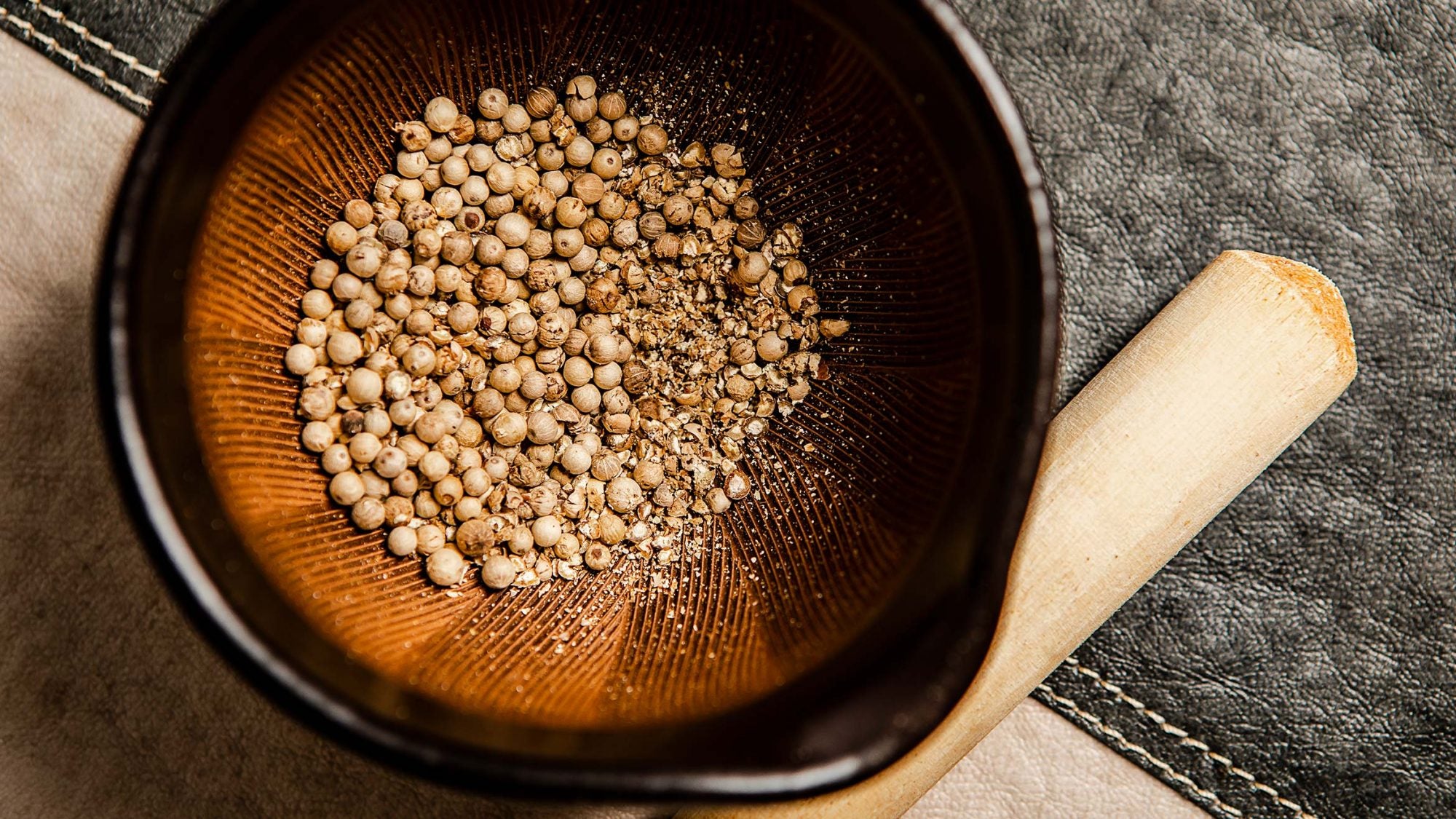 It may fade into the background of bechamels and batters, but white pepper can be the subtle difference between a good spice cookie and a great spice cookie.
I've been obsessed with pastry chef Emily Luchetti's ginger cookies since I was a kid. In fact, they're the only recipe I still make that dates back that far. After having them at a parents' friends' dinner party, I called one of the hosts to ask for the recipe, and I dutifully wrote it out on a card as she read it aloud to me from Luchetti's classic 1993 cookbook Stars Desserts, from the legendary San Francisco restaurant Stars, where Luchetti once helmed the pastry kitchen. I've always thought it was the texture that made them so special: the spiced dough is packed with butter, molasses, and brown sugar; refrigerated to firm it up; and then baked until still soft in the middle so they cool to chewy, fragrant rounds. But when I mentioned them recently to Luchetti over the phone, she told me, "The secret to the ginger cookies is white pepper."
White pepper is something of an underloved spice. It doesn't have the vivid color and contrasting appeal of sumac, turmeric, or saffron. In fact, one of its greatest attributes is that it disappears—visually, at least—altogether. In a practically recurring bit in their PBS series "Julia & Jacques Cooking at Home," Jacques Pépin and Julia Child would tease each other about their divergent preferences for pepper. "You like speckled food," Child says in one episode, ribbing Pépin. "I do. I also like taste in food. And the black pepper has more taste than the white one," retorts Pépin. In traditional French cooking, white pepper is often used instead of black in white sauces, so that its presence is not seen.
Luchetti, of course, prefers white pepper for its flavor—it's a spice that plays well with others. "It's subtle, but it gets the job done in a little bit more perfumed way," she says. White pepper has a softer heat that isn't bullying like that of black pepper, but it can add an element of interest that blends in well with sweetness and other spices. In the pastry world, Luchetti thinks white pepper can go with anything with cinnamon or ginger. "I am so over nutmeg, because it's overused so many times that it is just overpowering," says Luchetti. "People think of the trilogy as cinnamon, ginger, and nutmeg. I would say my trilogy is more cinnamon, ginger, and white pepper."
It's for similar reasons—the subtler flavor and appearance—that white pepper is the common pepper in Chinese cooking. "My mother used to say that Chinese people do not like black pepper because they don't want to see black specks in their food. I love that the flavor is peppery without being sharp, and it adds a wonderful aroma," says Grace Young, author of several celebrated Chinese cookbooks, including The Wisdom of the Chinese Kitchen: Classic Family Recipes for Celebration and Healing. "It is essential for hot and sour soup, and I think it brings certain dishes alive, like fried rice."
It's also the finishing seasoning on other soups, as well as integral in marinades, stir-fries, and fried food. "Cantonese salt-and-pepper pork chops or squid is one of those dishes that wouldn't smell or taste right without white pepper," says Calvin Eng, chef of the new Cantonese restaurant Bonnie's in Brooklyn, New York. "When fried foods are fresh out of the fryer and tossed with a seasoning salt that contains white pepper, it just makes the dish taste right and legit."
But not all white pepper is created equal. Luchetti recommends using it fresh from a quality purveyor like Penzeys Spices if possible—although I have, in moments of desperation, picked white peppercorns out of a peppercorn blend to make her ginger cookies, and I found they came out fantastic nonetheless. A little-known fact is that there are two entirely different kinds of white pepper: dried (which is what you find in American grocery stores) and fermented (the standard in many East and Southeast Asian countries).
"Very broadly, there are two schools of flavor around white pepper," says Ethan Frisch, cofounder of the boutique spice company Burlap & Barrel. "One is the European tradition, which was primarily about color, not flavor. And the other is the East and Southeast Asian tradition of white pepper, which was about using the natural sugars in the fruit to ferment the pit."
Peppercorns grow on climbing vines of the pepper plant, Piper nigrum, bunched together like teeny grape clusters and picked green. For the European-style white pepper, typically produced in and exported from India, the unripe peppercorns are soaked for a couple days to loosen the skin, then rubbed against a sieve or mesh to pull the skin off, and finally, the white pit of the peppercorn is dried in the sun.
Not all white pepper is created equal.
For the Southeast Asian white pepper, the peppercorns are picked a little later in the ripening process, after more sugars have developed, and then tied in sacks and soaked in water—ideally a slow-moving body of water like a stream or river—for ten to 14 days. The result is an altogether funkier, more robust white peppercorn—one that plays well in all kinds of East and Southeast Asian dishes.
Like in China, white pepper—the fermented kind—is the default choice in Vietnam and Thailand, so much so in both countries that when a recipe simply calls for pepper or peppercorns, it is the white variety that's intended. "White pepper is integral to Thai cuisine. It's one of the foundational ingredients in curry pastes and marinades," says Leela Punyaratabandhu, author of Bangkok: Recipes and Stories From the Heart of Thailand. "And since Thai cuisine is traditionally a paste-based cuisine, white pepper finds its way into so many dishes even though it may not be visible." It's typically the only shaker on a table in Thailand. Upon reflection, it is, perhaps, unsurprising that regions that rely on a panoply of fermented foods, like shrimp paste and fish sauce in Thailand, or soy sauce and bean pastes in China, would also require a more flavorful white pepper.
Frisch only carries fermented white pepper, not the dried variety, at Burlap & Barrel. ("I don't really bother with boring white pepper," he says, echoing Pépin's disdain.) Theirs comes from a family farm on the Indonesian island Bangka, which is famous for its white peppercorn and typically ships them to Canton. When I opened a bottle of his fermented white peppercorns, the aroma came out like a wallop. Frisch thinks their funky umami flavors are better suited to traditional East and Southeast Asian savory dishes, or to dry-aged steaks—rather than to, say, delicately balanced ginger cookies, for which I'll stick to the dried variety. I'd have to imagine that if Julia Child were still here today, she and Jacques Pépin might be able to agree on the undeniable flavor of fermented white peppercorns.
What We Talk About When We Talk About American Food. In this column, Mari Uyehara covers American food at unique cultural moments and historical turns, great and small.