The Grilled Cheese Gets Regal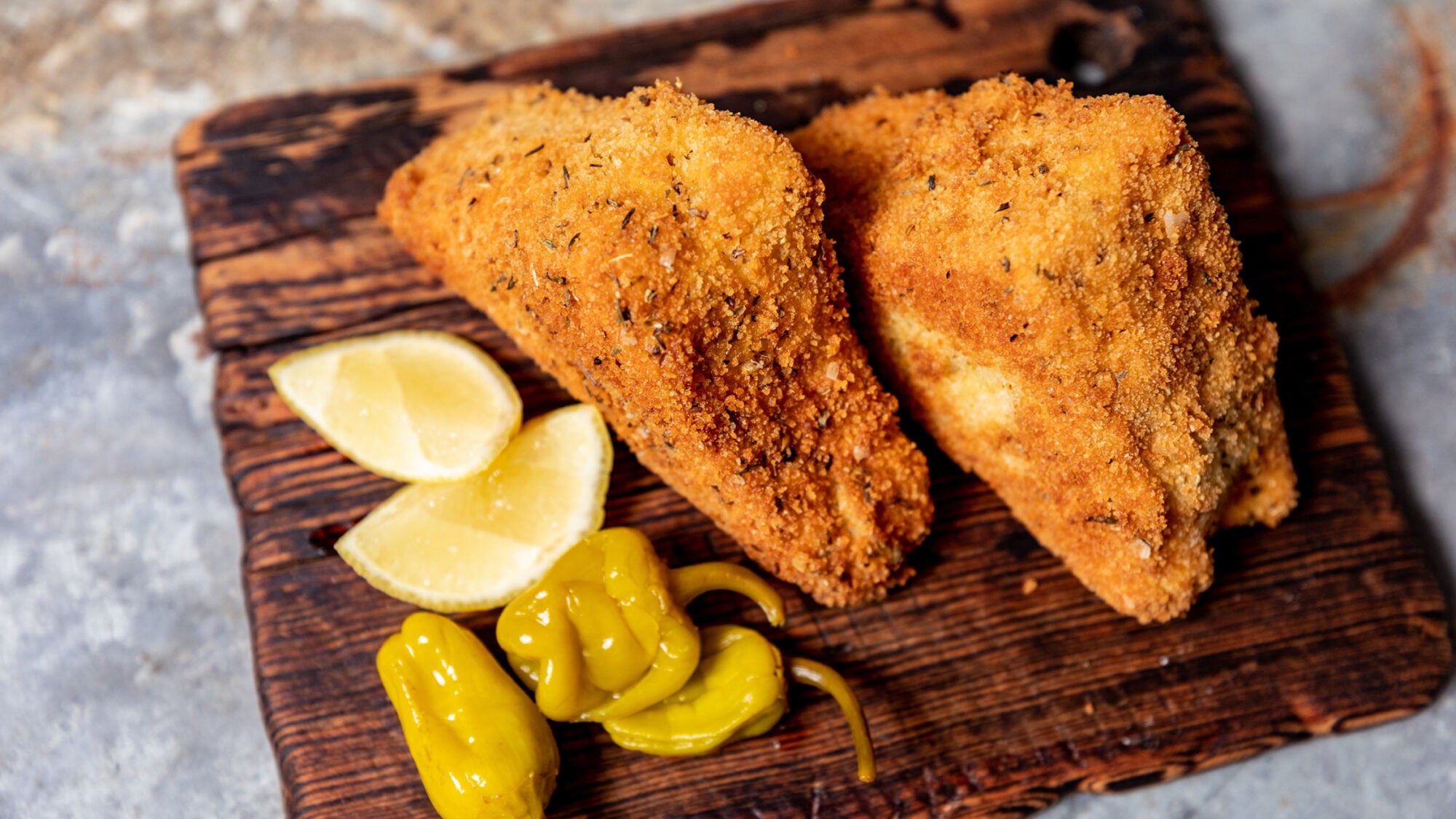 Encased in fried bread crumbs, carrozza makes the most out of mozzarella.
Prolific at any slice shop or late-night diner, mozzarella sticks always manage to feel like a minor celebration. But there are lots of deterrents to re-creating the crispy, stretchy snacks at home. For one thing, most cooks aren't ready to deep-fry on a whim—with ripping-hot oil and considerable mess to navigate. And even when you go to the trouble of breading and freezing cheese batons before cooking them, as many recipes suggest, you still run the risk of a messy meltdown, undermining all the work you put in. So, when the craving for fried cheese hits at home, the solution lies beyond the stick.
Mozzarella in carrozza (or simply "carrozza") consists of the same elements as its tubular brethren, just rearranged into a more navigable format. The ten-minute (or less) dish captures the romance of eating burning-hot stringy cheese in sandwich form, but it's put together with less mess and a handful of basic ingredients.
"It's like a deep-fried grilled cheese," says Kristina Gill, coauthor of Tasting Rome. While the carrozza recipe included in her book lacks bread, sandwiching 'nduja between slices of mozzarella that are then breaded and fried, Gill explains that the more traditional version is basically a fried approach to the tramezzino, the quintessential Italian café sandwich. Crustless and filled with simple pantry things like tuna, boiled egg, or prosciutto, tramezzini are the next best bet for a cheap meal in Italy, after pizza.
Carrozza means "carriage" in Italian, so humor me when I say the process gives the royal treatment to the humblest passenger. Once breaded and anointed with a quick sizzle, the soft and bland bread-and-cheese combo becomes regal and complete. Though the version made with mozzarella is the classic, I wouldn't hesitate to add some 'nduja to the mix, like Gill does, or to incorporate cream cheese and thinly sliced jalapeños for a popper theme. Regardless, carrozza dresses an otherwise homely sandwich in an appetizing gilded coat.
Personally, I never trim the crust off my sandwich, except when I make carrozza. Trimming the edges helps to evenly coat the sides of the sandwich, which is crucial to creating a good seal. And although it goes against any conventional knowledge of Italian elegance, seek out the squishiest, most insipid loaf you can find. It's traditional. Industrial white bread is an international commodity, and it goes by "pane bianco in cassetta" in Italy. Let there be no pretense of nutrition here—it's just breaded and fried white bread, and that's why it's so good when used in this way.
Nonnas in Campania probably don't use our ubiquitous Progresso bread crumbs, but the seasoning is essential to re-creating that pizza-parlor mozz stick feeling. Carrozza is served without sauce, but personally, I think it benefits from a squeeze of lemon or a few briny pepperoncini on the side. If you're breaking out the silver platter, you can cut the sandwiches into dainty batons or quarters, like they do in Italy, but doing so increases the surface area, and thus the amount of work you'll do dipping and flipping finger sandwiches. The best compromise is a cut in half on the diagonal, to keep them at a decadent sandwich-serving size while maximizing the melty mozzarella effect.