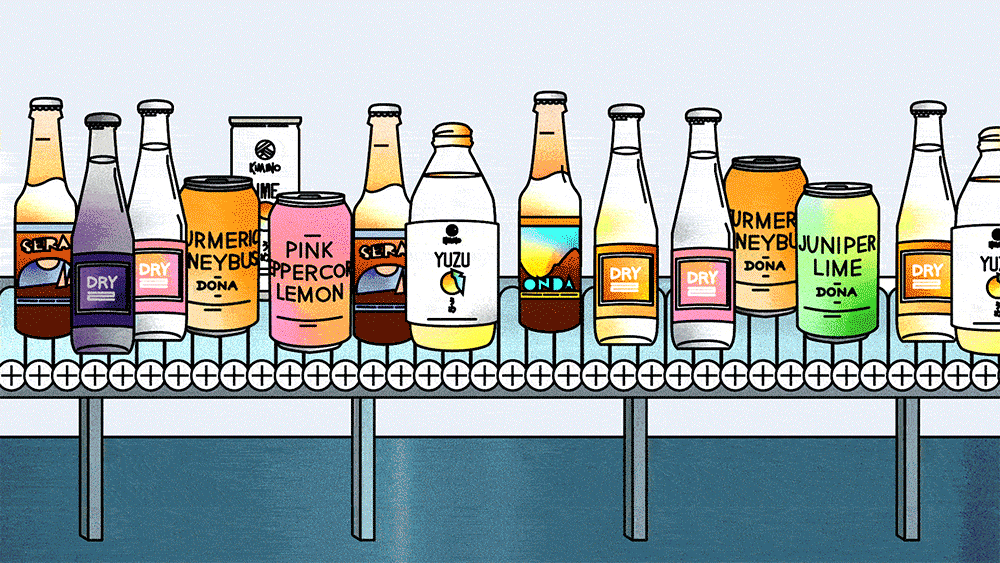 It's time to get serious about soft drinks.
There's never been a better time to have an emotional breakdown and decide that you can't drink alcohol because it's messing too much with your brain chemistry. That's what happened to me last June—but no pity, please, because discovering the rich and varied new world of carbonated nonalcoholic drinks, many with enough nuance and intriguing flavor combinations to fill the void left behind by wine and spirits, was well worth the existential crisis.  
I credit one drink with my soda awakening: Kimino's sparkling ume juice, whose squat glass bottles I discovered one day, warm and rather lonely, on an out-of-the-way shelf at my local specialty grocer. My only other experience with ume, a fruit sometimes called "Japanese plum" that is genetically most similar to an apricot, was the house-made umeshu (ume brandy) Sylvan Mishima Brackett serves at his San Francisco restaurant, Rintaro. There, Brackett steeps unripe ume in neutral grain spirit, sweetens it with sugar, and serves it in a rocks glass over one large ice cube and with a small, salt-pickled ume (also known as umeboshi) as garnish. Rintaro's umeshu is one of my all-time favorite beverages. I wondered if Kimino's ume soda could deliver in the same way. 
At home, I poured the pale straw–colored liquid, now properly chilled, into a diamond-cut highball glass and was cheered to see a layer of sediment settle at the bottom: This signaled to me, onetime lover of unfiltered natural wines, that the product was made from real fruit and wasn't chemically or mechanically clarified. The flavor blew me away: puckeringly tart, not too sweet, with an almost vegetal quality that comes from pressing the plums while they're still unripe.
Everything about this drink—its earthy color, its slight haziness, and its balance of honeyed sweetness, acidity, and subtle savoriness—signaled to me that I was drinking a natural, artisanal product with provenance. Here was a nonalcoholic beverage that had more in common with my favorite farmhouse ciders from Normandy than with the weird, synthetic products of the Coca-Cola and Pepsi corporations. I was hooked.
My devotion to Kimino's ume soda is unwavering: In a strange and frightening year, it was my peace, my palliative. And as my love for sophisticated sodas grew, I found there were plenty of others worth seeking out, from minerally "spice sodas" to bittersweet, amaro-inspired "leisure sodas." Here are a few of my favorites.
Dona
Brooklyn-based Dona started as a producer of tea concentrates, but the three offerings in their "Spice Soda" line are definitely worth seeking out. The Pink Peppercorn Lemon soda is unexpected and delightful, with notes of pencil shavings and slate (sensations I typically associate with high-quality Rhône syrahs) and a slight numbing tingle from the peppercorns. The warm, musky spice and pleasant bitterness of the Turmeric Honeybush flavor will be a hit among fans of the traditional Indian turmeric drink golden milk (haldi doodh) or its American stepchild, Sqirl's Turmeric Tonic. Available online at drinkdona.com and amazon.com, and in Whole Foods and specialty groceries in New York City.
DRY Botanical Bubbly
When founder Sharelle Klaus launched DRY Soda in 2005, zero-proof pickings were slim. So she set out to develop a line of sodas inspired by culinary ingredients and with varying degrees of acidity and sweetness, which she hoped could sit alongside bottles of beer and wine at a nice dinner. My personal favorite is the Cucumber flavor, which is like gently sweetened spa water (someday, I look forward to enjoying it poolside). TASTE editor Matt Rodbard is partial to the Pineapple, which comes in wine-size, 750 ml bottles. Available online at drinkdry.com and in Whole Foods and specialty stores nationwide.
Casamara Amaro Club Sodas
The beautifully packaged "leisure sodas" of Detroit-based Casamara all have bittersweet flavor profiles inspired by the classic Italian aperitivo and digestivo liqueurs known as "amari" (and the classic nondrinker bar order of bitters and soda). Matt is partial to the lemon-and-sage Onda bottle, which I have not yet been able to try, but which he describes as "refreshing and unfamiliar and adventurous, as if a young can of LaCroix took the train in from Long Island to discover a downtown amaro bar, drinking late and missing the return to Massapequa."
I can personally vouch for the grapefruit-and-chinotto-flecked Sera, the black-clad, cigarette-smoking socialist that the Onda bottle meets in the downtown amaro bar. (Chinotto, for the uninitiated, is a citrus tree that flourishes in Liguria and is the foundation of a style of Italian soda also known as chinotto. It is thought to be a regional mutation of sour orange, but its flavor really is sui generis.) Available online at casamaraclub.com and in specialty stores nationwide.
Kimino
Kimino bills itself as "sparkling juice" rather than soda, and indeed, the alluring layer of sediment visible in most bottles suggests to me that this product is made with only fresh-pressed juice, cane sugar, and Japanese mountain water, as the label says. The brand, which launched in Japan in 2017, is an independent farming collective based on the peninsula of Shimoda, where their juice house overlooks the sea. (According to cofounder Markus Schlageter, part of the farm will soon be converted into a hostel, where they plan to host guests in an agroturismo-style farm stay.)
In Shimoda, Kimino grows and handpicks the fruit for their outrageously good Yuzu flavor—a must-find for fans of the beloved Japanese citrus, with a floral headiness and bracing green tartness. Also worth checking out are the Mikan (orange) and Ringo (apple) flavors, the latter of which has no added sugar and the earthy funkiness of many of my favorite ciders. I need not say any more about their Ume flavor, except that I worship at its altar. All farming follows the "kanso" method—which means Kimino and its farming partners "intervene as little as possible and never use herbicides or pesticides," according to Schlageter. Available online at us.kimino.com as well as in many specialty groceries and Whole Foods in the Los Angeles, San Francisco, and New York City metro areas.
Moshi
Even the most iconoclastic "bad boys" of the natural wine and craft beer movements couldn't come up with a funnier or better label warning than that of Brooklyn-based Moshi: "Yuzu skin is full of aromatic essential oils that may settle at the top of your drink. Don't freak out, it's just yuzu!" Definitely don't freak out, and definitely do keep an eye out for their original Yuzu flavor as well as their Unsweetened Yuzu Sparkling Water, which is endlessly refreshing and captures the essence of the citrus perfectly. Available online at drinkmoshi.com, and in 99 Ranch Market locations on the West Coast and specialty groceries in New York City.