The Godfather Sandwich Is Everything and Nothing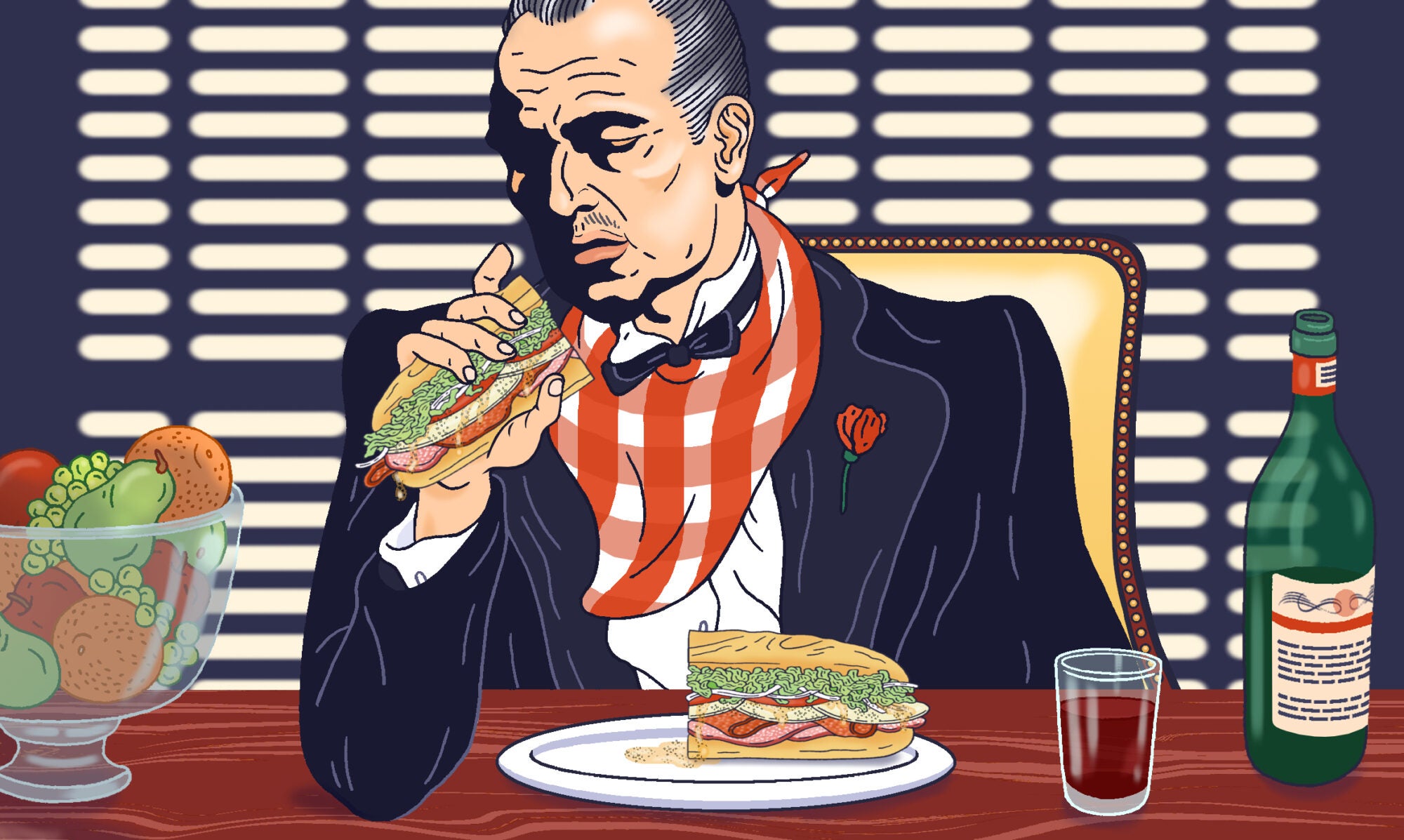 How the iconic movie inspired a mainstay on deli menus around the East Coast.
If you had to pick the food most associated with The Godfather, it would probably be the basket of spilled oranges, rolling down a bloodied New York street like runaway neon bouncy balls. Yet, somehow, a generation of Italian American deli owners saw the 1972 film and all seemed to decide, simultaneously, "Sandwich."
As the movie The Godfather collected awards and became sacred cinema, the sandwich the Godfather became a mainstay at delis all across the country. Whether you call it a hoagie, a sub, a hero, or something else, everyone agrees that the former gave the latter its name. What no one can agree on is what actually constitutes one.
"The Godfather is Genoa salami, prosciutto, capicola, whatever trimmings you want—lettuce, tomato, onion, pickles, hot peppers—and sharp provolone on our bread," according to Ray Cacia, who runs the Williamstown, New Jersey, outpost of Cacia's Bakery.
"The Godfather is salami, pepperoni, ham capi[cola], mortadella, soppressata, provolone, oil, vinegar, and hot peppers on Arthur Avenue white bread," according to Vito Sandomenico, who started working at Anthony's Deli in Mamaroneck, New York, right out of high school in 1993 and now owns the place.
"The Godfather is prosciutto, soppressata, coppa, sharp provolone, marinated eggplant, lettuce, tomato, onion, olive oil, and red wine vinegar on seeded Formica's [Bakery, in Atlantic City] semolina bread," according to Paul Bagliani, part of the fourth generation of owner-operators of Bagliani's Market in Hammonton, New Jersey.
Even by eliminating total outliers that buck Italian sandwich traditions (the chicken and smoked sausage Godfather at Zunzi's in Savannah, Georgia; the lasagna-on-garlic-bread Godfather at Melt Bar and Grilled in Cleveland) and organizing the various cold-cut-based Godfathers in a Venn diagram, we find the overlapping nucleus empty. Prosciutto and soppressata are popular fixtures, but their presence is not sacrosanct. Ditto for capicola/capocollo. Mortadella sometimes makes an appearance. Sharp provolone gives most Godfathers their teeth, but Cosmi's Deli, in my grandparents' old South Philly neighborhood, for example, defangs theirs with soothingly milky-mild fresh mozzarella. Hailing from Delaware County, near the Philadelphia airport, Ro-Lynn Deli has fed Murder Durders a Godfather layered with pepper ham since 1965.
It's personal transformation through purchasing, and the Godfather sandwich taps into that psychic tug-of-war between Old World peasant values and patriotic American consumerism.
The specifics diverge, but Godfather subs do share a certain deluxeness. What's interesting is that while the sandwich makers were honoring the archetype of the speak-softly-and-carry-a-big-stick-type boss, their visually impressive, bountiful, flashy heroes have more in common with the money-and-status-obsessed antiheroes of the ensuing decades. "Whatever happened to . . . the strong, silent type?" Tony Soprano, an apex conspicuous consumer, pines during therapy before buying a racehorse, a beach house, an emerald honker for Carmela. Flush with Lufthansa-heist cash, Goodfellas nouveau-riche gangsters immediately trade in tainted bills for status symbols: the mink, the bubblegum Caddy, the split-level in the suburbs with the state-of-the-art entertainment center. It's personal transformation through purchasing, and the Godfather sandwich taps into that psychic tug-of-war between Old World peasant values and patriotic American consumerism.
Or maybe it's just about making the best sandwich possible.
Where there are historic centers of Italian immigration, there tend to be Godfathers, but the sandwich does exist outside the Acela corridor. In Portland, Oregon, the Baker's Mark makes a Godfather (along with a meatless version), and over in the heartland, Wisconsin-wide chain Milio's Sandwiches drenches its Godfather in "gourmet Italian dressing" and regrettable puns. It's so awe-inspiring, the website alleges, that if someone tries to steal yours, you'll threaten them, "Over my bread body."
Where there are historic centers of Italian immigration, there tend to be Godfathers.
According to Bagliani, "The Godfather is not universal." The Hammonton deli has been around since 1959, but the Godfather's appearance on their sub menu grew out of changing tastes in the early 2000s. "When we brought in specialty [foods], we got into those next-level [Italian meats]. They were very popular with Italians and Italian Americans, but really with everyone." So the Godfather was born as an upgraded Italian hoagie. "Instead of Genoa salami, let's do soppressata; instead of capicola, which is a cooked American product, let's do cured coppa [capocollo]. We took the idea of the American hoagie and juiced it up to make it specialty."
Similarly, Cacia thinks of his Godfather as "our version of the Italian hoagie," the noteworthy difference being not in the meat but in the cheese, sharp instead of mild provolone. A billboard featuring the sandwich stands not far from the deli, over the Red Carpet Inn on the Black Horse Pike. Cacia claims the family was doing the sandwich at its first South Jersey location, in Blackwood, 40 years ago, "but we didn't start calling it 'the Godfather' till we opened [a location] in Hammonton 20 years ago." (This gives Hammonton a third claim to fame, after its mighty blueberry industry and Kellyanne Conway.)
Up I-95 at Anthony's, Sandomenico says the Godfather has been on the menu since day one. That's 1987, back when Anthony Russo opened on Halstead Avenue, 14 miles from the Connecticut border. Dave Avicolli, who has owned Ro-Lynn with partner Steve Yancey since 1998, dates their Godfather to the late '60s, a creation of the original owners, the Carmolingo family. After The Godfather premiered in 1972, they rechristened the sandwich in honor of the film. "You can go anywhere and find something similar," Avicolli says, noting that each deli adds their own signature. At Ro-Lynn, that's true prosciutto di Parma and their own house-roasted hot and sweet peppers.
So the Godfather is less a specific combination of ingredients than it is a sandwich as vibe—a little bit distinguished Don Corleone, a little bit Furio Giunta in flashy Versace silk. The namesake was like a mark of quality under which enterprising deli owners could create whatever made their sandwich-artist hearts soar. Can't you hear the nonnas pulling paper tickets at the meat counter? "It's their Godfather. It must be good."