The Girl & the Really Cool Career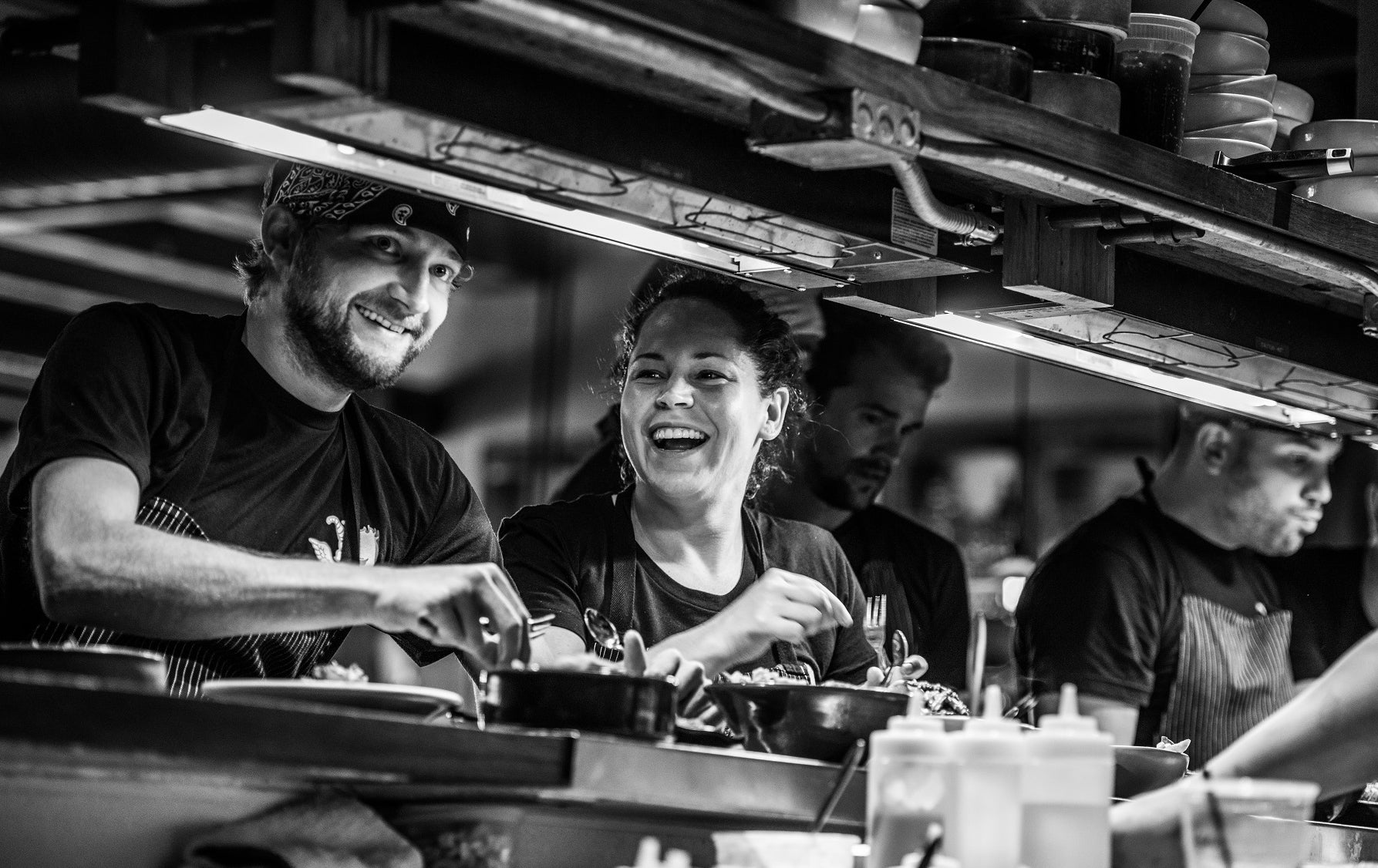 Eleven years since her star turn on Top Chef, Stephanie Izard just wants to celebrate, and inspire, women. 
When Girl & the Goat opened in 2010, I was a college junior living in a suburb of Chicago. My primary food group was Puffins cereal, and I had little interest in restaurants.
I had certainly never watched Top Chef, nor could I name any chefs. But as soon as I heard (probably from my cooler older sister) about Stephanie Izard and her restaurant—brash, female-lead, operating in the same up-and-coming neighborhood as Alinea—I felt strongly that I needed to go there and meet her. It was the "Girl" part of "Girl & the Goat" that appealed to me most. I hadn't seen gender so blatantly represented in a restaurant before. Plus, Izard and I had the same curly brown hair, so I probably saw a little of myself in her, an unfamiliar feeling with a chef.
I made a reservation for months ahead. I took the 76-minute shuttle bus from Northwestern to the West Loop. With my cooler older sister, I ate goat empanadas and a deconstructed Fudgsicle and one bite of the roasted pig face she ordered—a terrifying concept for me at the time made palatable by maple syrup and a fried egg. This is a real-deal restaurant, I thought. I asked my server if I could meet Stephanie, and she walked me into the kitchen. I shyly said hello, feeling embarrassed that I had interrupted Izard, her hair pulled back as she commanded cooks on the line.
Eight years later, over tea on a snowy morning at Little Goat, her popular spin-off diner serving apple pancakes and bibimbap breakfast bowls, I recall this all to Izard. "We still get people who come up when I'm expediting and say, "Oh, my God, I loved you on Top Chef, and I'm like, 'That was 11 years ago!'" she says, smiling wryly. She's made time to meet, in between a doctor's appointment and trip to New York to cook with Daniel Boulud, and she's tired but focused. "When we first opened Girl & the Goat, I always tried not to give Top Chef credit for it. I didn't want to think that was why the restaurant was the way it was."
Izard's tagline, the one that follows her everywhere, is that she was the first woman to ever win the Bravo program. "When she won, it was such a triumph for everyone on the show," recalls judge Gail Simmons of the show's fourth season, which debuted in March 2008. "Her season was so full of hotheads and big personalities, and she was quiet and stealth. She just killed it. It was a big deal then, and it continues to be a big deal."
Izard adds that her favorite line from a customer who approaches her is "I loved your first restaurant, Scylla!" That's the acclaimed Bucktown restaurant that Izard opened at age 27 before her star trun on Bravo. She worked so hard on it that she ended up hospitalized for exhaustion, so she closed it, took a break, and landed on television. Now she has three restaurants, an official Iron Chef crown, and two cookbooks—her second, Gather & Graze, out now. The Iron Chef designation is a dramatic life event, but Izard's nonchalant about it, calling it simply "another job." "She's been able to win these shows, open multiple restaurants, and have a family—she's done it better than anyone," says Simmons. "She lays golden eggs, that girl."
And yet Izard isn't known for any specific cuisine. Her food crosses cultures and countries that she hasn't even visited. In the book, she writes that when she's looking for inspiration, she has her cooks call out a random country. "It would probably be more useful if I spin around a globe at this point," she jokes. Duck Duck Goat, which she opened in 2016, carries the tagline "Reasonably authentic Chinese," like she's trying to get one step ahead of the cultural-appropriation debate through realism and humor.
"Obviously I can't say, 'This is what this is supposed to taste like,'" Izard says. "I try to just celebrate different flavors and make sure that we're clear that we're not trying to mimic something that exists already." At Little Goat, she uses parathas to make breakfast burritos. Japanese okonomiyaki is printed on the menu next to "PRONOUNCED YUM!"
Izard's first book, Girl in the Kitchen, focused on restaurant recipes; this one's more casual. It reflects the kind of home cooking and entertaining she does with her husband and one-year-old son, Ernie. "On a Sunday morning, I'll say, 'I think I'm not going to work today. Let's just invite people over and relax,'" she says. "We'll text 30 people—well, I don't know 30 people, let's not pretend. We'll text 15 people and they'll come over and we'll cook and hang out."
Izard's happy to talk about being a mother to Ernie (and her dog, Burt), but she tenses up when I ask her if being a woman in the industry feels different right now, in the era of #MeToo. "I want to inspire women, and I want them to have the best opportunities and see that this is totally possible, but at the same time, I just want to be seen as a good chef, not necessarily a girl," she says. "Like when I hear, 'Are you the girl from Girl & The Goat?' I'm not really sure. It depends on the day."
She says she never really considered the impact of the name. "It was originally called the Drunken Goat, and then my friend painted a picture of a girl and a goat, and that's just what it came to be," she explains. "I didn't necessarily pick the name because I'm a girl." But the fact that it does advertise gender (leading to my initial attraction to the restaurant), and that that has served as a successful marketing tool, carries meaning, especially right now.
"When we first opened Girl & the Goat, I always tried not to give Top Chef credit for it."
Izard's next project, she teases, is opening a second location of Girl & the Goat outside of Chicago, but she won't say where. (It's definitely not New York.) With a television platform and nationwide fame, this kind of expansion makes sense. "I don't think I'll ever be the kind of chef that has 50 restaurants around the country," she says, shaking her head, like she's exhausted and hardworking enough as it is. "But I do understand the desire to belong to another city." I ask why she's picked her most ambitious concept, the one that veers closest to fine dining and is probably the hardest to replicate.
"I think it's the brand that's recognizable in other cities," she says. "It's the name."
Lead photo by Anthony Tahlier. Color photos by Lucy Hewett.