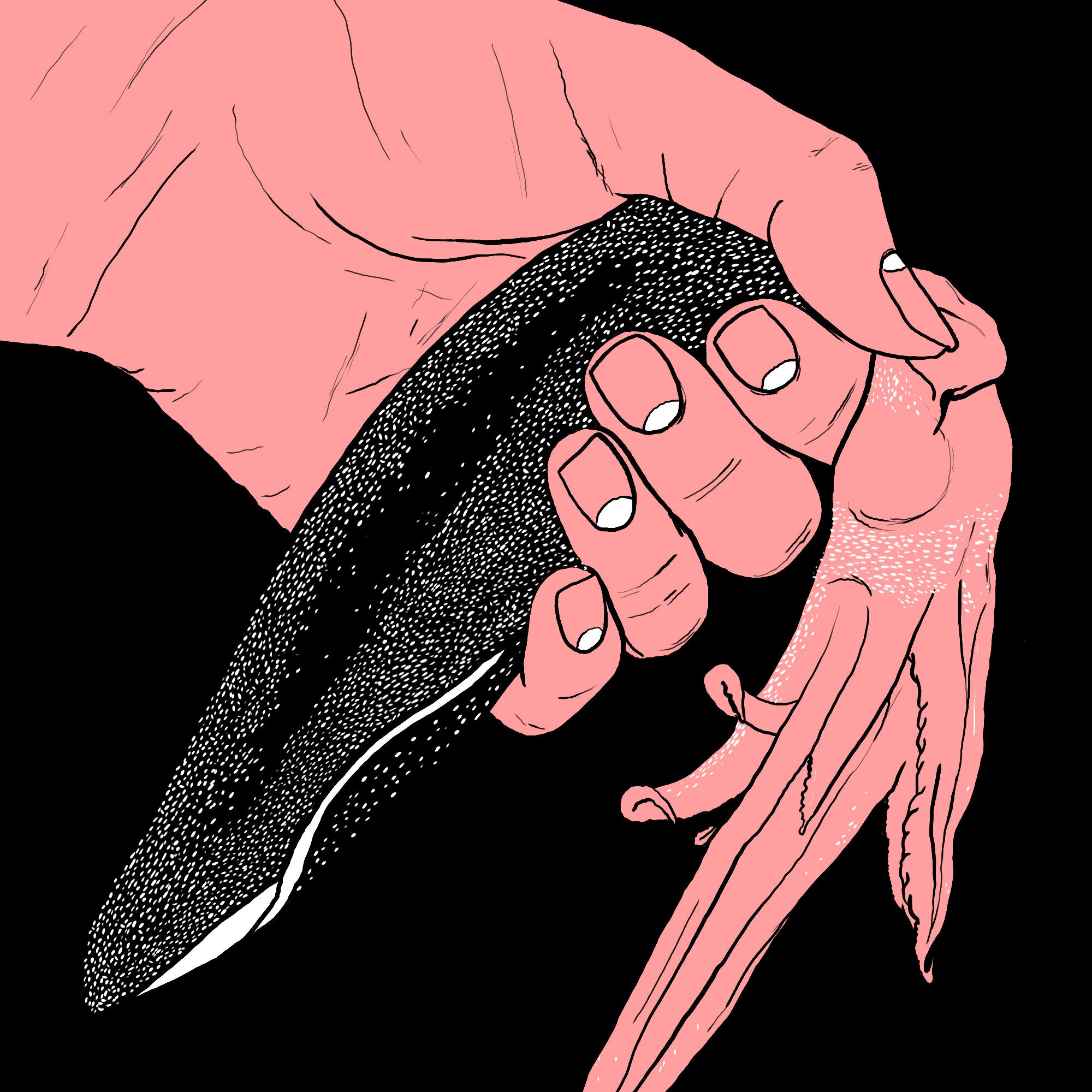 A young boy's sensual escapade with a squid is reflected upon in the context of adult experience.
Ever since my fevered adolescence I had enjoyed myself with athletic diligence, using the same hand with which I crossed myself in mock prayer. This seed of sexual rebellion one day matured into my political revolution, disregarding all my father's sermons about how onanism inevitably led to blindness, hairy palms, and impotence (he forgot to mention subversion). If I was going to Hell, so be it!
Having made my peace with sinning against myself, sometimes on an hourly basis, it was only due time before I sinned with others. So it was that I committed my first unnatural act at thirteen with a gutted squid purloined from my mother's kitchen, where it awaited its proper fate along with its companions. Oh, you poor, innocent, mute squid! You were the length of my hand, and when stripped of head, tentacles, and guts possessed the comely shape of a condom, not that I knew what that was then.
Inside, you had the smooth, viscous consistency of what I imagined to be a vagina, not that I had ever seen such a marvelous thing besides those exhibited by the toddlers and infants wandering around totally naked or naked from the waist down in my town's lanes and yards. This sight scandalized our French overlords, who saw this childhood nudity as evidence of our barbarism, which then justified their raping, pillaging, and looting, all sanctioned in the holy name of getting our children to wear some clothes so they would not be so tempting to decent Christians whose spirit and flesh were both in question. But I digress!
Back to you, soon-to-be-ravished squid: when I poked my index and then middle finger inside your tight orifice, just out of curiosity, the suction was such that my restless imagination could not help but make the connection with the verboten female body part that had obsessed me for the past few months. Without bidding, and utterly beyond my control, my maniacal manhood leaped to attention, luring me forward to you, inviting, bewitching, come-hither squid! Although my mother would return soon from her errand, and while at any moment a neighbor might have walked by the lean-to of our kitchen and caught me with my cephalopodic bride, I nevertheless dropped my trousers.
Hypnotized by my squid's call and my erection's response, I inserted the latter into the former, which was, unfortunately, a perfect fit. Unfortunate because from then onward no squid was safe from me, not to say that this diluted form of bestiality—after all, hapless squid, you were dead, though I now see how that raises other moral questions—not to say this transgression occurred often, since squid was a rare treat in our landlocked town. My father had given my mother the squid as a gift, as he himself ate well. Priests always had much attention lavished on them by their starstruck fans, those devout housewives and wealthy congregants who treated them as if they were guardians of the velvet rope blocking entrance into that ever so exclusive nightclub, Heaven. These fans invited them to dinner, cleaned their chambers, cooked their food, and bribed them with gifts of various kinds, including delectable, expensive seafood not meant for the likes of a poor woman like my mother.
While I felt no shame at all for my shuddering ejaculation, an enormous burden of guilt fell on me as soon as my senses returned, not because of any moral violation, but because I could hardly bear depriving my mother of even a morsel of squid.
We had only a half dozen, and she would notice one missing. What to do? What to do? A plan instantly came to my devious mind as I stood with the befuddled, deflowered squid in hand, my blasphemy leaking from its molested vulva. First, rinse the evidence of crime from the inert, abused squid. Second, cut shallow scars onto the skin to identify the victim squid. Then wait for dinner.
My innocent mother returned to our miserable hut, stuffed the squid with ground pork, bean thread noodle, diced mushroom, and chopped ginger, then fried and served them with a ginger-lime dipping sauce. There on the plate reclined my beloved, forlorn odalisque, marked by my hand, and when my mother said to help myself I seized it instantly with my chopsticks to forestall any chance of my mother doing so. I paused, my mother's expectant, loving eyes upon me, and then I dipped the squid into the ginger-lime sauce and took the first bite. Well? she said. De-de-delicious, I stammered. Good, but you should chew it rather than swallow it whole, son. Take your time. It will taste better that way. Yes, Mama, I said. And, bravely smiling, this obedient son slowly chewed and savored the rest of his defiled squid, its salty flavor mixed with his mother's sweet love.
Some will undoubtedly find this episode obscene. Not I! Massacre is obscene. Torture is obscene. Three million dead is obscene. Masturbation, even with an admittedly nonconsensual squid? Not so much. I, for one, am a person who believes that the world would be a better place if the word "murder" made us mumble as much as the word "masturbation."
This story was published in TASTE's Spring 2017 Fiction Issue. More stories from the issue can be found here.
The First Time was excerpted from THE SYMPATHIZER © 2015 by Viet Thanh Nguyen winner of the 2016 Pulitzer Prize for Fiction; reprinted with the permission of the publisher, Grove Press, an imprint of Grove Atlantic, Inc. All rights reserved.