In less than a decade, the small North Carolina ceramics company has won over home cooks, chefs, and celebrities, with their signature minimalist dishes and idiosyncratic marketing.
I followed East Fork pottery on social media for years before ever buying a vessel for my own kitchen. I watched their Instagram Live videos on how to make napa kimchi, liked their purposely imperfect photos of precariously stacked breakfast bowls that reminded me of how I organize my own cupboard, and signed up for their newsletter (they promised they write a good one, which is, in fact, true). When I finally purchased a mug (more like #TheMug), with its oversize handle and terra cotta "Amaro" glaze, it felt like I was officially part of a community of like-minded individuals who love to get creative in the kitchen, sure, but who sometimes just really want to eat take-out fried chicken off a nice plate—and that's okay, too. East Fork embraces humans being humans, eating whatever it is that humans like to eat. At least, that's exactly how the Asheville, North Carolina–based ceramics manufacturer wants its growing swell of customers to feel.
"A lot of people become really invested in the brand, unrelated to the product," explains Connie Matisse, CEO and cofounder. "People follow us for a really long time and are really engaged before they ever make a purchase, because we are putting out content that is challenging." It's true—from videos of vegan chefs dancing nude while holding a plate of roasted carrots to a photo of a mom breastfeeding her kid while someone off camera feeds her a frosted donut with sprinkles.
When the company launched in 2011, it offered a sort of 21st-century approach to Southeastern folk pottery, and it served as a much-needed contrast to the popular mid-century-modern-informed aesthetic of other well-known domestic dinnerware brands like Heath Ceramics. In 2019, East Fork's now-famous mug went on sale for the first time, after the manufacturer experimented with forms for eight years. Soon after, the stoneware cup, with its carefully dipped glaze and exposed clay rim and base, went viral when the Food Network published a short piece with a headline describing it as "the internet's favorite mug." A wave of press ensued. Throughout the year, one was almost guaranteed to spot East Fork in shopping guides everywhere from the New York Times to Bon Appétit and Architectural Digest.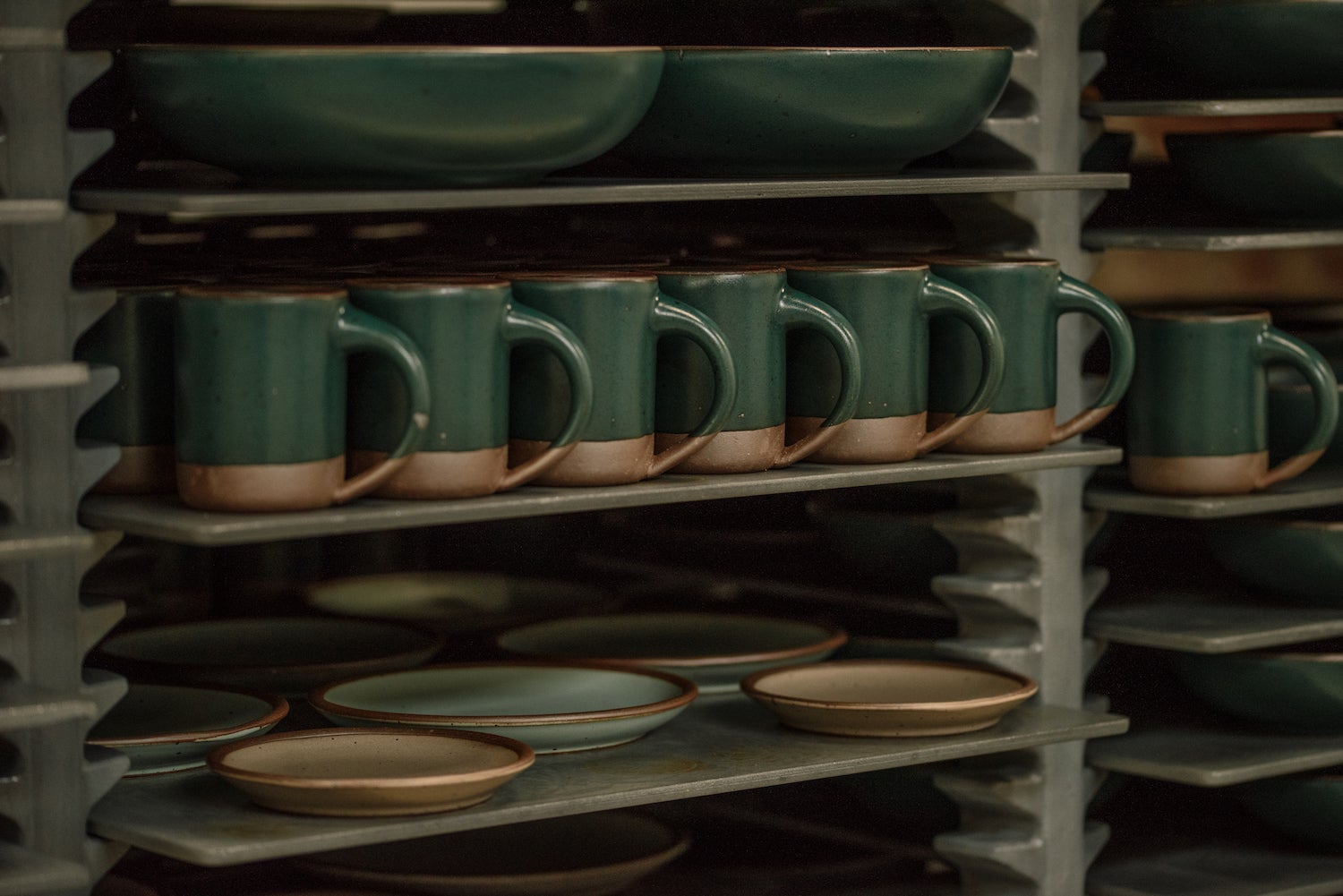 Since "The Mug" went mainstream, the company has scaled up, moved to a 16,000-square-foot production facility, hired more employees, and even raised their starting wage to $20 an hour (in a state where the minimum is $7.25).
In addition to the brand's four core glaze colors—Amaro, Eggshell, Morel, and Panna Cotta—East Fork releases seasonal limited-edition hues (anywhere between 5,000 and 20,000 units) that often sell out within hours, sometimes minutes, as was the case with one of their latest color launches, Peachy Keen and Orchard, designed in collaboration with Momofuku. Like many of their collaborations, whether with David Chang, or the Pinto collection created with Samin Nosrat, the chef and NYT bestselling author of Salt Fat Acid Heat, the color selections often come down to what their collaborators "feel excited about having in their own home kitchens," rather than following the latest color trend forecast.
The unique surface aesthetic of East Fork's dinnerware can be credited to the specific blend of regional stoneware clay that they use. Because the clay is rich in iron, when the pots are fired, the gas in the kiln pulls oxygen from the clay, causing the iron molecules to rise to the surface. This results in the distinct speckled surface the pots have become known for and that have been imitated by many. According to food photographer and author of Picture Perfect Food Joanie Simon, because photographers and stylists use dinnerware "as a way to communicate context, story, and emotion," East Fork's glaze can be instrumental in the way food is styled for books and magazines. "Small details like speckles or raw edges add a hint of texture to give an image interest and depth that doesn't compete visually with the food or create an unwanted glare," she notes.
Ultimately, East Fork pottery is for "people who love to eat but don't need to be so precious about it." 
But unlike color and texture, form and function can be difficult to convey in a photograph. Whether a mug will work for you or not depends on the size of your hands, the temperature of your drink, how clumsy you are before you have your morning coffee, and, sometimes, the mood of your cat or the curiosity of your kids.
Because of this, the company has greatly benefited from chefs, writers, and food editors that have personally endorsed the product simply because it's a staple in their own home kitchens. And while the durable, dishwasher-safe pottery is a go-to for many restaurants—from Asheville to Atlanta to New York City—the wares thrive in the home, where they can exist among multiple generations in a variety of environments for a range of uses.
It makes sense then that chef and former Bon Appétit senior associate food editor Molly Baz is a big proponent of the brand, often serving up her recipes in East Fork vessels for her 673k Instagram followers to try at home. Whether one is scrolling through her feed or flipping through her new NYT bestseller Cook This Book, they are sure to spot East Fork's bold, blue Lapis-glazed bowls holding creative meals dreamed up for everyday people looking to improve their home cooking. Baz tells me, "What I love about East Fork is the intimacy of the brand. I feel like I've gotten to know the humans behind the pots in a way that you don't often experience with other ceramics brands, and that honesty and transparency is so valuable." A shared democratic ethos of celebration, creativity, and cooking has brought Baz and East Fork together for multiple recipe collaborations over the years.
"A lot of direct-to-consumer homeware brands are trying to get into every room in the house as quickly as possible," says Matisse. "We narrow in on the tabletop and kitchen because there is such a world of possibilities there." This focus lends itself to fostering brand partnerships with people who have similar philosophies around eating and social justice, she says, perhaps most notably with their ongoing partnership with Sana Javeri Kadri of Diaspora Co. "We're both building businesses that are rooted in true equity and transparency, so I think, over the years, Connie and I have been drawn to each other as storytellers, as home cooks, and as leaders of businesses made up of diverse humans that all come to work looking for purpose and community," Kadri explains. "I love knowing that the East Fork team uses Diaspora Co. spices in their cooking just as much as we serve our dinners in East Fork pottery."
"We don't have a vision for what home cooking should look like, what your table setting should always look like, or what people should be eating," says Matisse. Ultimately, East Fork pottery is for "people who love to eat but don't need to be so precious about it."
This driving force comes into full view when Matisse makes an Instagram Reel stating that her Lexapro is the backbone of her kitchen pantry, or posts a video of a bunch of kids placing insects on variously colored plates. "I think it's appealing to so many home cooks because, if you don't relate to me, you could relate to one of the hundreds of other people who are showing off our products in the way they like to use them." Even if you're a kid with a bug collection.
Matisse notes that the company's brand identity is an evolving representation of the diverse group of people who work there. "We are all fully actualized humans who have very different tastes and like to eat very different foods," Matisse says, assuring me that that remains true whether someone is using a breakfast bowl for homemade granola or Lucky Charms, or a plate for a cucumber salad or a greasy slice of pizza. "We're not attaching our work to a philosophy about wellness and cooking and specialty food. East Fork is a celebration of self in whatever way that looks."