The Designer Strawberry Has Arrived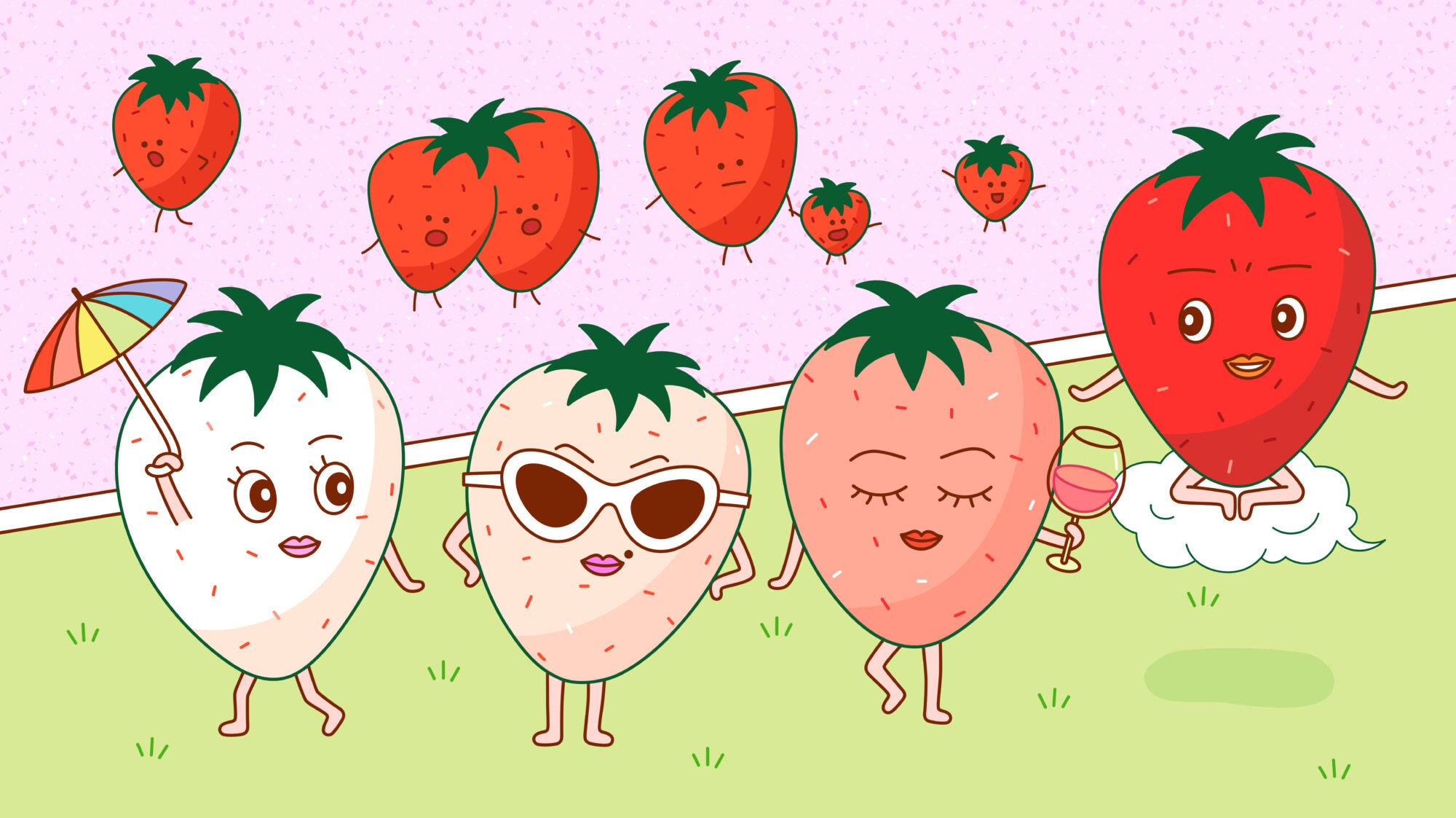 Blush-pink, creamy-textured, or tropical-tasting, strawberry varietals are coming to more US stores year-round.
From late May through June, farmstands and farmers' markets around the United States pop with color: bright red, fragrant, heart-shaped berries are in season. U-pick strawberry fields are ransacked annually by eager kids and their watchful parents, faces smeared with magenta slime. Stores are flush with overflowing cardboard cartons of strawberries, bearing "local" labels. For many, this period marks one's first taste of truly ripe, melt-in-your-mouth strawberries, dripping with juice, bursting with sweetness. Then, by midsummer, the bliss is over. We revert back to cold, sterile, plastic clamshells of supermarket strawberries for the rest of the year. Bloated and crunchy, they've been grown afar and bred to withstand travel time—and they can feel like another fruit entirely. This is the de facto American strawberry. 
But a handful of fruit companies are looking to diversify the strawberries available in the United States, even outside their traditional harvest season. From indoor-grown Japanese strawberry varietals to brands riding the rosé trend with blush-colored berries, the year-round supermarket offerings are beginning to look a lot more interesting. It's the work of plant scientists and entrepreneurs set on building a better strawberry, whose dreams are just coming to fruition. 
It may be difficult for many to remember that strawberries are seasonal produce, like rhubarb—which also arrives in late spring, hence the traditional pairing in pies. As a culture, we've become accustomed to the berries' year-round presence in supermarkets, thanks to imports from Mexico; strawberries have become one of  the most recognizable and regularly eaten fruits—by far the best-selling berry. Strawberry shortcake, strawberry ice cream, and strawberry stripes on an American flag–decorated cake are just some of the iconic desserts made with them. America eats around 1.39 million tons of strawberries per year, and demand for them keeps growing.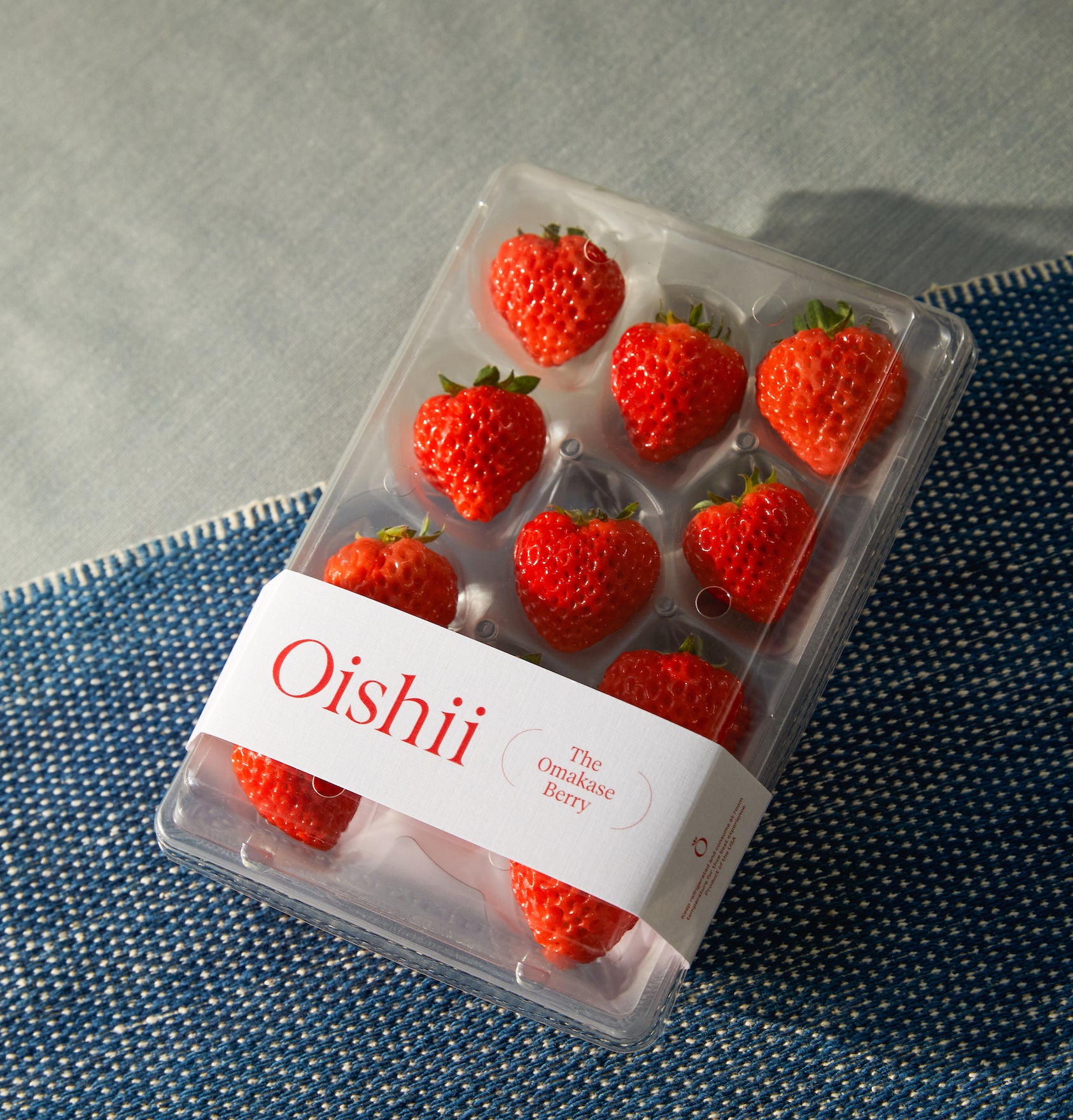 Wild strawberry varieties are found throughout the world; diminutive and sweet, they've been eaten since antiquity (and are still enjoyed by animals and humans each spring). The modern fruit that we know of as "strawberry" was a cross between a Chilean and a Virginia wild strawberry variety that were brought to Europe in the 18th century. This hybrid, fragaria x ananassa, has since been bred into hundreds of distinct strawberry species sold around the world—and counting.    
"The first thing we're looking for is taste, and if it yields good, that's great," says Nick Wishnatzki, PR manager for Wish Farms, a berry supplier headquartered in Plant City, Florida, that was founded by his great-grandfather and is currently helmed by his father, Gary. Since focusing solely on growing berries in 2014, they've been chasing after the latest berry trends, and they work closely with the University of Florida's plant-breeding program to develop new strawberry cultivars from around the world.
Wishnatzki says that a hybrid of white strawberries—known as "pineberries" in Europe and other parts of the world due to their subtle pineapple-like taste and aroma—are the hot new variety in the berry world. These berries are a pale, creamy pink in color, with red seeds on their outside. It's the inverse of the common strawberry, which is red with white seeds. White strawberry species have been popular in Europe and Asia for decades, but they have been making some of their first commercial forays in the United States in the last few years. Marketed as Pink-A-Boo® pineberries, Wish Farms developed the variety grown by its partnering farms in Florida as well as California, making them available year-round, nationwide.   
This varietal has gone by different names in the commercial market since 2020, when they were patented as the Florida Pearl™ at the University of Florida. Vance. M. Whitaker, professor of strawberry breeding and genetics at the university, says that a friend who was traveling in Japan purchased some white strawberries and sent him the seeds later. "White strawberries are pretty easy to find there," he wrote in an email. Whitaker began crossing them with American red strawberries in 2012, before landing on the variety that would become commercialized in 2016.  
While the pallid berries, which typically sport patches of pink when ripe, easily stand out in a produce aisle, Wishnatzki says it's their taste that shines most. 
"Every time I bite into one, I get different flavors—it's pretty wild," says Wishnatzki. Pineberries have a lower acidity than the typical red strawberry and a softer texture; they don't "punch you in the face with acidity" like a red strawberry can. Therefore, he says, they're best for serving in a starring role, fresh, so as to fully experience all their nuances: "On the finish, you get pineapple and pear—it's really interesting." 
Describing the flavors of strawberry varietals has become a practice akin to that of wine tasting. Driscoll's, America's largest berry seller, producing roughly one-third of the strawberry market in the United States, recently developed a "sensory wheel" that breaks down the characteristics of strawberries by taste, texture, mouthfeel, flavor, and aroma. This was produced to help market some of their latest strawberry varieties: Rosé Berries™ and Tropical Bliss™, both white strawberry hybrids, and Sweetest Batch™, a deep crimson variety. Unlike their year-round strawberries, these varietals have a more limited distribution and seasonality.
"Around 2018 and 2019 was the 'rosé all day' trend in the wine industry," says Frances Dillard, VP of brand and product marketing at Driscoll's. At the same time, their research showed that Gen Z was more open to trying and tasting flavors and colors that didn't look like traditional berries. Hence Rosé Berries™ were launched in 2019.
It's a variety that had been in the works for years by Driscoll's in-house strawberry breeding program based in Watsonville, California. Phil Stewart, the company's director of global breeding for strawberries, calls them his "adoptive babies," as the first crosses had been made by his predecessor in 2003. During his 16-year career at Driscoll's—where he's nicknamed "Dr. Strawberry"—Stewart has been developing unique varietals in the company's 10-acre test plot. On a typical day screening plants in the plot, he estimates that he tastes 150 to 250 strawberries.  
Their latest specialty strawberry varietal, Tropical Bliss™, has a pale golden color, with notes of pineapple and passion fruit. Originally, Driscoll's had been experimenting with what would become the Tropical Bliss™ to see if they could be positioned as a white strawberry; but taste testers kept coming up with tropical fruit as descriptors for its flavor, says Dillard.
"It's kind of nice to not define it as a white strawberry, because that gives us the freedom to focus on the flavor and not worry about the white color," says Stewart. 
The company is learning to expand production to its partnering farms throughout its six strawberry growing regions, from Salinas to Central Mexico, so that its latest varietals can be available more months of the year. Some of the challenges of producing these newer white strawberry hybrids involve training harvesters to look for ripeness not just by redness, but through less conspicuous cues like pink shading, texture, and fragrance.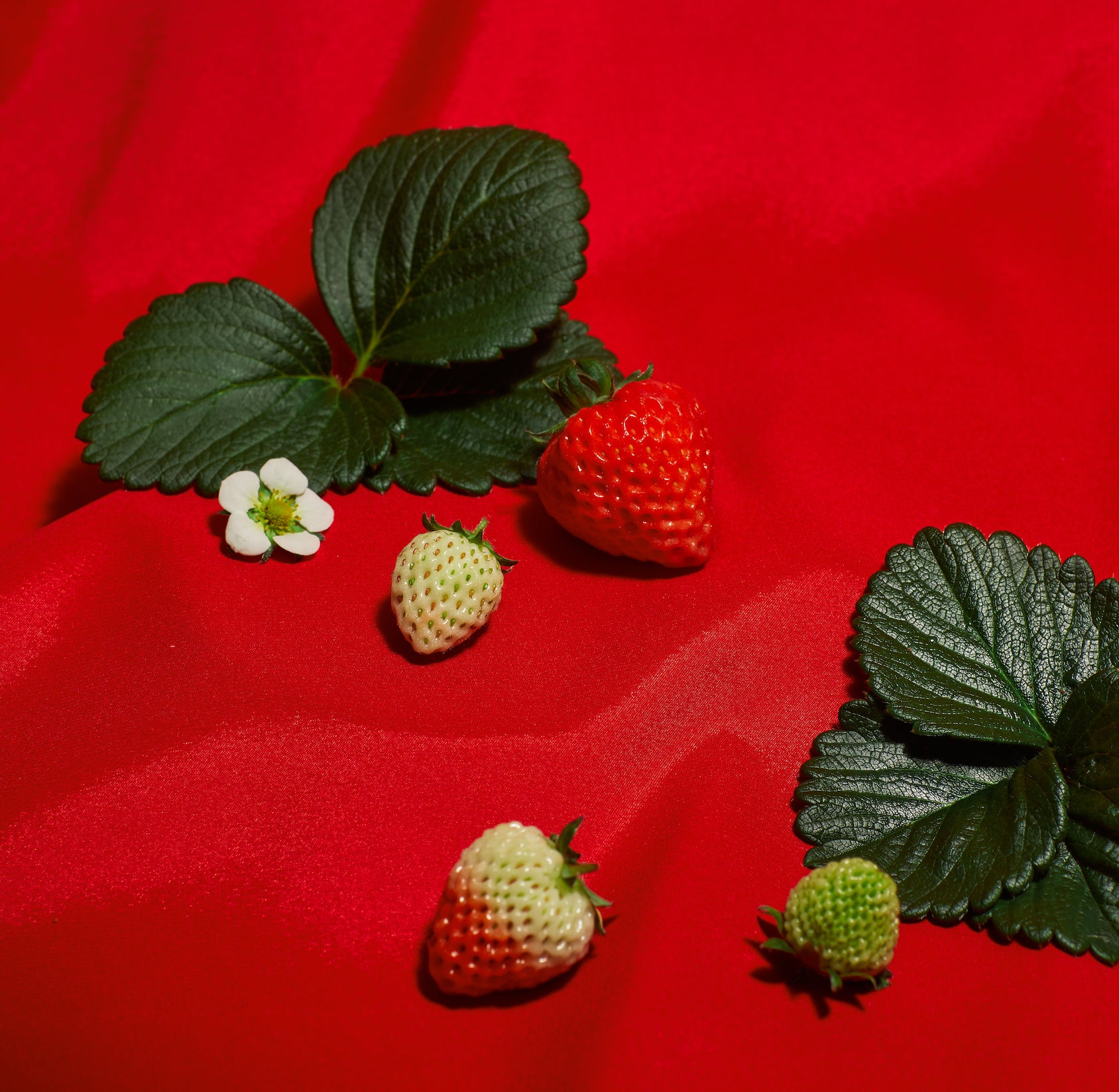 In the United States, berry sales have been on a decades-long rise, and many retailers attribute the increase to people purchasing them for their healthfulness—blending them into smoothies with kale and chia seeds, for instance. "Every day, news keeps coming out about the amazing benefits—that it's good for memory, or the heart—so people are adding more berries to their diet," says Wishnatzki. 
In Japan, however, strawberries hold a somewhat different place in popular culture. According to Hiroki Koga, founder and CEO of Oishii, the fruit culture there is more about luxury, celebration, and pure gastronomic pleasure. 
"We don't consume fruit for nutrition or Vitamin C; we actually enjoy savoring the flavor," says Koga.
Originally from Tokyo, Koga came to the United States in 2015 to get an MBA at UC Berkeley. Even in the Bay Area, he was shocked by the comparably low fruit standards he encountered. He thought strawberries had the biggest "quality gap" between what he found there and what he had been accustomed to. What's more, says Koga, if you asked a Japanese person about their favorite strawberry, they would probably name a few varieties; Japan is home to about half of the 500-plus commercialized strawberry species around the world. 
"Even though they look big on the shelves, when you bite into them, I thought they lacked flavor, and they're a little more watery than they should taste," says Koga of American strawberries in general. This turned out to be his "aha" moment: "I thought, 'What can I do to use this technology to share a more joyful and happy experience?'"
That technology was his experience with indoor vertical farming: a semiautomated, hydroponic solution to allow farming year-round. The water-efficient and entirely pesticide-free system produces berries that are remarkably consistent in quality all year (no Mother Nature's messes getting in the way) and easy to harvest without breaking your back, as the fruits hang vertically in clean, stacked rows. 
In 2019, Oishii opened the world's largest indoor vertical strawberry farm in a former Budweiser factory in Jersey City. Using real-time data and robotics, the farm can perfectly replicate the climate of different growing regions in Japan, where its current strawberry varietals originated. Until recently, strawberries were thought to be difficult to grow in indoor vertical systems because, unlike leafy greens, bees are needed to pollinate them. But Oishii figured out how to create an environment where a colony of bees is living in peace at their farm, where "every day is a nice spring day, and they live in harmony with our strawberries and our robots," says Koga.  
So far, the Oishii lineup includes the Omakase Berry, a squat, creamy-textured strawberry with a delicate, slightly floral flavor and pronounced aroma. Since launching in 2022, it has become a darling of chefs in New York City, featured in restaurants like Nami Nori and abcV. The company's most recently launched strawberry variety, the Koyo Berry, has more acidity and brightness—it's closer to what consumers are used to here, says Koga. 
As each type of strawberry comes from a completely different region in Japan, where it's been bred to thrive, each has a completely different "recipe" for growing conditions at the indoor farm. The Omakase Berry is a variety that hails from Northern Japan, while the Koyo's origins are more central, close to Tokyo in Tochigi Prefecture. Koga says that no matter how flashy or normal the varietal is, if you perfect the growing recipe for a lot of strawberries, they can all taste really amazing. He recalls a small farm in Tochigi Prefecture that grew one of the most perfect strawberries he's ever had. It was run by an old farmer—it's not uncommon for a strawberry farm to be operated by just one person in Japan, says Koga—who kept such a close watch on his plot that he basically slept with the strawberries to make sure they grew perfectly. 
"Even though it was a widely available variety called the Tochiotome, they were so good, they blew my mind," Koga recalls. 
"No matter how flashy or normal the varietal is, if you perfect the growing recipe for a lot of strawberries, they can all taste really amazing."
Oishii's strawberries are currently available in stores throughout the tri-state area only, sold in clear plastic packages that nestle each berry in a protective, molded pod but allow their perfume to waft through holes. Available for around $12.99 per 4.2-oz package in stores like Whole Foods Market, Mitsuwa Marketplace, and Murray's Cheese, they might be some of the priciest berries on the market. Now Oishii's biggest challenge is scaling their facility to produce more. And they're constantly testing more than 100 types of strawberries, including white berries, from a research and development farm ten minutes away. 
At the end of the day, however, Koga says his mission is not to make flashy designer berries for the elite but to provide sustainable farming solutions for the future. Producing preternaturally tasty strawberries is just one proof of concept—or the icing on the cake. He compares vertical farming today with the electric vehicle industry, and he sees a bright future ahead. 
"At the highest level, what we're trying to solve is the broader sustainability problem with agriculture. We don't have enough farmland, water, or people to pick these berries, and we're looking for innovation—and vertical farming is a solution to that," says Koga. "We really think this is going to be the new standard of agriculture, and we want to make delicious, healthy, fresh produce available to everyone at a reasonable price."  
Shelve It explores the world of groceries, from the fluorescent-lit aisles to the nooks and crannies of your cupboard. We dive into why certain ingredients got pantry staple status, the connection between cookbooks and buying habits, the online-ification of grocery shopping, and what gets shelved along the way.