The Custard Came From Aleppo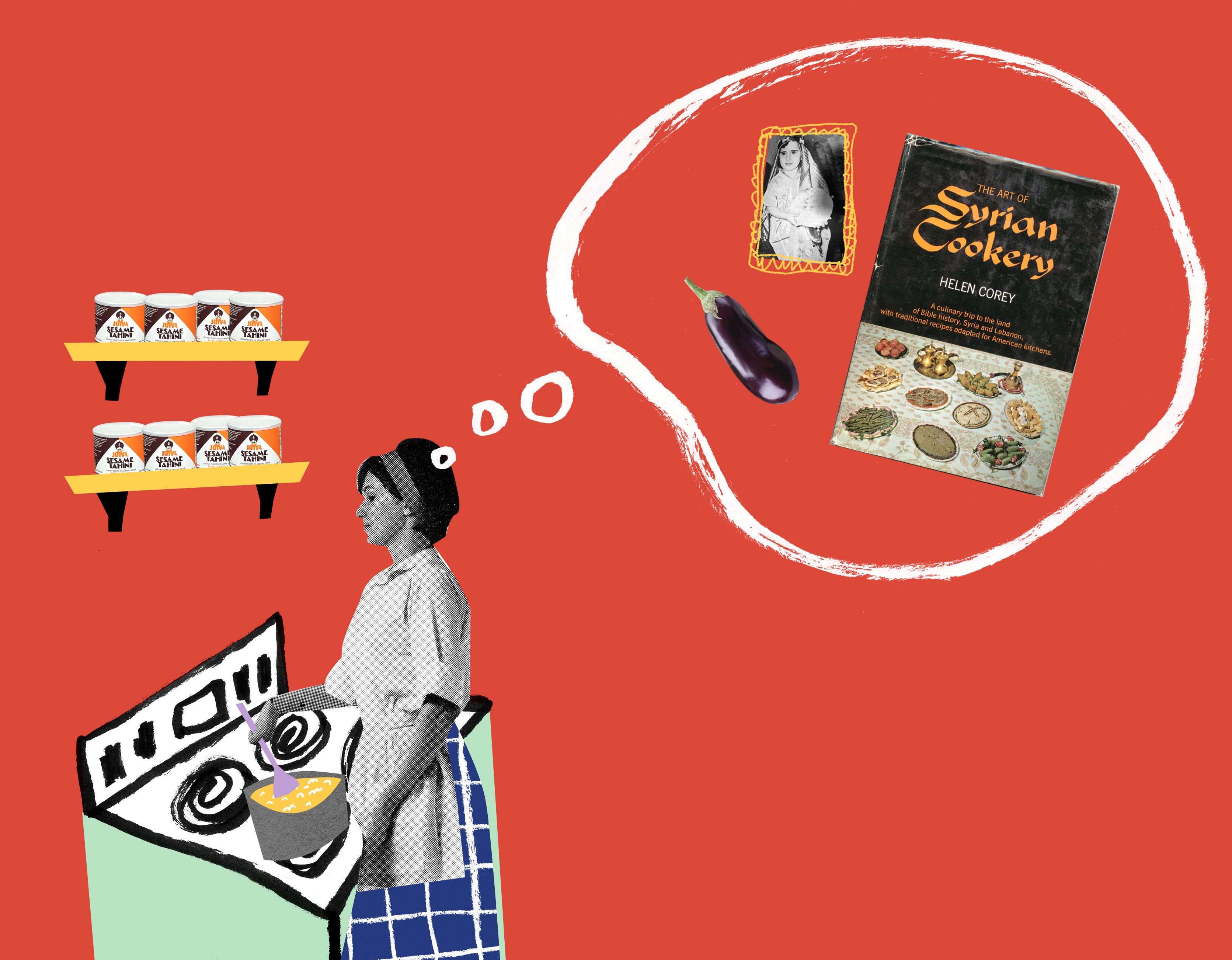 For one writer, Helen Corey's groundbreaking 1962 book, The Art of Syrian Cookery, is more than a collection of home-style recipes.
In January 1972, a Sicilian-German-American gal with timid brown eyes and long hair that had lost its morning wave was heading home to Queens from Manhattan and her job as an "art girl" for the popular department store Alexander's. While in Midtown's hectic Herald Square, she was approached by a handsome man with dark curls and olive skin. He was a Syrian immigrant who after years of living in Europe was determined to launch the next phase of his burgeoning footwear career in the city's celebrated Garment District. His broken-English request for directions spawned a longer-than-necessary conversation from which the woman gracefully extricated herself. The next day, at the same time and same place, there he was again, clutching not a crinkled New York City map, but flowers. In just four months, they were married. I arrived seven years later.
A few weeks into the whirlwind courtship, my mother—who grew up on a standard middle-class diet of baked ziti and pot roast—was in a bookstore. While perusing the table of bargain misfits, she came across a small book, black and emblazoned with gold letters and a column of blue illustrations: The Art of Syrian Cookery by Helen Corey. Published in 1962 by Doubleday, this longtime best-seller was a tribute to the recipes prepared and passed down by the author's native Syrian mother. "It was waiting right there for me," my mother remembers.
Immediately, she started turning its pages. Each dish, from fragrant, pilaf-like imjadara with lentils, bulgur, and onions to walnut-filled ma'mool cookies, bewildered her more than the next. My mother, eager to impress her soon-to-be husband, who was constantly raving over the foods he was reared on in his crowded Aleppo home—all lovingly made by his mother, who died too early at the age of 39—began to experiment. Instead of tubs of Polly-O ricotta, she bought braids of delicate white Syrian string cheese studded with black nigella seeds. She reached for cumin with as much frequency as a canister of Diamond Crystal salt.
Roz eb haleeb, rice custard thickened with cornstarch and laced with orange-blossom water, is the first dish she confidently placed before my father. Although more inclined to complain than praise, he reportedly enjoyed every bit. Forty-five years later, he still relishes it from the same amber goblets that I was transfixed by as a child.
The sight of this custard cooling, a creamy white contrast to the artificial-flavored just-add-milk My*T*FiNE chocolate pudding that made regular cameos in our refrigerator, is permanently etched in my memory, as is Corey's hardcover cookbook. I remember the olive-oil-stained instructions, the numerous black-and-white photos, and most importantly how it helped me imagine my Syrian family—a collection of women with heart-shaped faces in head scarves and men with menacing eyebrows known only from snapshots, chatting at a modest table and tearing off chunks of bronzed pita bread.
I can still see the tower of tahini cans stacked in our basement and the Air Mail letters family members from Syria sent to my father—how his eyes would get misty after reading tales of the people and places he missed. In retrospect, it was a perfect, halcyon era, one where the daily atrocities now ravaging the country were unfathomable. I never made it there to meet these people and eat with them, but The Art of Syrian Cookery made me feel like I was a regular guest.
Later, well after my mother knew certain recipes by heart, my father, now spending more time at home than globe-trotting for work, also became a fan of the book. I would watched him rifle through it and then self-assuredly shape kibby into plump, miniature footballs primed for the frying pan. He was living the sought-after Long Island dream, but sometimes he wanted to escape the bland confines of suburbia for the raw, blinding color of Syria. Cooking is how he returned to a country he loved and yearned for. These were some of the rare times I observed him completely at ease.
When he was finely chopping red peppers, he wasn't the temperamental father who frowned upon my fast-forming American habits. When his flour-coated hands were stretching dough, he wasn't obsessing over money—and how he had to make enough of it to support his impoverished brothers and sisters in Syria. When my father cooked, for that briefly jovial period we were a family, dinner was like that of all my other schoolmates living on the street. With disks of eggplant sizzling on the stove and Wheel of Fortune on in the background, I wasn't the kid who resented her father for introducing the Islam that marked me as different. I wasn't the kid terrified of screwing up the verses in the Koran I had to memorize in Arabic (instead of taking ballet lessons). I was just ready for a second helping, drinking iced tea, and counting the minutes until it was time to devour the rosewater-scented baklava.
Food was also how I learned about a country that shaped half my heritage in vivid, mythical bursts. Sure, I loved mashed potatoes, sloppy joes, and the rare nights we clipped coupons from the PennySaver to spring for garlic knots, Dr. Pepper, and a large pizza from DiMaggio's. But I was more seduced by biting into spinach pies and finding hidden pine nuts brush up against my tongue, or the mint I plucked from the garden to dress the thin, meat-topped lamulajeen.
Unlike my parents, the home kitchen holds little interest for me, and so I have neglected to nurture these feel-good traditions. But now that I live in Budapest, where I frequently can't find what I crave on restaurant menus, I return to those images of the Helen Corey book and the simple, aromatic grains and legumes it recalled. That's when I reconsider my disdain for cooking.
Baking does not frighten me. I love the precision it demands, knowing that if I follow every step correctly, the results will be exactly as intended. So after a decades-long hiatus, I revisit The Art of Syrian Cookery. It begins with the custard, just like it did for my mother, keen all those years ago for her new beginning. I see the hot milk bubble in a saucepan and then add the rice and cornstarch, stirring constantly with a wooden spoon. I know that soon I will crush my fear of the cutting board by tackling Corey's baba ghanouj, garnishing the smoky eggplant mash with specks of parsley. There are goosebumps. My mother probably had those, too.