The Cookie Recipe That Rewards Laziness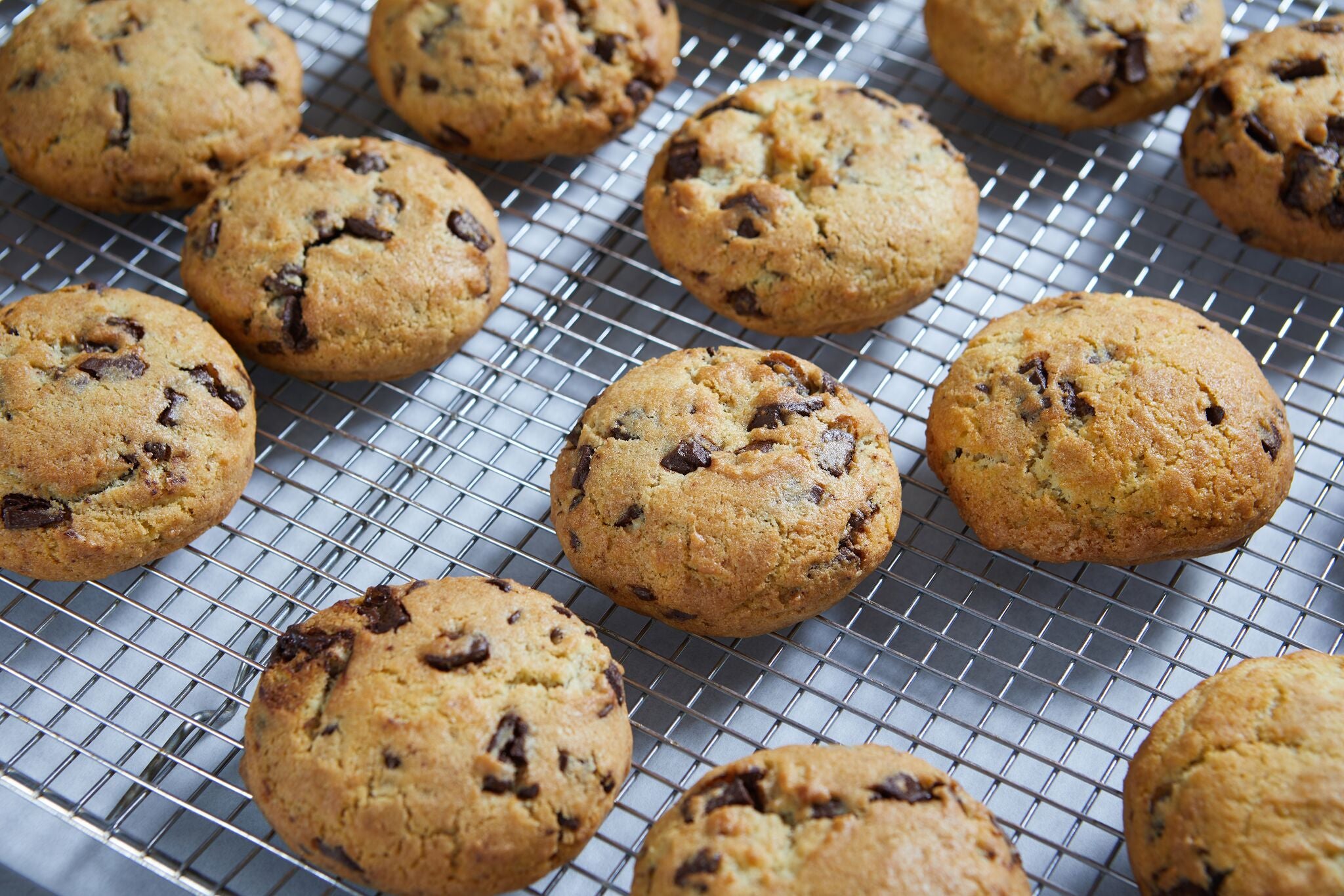 Conventional wisdom may tell you to soften butter before whipping up a batch of cookies, but a new wave of bakers are making an argument for tossing the butter straight from the fridge into the mixing bowl.
No time to soften butter? It may be for the best. Softening butter may not be rocket science, but of course I never remember to do it. Why? Because, really, who remembers? So I often throw up my hands, pull a few hard sticks out of the fridge, give them a cursory chop and toss them into the mixer. But not without imagining a panel of baking experts calling for my head.
And then one day an accomplished pastry chef, Heather Bertinetti-Rozzi, told me that contrary to conventional wisdom, I was actually doing it right. At least when it comes to the kind of fat, fist-sized chocolate chip cookies that she and I both love.
Bertinetti-Rozzi's cakey cookies bake up an inch and a half high and encase a ridiculous wealth of chocolate chunks. Her secret is the kind of stiff, chilled, straight-from-the-refrigerator butter that most cookbooks tell you to avoid. These sky-high cookies involve no planning time. Not only do you skip the step of softening butter, you don't even have to chill or freeze the dough before baking.
In fact, Bertinetti-Rozzi came up with the recipe because she was short on time. The Culinary Institute of America–trained pastry chef dutifully softened butter until she took the helm of four Manhattan pastry kitchens at once—the Italian standout Marea and three of its then-sister restaurants.
With such an intense workload, she decided, "Screw it, I'm just using cold butter," she remembers. "It was a happy accident." As a result, she noticed her cookies rising taller than ever. She went on to use the same technique while creating a cookie platter when she worked as a pastry chef at the Four Seasons restaurant in Manhattan.
Now the executive chef at Stella Artisan Italian in Ridgewood, New Jersey, Bertinetti-Rozzi starts her cookies by chopping cold butter into chunks—no, not dainty cubes—and creaming it with sugar until the mixture sticks to the bowl. Then she adds eggs and vanilla, combining until it all looks curdled—not smooth. This suspends small globs of cold butter in the dough and keeps the cookie from spreading when baked.
The butter's water content plays a role in this. Most American butter is about 19 percent water, says Los Angeles pastry chef Clémence Gossett. Much of that water can "leech out" when you begin to warm up the butter, she says. But keep the butter cold, combine it with sugar, and "you get these perfectly suspended droplets of water" in the butter that when baked "create steam and lift the cookie up," said Gossett, co-owner of The Gourmandise School and another fan of using cold butter in cookies.
Tall, supersized cookies draw daily lines down the block in Manhattan at the nationally recognized Levain Bakery. The recipe (along with the temperatures of ingredients in it) is kept under lock and key, but most of the food writers who have developed copycat Levain recipes consider cold butter essential.
Many bakeries freeze or refrigerate their dough, which hardens the butter and prevents the cookies from spreading in the oven. But Nancy Felder, who co-owns Sweet Girl Cookies in Charlotte with her husband, Alec, says starting with cold butter is equally effective when baking thick, hearty cookies, particularly for those of us who neglect to plan ahead.
Their inch-thick creations, which won the city's annual Great Cookie Crumble last year, are local favorites. The Felders admit it's a time-saver to use cold butter, but also found that room-temperature butter made it more difficult to form the cookies and retain their shape.
It brings me great vindication to learn that the shortcut doesn't cut any corners when it comes to quality. To my imaginary judging panel: I meant to do this all along.