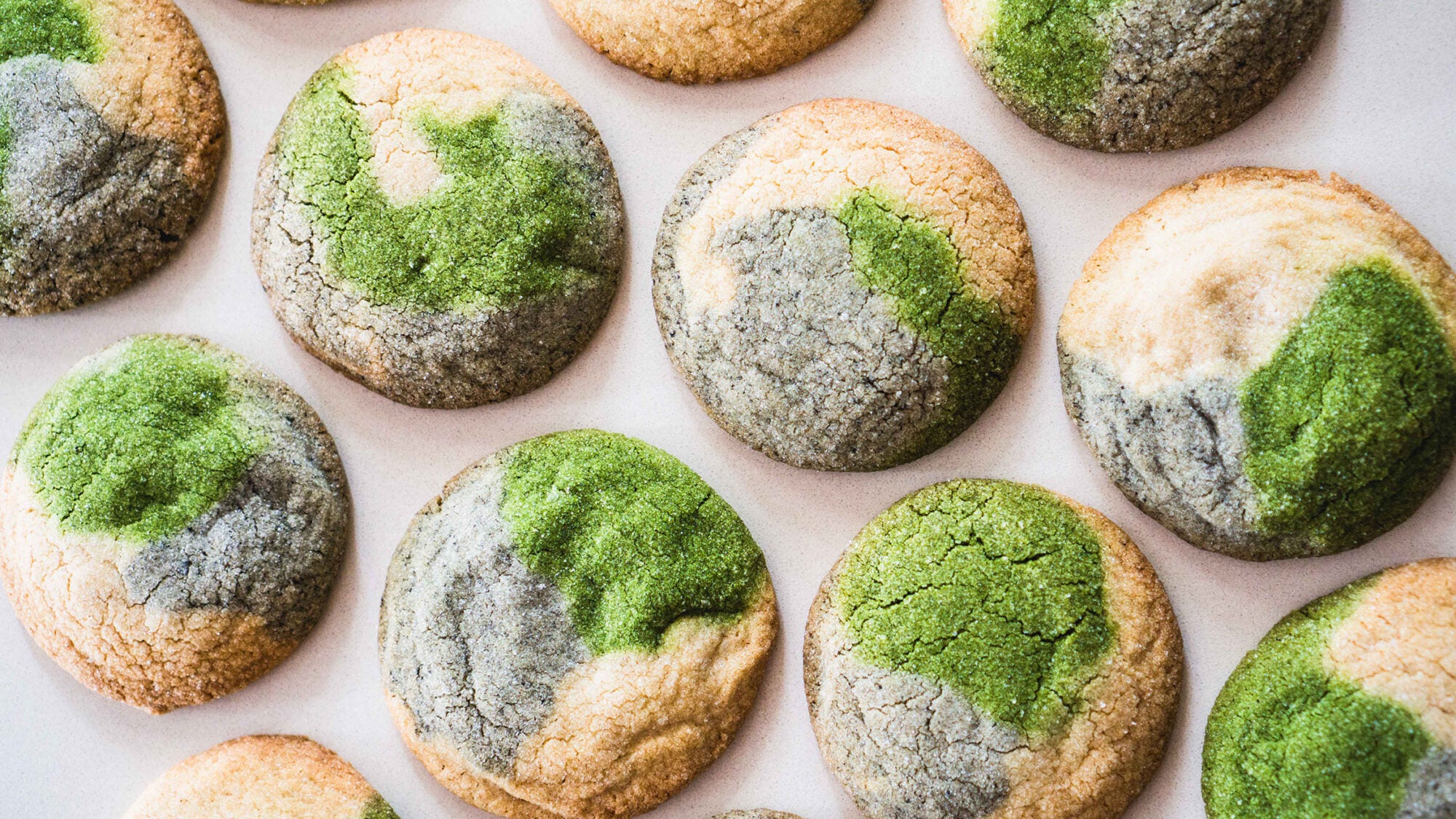 The Neapolitan cookie has marbled itself into a baked internet sensation.
A tub of classic Neapolitan ice cream has always been a sweet salve for the indecisive among us. Whether you're hankering for chocolate, vanilla, or strawberry, some combination of the two, or a ripple of all three, it satisfies any fickle flavor preferences. With three different flavored doughs smooshed together into one marbled cookie, Neapolitan cookies stay true to the character of the original ice cream, and they have rapidly become an entire baking style unto themselves. 
They first caught my eye back in July, during one of my zombie scrolls through my Instagram feed, their marbled elegance hypnotizing me into first curiosity, then nostalgia, then a reach to re-create them during an obsessive pandemic baking session. The tricolored cookies are most widely credited to Sarah Kieffer, author of 100 Cookies and of pan-banging chocolate chip cookies internet fame. These cookies have fast become the most baked cookie out of the hundred in her book, and Kieffer herself credits the recipe to Nashville pastry chef Mathew Rice, who came up with the idea for his own tricolored cookies at a charity ice cream social in 2016, inspired by his grandma's philosophy of always having Neapolitan ice cream on hand in her freezer. "Like most grandmas, if you were at her house, she wanted to make sure she had something for everybody. The ice cream was one example," explains Rice.
To reimagine the ice cream as a cookie, Rice flavored three separate cookie doughs with vanilla extract, cocoa powder, and freeze-dried strawberries blended into a powder, shaped equal portions of each flavor, and united these dough balls into trios before baking. The biggest mistake you can make, according to Rice, is "letting the doughs swirl together too much—then there's no clear distinction between the flavors. No one wants smears of chocolate on top of their strawberry." 
Far from being just a cookie-cutter offspring of the classic ice cream trifecta, Neapolitan cookies are a springboard for any flavor combination conjured up by a home baker's preference. Food blogger Sally McKenney makes a version shaped in a loaf pan before being sliced up and baked, giving the resulting cookies a squarish, shortbread look, an ode to the rectangular Neapolitan ice cream logs of old. Throw in some crushed pistachios or Oreos in place of cocoa powder, as Erika Kwee of The Pancake Princess does; substitute the strawberry with any pulverized, freeze-dried fruits, like blueberries or mango; or ripple caramel or jam through the vanilla bit. 
For Amy Ho, cookbook author and blogger at Constellation Inspiration, that meant swapping out cocoa powder for matcha. Just like Rice, Ho was struck by Neapolitan nostalgia. She grew up eating tubs of the ice cream because her parents thought it was "the best way to appease an indecisive child who preferred strawberry on most days but would occasionally eat chocolate and vanilla." Her matcha Neapolitan became one of most popular recipes from her blog, and she has since seen more riffs that substitute dragonfruit powder in place of strawberry, incorporate Earl Grey tea, or break from the mold entirely with taro, salted egg yolk, and vanilla. 
As for me, my dream Neapolitan is a Japanese-influenced one, marrying the comforting umami and earthy tones of matcha and the subtle nuttiness of kurogoma (black sesame), rounded out with kinako (roasted soybean flour) in the base dough in lieu of vanilla, which adds toasty elegance. While there's nothing classically Neapolitan about it in flavor, it is undeniably Neapolitan in spirit—uniting three flavors into one, bringing harmony and acceptance for indecision.
And maybe that is the point of these cookies, a three-way bridge for any flavor trios, a template for triple threats of tastes, a perfect snack for the indecisive. Nibble on the side with your favorite flavor, bite off a corner with two colors, or chew on all three. The choice is yours.