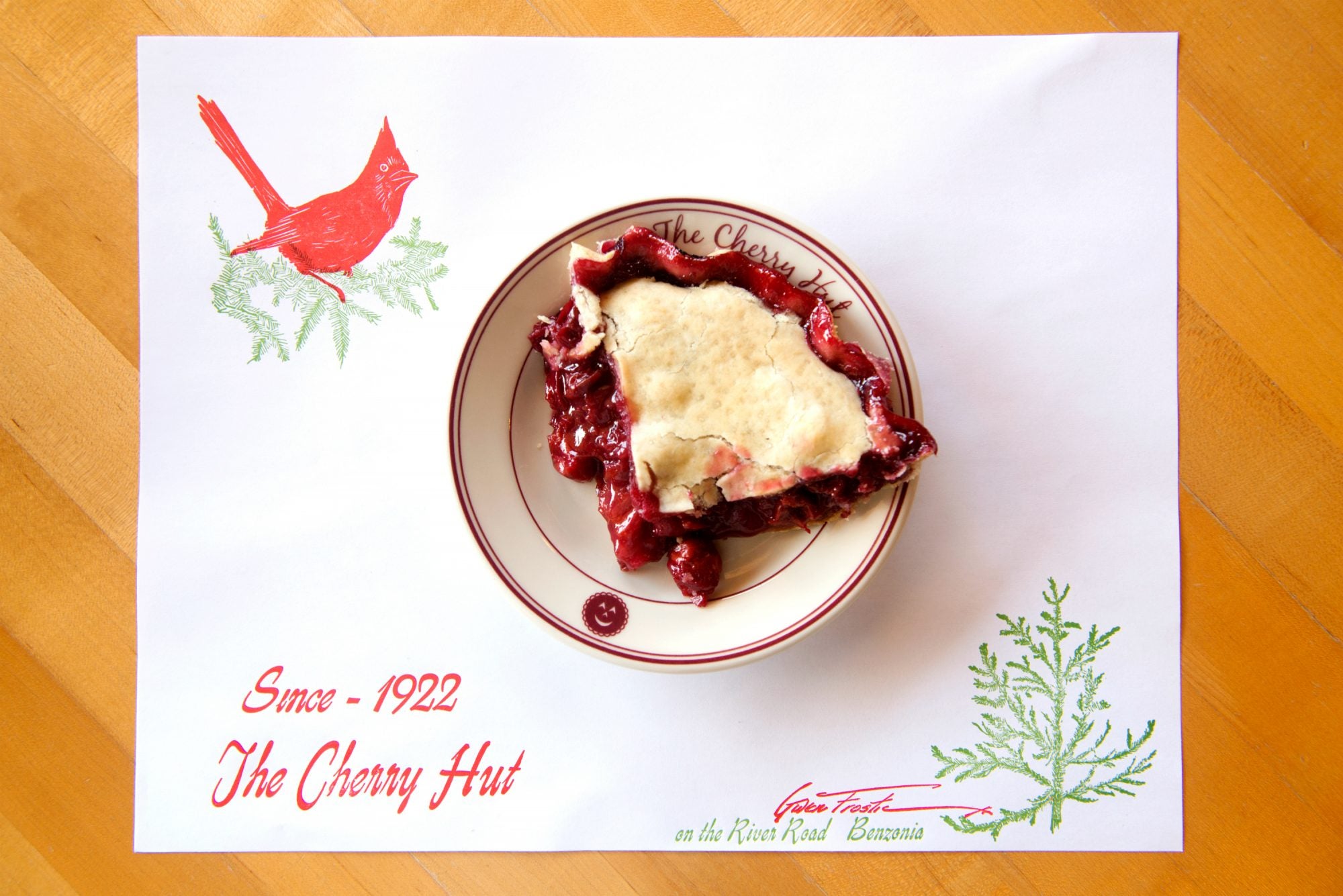 In Beulah, Michigan, there's a peerless cherry pie waiting for you with a smile.
State highway M-31 runs along the western edge of Michigan, from Indiana to the Mackinac Bridge into the Upper Peninsula—where I'm told the Yoopers dwell. During the summer months, beach-seekers caravan from the suburbs of Detroit and high rises of Chicago to delight and decompress on the freshwater shoreline of Lake Michigan. "Up north"—local parlance for the rural regions north of Manistee—to me is a collection of a few quiet counties sitting along the 45th parallel. I take temporary residence in Bear Lake for a couple weeks every summer. There, the nearest supermarket is a 20-minute drive to Benzonia, but I happily volunteer to procure items from even the most minuscule shopping list: some eggs, milk, another six-pack of Bell's Oberon. This is because I know there's a place, the Cherry Hut, a few minutes further down the road that serves a peerless cherry pie. It's done so for the past 95 years.
The village of Beulah, which swells to town status during vacation months, sits on the eastern shore of Crystal Lake's Caribbean-tinted waters. A block or two away, the smiling face of Cherry Jerry stands tall between two cherry-colored wooden posts; underneath it a programmable LED sign flashes daily specials of roast turkey and ham salad sandwiches. Behind it, a retro red cottage is hugged by a white picket fence. Above the entrance in big block letters reads "The Cherry Hut," to which I've sworn cherry pie allegiance for the past decade.
Started as a roadside pie stand on the north shore of Crystal Lake in a bona fide hut, the Cherry Hut was inaugurated in 1922. The Kraker family used cherries from their own orchard to bake their cherry pie and still uses the same satisfying recipe today, with at least a pound of sweet Montmorency cherries filling every double-crusted pie. A beaming Cherry Jerry grin used to be scored into the top of every pie, but now a sizable—and more utilitarian X-mark—defines the four slices therewith.
I'll get this out of the way now: Yes, there's lard in the crust. When baked, its complexion is less than golden, like the glow of a faded suntan, but it somehow tastes much more toasty than that. Cherry pie filling burbles out, enticing you like embers at a campfire; the profundity of this pie isn't in its novelty, it's about reliability.
In 1937, the Cherry Hut found its current home on US-31. Leonard Case Jr., a Benzonia High School sophomore, took a summer job there in 1946 making cherry jam and has worked there every year until last (minus two years spent in the army). In 1957, Leonard was named manager, and after two years in this position, he decided to buy the place from the Krakers. He built a dining room in 1964 and served mainly pies until 1980, when increased seating and an expanded food menu were introduced. I sit down in one of the red faux-leather booths with Andy Case, Leonard's son and present-day co-owner (with his wife, Christy). How, I ask, has this nearly century-old establishment stood the test of time?" Andy looks at me with a smirk. "Service with a smile," he says.
Case, who holds a degree in restaurant management from Michigan State University, spent years working for Disney down in Orlando. At Epcot, employees costumed as cartoon characters wade through a sea of vacationers, all eager to take selfies with the walking stuffed animals. The uniforms at the Cherry Hut are nearly as memorable; female servers wear puffed-sleeved, red-and-white-striped blouses with solid red A-line skirts that hit just above the knees, evoking dairy maids if they worked in the orchards rather than in barns.
The cheery-eyed front-of-house staff is composed mainly of high school and college-aged kids, who tend to return to their jobs every summer. With 20 or so servers total, there are only about five new hires a year. The red die-cut, pie pan–shaped menus boast a listing of all of "Cherry Jerry's helpers," noting their hometowns and the schools they attend. Case points out that working at the Cherry Hut is the first job for many of its employees.
My father-in-law matches our server's name tag to the menu every time he goes, without fail asking, "How many years you got left at Benzie Central High?" or "What are you studying at Grand Valley State?" My mother-in-law, whose mother was a Bear Lake native, jokes that many of the workers there are probably relatives. She was right this year; three members of the Fink family, kids of cousins, currently work the floor. Christy Case, Andy's wife and the kitchen manager, jokes that there are three O'Connors and four Burches, too, a mother and three daughters; it's a genuine family restaurant.
Andrew John, who also introduced himself as Andy, has been baking pies at the Hut since the summer of 1998. I watch him systematically set up a dozen pie tins in two rows of six, while Monica Schaffer, who relocated from Detroit a handful of years ago, shapes pie crusts by placing them through a two-roller sheeter. The first flattens the dough into a disc; the second rolls it out into a round large enough to cover the pan's eight-inch circumference. John carefully places the bottom crust into the pans and then brings over a bowl of "cherry pie filling" that he ladles out into each shell.
I ask to taste a little of the filling, and he hands me a teacup with a spoon. While I eat the raw materials, a second series of crusts fly through the sheeter. John throws them like a Frisbee over the top of each pan, trimming off any overhang. These scraps will be remixed into future doughs (the lard gives it just enough elasticity to be reworked without becoming unmanageable). Each pie is then hand-crimped and placed in the standing freezer until they're baked off in batches of 24 or 48.
The kitchen's multitiered Blodgett deck oven is older than anyone who works at the Cherry Hut, well, except Anita, who's 81 and still works as an expediter, and maybe Rick Van Hammen, 64, a transplant from Grand Rapids who used to summer as a kid on nearby Platte Lake. He started working here 50 years ago. The dials are so worn and black that you can't tell what temperature the oven is set at. John tells me he knows when they're done due to baker's intuition; I take this to mean he doesn't want to give away any secrets.
The kitchen turns out an average 300 cherry pies a day, which adds up to some 28,000 pies a year. (Here, a year lasts Memorial Day to Labor Day, sometimes into October.) The Cherry Hut blows through 14 tons of frozen cherries annually. Since 1942 the cherries have been sourced from Smeltzer Orchards, a company about 10 minutes south on M-31 and down Joyfield Road—you'll know the turn by the frequent cherry spills at the intersection, runaways from trucks coming in from the orchards during the harvest, which runs from June through August. The Cherry Hut actually outdates Smeltzer. The cherries originally came from a cherry growers' co-op, purchased by the 30-pound bucketload, a quantity they still order by today.
When the cherries arrive at the Hut, frozen, they've already been mixed 5:1 with sugar. That mixture is emptied into a large bowl with a bit of flour and a little more sugar to make thickening slurry. The key: blending the filling just enough that it's evenly distributed and the cherries are whole, not crushed; otherwise that would be called "jam," as pie maker John jokes. He recalls an insane day when he had 854 pies in the freezer. The most he's ever baked in a shift was 649. These numbers don't amount to big business. The Cherry Hut charges a nominal $3.75 for a slice of an experience that's much more valuable, in the way that summertime seems to form enduring memories.
I watch while John and Schaffer symbiotically stockpile a few rounds of pies. I happen to be there on a day they're getting ready to ship out mail orders, a new arm of the Cherry Hut business introduced only a year ago. Through its website you can order a single cherry pie for $34.95, shipped anywhere in the Midwest and eastern U.S.; there's a two-pie minimum if you live west of the Mississippi, and orders are fulfilled only on Wednesdays.
Case tells me his father ate a slice of cherry pie every day, and I wonder if he's part of the à la mode crowd or not. A slice with the addition of a scoop of Sleeping Bear Supreme "Absolutely Vanilla" is ordered twice as often as those unadorned. I try to do the math: At four slices a pie, I have Leonard's lifetime sum at nearly 1,700 pies himself (that's 68 years working there, 99 days between Memorial and Labor Day, a total of 6,732 pieces).
Leonard passed away last year, but there's a new generation that will undoubtedly carry the torch. His grandson, Carson, who's only nine, works as a greeter sometimes; you'll know him by his name tag, and he'll be quick to point out a menu special named after him: a half turkey sandwich, soup, and salad. His younger brother Caleb has a namesake quiche that's served only on weekdays, with fresh fruit and a cherry muffin. Cherry Jerry turns 100 soon, and I ask Andy Case how they're planning to celebrate. "I'm not sure yet," he says. "Here, we take it one day at a time." And I say, "Here's to cherry pie and everlasting summer."