The Case for the Supermarket Supershopper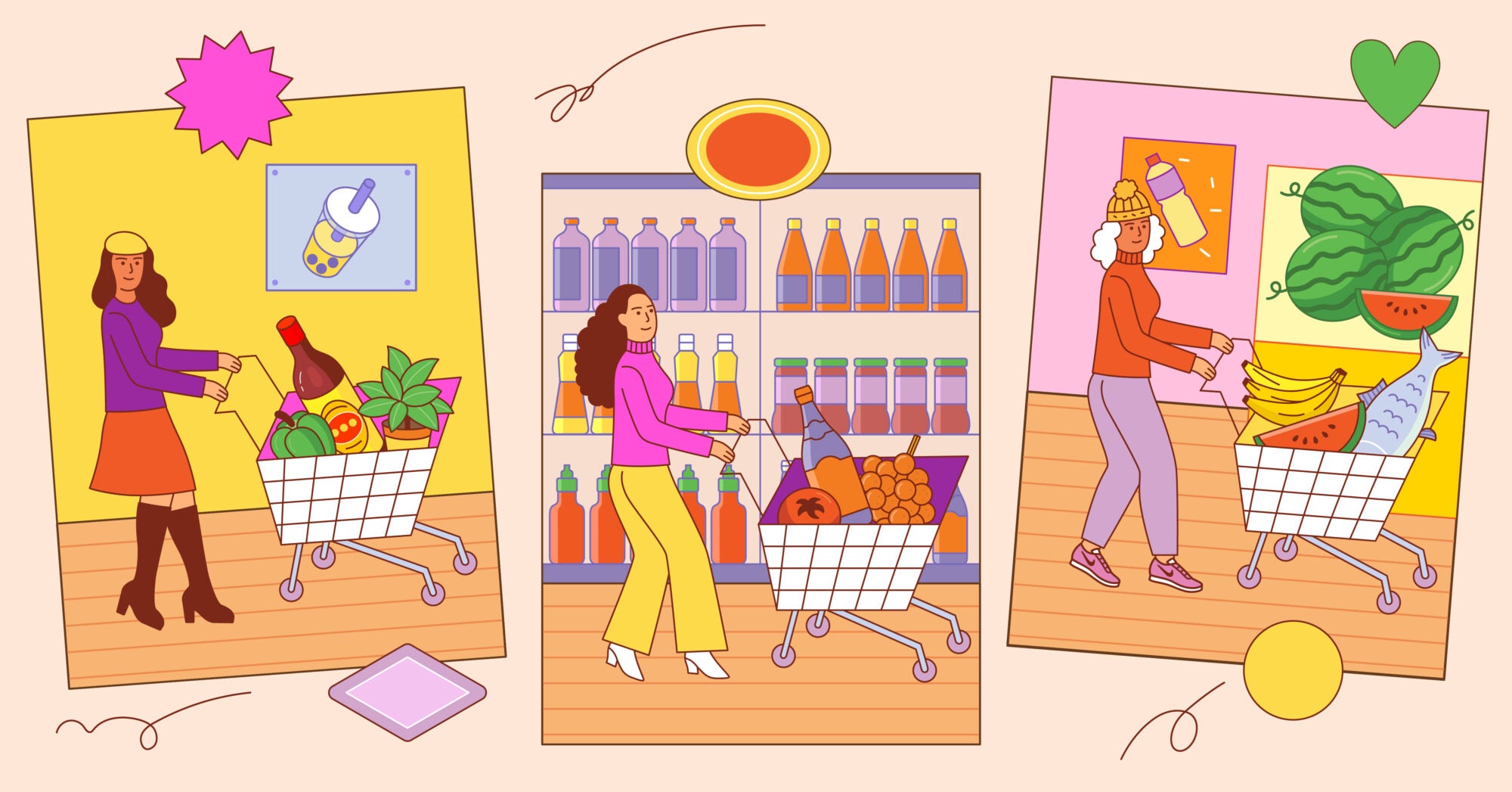 Some shoppers find joy in daily trips to the grocery store simply for the community, let alone the miracle of abundance.
When I was eight or nine, I spent a week one summer with my paternal grandparents in Upstate New York. During that time, I grew into the rhythms of their comfortable retirement: Reading Blondie comic strips in the newspaper at the round kitchen table. Macerating sliced strawberries with heaping spoonfuls of sugar to top a bowl of cornflakes. Placing nuts along a porch railing and watching the squirrels surreptitiously snatch them. Slathering peanut butter on a pine cone for the birds. And twice daily, once after breakfast and once in the afternoon, I'd accompany my grandfather to supermarkets.
Sometimes he drove to two or three supermarkets per outing, comparing prices on microwave popcorn, Lipton tea, and deals of the day. Sometimes—often, it seemed—he'd leave the store empty-handed because there was nothing special to drop in the cart. This was never a disappointment but accepted, just as one accepts a stop sign at an empty intersection. The way my grandfather shopped for groceries—then in his seventies, when his home was well-stocked with food already—was sort of like bowling or fishing, things he had once been fond of. It was for pleasure and sometimes sport. But it was also a social activity. He couldn't leave most supermarket visits without seeing someone he knew.
Ruth Whitfield was also a regular supermarket shopper in Buffalo, New York. Her son, Garnell Whitfield, described her trips to Tops supermarket as "a daily ritual" to a news outlet after she was murdered by a racist gunman there on May 14. In fact, several of the Black women and men who were killed there that day, ten in total, were described as regulars.
The word "ritual" is thrown around colloquially today, but sometimes it still carries the weight of religious ceremony. For supermarket supershoppers, as we might call them, these stores themselves, with their floor-to-ceiling shelves and flickering freezers brimming with food that's available for purchase, are a sanctuary that transcends faith, race, and economic status. Grocery shopping is an intimately personal act—deciding what to put in your body and what to feed the people you love—performed in public. And like altar boys shuffling through the aisles in quiet unison, we're all carrying it out together.
It's well-studied to the point of cliché that shopping offers a high—the brain releasing dopamine, the same chemical that signals love. It's why we've coined (somewhat contradictory) phrases like "shopping addiction" and "retail therapy" over the last several consumerist decades. A great deal of reports on this phenomenon suggest or flat-out scold that this physiological reaction to shopping is unnatural and not in our best interests—a survival instinct gone haywire. But when the bulk of these purchases are food and household goods like almond milk, garbage bags, and Pine-Sol, things you have probably purchased hundreds of times in your life, the allure becomes more complicated, or perhaps more boring. Strip away the satisfaction of providing for others, and grocery shopping approaches something like self-care.
"People's heart rates slow when they walk through the supermarket, and their eyes dilate," says Benjamin Lorr, author of The Secret Life of Groceries: The Dark Miracle of the American Supermarket.
Grocery shopping is an intimately personal act—deciding what to put in your body and what to feed the people you love—performed in public.
Grocery shopping can be a uniquely pleasurable experience, and it's a squarely American invention. Before the turn of the century, people got their groceries from general stores, where a clerk gathered your items while you waited and placed them on the counter to ring up. There was no way to compare the costs and relative virtues of, say, Crest or Colgate toothpaste; toothpaste was just toothpaste. As Lorr details in his book, the supermarket as we know it today was the brainchild of Michael Cullen, founder of the King Kullen supermarket chain of Long Island, the first of which opened in 1930. By cutting out the clerk for a self-service model and cutting out storage facilities by making the store itself a warehouse, Cullen was able to negotiate on volume with suppliers and pass those savings on to the consumer in the form of low prices.
"And he did it with the explicit idea that it was going to drive customers crazy with desire to buy," says Lorr.
This tactile experience of shopping from such a vast selection eventually ushered in the concept of "branding"—and spread around the world. In 1950, when the first American-style supermarket opened in Rome, a woman began running up and down the aisles, screaming, "This is heaven!" 
Of course, not everyone is so excited about grocery shopping. We take the modern supermarket for granted today, and most of them are decidedly unglamorous, with fluorescent lighting and elevator music occasionally interrupted by the crackle of a request for a mop on aisle three. For many, roaming the aisles to fill a cart for the week ahead is a drab necessity. And few people have the time, funds, and physical energy to do so with the frequency of supermarket supershoppers, whether they're retired or not.
But for some, rooting for bargains taps into an ingrained opportunism. My grandfather grew up during the Great Depression, a time when food was scarce. The supermarket, which blossomed during his lifetime like a great Venus from the earth, must have really seemed like heaven. For him, much of the pleasure was found in the hunt for the rare bargain, like our hunter-gatherer ancestors may have felt when they came across a sleeping bear. For being clever enough to pair a coupon with an item that's already on sale. For holding off on buying a tempting pint of ripe blueberries at one store before getting it for half the price at the next. There is a devilish sense of satisfaction at having gamed the system enough to get an extra six-pack of Gillette razor blades to store in the bathroom cupboard. When my grandfather passed away 15 years ago, ten jars of peanut butter were found in a basement pantry.
An early life of food insecurity is identified by Huy X. Le as the probable cause for a supermarket addiction in a 2013 essay for the International Examiner. In it, he surmised that his urge to buy anything on sale, no matter if it was eaten or forgotten for years, came from growing up as a refugee. "Paradoxically, though, growing up poor and unable to afford gourmet food also makes exotic and expensive, high-end food items very attractive—now that we can actually afford them," Le wrote.
For some, rooting for bargains taps into an ingrained opportunism.
Then, the enormity of today's supermarkets—including 200,000-square-foot Costcos and Walmarts—and their accordingly vast number of discounted items can turn shopping into a game not unlike the actual game show Supermarket Sweep. An ever-rotating deluge of bargains keep shoppers coming back to sniff out hidden gems. It's all part of a feedback loop, says Lorr, where customers are so excited about spending only $8 on a rotisserie chicken that they happily buy many other items at a modest-to-steep markup. That makes the business work, but it also makes supermarkets compete in a race to the bottom on prices. Over the decades, costs have been cut elsewhere, in areas more elusive to shoppers: workers' wages, and a whole supply chain, from truckers to farm laborers. "You're getting the benefit of this advanced civilization without quite having to acknowledge the cost," says Lorr.
This is the supermarket jungle that my father, now in his seventies, supershops in. There is rarely a day that goes by when he doesn't visit his local Stop & Shop in Northeast New Jersey, where a points-based reward system keeps him loyal. Switching out his walker for a shopping cart in the parking lot, he strolls the aisles just like everyone else, his disability invisible. Having previewed weekly specials in an email sent to loyalty card members like him, he is often filled with anticipation. Then he stops. Resting his elbows on the handlebar, he peers into a cool, glowing case with a bright label beneath the shelf and takes a deep inhale of discovery, followed by a barely audible "Well!" There will be baby back ribs tonight.
You could say I'm descended from a line of supermarket supershoppers, but the more I talk with others about it—or see news reports about people like Ruth Whitfield—I realize this is not unique. My own shopping proclivities have been shaped by my environment; living in the heart of a dense neighborhood in Brooklyn, I had no need for big-box supermarkets, preferring small bodegas, farmers' markets, and seasonal CSA shares. For a decade, most of my groceries came from the same compact produce market owned by a Korean American family, with bins of fruit spilling onto the sidewalk and shelves packed to the ceiling with pantry goods. 
But that store recently closed. And a couple years ago, a new supermarket was built on the ground floor of a high-rise building less than a block from me. Its vastness—20,000 square feet—still awes me. The buying possibilities nag at me. Would I like to make minestrone? I wonder, basket dangling from the crook of my arm. A shrimp po' boy? Buy honeysuckle-scented hand soap? Taste every type of jam I've never tried before? Which coffee bean is smoothest? What is A2/A2 yogurt?
As I wander the intensely air-conditioned aisles, these questions embalm me in privilege. Everything is within reach. Craning my neck to take in all the shelves, this miracle of abundance lulls me into a meditative state, even if I'm just popping in to buy toilet paper. It's life-affirming and almost eerily reassuring, even if I don't need anything. Who wouldn't want to experience this richness every day?
Shelve It explores the world of groceries, from the fluorescent-lit aisles to the nooks and crannies of your cupboard. We dive into why certain ingredients got pantry staple status, the connection between cookbooks and buying habits, the online-ification of grocery shopping, and what gets shelved along the way.