The Biting Brilliance of Fresh Wasabi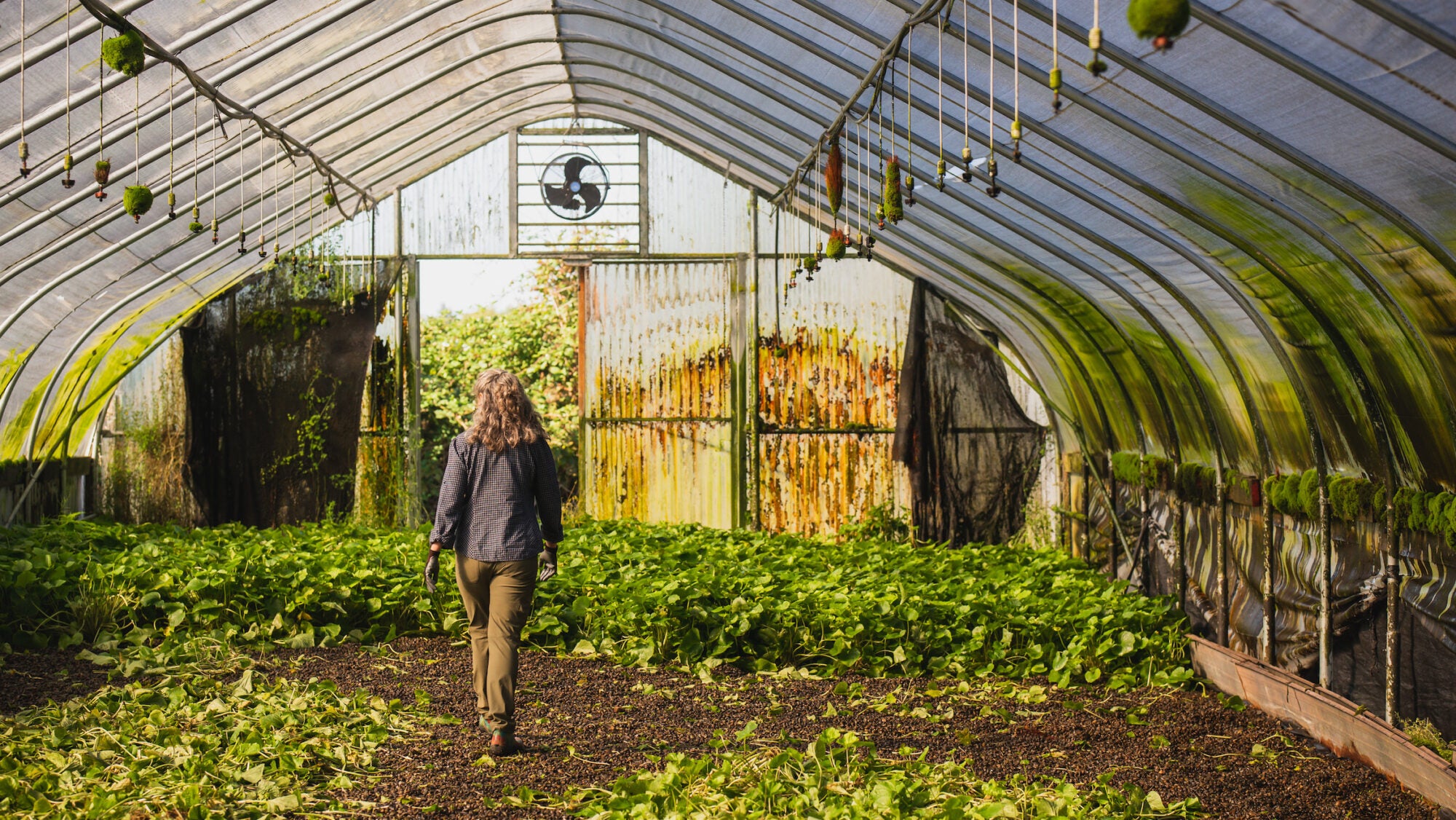 Many associate wasabi with the neon-green paste that accompanies takeout sushi, but these emerald rhizomes can lead to the most varied home cooking adventures.
It's raining on the beach.
I'm two hours due southwest from the city of Portland, a misty mountain hop across the Oregon Coast Range along the length of the Wilson River as it slips and switchbacks through the Tillamook State Forest. Here, where the vast, verdant green mountains meet the wild, churning Pacific, sits a quiet little patch of greenhouses protected by a private metal gate. There's no cell phone reception, and I'm not allowed to print the address (the farm does not accept visitors), but I've found my way to Oregon Coast Wasabi, one of just three commercial cultivators in North America dedicated to the harvesting of real wasabi, a revered linchpin of Japanese cuisine and one of the rarest, most prized plants on Earth.
There is perhaps no agricultural product more widely known yet less understood than the disarmingly complex wasabi plant. It is a member of the plant family Brassicaceae, and the wasabi root used in cooking is technically a rhizome. Wasabi grows wild along the creek beds and streams of the Ooyamazawa riparian forest canopy in central Japan, and its use as a medicinal plant dates back to the Asuka period in the 6th century. Its popularity in Japanese culinary technique is more recent, booming during the Edo period as nigirizushi (the consumption of rare fish and seasoned rice that we universally call "sushi") grew in popularity across 1820s Tokyo.
Today there are more than 4,000 sushi restaurants in the United States alone. One oft-repeated statistic claims that up to 99 percent of the wasabi served worldwide is not in fact "real" wasabi—the green paste we're familiar with is actually a concoction of horseradish, green food coloring, and stabilization chemicals. But slowly, verily, access to the real stuff has grown over the last decade in the American west, thanks in no small part to the work of this remote, single-acre farm overlooking the sneaker waves and sea stack rock formations of the remote Oregon coast. Availability has never been better, and home cooks will find an unexpected universe of flavors and uses for the plant.
And oh, those flavors. The single-note ah-woo-ga burn commonly associated with artificial wasabi paste is just one section of the orchestra (the trumpets, perhaps); with the real stuff, you get a broad, expressive, multifaceted symphony of sweetness and florality intermingled with the heat, which doesn't so much as bop you on the nose as it does creep, then whoop for all its life, before extinguishing into sweetness in a grand orchestral flourish, the crescendo of "A Day in the Life" crashing across your tongue.
To me, real wasabi evokes nothing so much as shiso leaf, wasabi's classic foil on the sashimi platter, in that they are both wonderfully long and complex and not afforded nearly enough credit. To say that real wasabi is better than the artificial paste is to taste Dungeness alongside imitation crabmeat—which is to say that they are different products entirely, and if you've only ever had the fake stuff, well, you are in for a profound treat.
There is perhaps no agricultural product more widely known yet less understood than the disarmingly complex wasabi plant.
I ask Jennifer Bloeser, the founder of Oregon Coast Wasabi, why she chose this part of the world to set up shop, and she looks back, smiling, raising her palms toward the Sheffield Gray sky. "It's this beautiful drizzly weather," she tells me. "That's what wasabi needs." Bloeser is a former marine scientist who fell into horticulture through the lucky gift of a wasabi starter plant sent to her by a friend.
That was 12 years ago; today, Bloeser and her small team manage a dozen greenhouses containing 20,000 individual wasabi plants on this site alone, with another facility nearby and a third set to begin construction in the coming months. Her greenhouses are full to bursting of the most lushly green, fragrant wasabi plants you've ever seen—except that almost no one reading this has actually seen wasabi growing in person; I certainly hadn't.
Seeing wasabi in person helps anchor the plant-form reality of the product most only ever know as a paste: the root, the leaves, the stems and flowers. Each has a flavor and a scent, and a path to the kitchen. Restaurants and chefs are increasingly drawn to the culinary possibilities of the product, which is also cultivated and sold by Real Wasabi of North Carolina and Half Moon Bay Wasabi outside San Francisco, as well as through limited import of whole rhizomes from Japan. Cody Auger of Takibi, who has for the last decade been among Portland's most accomplished sushi chefs, considers the fresh wasabi experience essential to his approach to Japanese cuisine. "Fresh wasabi is for people who are looking for flavor, not just spice," he tells me. "There's so much character and nuance to the flavor."
Today, Oregon Coast Wasabi has a dedicated fan base across the United States, distributed by a select group of fine food purveyors and eager, experimental chefs, from Jonathan Mailo and Shaun Hergatt at Manhattan's Vestry to Katy Millard at Portland's Coquine, who pickles, powders, and infuses every inch of the wasabi plant across a broad range of preparations. "My favorite use is in steak tartare," Millard says, before serving me a composed salad of shaved kohlrabi and Oro Blanco grapefruit with pickled wasabi stems. "I like to use it where horseradish might be used traditionally, or by adding it at the last minute to vinaigrette."
Online sales of fresh wasabi have grown precipitously over the last few years, aided by Oregon Coast Wasabi's web store, which sells fresh rhizomes and an array of graters, as well as seasoning salt, plant starts, and gift sets shipped to order via USPS. "Demand has gone up steadily since we started," Bloeser tells me, "and now, with so many people cooking at home, people have really started to find us."
She sends me back across the mountains with a little bag of her own wasabi seasoning salt, a flat-backed Microplane grater, and three fresh rhizomes, picked and cleaned straight from the plant as I watched. A helpful instructional sheet tells me to keep the rhizomes fresh by wrapping them in a damp towel and storing them cool and dark in the fridge, so that they'll keep for around three weeks. Here's something I've consumed all my life, but almost always in the context of Japanese cuisine, and almost always the faux paste stuff. For a home chef, it's like an IRL dinner date after a month of text message bubbles: possibilities feel limitless, better than you could have imagined, like finding out what you've been missing.
Yes, fresh wasabi is brilliant raw—grated à la minute with the very best fish you can get, in a crudo or ceviche and especially alongside rice, which goes back to the earliest culinary uses of the plant. But from there, things get wild. Grate half a rhizome and mix it with crème fraîche to serve with grilled steak (good) or cold roast beef and pickled cabbage (even better). Take a cue from Katy Millard and add fresh wasabi at the last moment to your favorite vinaigrette recipe, thinking of it the same way you might use mustard. Mix fresh wasabi with tart fruit into a refreshing granita, perhaps served between courses, perhaps poured atop shucked oysters with a few nasturtium leaves. Your wrist will hurt from the repetitive motion of the Microplane, but it will be worth it.
To say that real wasabi is better than the artificial paste is to taste Dungeness alongside imitation crabmeat
Back at the farm, Jennifer Bloeser told me, "You don't really want to warm it up—wasabi loses that spicy character once it's heated." And she's right: the characteristic retronasal burn of wasabi disappears once warmed, and it dissipates even in the 20 minutes after grating it, which is why chefs like Millard add it fresh to their veggie sets. But what you're left with gets to the green essence of the plant, revealing unexpected sweetness and a round herbaceous quality.
I grated fresh wasabi into a traditional English rice pudding recipe, and it wound up tasting like the herbal pandan custard of my dreams. I baked with wasabi—there are no rules at home—making wildly good white chocolate chip cookies, finished with a sprinkle of Oregon Coast Wasabi salt. There's a ghostly whisper of heat at the very end of each bite, the mind playing tricks on itself, and long crashing waves of sweet and savory melding and wending together.
Slowly, verily, access to the real stuff has grown over the last decade in the American west.
My favorite use of wasabi at home is in the creation of simple syrup. A cup of sugar, a cup of water, and half a fresh grated rhizome; bring it to a simmer, cool it down, and strain. It's absolutely brilliant poured over coconut pancakes or splashed into a gin and tonic, and at its simple best atop mineral water on the rocks, like a Georgian tarkhun tarragon soda lost in the Japanese forest. Not to get too philosophical here, but stuff like this speaks to the endless moment we're living through right now as chefs at home, where access to ingredients like this—once so exceedingly rare—is available with the tap of a thumb.
Real wasabi is scarce, misunderstood, only consumed in certain contexts, and not for the faint of heart. Or at least it used to be. "We can hardly keep up with demand right now," Bloeser told me that day on the coast, beneath the ocean rain. "People these days are looking for the real thing."
Curious to try fresh wasabi at home? Here's where to start:
Photos: Oregon Coast Wasabi
Rabbit Hole is a column that digs deep into nodes of culinary inquiry, from the recipes and products that expand our home routines to the food culturalists and content creators that make us hungry and curious. Along the way, we're exploring the ever golden gastronomic moment in the 21st century: never boring, always peckish.