The Best Egg Cream in Alphabet City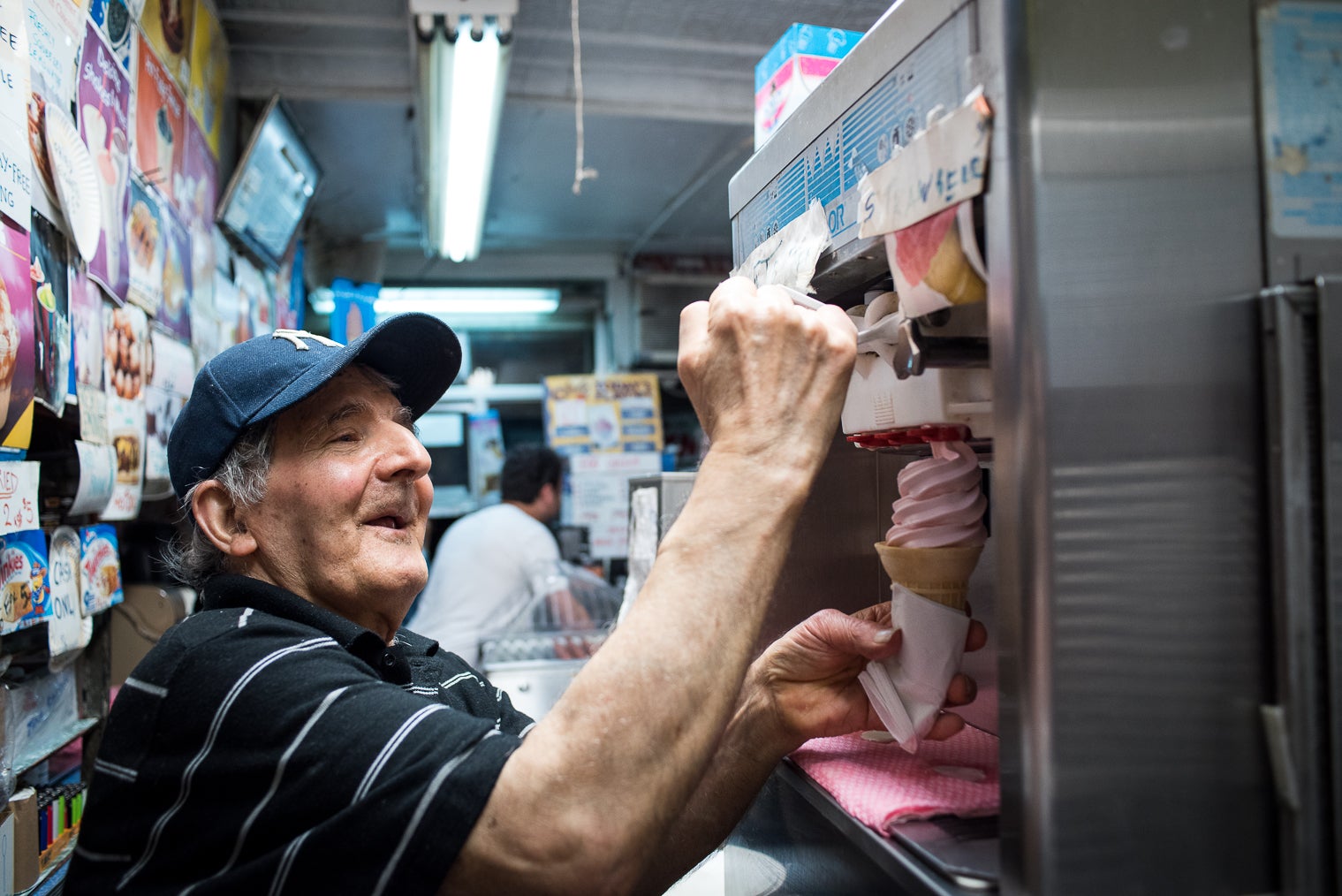 At Ray's Candy Store, late-night snacks are served with a sense of humor and a lot of love.
Alphabet City in lower Manhattan has been through a lot of change in recent years, with rising rents, longtime businesses closing up shop, and national chains creeping in. But as much as things change, some things happily remain the same. Ray Alvarez, the owner of Ray's Candy Store, has been doing business on Avenue A between 7th Street and St Marks Place for 43 years—since the '70s. Pop by one night and stick your head in the takeout window and yell a hello to Ray, and you'll be greeted by a grandfatherly if accented "I love you, I love you!" as he continues to make cherry-lime rickeys and soft serve ice cream cones for a continuous line of late-night customers.
When Ray's Candy Store first opened, in 1974, the neighborhood was devoid of the Starbucks and boutiques that occupy storefronts today. "Everybody was buying and selling drugs, and everybody carried guns," Ray recalls. "It was a different world. I was selling comics and bubbles, shoe polish, shoelaces, balloons and baseball bats, hula hoops." Now Ray's offerings veer more toward late-night, last-stop-before-bed-after-a-night-of-drinking junk food.
Life in Alphabet City is tenuous, and Ray's has been in danger of closing ever since Tompkins Square cleared out (most of) the junkies and the diner Odessa became half the business it once was. "You know, I used to sell, like, maybe 500 egg cream a day, now I sell 40," he says. But in spite of the changing tides, regulars and neighborhood friends have intervened over the years to help Ray raise his prices, which had stayed the same for too long, helping to make the store a magnet for revelers. And happily, with a cast of loyal employees who are more like family, the place is on stable financial ground.
If you manage to look behind you while you're waiting for your order of truly excellent French fries, or fried Oreos, or a classic New York egg cream, take a minute to scan the wall of press clippings Ray has amassed over the last few years. Turns out the 84-year-old Ray is not actually Ray—his name is Ashgar Ghahraman, and he's originally from Iran.  He was in the Iranian navy, traveling the world, when he decided to jump ship off the coast of Virginia and adopted a new homeland. Ray became Ray when he moved north to New York and settled in Alphabet City and opened his shop in 1974 trying to blend in with his neighbors. Now, there isn't a person in Alphabet City who doesn't love Ray. And if you ask Ray why his food is good, he'll readily tell you that the secret is: love.
In a wink and a nod to the changing face of the neighborhood, the folks at Ray's decided to host a Restaurant Week tasting event this year. Ten bucks for "5 courses" plus a fountain soda, coffee, or one of Ray's famous egg creams. All of Ray's greatest hits were featured: French fries with an array of dipping sauces to start, hot sausages on buns with spicy mustard, beignets, fried Oreos, and soft serve ice cream. The place was packed to the gills for three hours. It was the hottest Monday night "reservation" to score on Avenue A.