What Makes a Good Bar Nut?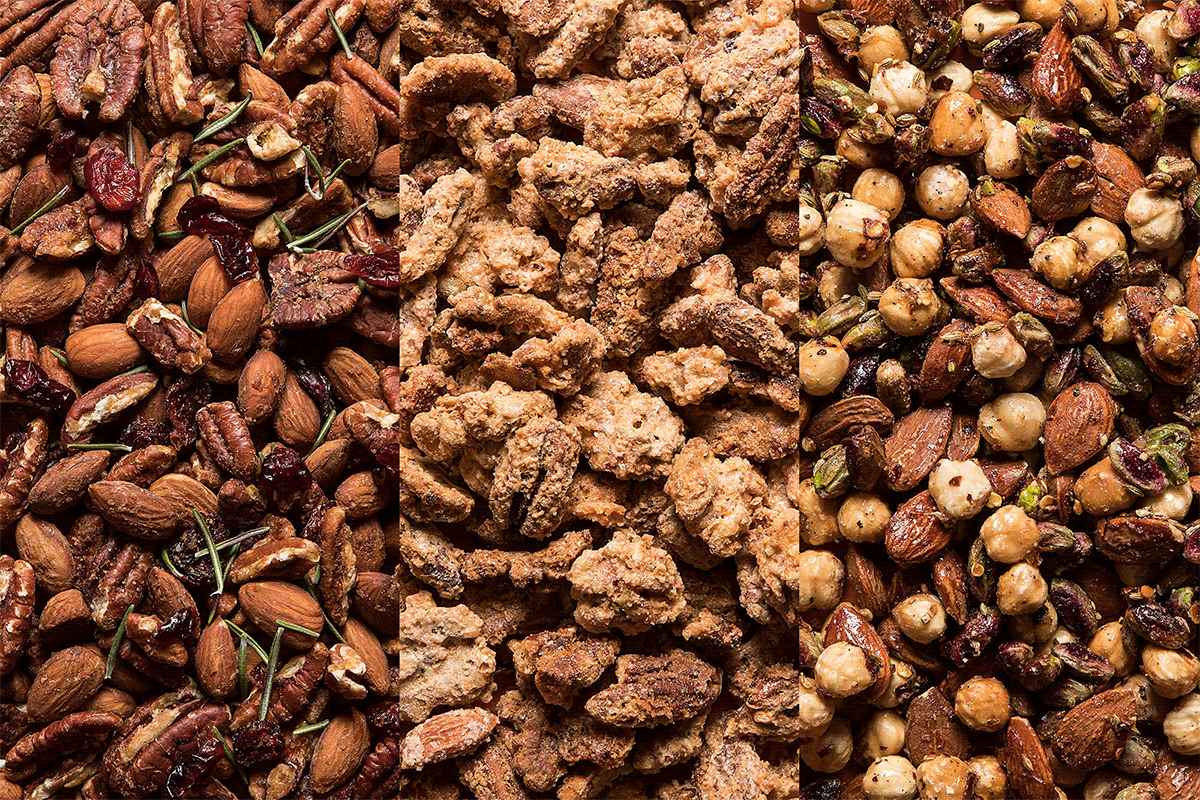 The best ones are worth becoming a regular for—or making at home.
Ten years ago, with our backs to the warm westerly sun beaming across lower Manhattan, my wife and I sat at Locanda Verde's zinc-topped bar in Tribeca, cold Negronis in our hands, as we watched happy hour bleed into dinner. As we perused the menu for a snack, a gray-vested bartender leaned in with a secret: They served the best bar nuts in the city—and they were free, if you knew to ask for them.
A palm-size bowl of assorted candied almonds, hazelnuts, and pistachios landed in front of us a few minutes later. The mix was created by Karen DeMasco, the restaurant's opening pastry chef, who made her name working alongside Tom Colicchio at Craft in the early aughts (she's now the executive pastry chef at ABC Kitchen, ABC Cocina, and abcV). DeMasco combined a distinctive spice mix—black pepper, fennel seeds, and red pepper—with some simple syrup, tossing the nuts in the sugar and spice, then baking the whole mess until everything was lightly toasted and aromatic. The resulting bowl, served at room temperature, was much sweeter than it was salty, with rousing bites of black pepper and chile underscored by bursts of herbaceous fennel seeds. And there was crunch.
As a tradition, bar nuts are tied to an old conceit: Bartenders conveniently place snacks in front of parched patrons to encourage them to order another round of drinks. While any bar can feign a bowl of bar nuts by scooping a serving of plain, salted nuts from a large plastic tub secured at Costco, the majority of bars don't bother with more than a few paltry peanuts—if they have any snacks at all. So when you find the rare spot that puts as much care into this snack as they do for their cocktails, it's not just a reason to order another round. It's a reason to become a regular.
Bar nuts are tied to an old conceit: Bartenders conveniently place snacks in front of parched patrons to encourage them to order another round of drinks.
Danny Meyer's Union Square Cafe, which opened three decades ago, has built a reputation for having some of the best bar nuts in New York City. Warm, buttery, and unlimited, they've been on the menu for as long as the restaurant has been open, and many copycat recipes exist online. In its eponymous 2013 cookbook, the headnote for chef emeritus Michael Romano's recipe speaks of the sweet rosemary fragrance wafting through the restaurant, which carried over even when the restaurant moved a few blocks in 2015 from East 16th Street to East 19th Street.
The recipe's original medley was still the mainstay, with a mix of hazelnuts, pecans, cashews, and Brazil nuts, highlighted by a pinch of lively cayenne and freshly chopped rosemary. The distinction here is that the nuts are bathed with a ladle of melted butter right before they're served, blooming the brown sugar and spice.
At Gramercy Tavern, pastry chef Miro Uskokovic makes 30 orders of bar nuts a day—each small bowl sold for a $5 upcharge—with slight seasonal variations. Pecans, almonds, and maple syrup from the Catskill Mountain Sugar House are usually part of the mix, and cranberries are added to the blend in late fall, accented by a seasonal addition of rosemary.
Uskokovic's method has three parts: toast the nuts, make the glaze, and cook the nuts until candied. "Raw nuts aren't at their full potential," he says. "Toasting brings out their sweetness and improves their texture."
In Houston, Jonathan Pittman, chef de cuisine of Night Heron, a globally inspired neighborhood bistro in the burgeoning Montrose district, thinks bar nuts tend to be too salty, lacking in the balance of sweetness and acidity. Pittman looks to the backbar for flavor inspiration, with a crimson Angostura sugar that creates a crackly, crusty exterior on a triad of almonds, walnuts, and pecans. But first the nuts are coated with egg whites as a helpful binder; the albumen paste allows the sugar to coat and adhere to the nuts, giving them a crystalline crunch, more so than if they were just cooked in syrup. Night Heron's bar nuts are served in a rocks glass with another dash of bitters added à la minute—a profoundly clove-y perfume. Guests are presented with a fresh wedge of lime to squeeze over the top, making this riff on bar nuts a true "cocktail" snack.
"When it's hot down here in the South, you get out of work for happy hour, and these little snacks can tide you over," says Pittman. "Having something that's more than two-dimensional intrigues people and hopefully makes them want to drink more."
As a new parent, I'm more likely to be found digging into a bag of Chex Mix with a whiskey neat on the couch at home than at a cocktail bar these days. But I've never been to a party that didn't welcome a cache of warm, buttered nuts. And even when the bar is a cart at home, a personal bowl of better bar nuts makes my happy hour a little bit happier.