The Beauty in Israel's Ugly Stuffed Vegetables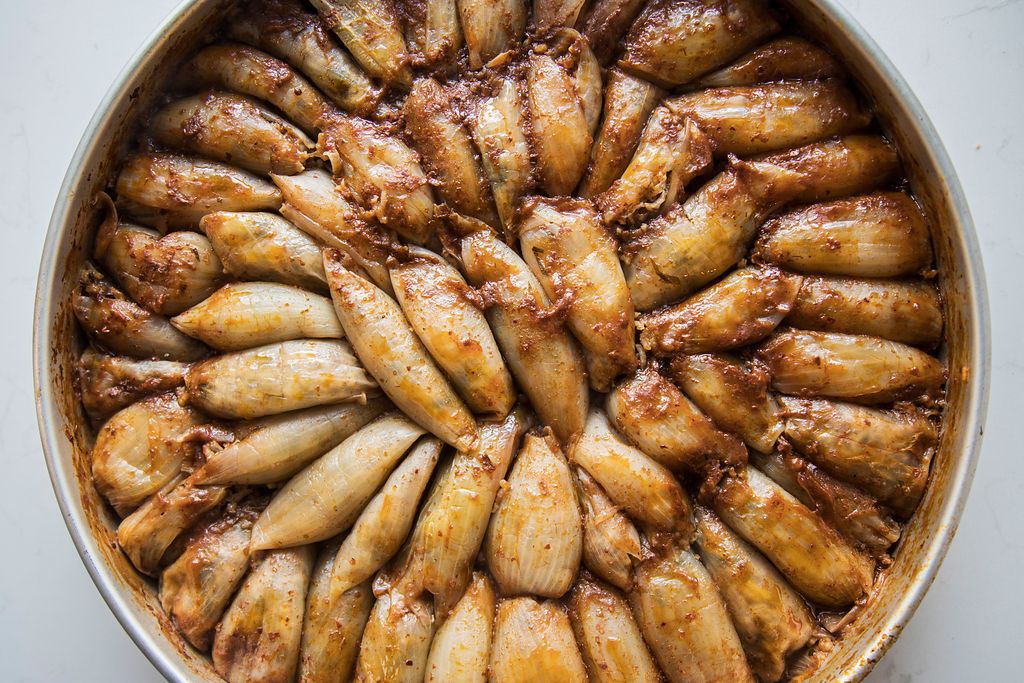 Memulaim, or "stuffed ones" in Hebrew, require a little ground meat, lots of vegetables, and a trusty family recipe.
The secret to understanding the heart of almost any cuisine is to seek out its ugliest foods. To hell with impressing the company or collecting Instagram likes. The ugly foods—the dishes cooked beyond all recognition, hopelessly collapsing upon themselves and leaving behind an unsightly ring of burnt sauce around the perimeter of the pot—are so deeply delicious, looks are beside the point.
In Israel, for example, a country often touted for its gorgeous fresh produce, it all comes back to stuffed vegetables. Israeli cuisine is largely an immigrant cuisine—a blend of the myriad countries cooking side by side in what Israeli food writer and cookbook author Janna Gur calls both "a melting pot and a living museum" of food cultures. But one thing that nearly all of these diasporic communities, from Romania and Poland to Syria, Morocco, and India, have in common is a deep affection for stuffed vegetables—a culinary technique that transforms a bit of meat and starch into a soulful and seductive (if textbook unattractive) centerpiece.
Called memulaim, or "stuffed ones" in Hebrew, stuffed vegetables technically fall into three distinct categories of dishes. The first includes vegetables, like zucchini, tomatoes, beets, and eggplants, that get painstakingly hollowed out or that have a natural cavity (like bell peppers), and are then filled. Stuffed vegetables made from leaves (most commonly grape leaves, cabbage, or Swiss chard) that are rolled burrito-style around a filling represent the second category. Stuffed onions arguably belong in this category, since individual layers of the onion are steamed off and used as wrappers. A third, lesser-known category includes dishes where the stuffed vegetable is coated in egg and flour and then fried before being braised in a flavorful sauce—like the North African dish Libyan mafroum (made from a potato that is slit nearly in half and stuffed) and Moroccan t'ajines d'artichouts farcis (stuffed artichokes).
Each community prepares memulaim a bit differently. Some versions are stuffed with ground beef and bread crumbs; others with ground lamb and rice or finely chopped mushrooms and kasha. Some get stewed in sauces soured by pomegranate molasses or tamarind paste; others with lemon juice or sour salt. And they are alternately spiced with cinnamon, allspice, and dried mint,or brought to life with heaps of chopped fresh dill or parsley. But prepare them they do, particularly in families lucky enough to have a skilled home cook or two around.
"Memulaim really are one of the homey dishes that are so central to Israel," says Gur, who founded Israel's best-known food magazine, Al Hashulchan. They conjure up the image of what she described as the "ultimate balaboosta [housewife] in her tiny kitchen with three or four pots going on the stove at any given time." Primarily served on festive occasions—at Friday night dinner or holiday meals, and after synagogue on Saturday mornings—these dishes are bound up with the warm nostalgia of family and celebration.
Within the three primary categories exists a stunning amount of regional and familial variation. Einat Admony, the Israeli-born chef who owns several Middle Eastern restaurants in New York, including a forthcoming couscous-focused eatery, Kish-Kash, remembers a Bukharian aunt who made stuffed salted cucumbers topped with prunes. (Stuffed cucumbers are also popular in Palestinian cuisine.) It may sound like an unusual combination to the American palate, which prefers cucumbers raw, but Admony insists they were delicious. "She had such patience with them, curing the cucumbers with salt the day before until the texture changed."
"My 86-year old Turkish grandmother makes three types I have never seen anywhere else," says Leetal Arazi, co-owner of NYShuk, a Middle Eastern food company in New York. Depending on the season, she turns out stuffed zucchini coated in homemade caramel before getting braised, briny stuffed sauerkraut leaves flavored with sauerkraut juice, and, most amazingly, spinach leaves stuffed with just meat, since the rice would certainly tear the delicate leaves as it expanded. "If the spinach leaf is not big enough, she somehow stitches two or three of them together," Arazi says.
As with all "grandmother cooking," thrift is paramount. "Every Israeli homemaker has a pound of ground beef in the freezer," says Gur. "Memulaim stretches it into a meal for the whole family." Home cooks stuff whatever they have around, layering filled zucchini, potatoes, and eggplant into the same pot if need be. And nothing gets wasted in the process. "My Iranian mom never threw anything away," recalls Admony. "If she made stuffed tomatoes or onions, she would chop up any pulp scooped out from the center or any leftover onion and put it back into the stuffing mixture." In many cases, entirely new dishes were created from the leftover stems, peels, or pulp—like a Syrian kousa b'jibn, which mixes the hollowed-out zucchini pulp with eggs and cheese and bakes it into a casserole.
In recent years, a handful of Israeli chefs, particularly those who draw inspiration from their family heritage, have begun to experiment with stuffed vegetables at their restaurants. At the popular Machneyuda in Jerusalem, beets stuffed with polenta and truffle oil show up as a starter. Chef Tomer Agay serves kousa mahshi (stuffed zucchini) at his trendy Tel Aviv restaurant, Santa Katarina. And at Delicatessen, chef Stas Benyaminov offers an array of memulaim: There's lamb- and beef-stuffed eggplant in tomato sauce, veal-stuffed cabbage in Hungarian paprika-spiked sauce, and a vegan-friendly pepper stuffed with rice, nuts, and herbs. "They are a lot of work for a restaurant, but people connect to them," says Admony, who occasionally offers stuffed-vegetable dishes at her restaurants.
In truth, they are a lot of work for anyone. If memulaim are something of a national dish within Israeli cuisine, they are also a bellwether. Like so many other traditional, labor-intensive dishes, they are at risk of fading away as the country's first- and second-generation immigrants (the keepers of such recipes) begin to age. With any luck, the next generation will take up the torch. Until then, one would do well to befriend an Israeli grandma and make some space in the freezer.
Lead photo by Maria Midoes. Holishkes photo by Linda Pugliese.