The At-Home Pizza Revolution Is Here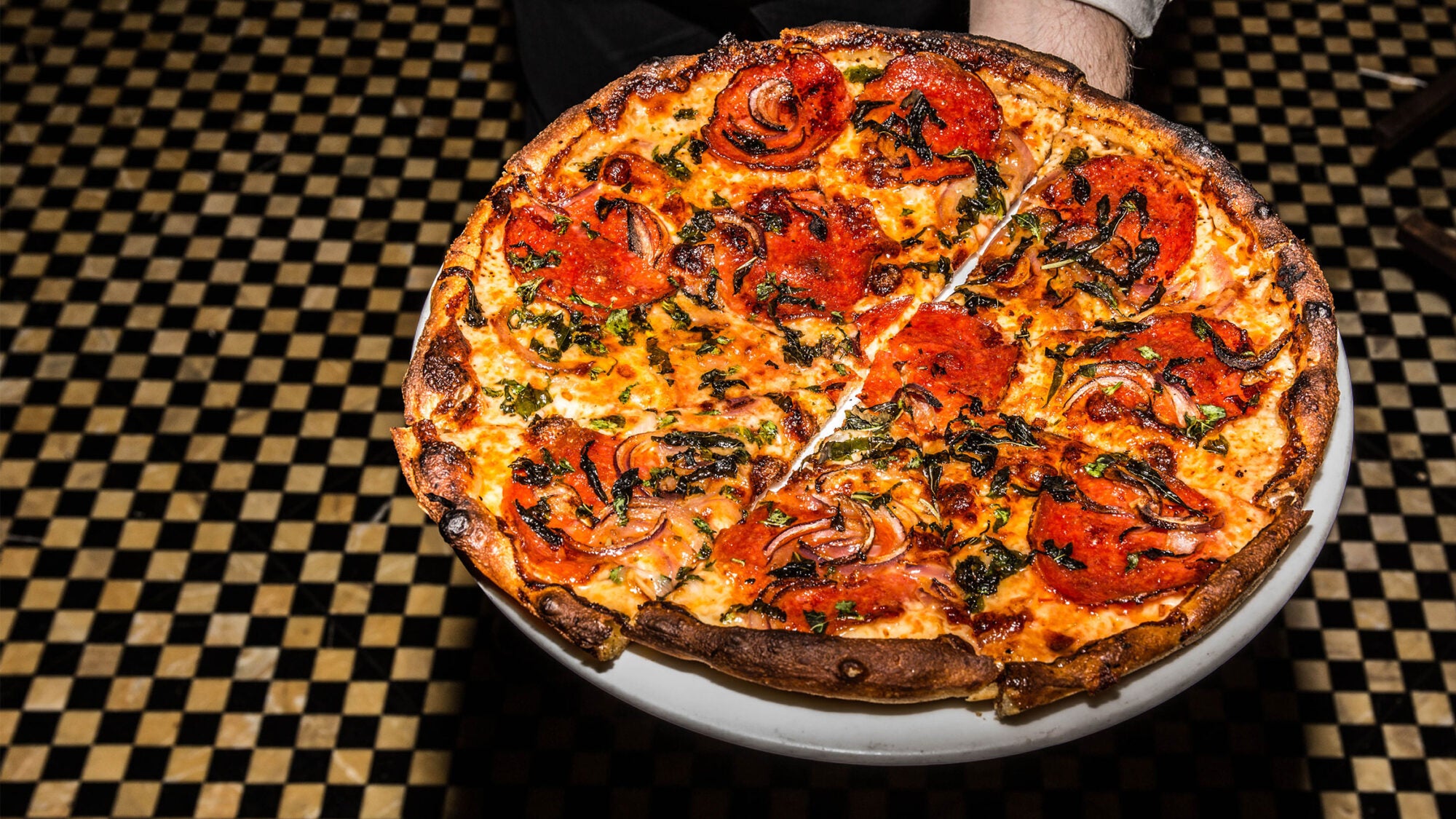 With a new generation of backyard gear, easy access to better ingredients, and plenty of innovation in the air, there's never been a better time to get serious about making pizza.
With the pervasiveness of pizza and the proliferation of portable backyard ovens (Ooni, Gozney, and Breville all make solid products), pizza at home is reaching a new high. With access to new crops of domestic 00 flours, like King Arthur's and Central Milling (a joint venture with 13-time World Pizza Cup Champion Tony Gemignani), and pizzaiolo-approved crushed tomatoes (the Chris Bianco–backed Bianco DiNapoli brand), there's no limit to how high home cooks can ascend the everlasting apex of pizza.
As a lifelong pizza cook and now pundit—my first job was at Capriccio in Croton-on-Hudson, New York, in high school, and I haven't stop pursuing pizza since—I've questioned the constitution of San Marzanos, and I've promoted the other two tomato varieties accepted by the AVPN (Associazione Verace Pizza Napoletana), Corbarino and Piennolo. I've followed the path that the buffaloes roam for select mozzarella, and I've eschewed pre-shredded cheese in favor of Caputo Brothers Creamery's cultured curd for fior di pizza. I've seen in Philly use grated aged gouda instead of Pecorino or Parmesan at Pizzeria Beddia, and I've squeezed the plethora of chile-infused honeys as part of the trendy pizza condiment craze.
But I keep coming back to how cooks like Sarah Minnick of Lovely's Fifty Fifty in Portland, Oregon, showers her pies in flowers from her own garden, and the way Brandon Gray of Brandoni Pepperoni, a former Navy cook, applies fine dining techniques to farmers' market toppings in Los Angeles.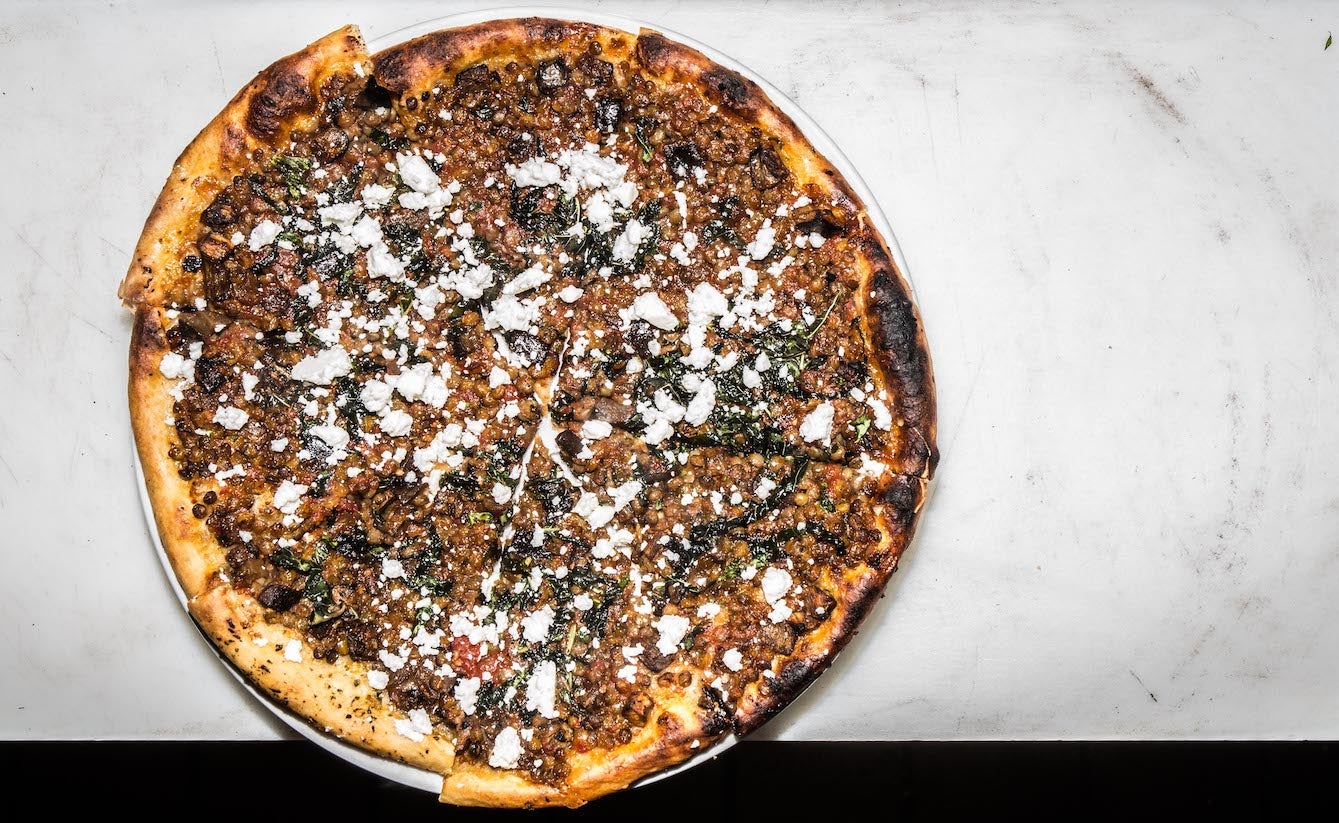 While pepperoni was popularized by the 1990s pizza wars between Pizza Hut and Domino's—and the Teenage Mutant Ninja Turtles, of course (check out their cookbook!)—it's been Buffalo, New York's genre-busting "cup-and-char" claim to fame that's made me realize how minutiae makes for a bigger butterfly effect than I ever expected. Check out the classic Bocce Club Pizza versus the more modern "Buffaloaded" creations at Macy's Place Pizzeria.
We're drawing inspiration from full-time pizza makers, but the pro-am circuit is closing the gap when it comes to curiosity. Equipment is an equalizer, like Baking Steel's conductive ability to lead us out of the proverbial (pizza) Stone Age and away from conventional oven constraints. LloydPans have empowered us to take deep dives into the pizza styles of Chicago and Detroit.
It's not to say that pizza maestro Anthony Mangieri of New York's Una Pizza Napoletana, which is about to reopen (again) isn't enticing the at-home pizza influencers with his neo-Neapolitan canotto-style crusts and his odes to the long-lost red sauce and Pecorino-dusted cosacca pizza, made famous as a gift to a 19th-century Russian czar. Cookbooks also give us hope and flour-coated promises, and recent releases like Dan Richer's The Joy of Pizza, whose Razza x Burlap & Barrel Crushed Red Peppers collaboration is worth some pantry space, and Modernist Cuisine's 1700-page tome Modernist Pizza (whose podcast I host), give us unimpeded access to the experts like we've never had before.
For over 30 years, the chicken tikka masala pie at Zante Pizza & Indian Cuisine in San Francisco, California, has blurred the line of whose cuisine is it anyway, with a new breed of pizza entrepreneurs like Hapa Pizza in Beaverton, Oregon, and Anzalone Pizza in Boise, Idaho, using their Asian culinary heritages to present Vietnamese pho and Thai panang curry on pizza.
While pizza continues to morph and bend beyond pizza itself, lending its essence to pizza-flavored snacks (see: Combos, Cheez-Its, Goldfish Crackers, and Pretz), its crux is that pizza adapts to where it is—from Tokyo-style marinara to São Paulo's move away from their staid white-tablecloth, fork-and-knife, pizza-for-dinner-only status. Or the offerings of Old Forge, Pennsylvania's self-proclaimed "pizza capital of the world," where, in a town of 9,000 people, rectangular pan pizzas are not called pies but "trays," and there are no slices, just cuts. No matter how you slice it, it's all pizza to me.