The Aspirational Appeal of…Cake Mix?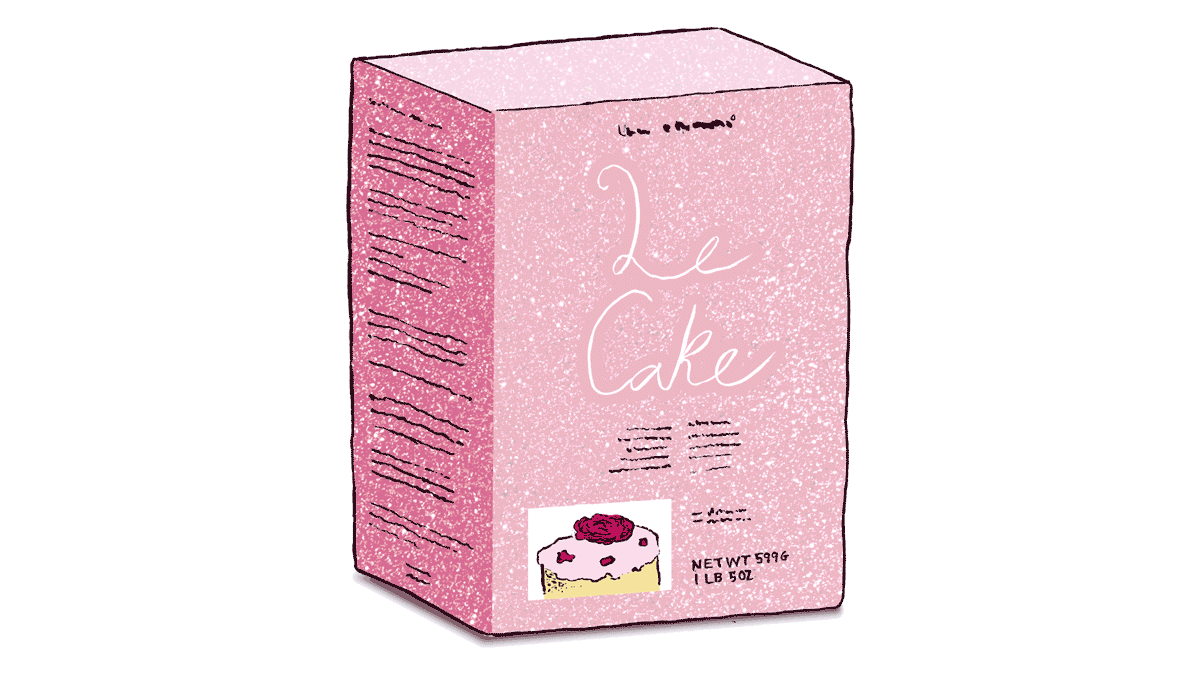 The polish of Instagram has come for your Betty Crocker mix.
It didn't look like a cake mix. It looked more like a box of expensive cosmetics. It had a millennial-pink cardboard sleeve that slid off to reveal a mirrored box so shiny I could almost see my reflection in it. At $25, I mused, the mix from New Zealand entrepreneur Jordan Rondel's The Caker had to offer something beyond a single-layer glazed lemon poppy seed cake. Perhaps it would transform me into one of those sexy, slightly bored-looking women on the company's website who apparently wear strapless dresses when they bake. After nearly a year in pajamas, that would be well worth the price.
Alas, when the cake was eventually baked, I was still an earnest, middle-aged woman shuffling around the kitchen in well-worn slippers. What was surprising, however, was that the cake was a mess, too. Mixing the premeasured dry ingredients was easy enough, and I did appreciate that the package included a perfectly cut disc of parchment paper to fit the pan. But after baking my cake for the recommended time (and then some), I watched it cave in as it cooled on a rack. The hot pink powdered glaze needed almost twice as much lemon juice as the recipe called for to make it something close to spreadable. And even then, it was obnoxiously sweet, like the filling of a Pop-Tart. I tipped the cake into the trash.
It was disappointing but also perversely satisfying to see my suspicions about the expensive mix confirmed. In our DIY-loving era, there's something off about making Instagram-ready cakes from a mix. Not least in the middle of a pandemic, when many of us have more time to spend in the kitchen, not less.
But it got me thinking. What is the point of a cake mix? They were first sold in the 1930s as a way to push bags of flour, the sales of which had dropped as women switched to commercially produced bread and cakes. And they were marketed as a convenience, fast and foolproof. Conventional wisdom, shaped by Laura Shapiro's 2005 culinary history Something from the Oven, says women initially resisted the concept: The mixes seemed like a cheat that would undermine their identities as good wives and mothers.
It was disappointing but also perversely satisfying to see my suspicions about the expensive mix confirmed.
While that may have been true for some, cake mixes were nevertheless a boon for many. Like Rice-A-Roni (introduced in 1958) and Hamburger Helper (1971), they eased the grind of cooking for a family day after day. Growing up in the 1980s, I'm not sure I ever ate a "homemade" cake that didn't at least start with a mix. My grandmother, the revered cook in our family, proudly made Duncan Hines Sock-It-To-Me cakes, which incorporated extra eggs and sour cream in the batter, for all our birthday parties. The icing came out of a can, too.
The first cakes I baked in the early 1980s were certainly made from a mix. It was only as my interest in cooking and baking deepened that I moved on and discovered that measuring my own flour, baking soda, and salt wasn't all that onerous. That said, I still use mixes now and then: I occasionally make a Sock-It-To-Me cake for my father, who, perhaps nostalgically, considers it the only legitimate birthday cake. I also only make brownies from Costco's Ghirardelli Triple Chocolate mix, which my daughter informed me she preferred to the infinitely superior Alice Medrich recipe that had been my go-to. The Ghirardelli mix costs $2.18, takes less than four minutes to make, and dirties just one bowl, one measuring cup, and one wooden spoon. This is both the definition of a no-brainer and the only way I can get my eight-year-old, who has what I can only hope is an age-appropriate attention span, to bake with me. "Cake mixes were an introduction to baking for me and still are for lots of people," says Kate Winslow, a food writer and stylist in Lambertville, New Jersey. "A cake mix gives you a perfectly respectable cake—not the greatest, but pretty good—for $5, all in." 
Which brings me to what I find so irritating about a $25 cake mix. It's not the shortcut; I have long beaten the drum for high-quality convenience foods. (And now that we're cooking at home for sometimes three meals a day, we need them more than ever: Since the start of the pandemic, I've been ordering frozen pizzas from Naples, Italy—and I suggest that you do, too.) 
The problem with The Caker's mixes is that you are paying an extraordinary price for pretty ordinary ingredients. Sure, there are no stabilizers or artificial ingredients, and there's even some trendy almond flour in the poppyseed mix. But what you're really paying for is membership to a tribe. A tribe that knows that a homemade matcha-cherry cake is cool, or that a hot pink glaze will pop on Instagram. A tribe that understands the food you serve says as much about you as the shoes you wear and the car you drive. In short, it isn't really about a fast and efficient way to feed your family a treat. It's a way to show off. 
The generally positive reviews of The Caker's mixes confirm this: "No one will ever guess that your creation came from a mix," one raved. "You can just say it's made from scratch because it looks and tastes that good," added another. Even Bon Appétit, an arbiter of cool in the kitchen, was impressed, saying, "the cakes look like they're straight from an expensive bakery." (The reviewer, thankfully, did note that $25 didn't cover extra, expensive ingredients like butter, milk, eggs, lemons, and strawberries, and that the baking times were off.)
"A $25 cake mix …is what happens when that superficial elitism meets the curated reality of Instagram."
People have always used food to mark their place in society, but it's important to remember why food became "cool" in America over the last twenty or so years. Sure, status-seeking played a role. But the real drivers, at least initially, were growing concerns about the damage our industrial food system was doing to human health and the health of the planet. There was a desire to build alternative ways of producing and preparing the foods we eat. This is what led to the trendiness of scratch cooking, heritage breeds, sustainable and artisanal everything. 
A $25 cake mix that leverages the "coolness" of food to sell commonplace ingredients (the flour's organic, but c'mon) to aspirational home cooks is what happens when that superficial elitism meets the curated reality of Instagram. Such a mix is the physical embodiment of social media's la vida perfecta that has spawned a tsunami of insecurity about the shabby inadequacy of one's own life. And it's the exact opposite of the legacy of the original cake mixes. Sure, those products were invented to sell flour. But they also helped empower a generation of women, desperate to be free of the stove, to pursue the social and professional opportunities becoming available to them in the postwar years. 
So here's a suggestion: If you have $25 and want to show off, spend it at a great local bakery instead. Your cake will be better, you'll be supporting a small business, and you can still post it on Instagram. And, bonus: You won't have to do any dishes.