The Aebleskiver of Solvang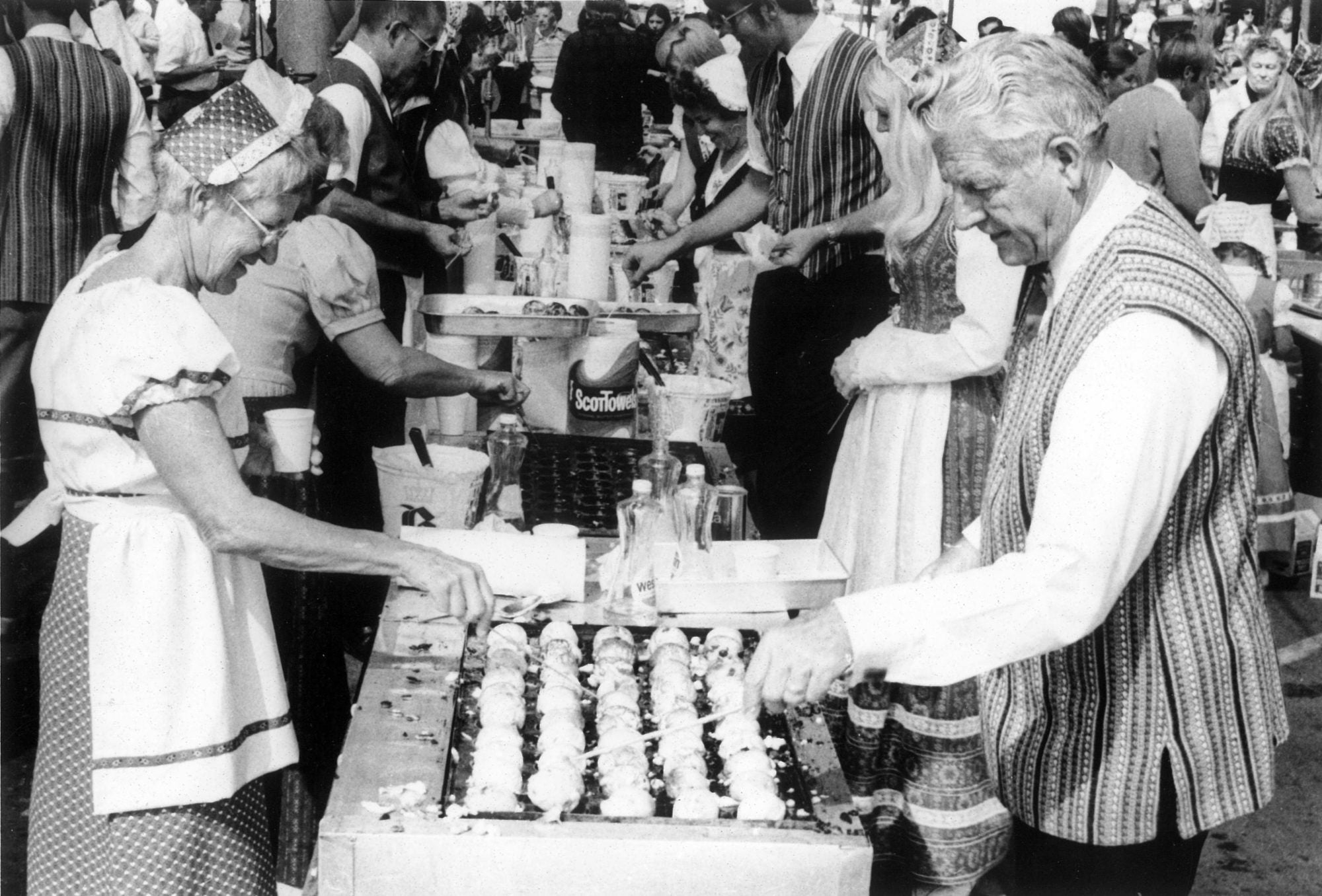 A Disney-like Danish town in Southern California is obsessed with preserving the tradition of the aebleskiver in the U.S.
A small rural town about 45 minutes north of Santa Barbara, Solvang is like a miniature Danish Disneyland plunked down in the middle of central California's wine country. There's a giant wooden clog sitting street-side, a windmill that's modeled after some of Denmark's finest, and steeply sloped roofs despite the fact that it never snows here. On almost every menu in town, alongside club sandwiches and hamburgers, you'll find the aebleskiver: a golfball-size hybrid between a pancake and a donut that literally translates from Danish to "apple slices."
Founded in 1911 by three Danish immigrants, Solvang evolved from a dairy-farming community into a hub for Danish folk art, architecture, and of course, food. Streets were given Danish names, buildings were reconstructed to replicate traditional Danish design, and in 1936 the town got together to celebrate its 25th anniversary—a festival that eventually turned into the annual Danish Days, a weekend-long party that helped build Solvang into a tourist destination with parades, Danish music, and folk dances. Soon after World War II, the Saturday Evening Post heralded the town as a "Danish village that blooms like a rose in California's charming Santa Ynez Valley."
It's at this annual September celebration that entire events are dedicated to the aebleskiver, like the Aebleskiver Cooking Demo and the Aebleskiver Breakfast. In Denmark, they're traditionally served as a dessert, most often during the Christmas holiday, but the aebleskiver in Solvang are served alongside American diner staples during breakfast and lunch—often paired with a slightly sweet Danish sausage seasoned with allspice and cloves.
In the early years of Danish Days, residents would set up large skillets on the street and serve piping-hot aebleskiver. Today, residents and tourists line up outside Solvang Restaurant, a mainstay in the heart of Solvang's downtown with a low-hanging roof and a painted-on facade of timber framing.
Though the batter is basic, for many families it's what you put inside or on top of these buttery treats that gives them a dessert-like quality. Some may add cardamom to the batter; others may add an apple slice, while another family may just dust it with powdered sugar. At the Solvang Restaurant, where founder Arne Hansen (affectionately known by locals as "Mr. Aebleskiver") first started serving the pancake-donut hybrid upon opening his doors in 1966, the dish is topped with both jam and powdered sugar.
The real beauty of these pancake-like balls, and what separates them from any profiterole or donut hole (aside from the fact that they are much bigger), is the aebleskiver pan. A cast-iron skillet similar to an egg poacher or a takoyaki pan, the device with half-spherical molds gets this Danish dessert crispy on the outside while keeping it soft and fluffy on the inside. That golden-brown perfection only happens under constant watch and with a spinning technique that comes with lots of practice.
Traditionally, Danes used knitting needles to turn the ball, but chopsticks or wooden skewers can also be used (just never try a spoon or fork). Jeff Paaske, a fourth-generation Dane, took over operations at the Solvang Restaurant from Hansen more than three decades ago, but the original aebleskiver recipe—and Hansen's own cast-iron aebleskiver pan—hasn't changed. But Paaske has his own trick for forming a perfectly round ball: four swift turns going north, east, west, and south. During peak season he can make anywhere from 2,000 to 3,000 aebleskiver a day. "I have a pan that makes 50 at a time, and on weekends and high season we never stop making them," he says.
Photos provided by King Merrill Photo, Shutterstock, and Theresa Gingras Photography.