The $800 Million Hot Pot IPO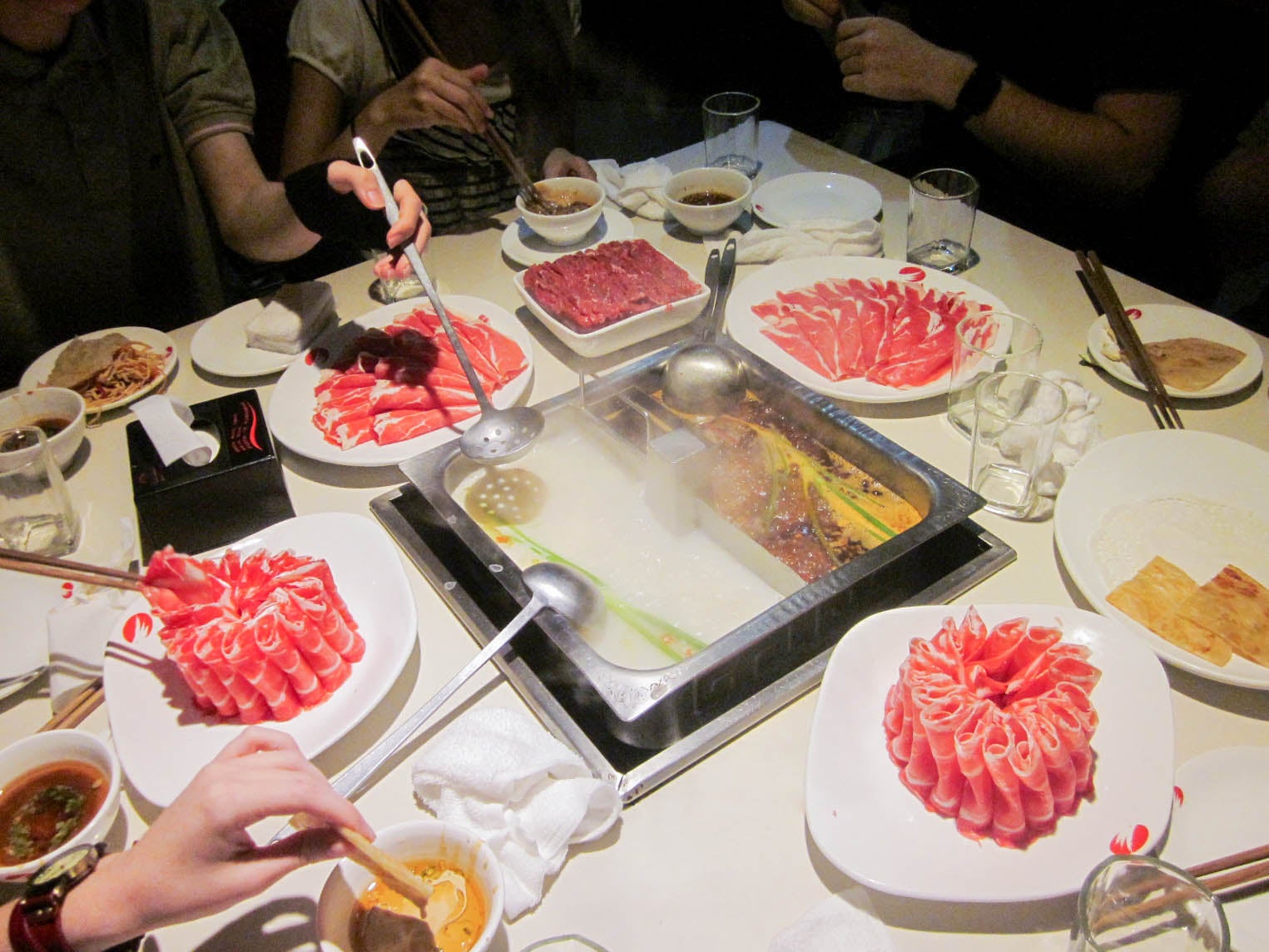 The success of Chinese chain Haidilao in China and abroad bubbles with excitement—and symbolism.
At 8 o'clock on a Tuesday night at the Haidilao Sichuan hot pot restaurant in Cupertino, California, the wait to get seated is 45 minutes. "It's pretty slow today," says our waiter, once we're finally seated after paying our dues in line. On a normal night, he adds, guests who arrive at crunch time should be prepared for three or even four hours.
In China, Haidilao is renowned for easing the pain of its popularity with beguiling ancillary services: while-you-wait manicures, massages, and on-the-house snacks. I did not see any nail salon activity in Cupertino, but the crowd didn't seem to mind. They were possibly distracted by the roving dancing noodle master as he dexterously twirled long cords of wheat flour around his head before dropping the freshly pulled noodles into the pots of simmering broth built into every table. This is not your classic no-frills Chinese restaurant. Haidilao is something different: a demonstration, and celebration, of sophisticated Chinese culinary cultural soft power planting its flag on American soil.
The Cupertino restaurant, which opened in January, is Haidilao's second outpost in the U.S. Both are located in regions with large Chinese immigrant populations. The chain currently operates more than 320 restaurants in total, with 24 of them outside of China. But if all goes according to founder Zhang Yong's plan, Haidilao will soon engage in a huge expansion. On May 18, Haidilao filed for an IPO in Hong Kong. According to press reports, the $800 million that Haidilao expects to raise from the offering will be spent on a rapid international expansion.
From the perspective of Sichuan hot pot history, the Haidilao IPO bubbles with symbolism. Food historians trace the roots of Sichuan hot pot back to the poorest of the poor: laborers in the Yangtze River port town of Chongqing in the early 1900s, consigned to the hard work of carrying cargo up steep and winding paths from the berths where ships weighed anchor near the city. Unable to afford anything but the meat scraps left over by more discerning and affluent customers, they made do by masking the taste of undesirable innards with a broth overloaded with Sichuan's classic "mala" flavoring, a mixture of huajiao, the distinctive Sichuan peppercorn, and chile peppers. The huajiao delivers a unique numbing sensation known as ma, while the chile peppers supply the burn—la. For fans of Sichuan cuisine, just about anything tastes better with a dose of mala.
At the Haidilao I visited, we weren't trying to resuscitate bottom-of-the-barrel scraps. We boiled luscious scallops, strips of thinly sliced Angus beef, delicate enoki mushrooms, and seasoned tofu skins in our mala soup. We could have chosen from six other broth varieties to divide into as many as four different compartments in our table. We ordered our ingredients by thumbing photographs on an iPad, and we constructed our own dipping sauces at a bar that offered at least a dozen options. To wash it down, we could drink local IPAs or splurge on a $200 bottle of Maotai, an elite brand of China's hugely popular baijiu liquor.
It was a far cry from the Yangtze docks of early 20th-century Chongqing. Even just a few decades ago, the notion of a Sichuan hot pot restaurant busting out with a multi-hundred-million-dollar IPO would have seemed fanciful. Could Haidilao's 48-year-old founder, Zhang Yong, have imagined such heights when he labored as a tractor factory welder in rural Sichuan in the mid 1990s? It seems unlikely. But right there in his own narrative arc, from small-time hustler to billionaire tycoon, the whole remarkable ascent of China in the last few decades is plainly visible. Like China writ large, Sichuan hot pot is flexing its muscles on a global stage. The Haidilao experience is coming to you.
"It's great," says Jenny Gao, a Chinese food blogger and Sichuan chile sauce entrepreneur. "The world needs more hot pot."
In the late 1980s, Zhang Yong was an indifferent student who failed to qualify for the academic high school track in his home town of Jianyang, a rural city about 30 miles southeast of Chengdu, Sichuan's capital. He was forced to enroll in a vocational school, where he was trained as a welder and steered toward a job at the local state-owned tractor factory.
Welding turned out to be as uninspiring as middle school. He spent whatever free time he had at the local library, reading up on Chinese history and poetry and scheming ways to "xia hai"—literally, "jump into the sea"—a phrase describing the increasingly popular phenomenon in 1990s China in which workers abandoned the protected "iron rice bowl" of the state sector and tried their chances in the nascent free market.
My many email requests for an interview with Zhang were not answered, and my broken Mandarin didn't make it through the company's phone screen, but a detailed account of Zhang's career can be found in You Can't Copy Haidilao, a case study of the hot pot chain written by Huang Tieying, a Beijing University business professor. According to Huang, Zhang wasn't initially wedded to the idea of a restaurant career. He was on the lookout for any scheme that could get him rich.
The path to the top was not smooth. As a 19-year-old, during a visit to Chengdu, he happened upon a crowd of people eagerly pumping coins into the Chinese equivalent of a Las Vegas slot machine. Operating a slot machine, he concluded, was attractive for two reasons: It required little specialized knowledge and a pittance of physical labor. He returned to Jianyang, borrowed some money from his friends, and then set off, once again, to Chengdu, planning to buy his own "poker machine."
But on the way, wrote Huang, Zhang ran into a swindler selling gold watches and was seduced into blowing about a third of his borrowed cash on a mostly useless timepiece. The gambling career turned out to be a nonstarter.
Zhang's father was a cafeteria cook at the tractor factory, so the young man had at least a little bit of a food background. With the help of his girlfriend and another couple, Zhang started a tiny, four-table restaurant selling malatang—unadorned bowls of spicy soup, without all the hoopla and drama of full-scale hot pot.
As China's economy accelerated, so did Zhang's business. He expanded from malatang to the more variegated and individually customized offerings of classic hot pot. His restaurant steadily grew in size, then he opened a branch in the city of Xi'an, the capital of the province just north of Sichuan. After that came Beijing. And somewhere along the way, Zhang stumbled on the key to Haidilao's eventual success. What kept people coming back wasn't necessarily the sublime quality of the food; instead, getting that repeat business had everything to do with the overall quality of the experience. And what that boiled down to was a fanatical attention to service.
"Great service is a rarity in China," says Gao. There might be plenty of places in Chengdu or Chongqing that could deliver a more authentic Sichuan hot pot experience. But nobody matched Haidilao in bending over backward to make its customers happy. The key to Haidilao's long-term success, says Gao, is its constant innovation in service and hospitality. "And its outsized investment in its employees,​" she says.
Forgot your cigarettes? A Haidilao employee will be happy to dash down the street to pick you up a new pack. Dining alone? Here's a teddy bear to keep you company. Unsatisfied with how the shrimp tasted? Any Haidilao employee, no matter how junior, can waive your check.
More than anything else, argues Huang Tieying, Zhang Yong's success at empowering every employee to make independent decisions explains why Haidilao has thrived. From the earliest days, when Zhang's workforce was dominated by men and women with rural backgrounds and minimal education, he nonetheless encouraged all employees to propose their own service innovations and not be afraid to experiment. Whatever sticks—the manicures, the dancing noodle makers—spreads throughout Haidilao, but the overall company culture can't be easily copy-and-pasted by an outside competitor. Zhang's oft-repeated motto, "With your own two hands you create your destiny," isn't just his personal credo; it's the belief system he wants all his employees to live by.
(Zhang's emphasis on giving employees complete freedom to improve the customer experience was on display in Cupertino. The waiter at my table, who had been working for Haidilao for only a month, said that he had explicit authorization to take independent action. He pointed at our $38 combo seafood-and-beef platter and said, "I could comp that right now." I asked him how often he had done that in his one month of employment. "Many times," he replied.)
The Chinese press has dubbed Zhang's management technique a blend of Confucianism and Daoism. Confucian because he's a paternalistic figure who in the early days would visit the families of his employees and supplement their income directly, and Daoist because of his openness to grassroots innovation, to letting things bubble up from the bottom and proceed without direct control.
But Zhang himself draws on a less philosophically defined tradition to explain his success. Early in Haidilao's evolution, as he recalled in an interview with the Chinese trade periodical Restaurant News, he had been struck by an essay explaining why Liu Bang, the third-century B.C. founder of China's formative Han dynasty, triumphed over his chief rival, Xiang Yu, in their desperate struggle to claim power after the collapse of China's first imperial dynasty, the Qin. Both Liu and Xiang were ruthless warlords who displayed great military ability in their long fight. But the reason why Liu Bang won in the end, said Zhang, was that he planned for the long run.
Later this year, Zhang's hometown of Jianyang, no longer a backwater dominated by agricultural interests, will break ground on a $2.5 billion electric-vehicle and lithium-battery plant capable of manufacturing 400,000 cars and four gigawatts of power every year. The announcement offers useful proof of China's long-term focus on becoming a global power in the transportation systems of the future. Zhang's plan to use the proceeds of a public offering to push Sichuan hot pot all over the globe is another, more savory manifestation of the same will to succeed.
Can Haidilao break out of the ethnic enclaves that have been the focus of its international expansion so far? In the context of China's surging economic power and global cultural profile, anything seems possible. As the L.A.-based food writer Esther Tseng tells me, the appearance of increasingly sophisticated Chinese food offerings in Los Angeles, Silicon Valley, and New York is a clear reflection of the growing ease with which Chinese companies can raise significant amounts of capital and deploy them on a global scale.
"This represents a shift in Chinese dining in the United States," says Tseng. "It's evolved past the struggling immigrant starting his life with his family from nothing. Now it's about big Chinese investment moving into the space."
What that basically means is that more of this is coming. More high-end, high-quality, sophisticated Chinese cuisine that feels little need to make concessions to Western tastes or sensibilities. More mala for everyone.
Photos: Spacestardum, Wild China, Haidilao.