In Support of a Wilty Salad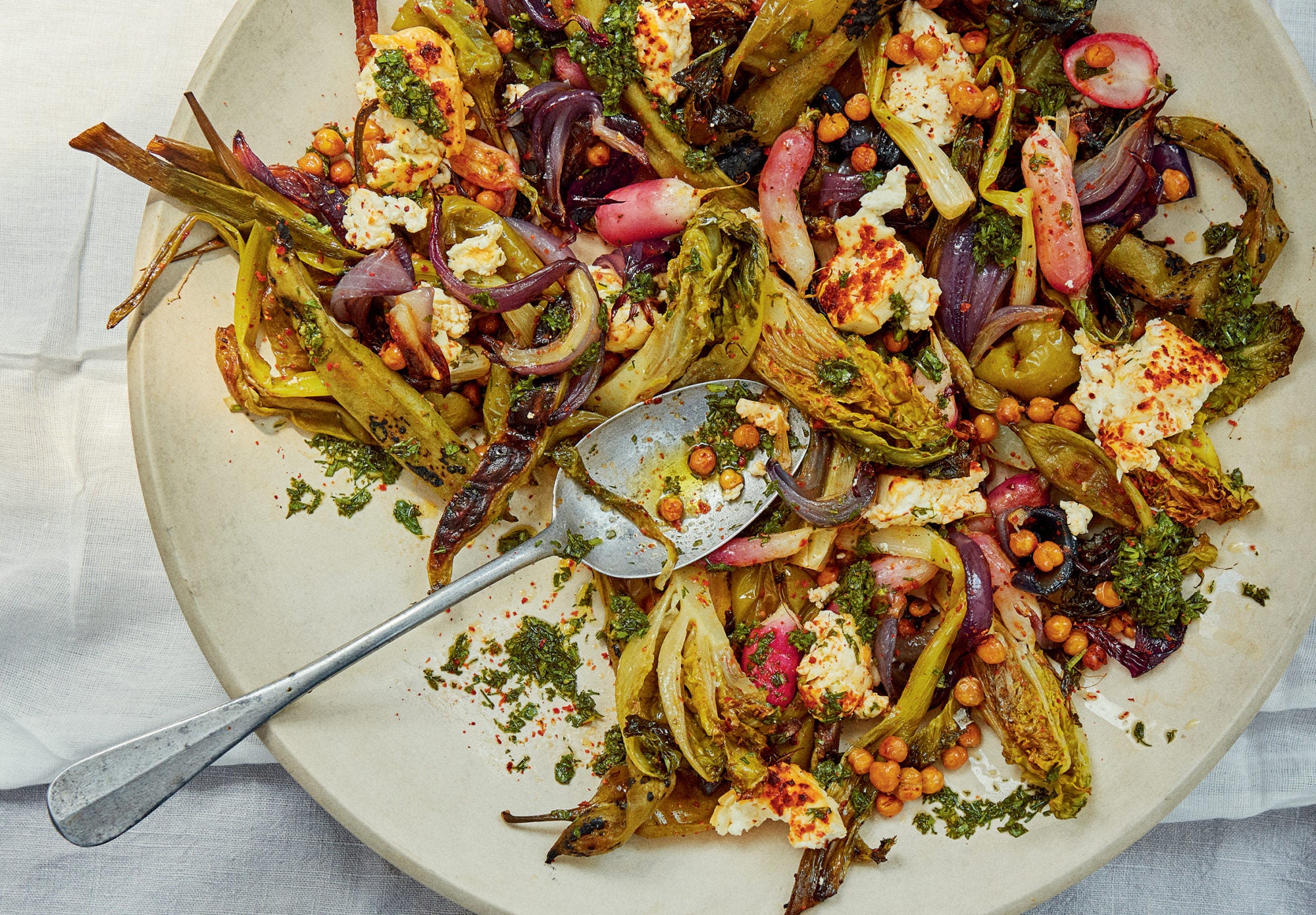 When it comes to salad greens, a kiss of heat can be a good thing.
Conventional salad wisdom says, "Salad should be cold." It warns you not to let your greens encounter the briefest contact with heat, lest they lose their crisp cell structure and devolve into pure slime. It instills in you such a fear of wilting that you refrain from dressing your salads until 10 seconds before your guests plan to eat it.
For a long time, I subscribed to this wisdom. And then one day I realized: Wilting is not always a bad thing. It can be a really, really good thing.
My gateway drug, a few years ago, was a kale salad from Anna Jones's A Modern Way to Eat. Going against current raw kale salad logic, Jones has you think about the salad sort of like a sheet pan dinner. You toss kale leaves with coconut chips and a tiny bit of soy sauce on a sheet pan, and then stick it all in a hot oven just long enough for the coconut chips to turn light brown and the kale to turn soft and malleable in some spots, and a little charred in others. Then the whole thing is tossed with softened cherry tomatoes and a nutty miso dressing.
In addition to being much easier to chew than most standard-issue massaged kale I've had, it brought out a whole new range of kale flavors. As Jones reveals, "Popped in the oven, it brings out this really, really lovely deep savoriness to it that you don't get any other way."
In her latest book, The Modern Cook's Year, Jones employs a similar wilting-is-good philosophy with roasted savoy squash, a lettuce-filled spring stew, and flash-roasted little gems. Jones also loves to quarter lettuces and cabbages to throw on the grill for a few minutes. As she says, "I think charring is something that lots of chefs use in restaurants, but I think we're quite scared to use when we cook at home. But it is actually that kind of missing element."
I put this charred-lettuce ethos to work recently with a head of romaine. A little nervous that the whole thing would become a soggy heap without the dry heat of a grill, I turned the oven up as high as it would go and laid the lettuce halves on an olive-oil-brushed sheet pan. Five minutes later, as hoped, the cut edges were singed brown, and the whole thing was softened enough to soak up dressing while keeping its crunch. It was enough to make a hot-lettuce convert out of me.
First photo by Ana Cuba. Second photo by Brian Ferry.