Street Corn on Every Corner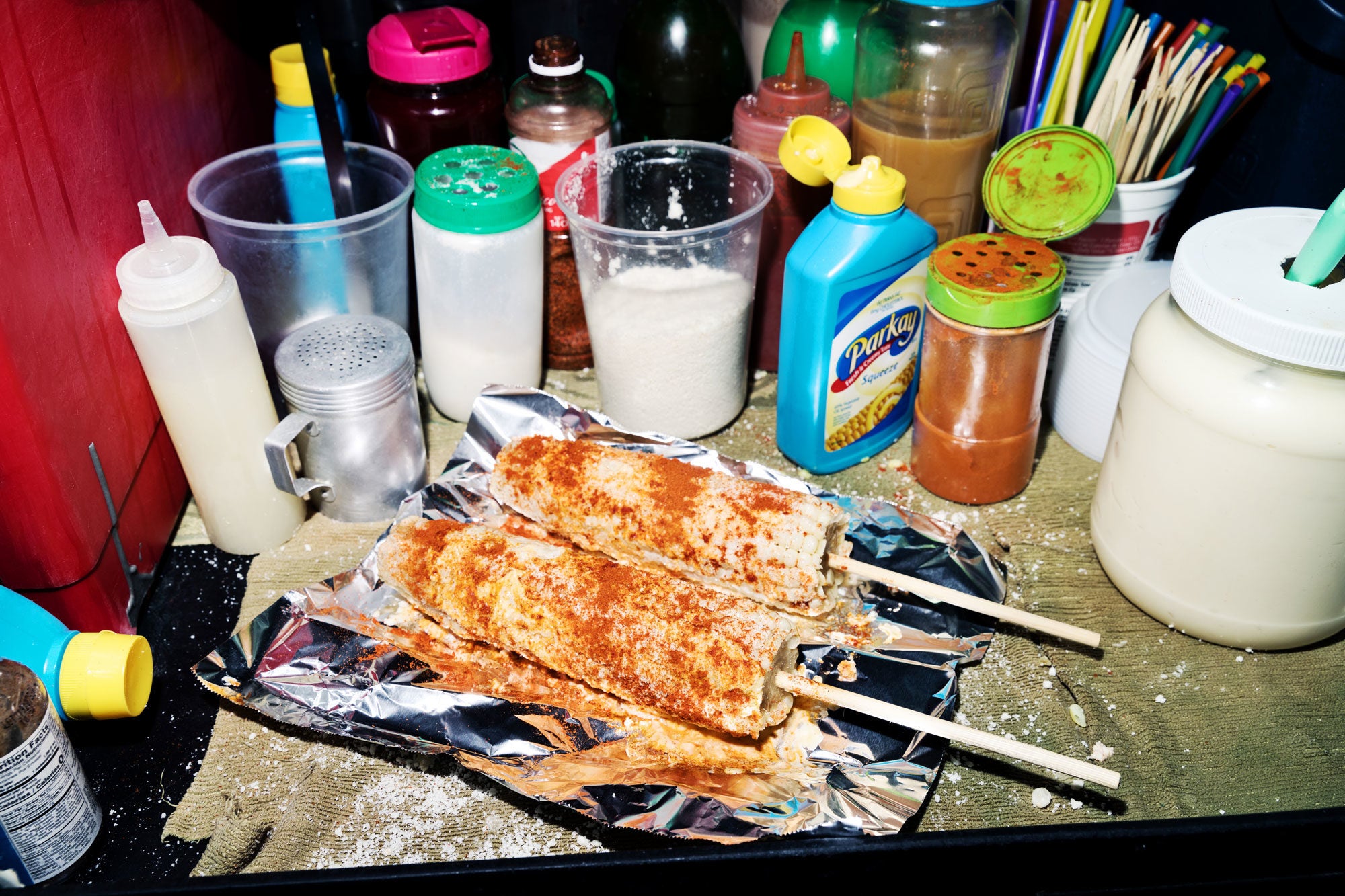 In Los Angeles, Mexican elote is only the beginning.
Grill it, boil it, char it, pop it, dry it, grind it, bake it, nixtamalize it—there is no shortage of ways to eat perhaps the most important vegetable of our time.
Sweet corn is a gift from the gods—the only vegetable that you can satisfyingly wolf down using both your hands in the same manner you would a smoked beef rib. Corn is also: 1. One of the best staple foods on the planet (see: tortillas). 2. A fossil-fuel-replacing combustible manipulated to power automobiles and other heavy machinery. It's the king of crops for both taste and nonfood utilitarian purposes and has formed a bond so deep with humans that it cannot exist in the wild without the human touch—seeds cannot spread unless its layers of husk are peeled and dispersed manually.
According to the Larousse Diccionario Enciclopédico de la Gastronomía Mexicana, the first-ever variety of teosinte—the name of a grass-like predecessor—was found in Mexico in 5450 BP. Archaeologists have been able to pin the first corn variety to two specific states: Puebla and Oaxaca.
To date, there are more than 300 noted varieties of corn in Mexico alone. From Mexico, corn traveled to South America via indigenous trade routes, where high-altitude growing transformed the kernel to choclo, chicha, and cancha varietals. Then it went to Asia and Europe (via the Columbus Exchange) in the late 1400s, where it offered a tasty alternative source of calories and energy to rice and bread.
You can eat corn alone a dozen different ways and still not repeat textures and flavors, and it grows abundantly and is low maintenance when it comes to storage conditions. While a corn-fueled world tour sounds like the ultimate homage, you can also settle on spending a day or two in Los Angeles to see how cooks and chefs from Mexico, Thailand, Peru, and Korea celebrate corn in all its exciting culinary forms.
There's only one place to begin: L.A.'s official street food—elote—sold by your friendly neighborhood elotero. Eloteros are bands of unsung heroes who push their carts up and down the streets of Boyle Heights, Huntington Park, and many other parts of the city, chiming their bells or honking their horns to let you know that they've arrived and that they come bearing sweet corn for all. In Highland Park's increasingly popular Figueroa Street, on the corner of Avenue 57, you'll find one of the better versions of an esquite, a kind of street-food-meets-soup preparation of freshly shaved corn kernels served in a makeshift corn stock enhanced with the richness of a bit of chicken stock.
Andrés Santos Medina has been preparing esquite the same way in the same spot—in front of the first Forever 21 in the country—for the last 20 years. He's one of the last remaining eloteros in the quickly changing neighborhood. What makes his esquite stand out from others, even in Mexico, is simmering the freshly shaved corn kernels in chicken stock, and adding fresh epazote, a sharp herb that is commonly found in Mexico City and rounds out the sweet flavor of corn. This is the technique taught to him by his father, who was also an elotero. Its intensely savory base further blurs the line between a soup and a dish rich enough to be a side dish of its own. It's easy to make: Just shave some sweet corn into some simmering chicken stock perfumed with epazote. When the corn is tender enough to eat, add the works: mayonnaise, cotija cheese, lime juice, Parkay margarine, and chile powder, and eat it fast.
Down the 110 freeway, a block away from Olvera Street, the downtown birthplace of Los Angeles, formerly known as Pueblo de Nuestra Señora la Reina de los Ángeles de Porciúncula, stands Intiraymi Restaurant. It's the first Peruvian restaurant that opened in the neighborhood, and it's beloved in the Peruvian-Angeleno community for its untrendy, family-owned vibes and generous portions of ceviche. As you sit down to enjoy ceviche mixto—citrusy, spicy slices of fish, shrimp, octopus, and mussels—you'll find yourself asking for a bit more cancha. That's the ancient Peruvian variety of starchier corn that is toasted and sprinkled over Peruvian ceviche for an intense crunch. The amazing toasty flavor of cancha even inspired an entrepreneur to bring them back to California, successfully replant them, and create Corn Nuts—which in the end is a mass-produced American snack-food tribute to traditional Peruvian cancha.
Fabián Nahui, Intiraymi's owner, has depended on Amazonas Imports, one of the first brands to start importing ingredients from Peru to the United States, to source his canchita, as he calls it. He says all it takes is toasting the dried corn for about 15 minutes with a little bit of oil and salt to make them reach their addictive texture and toasty flavor.
A couple miles west, as Cesar E. Chavez Avenue becomes Sunset Boulevard, you'll taste perhaps one of the simplest, and most utterly delicious, preparations of corn known to man: coconut milk grilled corn. Kris Yenbamroong, the chef and owner behind L.A.'s Night + Market empire, added the dish "a few summers ago" and says it became an immediate hit. Yenbamroong says that in Thailand, the most common preparation of sweet corn is plain steamed corn, and that this dish, also bursting with the flavor of turmeric and coconut sugar, is the opposite of that corn in Thailand. "The question is more 'How did we go so long without it on the menu?'" he says. It makes a great side dish to barbecue or a great drinking snack, the latter of which Yenbamroong's cookbook specializes in.
However, the most over-the-top sweet corn preparation is perhaps Korean cheese corn, a type of sweet-tasting cheese casserole that demands the company of cold beer and soju to wash down the cheesy corn shame. In L.A.'s Koreatown, there are two places to order this dish that stick out. If you're craving Korean grilled meats, like kalbi or bulgogi, Kang Ho Dong Baekjeong's BBQ chain was the first in the city to dedicate one of the grill plates on their barbecue grill to cheese corn, creating a creamed-corn-like consistency when a little bit of the sizzling beef fat and the steamed egg on its neighboring grill plate make their way into the mixture. But if you don't feel like waiting an hour for a table, or you're feeling peckish rather than voracious, Go Pocha's "Cheese Corn" is golden brown and the stuff of strip-mall drinking-snack dreams.
Whatever adventure you choose with corn, remember that it only took about a thousand years for it to get to your mouth. That measly strand of wild corn in the wild never stood a chance.