Stone Fruits Shake Up the Smoothie Blahs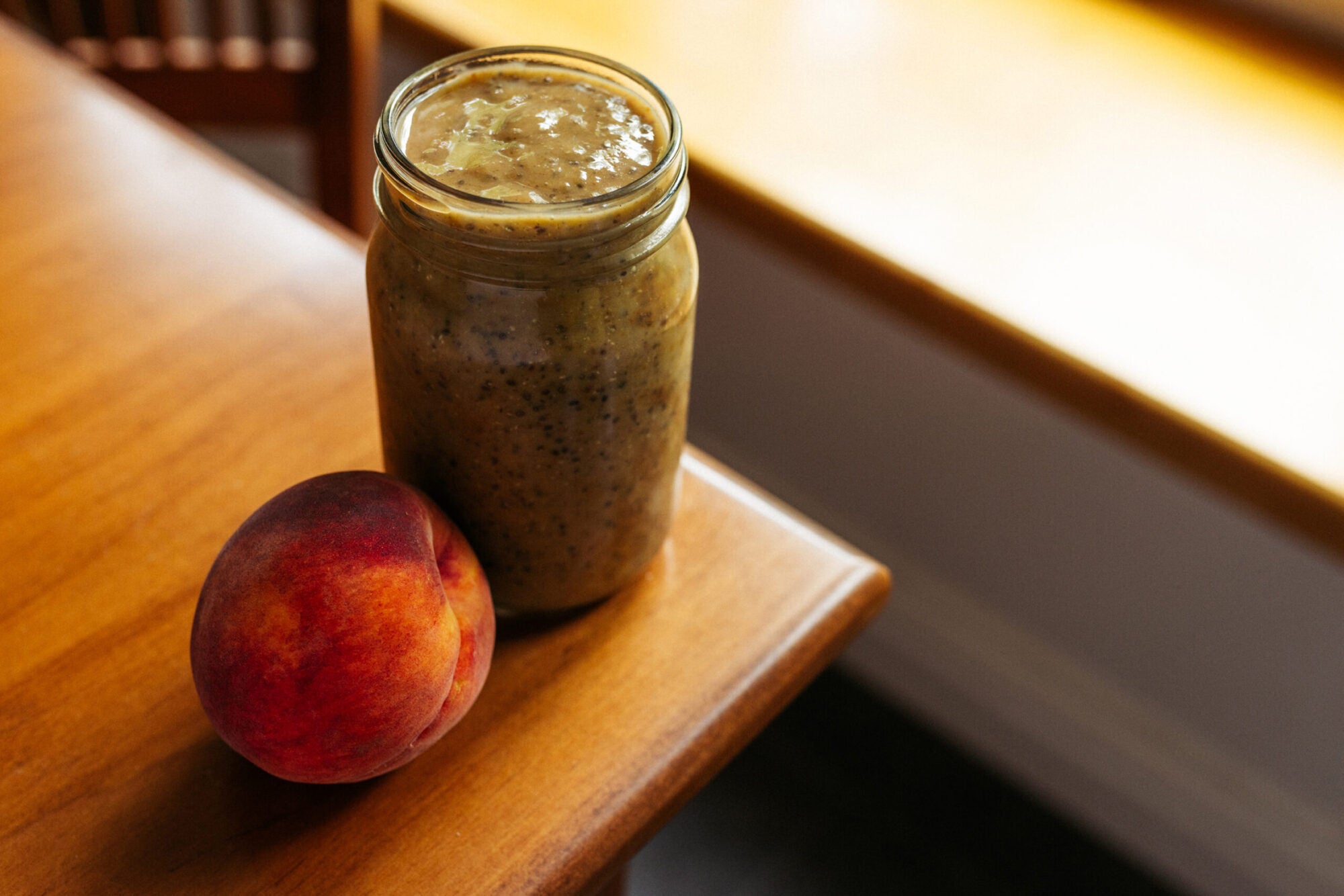 Got some peaches or plums on hand? Make a creamy, cooling chia shake.
When the sultry heat of late summer crashes together with peak stone fruit season, there's only one breakfast on my mind: this refreshing peach chia breakfast shake. The combination of nut milk and chia seeds with creamy-fleshed peaches is luscious, tangy, and a little bit sweet. You can use nectarines, apricots, or plums in place of peaches—it's the perfect way to take advantage of stone fruits at the height of their season. In fact, I wait all year to make this shake, because nothing works as well as these late-summer jewels.
The post-blending addition of nutritious chia seeds not only provides a dose of omega-3 fatty acids and digestible protein, it also thickens the mixture to a luxurious texture without the added sugar of typical smoothie mix-ins like dates or frozen banana. This recipe is designed to use up whatever stone fruit you have on hand—as long as you follow these guidelines:
The nut milk is best when it's almond, and it absolutely has to be homemade. I know, it seems like a pain to make your own nut milk, but the flavor and texture of freshly made almond milk is unparalleled—especially in this shake. Perhaps it's because almonds are related to stone fruit? Almonds are also naturally sweet and don't have a distinct flavor, like cashews, hazelnuts, pecans, or hemp, that can overpower the shake's delicate flavors. Since you will be using a blender anyway, you may as well whip up a batch of almond milk first. The almond milk recipe below makes more milk than you'll need but there are so many good uses for it—from iced lattes and smoothies to pancakes and waffles. A high-powered blender is ideal, but any upright blender will do.


 

This recipe is a great way to use up less-than-perfect stone fruit—within reason. Squished or overripe fruit is fine, but this shake is not a place to use up the verging-on-rotten fruit that you might get away with sneaking into a compote or crisp. On the other hand, underripe stone fruit won't do either. Your fruit must be ripe enough for the flavor to shine and stand up to the other ingredients. You can use one kind of stone fruit or a mixture—peaches and nectarines are my absolute favorites for this recipe, because their juicy flesh blends up perfectly thick and creamy.
The coconut butter is not necessary, but it adds a lovely touch of sweetness and provides a silky richness without being heavy. You can use a teaspoon of coconut oil in its place, but any more will be too overpowering. I have also used macadamia nut butter or raw cashew butter instead of coconut butter, with good results.
Ad-libbing is welcome! If you ever tire of drinking these tasty shakes, you can pour the mix into popsicle molds and freeze them for later. In that case, consider replacing the almond milk with full-fat milk, coconut milk, or yogurt to avoid an icy texture when frozen. Another great option is to make chia pudding by increasing the chia seeds to 1/4 cup. Chill and enjoy as is or topped with berries.