Steamed Whole Fish and the Ginger, Garlic, Scallion Trifecta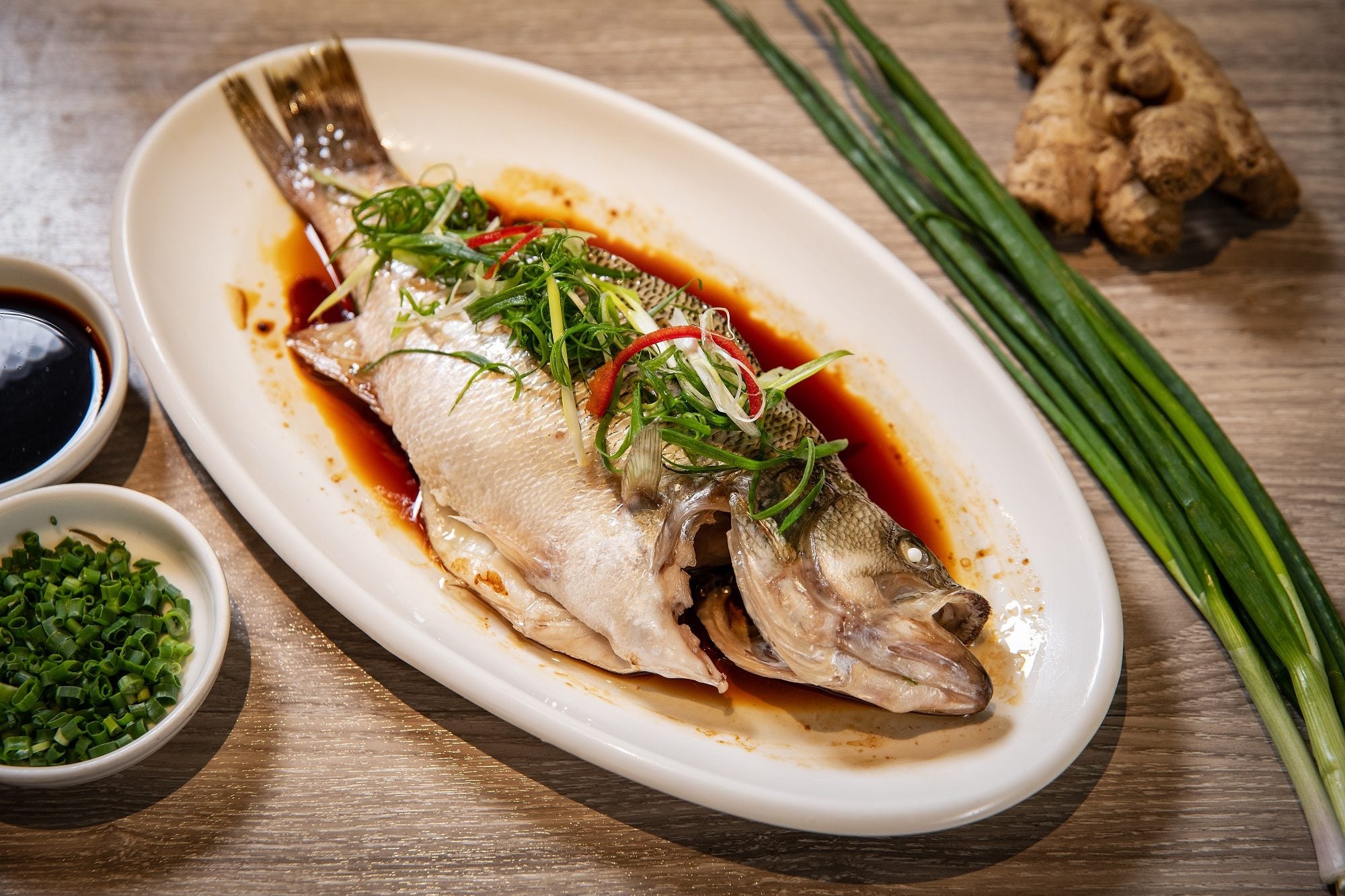 It turns out, steaming a whole fish isn't all that hard or intimidating.
There are plenty of fish dishes out there that I feel confident about making. Slow-roasting a slab of salmon in the oven under low heat? Easy. And thank you Alison Roman and Melissa Clark. Sous vide tuna steaks? No problem. But steaming a whole fish Cantonese-style? Until a few weeks ago, this was uncharted territory for me.
I could envision what a perfect steamed fish looks like from memory, since it marks the semi-regular family dinners prepared at my grandparents' house. The flavors of the dish embody the basic tenets of Chinese cooking: ginger, garlic, scallion, and soy sauce. A cooked sea bass' dulled-out gray skin is brought to life with bright scrolls of scallion and yellow ribbons of sliced ginger placed on top. It sits in a puddle of watered-down soy sauce infused with garlic and ginger, with extra to be spooned over each individual portion. And most importantly, the flesh is silky and buttery. Every. Single. Time.
But taking on the whole fish, as opposed to evenly-cut filets, means there's a lot more room for error. An overcooked, or dried-out, sea bass (a reality for all finicky fish cooking) can still soak up the garlicky-gingery-soy sauce. The fish is a vehicle for the flavored sauce, rather than working in unison to play off of each other.
My first time making steamed sea bass was for a Lunar New Year party, no less. Fish is considered a lucky food, as it symbolizes surplus (fish and surplus are homonyms in Chinese). On top of my fear of serving a sadly overcooked fish, it also felt like I'd be jinxing everyone's New Year prosperity if it didn't turn out the way I wanted. No pressure, right?
Upon researching countless Chinese cooking blogs and intently observing how it's made at my grandparents' house, it occurred to me that steaming an entire fish could be as hands-off and effortless as throwing an oil-drizzled filet into the oven, thanks to gentle, consistent heat with not much intervention. The sea bass gets steamed by itself, while the sauce comes together in a small saucepan over heat before it's poured over the cooked fish. A one-pound fish only needs about ten minutes to cook, so I decided to leave it as the last dish to prepare for dinner so it could be served piping hot.
When it came to prepping the fish, there wasn't much left to do since my fishmonger already did the gutting and descaling for me. The skin, head, and tail are kept for appearance—plus those precious fish cheeks are a hot commodity. So after giving it a quick pat-down with a paper towel, the fish was ready. While building a makeshift steaming apparatus in my wok with a metal rack, I realized I'd never actually bought a lid to accompany the wok.
So, I improvised and used an aluminum baking pan as a cover, which awkwardly took up half the stovetop, and very clearly left some parts uncovered towards the edges. After the suggested ten minutes of steaming, some of the insides were still pink and most definitely raw. Not surprising, given my DIY wok lid. I clogged up the exposed crevices of the wok with a dishtowel, hoping the steaming process would speed up to avoid overcooking. Impatiently waiting and peeking every three minutes, it took another ten minutes for the flesh to reveal a slightly opaque, milky white color and translucent bone that signaled it was fully cooked.
I dressed up the fish with julienned ginger and scallion, and finished it off with the soy sauce swimming in ginger and garlic. It looked right—even better than what gets served at home (this fish had to make an appearance on my Instagram story, after all), but the first bite was the real moment of truth.
I picked up a chunk with my chopstick. The saltiness of the soy sauce didn't overpower the sea bass' mild flavor, and the gingery-garlic infusions came through loud and clear, cut by the sharpness of raw scallion. The fish was smooth, and somehow not a touch overcooked despite my embarrassment of a steaming setup. It must have been a sliver of that New Year's luck the fish promised.