Spin Your Stale Bread into Gold, the Portuguese Way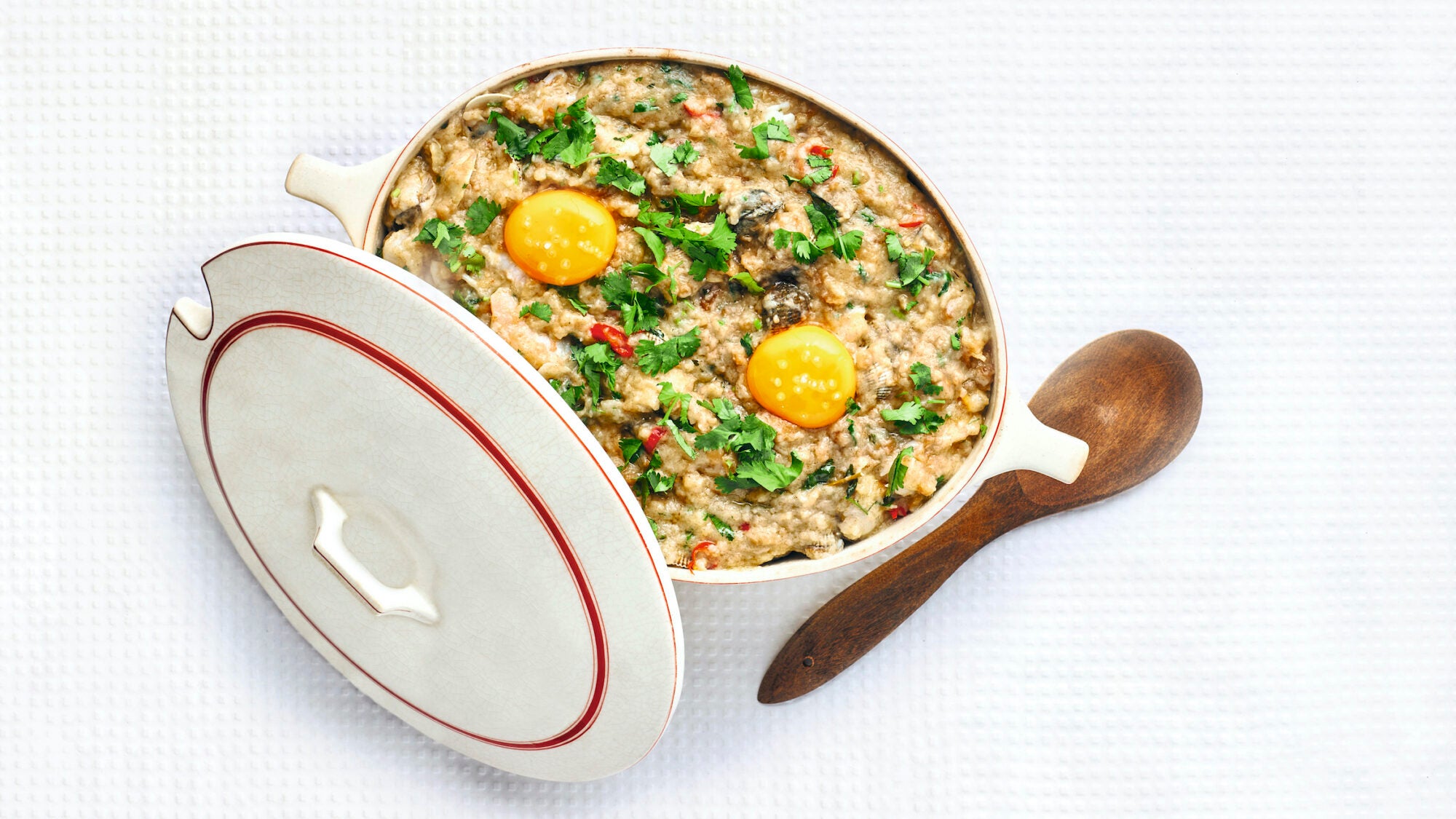 Old loaves transform into hearty prawn-filled soups and cilantro-flecked porridges that stand the test of time.
"What are you using all this old bread for?" I asked my grandmother one morning, after I found some leftover loaves of bola de mistura inside a linen bread bag. We were at my grandparents' beach house in the town of Costa da Caparica, and I knew it was more of a rhetorical question, because the answer of this petite, blonde woman was always the same: "You'll find out at lunchtime."
A few hours later, as I entered the kitchen, following the scent of olive oil and garlic and a gentle sizzling sound, my six-year-old eyes saw my grandmother tearing all that leftover bread into irregularly shaped pieces with her hands. I instantly knew what she was going to cook for lunch—a smooth, thick, and garlicky bread porridge, one of Portugal's most iconic dishes: açorda.
At my grandparents' house, or any Portuguese house, bread is indispensable. It is multiple and omnipresent. It is eaten for breakfast, lunch, and dinner, by all social classes and ages. There are types of bread used for fast meals, eaten hot at the counter in small restaurants or tascas—traditional restaurants that specialize in Portuguese comfort food at comfortable prices—like pão com chouriço (chorizo bread), pregos (steak sandwiches), or bifanas (pork cutlet sandwiches); there are those used in slower-paced meals, integrated in countless dishes like ensopado de borrego (lamb stew) or sarapatel (Goan-Portuguese pork meat and offal stew), or as a side at the dining table, toasted and buttered, to soak the clam juices and olive oil of amêijoas à bulhão pato (clams with cilantro and garlic), or the head juices of carabineiros (scarlet shrimp). But it is in the realm of stale bread that Portugal's culinary creativity really shines through.
Historically, in the countryside, bread was baked once or twice a week in small villages and farms (unlike in large cities, where the great demand and the professionalization of bread artisans allowed for the daily cooking). This country loaf dried slower than the city one—due to better preparation and flour—although it would inevitably become hard and dry after a few days, and there would always be leftovers. Due to scarcity and poverty, Portuguese home cooks repurposed the tough, old crusts into unexpectedly delicious meals, often involving broth. At breakfast, farmers often ate a soup called sopas de cavalo cansado ("tired horse soup"), which was an explosive mixture of old bread drizzled with red wine, sweetened with honey and lots of sugar.
It is in the realm of stale bread where Portugal's culinary creativity really shines through.
To cook with old bread and revive it, as I learned with my grandmother, you simply need to give it the moisture that it has lost with time. Doing so transmutes even the plainest of dishes to something rather special. Stale bread can be softened with flavored broths—with pennyroyal or cilantro—to make açorda à alentejana (bread with pennyroyal soup), or with a stock made of prawn shells and heads to make açorda de camarão (bread porridge with prawns); mixed with lard and pork rib juices to prepare migas à alentejana (bread porridge with pork); cut in slices to be poured over a fish stew called caldeirada (fisherman's stew); or dipped in an egg yolk and sugar syrup to make rabanadas (golden bread slices).
Açorda, though, is the quintessential Portuguese stale bread recipe—homey, resourceful, and laid-back. Home cooks all around Portugal make this porridge to give a second chance to hulking, dried-out bread. Restaurants serve it as a tableside service dish, when waiters bring the açorda pot out of the kitchen and briskly stir a few egg yolks into the bread mixture in front of guests. A new generation of chefs has no reluctance to serve açorda as one of their à la carte dishes: Henrique Sá Pessoa, at his two-Michelin-starred Alma in Lisbon, serves açorda with carabineiro as one of his entrées, and José Saudade e Silva from Cacué—a highly successful, recently opened Lisbon tasca—serves a traditional açorda with cilantro, garlic, and egg yolks as a main dish.
If stale bread has become a key building block in everyday Portuguese cooking, previously regarded as a disposable, uninteresting, and trifling ingredient, it can become a star in your kitchen, too. Stale bread's properties can be celebrated as a virtue in the way that it absorbs moisture and flavors, happily crossing boundaries from sweet to savory.
Photograph by Mário Ambrózio and Rafael Rodrigues at Raw Studio, excerpted from Portugal: The Cookbook