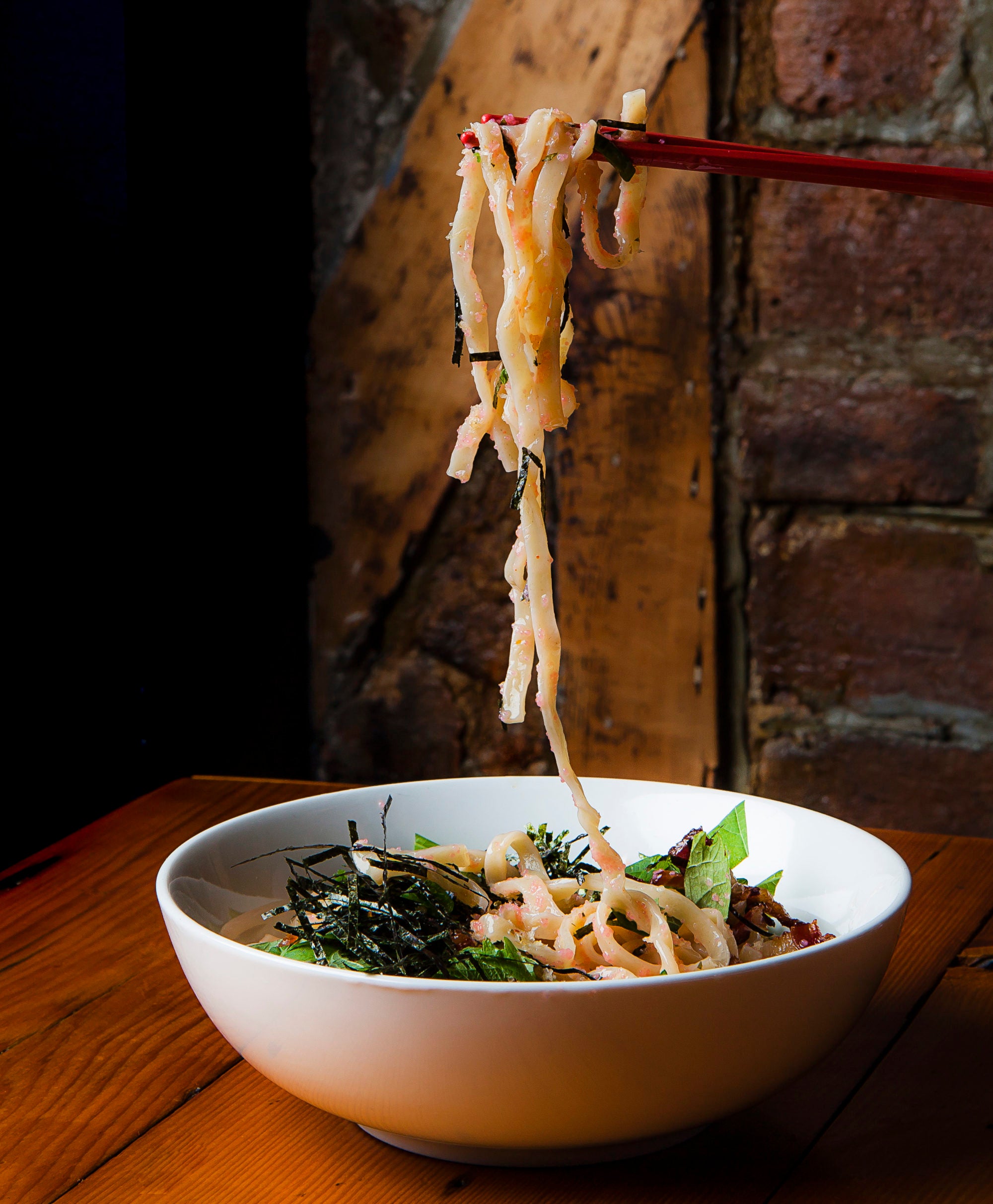 Whether you're at a bar in Tokyo or in your kitchen at 1 a.m., mentaiko spaghetti will knock out that late-night craving.
The last time you ate Alaskan pollock, you probably didn't even register it: It might have been taking up space between layers of deep-fried breading in a McDonald's Filet-O-Fish sandwich, or maybe performing crab drag in your California roll. It's commercially fished by the kiloton specifically because of its abundance and its dependable lack of flavor. But salted and spiced directly in its membrane-wrapped lobes, the roe of the pollock is transformed into something delicious and deeply savory: mentaiko. It's also the centerpiece of a low-fuss comfort dish from Japan.
Mentaiko spaghetti is a postwar baby. Both mentaiko and spaghetti were popularized in Japan after World War II; the former was brought back from Korea by returning Japanese occupiers, and the latter was introduced by homesick American soldiers. They made their first public appearance together for the first time in 1967 at Kabe no Ana, a Tokyo restaurant credited with popularizing wafu (Japanese-Western fusion) pasta. Spicy and creamy, briny and filling, the unlikely foreign dish found its way into the Japanese home-cooking canon.
Today, mentaiko spaghetti is embraced as a fast and easy comfort meal, equally welcome as a fast lunch or a late-night snack. "Mentaiko spaghetti is very popular to cook at home, as the whole dish can be prepared in less than 20 minutes," explains Namiko Chen, a Bay Area home cook who runs the popular Japanese recipe site Just One Cookbook. "It's especially popular among college students and young adults." Her recipe features al dente spaghetti tossed in a creamy mixture of milk, heavy cream, butter, soy sauce, black pepper, and of course pollock roe, all topped off with thin nori strips and julienned shiso leaves for a bright punch of green.
"Pick mentaiko without additives, with a nice plump shape and a juicy, translucent texture," Chen advises. "It should be a light pink, but the color may vary depending on how much chile pepper is used." Once you stock up at a Japanese or Korean grocery store (where it's known as myeongnan), the lobes last for two months in the freezer and defrost quickly if individually wrapped in plastic wrap. Outside of the mentaiko itself, every part of the dish is adjustable to preference—some recipes call for only butter, while others swap out the dairy for a substitute like mayo or olive oil.
For all its simplicity, mentaiko spaghetti also dresses up well. In New York, the East Village café and bar Hi-Collar adds sautéed shimeji mushrooms into their "Mentai Cream Pasta," which both boosts the umami and adds more sauce-gripping surface area to the dish. Midtown after-work spot Sake Bar Hagi mixes mentaiko with Kewpie mayo rather than cream and serves it with lemon wedges on the side, a surprisingly refreshing combination for all its richness.
Brooklyn ramen restaurant Chuko has one of the more elaborate takes on mentaiko pasta. Chef and co-owner Jamison Blankenship fell in love with the dish at first taste back when he worked at Morimoto: "One of the Japanese cooks did a mentaiko spaghetti with shiso and lobster for a staff meal, and it blew me away. Since then, whenever I go out drinking, I have to have it." Blankenship immediately tried to put the dish on Morimoto's menu but was told by Morimoto himself that the mentaiko they served as sushi was way too expensive to use on late-night drunk food.
At Chuko, he got his chance to pay homage to that staff meal. He decided to swap out the spaghetti and serve the dish as a mazemen, or brothless ramen—a fitting twist, as mazemen is a meal originally invented for staff meals at ramen restaurants. Chuko's Mentaiko Mazemen special is a curly, thick noodle (specially picked out for the dish from Sun Noodle) coated in a briny reimagining of carbonara sauce—yuzu butter emulsified with noodle water, with the mentaiko added at the very end to keep its texture intact. The plate is finished with crunchy, flavorful toppings from both sides of the dish's heritage: shiso and nori and scallions, toasted bread crumbs and bacon.
The dish has been a surprise cult hit for Chuko, but it rotates on and off the menu at both locations as Blankenship continues to play with the recipe: "I want to make it a bit lighter. I want the acidity and the mentaiko to come out more. We're talking to a purveyor about getting a better-quality mentaiko and maybe a better bacon or a different style nori. We've changed the noodles a few times. It'll always be changing."
Blankenship's pursuit of noodle perfection is admirable, but mentaiko spaghetti has the power to fulfill cravings even in its most basic iterations. For the home cook, the best version is the one you can whip up with whatever you have on hand, as long as that includes mentaiko.