Spaetzle Is the Most Forgiving Pasta—Or Is It a Dumpling?—to Make at Home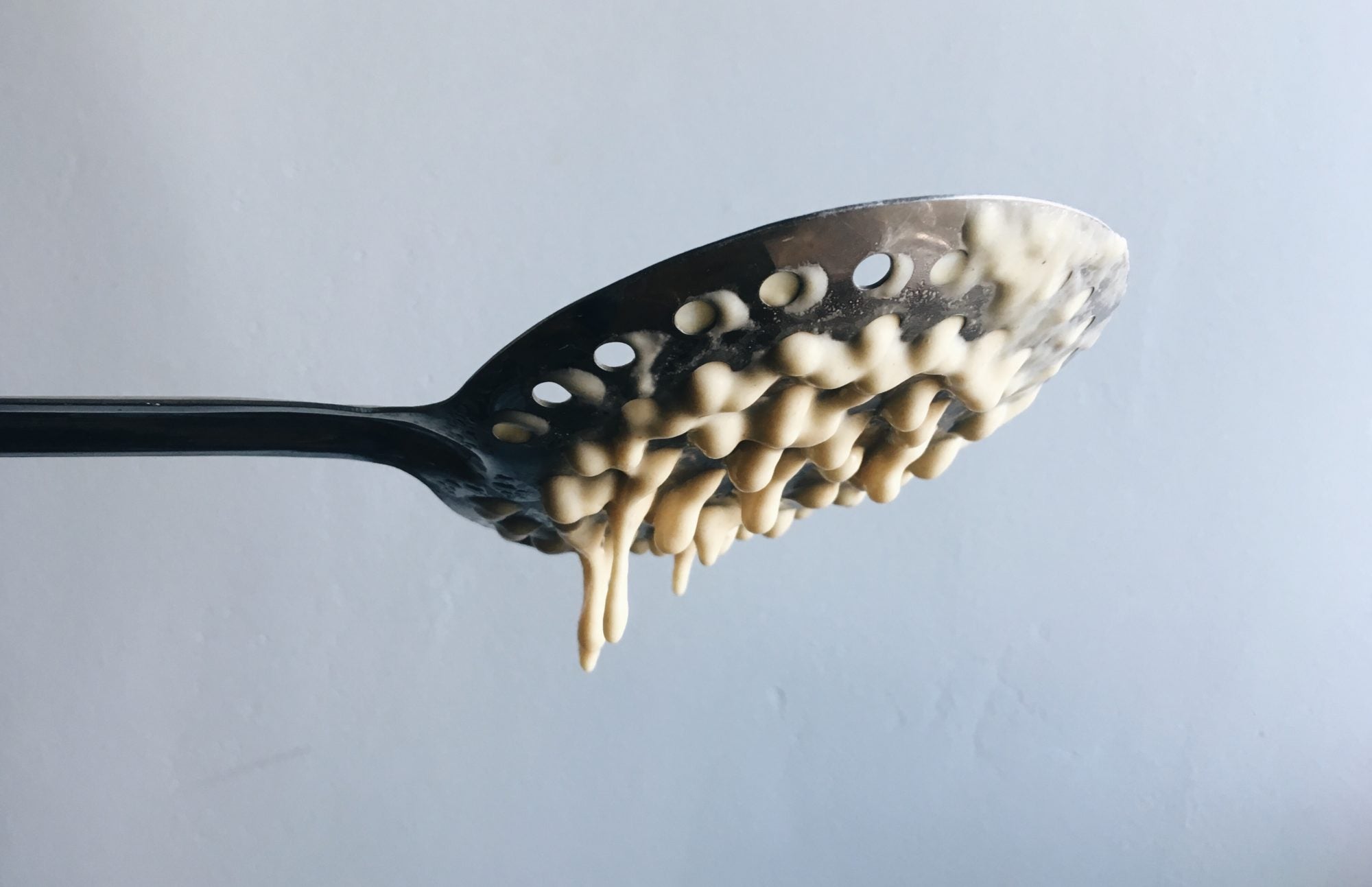 Somewhere between a noodle and a dumpling, spaetzle is a perfect springy, chewy carb to soak up meaty ragus or to bathe in soft egg yolks. 
One of my cardinal rules of eating in restaurants (well, other than tipping 20 percent and choosing sparkling water if it's free) is that if there's spaetzle on the menu, I have to order it. It's an easy rule to follow because, regretfully, there's rarely spaetzle on the menu.
The lumpy, handmade noodles are a staple of German, Austrian, Swiss, Czech, and Hungarian home cooking. Think of them as small, imperfect, not-fussy versions of gnocchi. In German, "spaetzle" (or "spätzle") means "little sparrows," but they usually look more like irregular blobs of dough. Sometimes they're served with meaty braises, like the goulash that Markus Glocker serves with his buttermilk spaetzle at New York's Augustine. Wallsé, an Austrian restaurant in New York, serves them with braised rabbit and Brussels sprouts. Sometimes they're browned in a pan and tangled with caramelized onions, bacon, mushrooms, or sauerkraut. And sometimes they're baked into käsespätzle—a cheesy casserole full of melted Emmentaler and topped with crispy onions.
In addition to being a rare restaurant find, spaetzle also happens to be one of the lowest-stakes forms of pasta to make at home. Usually when you make pasta, you form a dense dough from flour and eggs, which you knead, rest, roll, and cut until your arms feel like they're on the verge of falling off. To make spaetzle, you just mix flour, egg, and a bit of milk into a pancake batter-like consistency. Then you drop little lumps of the batter into some salted boiling water. After a moment, the spaetzle float to the top of the pot, and they're ready to scoop out and eat.
The most laborious method for forming the noodles, favored by Eastern European grandmothers, is to scoop the loose batter onto a hand-held wooden cutting board, swiftly chopping little bits of the dough directly into the hot water. "It's not practical for restaurant use," says J. Kenji López-Alt, who serves spaetzle at his San Mateo restaurant, Wursthall. "We use a spaetzle maker. The kind that looks like a cheese grater with a hopper that slides back and forth."
The cheese-grater-like gadget, which you can find at restaurant and kitchen supply stores for about $25, has a little compartment on the top for batter, which gets pushed across round holes to send uniform drops into the pot below. But if you're not big on single-use gadgets, a tool specifically for forming a particular kind of German dumpling may be a tough sell. Thankfully, pretty much any kitchen tool with small round holes (about a quarter inch in diameter) will work. At Augustine, Glocker uses a perforated hotel pan. I've heard that potato ricers work wonders. Colanders are great. My method of choice is a wide, perforated metal spoon from the dollar store.
The noodles' bumpy surfaces make them ideal for soaking up sauce and cheese, but because they're a bit thicker and chewier than your average pasta, they won't disintegrate in liquid or break apart if you give them a quick sauté in a skillet. If you're going to crisp them in a pan to eat with an egg for breakfast or serve them to guests in casserole form, you can make them the night before, tossing with a bit of olive oil to prevent sticking, and refrigerate overnight.