Sponsored / October 25, 2018
A Sous Vide Turkey Tryout With Cookbook Author Yossy Arefi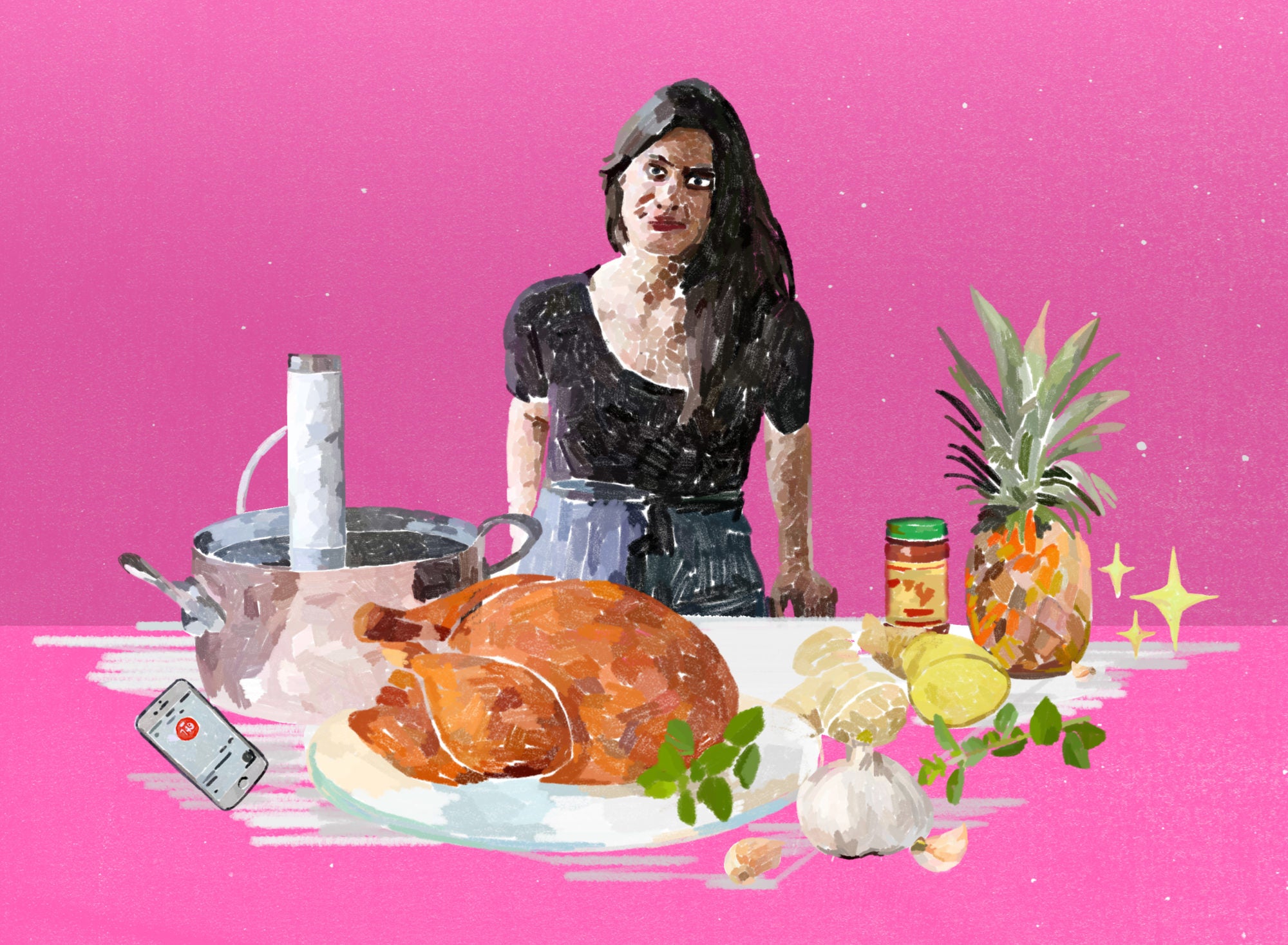 Yossy Arefi bakes and blogs out of her Brooklyn apartment, where it's galettes and cobblers galore with her trademark Iranian-influenced ingredients and rustic photography. The Sweeter Off the Vine author specializes in seasonal fruit desserts, but she also focuses on the savory side as well and teaches cooking and photography courses around the globe, from the Hamptons to Greece. We gave her a Joule from ChefSteps and a mission: Sous vide a Thanksgiving turkey, have fun, and write down everything in a journal. Here are the results.
My usual Thanksgiving duties involve dessert. And to be honest, I am more of a sides person anyway. All that being said, I am stoked to use the Joule to sous vide a turkey: I want to see if I can take something I've never been that excited about and make it into something great.
Once my Joule arrives, I download the app and name my device Eva, after my favorite little robot from Wall-E.
Day 1
It's time to decide on a recipe. I decide to go whole bird. Go big or go home! ChefSteps suggests cooking the parts separately because dark and light meat require different cooking temperatures and times, but they break it down into a manageable plan. Very helpful!
I grab a sharp knife and break the turkey down into leg and thigh quarters, boneless breasts, and wings. I decide to cook the leg quarters and breast and keep the rest to make stock and gravy.
I drew inspiration from ChefSteps' mojo–marinated pork shoulder recipe for my overall seasoning strategy. I start slicing up the marinade ingredients: peeled garlic and ginger, jalapeño, oregano (I had some fresh, so I used that), crushed pineapple, and some toasted cumin. I thought I had some jalapeños in the fridge, but no dice, so I grab some sambal and use a little spoonful of that instead for heat.
I sear the turkey legs as suggested, then season them with salt and put them in a standard zip-top bag with the marinade. I try my best to arrange the chunkier bits of the marinade on the underside side of the legs so the skin will be nice and smooth when I go to brown it tomorrow. I make a little room on the counter, set my stock pot on a rack to protect my countertop, and into the bath they go, temperature set at 150ºF and timer set for 12 hours. See ya tomorrow!
Day 2
I say a quick good morning to my turkey legs and make a cup of coffee. The Joule app alerts me a few minutes later that the legs have cooked for 12 hours. Thanks, Eva!
Now it's time to tackle the breasts. I realize I forgot to sear the breasts when I seared the thighs. Oops! I decide it's actually a great experiment to see the flavor difference of a two-sear process versus a one-sear. I also season the breasts a little more simply: just salt, sugar, sage, and rosemary. I add a bit of lemon zest, too—a little acidity never hurts.
The bagged breasts go into the stock pot, and I adjust the temperature to 131°F.
While those guys finish cooking, I take all of my leftover turkey parts and throw them in my second-biggest pot with an onion, carrot, peppercorns, and more herbs to simmer.
Eight hours later, and it's time to check on my new robot friend.
The breasts are um, a little pale. Maybe I should have done the double sear? I pull out a cast-iron skillet and heat it up to brown the breasts. The legs smell amazing! I crank up the broiler to brown them. Breasts go in the pan, thighs in the oven, and everything gets a nice little browning.
The cumin- and jalapeño-spiced leg meat is super tender and will make excellent tacos, so I let it cool and then shred it. I'll toast some flour tortillas and top them with the shredded turkey, avocado, and a super spicy and sweet fresh cranberry salsa made with lots of lime, cilantro, and serrano chiles. Not your typical Thanksgiving fare, but so tasty. The breasts have a more traditional herb-y flavor and were perfectly moist as is, so those will go well with gravy and the soup I made with the leftover parts.
After my turkey success, and since my lady Eva was already set up, I decide to throw some carrots in there with a few thyme sprigs, salt, and butter. To serve, I add some honey butter and black pepper—simple and delicious.
Some Final Thoughts
As a sous vide skeptic, I can humbly admit that cooking with the Joule was actually pretty easy and convenient. I'm a kitchen minimalist, so I'm very glad that it's compact and I didn't have to buy any other special equipment to use the Joule. Plus, for someone who is always doing 10 things at once in the kitchen, getting updates on my phone about the cooking process is a total gift.
I was recipe-testing baked goods while cooking the turkey, and I was able to keep the oven totally free and empty, besides browning the thighs at the end.