Sourdough Has a Surprising Sweet Side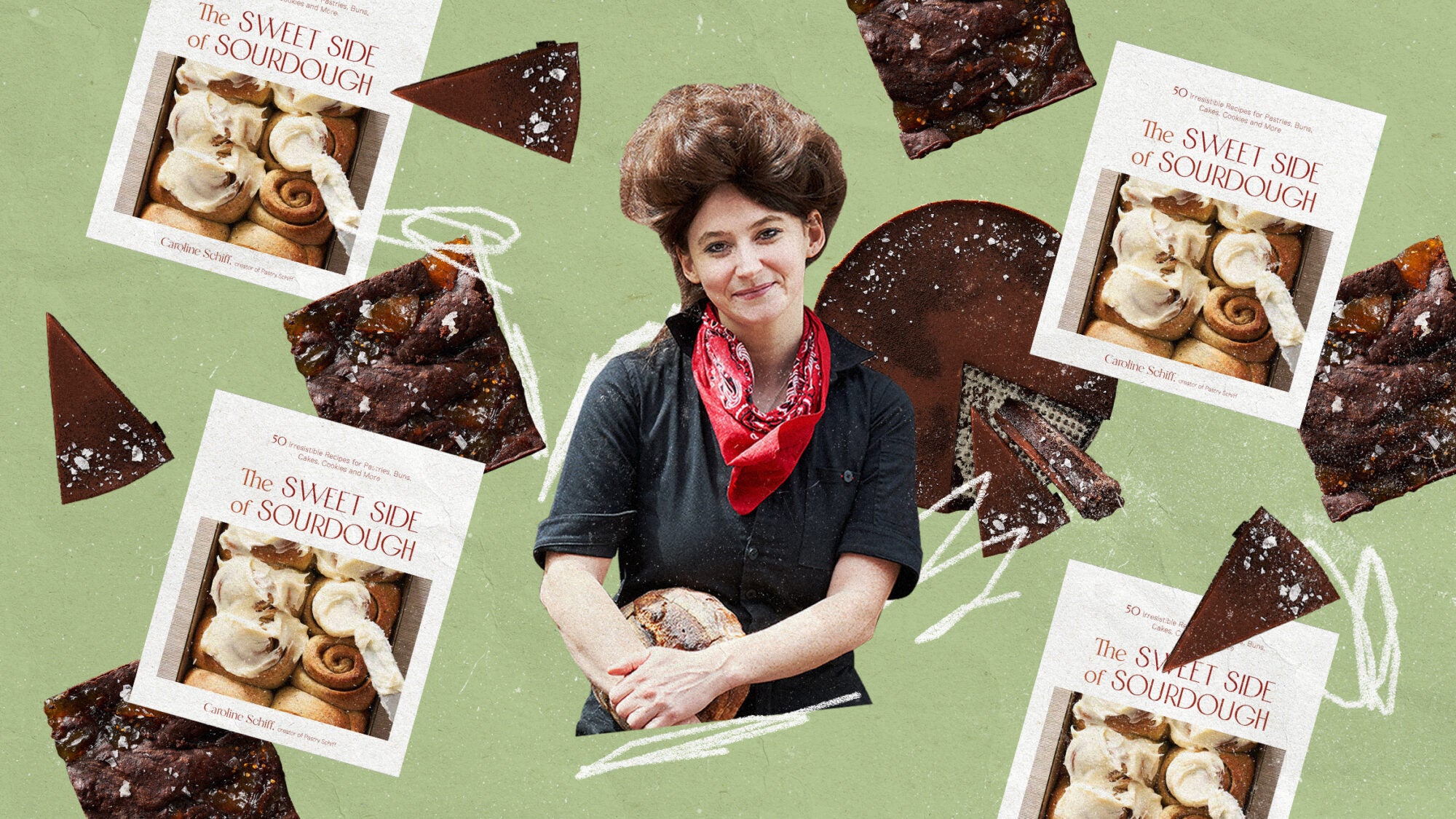 In a new cookbook, Caroline Schiff looks at sourdough like a true pastry chef—for all its potential in granola, chocolate tortes, and doughnuts.
In the throes of the pandemic sourdough craze, while thousands of hobby bakers were puzzling over what to do with yet another loaf of bread, Caroline Schiff was thinking way outside the sandwich. The executive pastry chef of Brooklyn's Gage & Tollner was experimenting with sourdough's exciting complexity in brownies, and its crunchy potential in streusels—landing on the notion that the technique deserves a place in the canon of desserts. Her experiments turned into The Sweet Side of Sourdough, a cookbook that arrived just as many of us were puzzling at the sourdough starter in the back of the refrigerator and wondering how many boules and pizzas we'd have to plow through in order to keep it alive for another winter.
The book proves that sourdough's sweet side isn't just about bread (although there is a salted honey focaccia and a dark chocolate walnut boule). It's also a guide to adding flavor and texture to shortbreads, tart crusts, and blintzes. I asked Schiff about why sourdough can be such a crucial addition to desserts, and about some of her favorite underrated uses for the discard, from granola to onion rings.
When people think of sourdough, they usually think "bread." Why should people start to widen their sourdough repertoires?
Sourdough is so versatile, and people should be looking at it like an ingredient, as well as a way to leaven a baked good. And bread is just such a massive category. Think about how many delicious things fall under the bread umbrella but aren't savory, crusty loaves! Cinnamon buns, doughnuts, brioche, babka. It's endless, and sourdough can work in so many of these applications.
When it comes to something like a tart crust or a shortbread cookie, what does the sourdough starter bring into the equation?
Sourdough adds a depth of flavor, crispiness, and chewiness in all the right places. My chocolate chip cookies are the perfect example. They have crispy edges with a perfectly chewy center, and an almost savory quality that gives them a certain je ne sais quoi.
How does sourdough make its way into the pastries you make at Gage & Tollner?
I love sneaking sourdough into the menu anywhere I can. Obviously, we bake crusty miche loaves for dinner service every day, but I'm known to add it to sweet things here and there. My favorite is the malted chocolate torte, which is actually in the book as well, adapted for home cooks. I use sourdough in the filling, and it's just bonkers how well it works with both the dark and milk chocolates.
I made your savory sourdough discard pancake for lunch today. It's so good, and it motivated me to feed my starter. Any other unfussy things you like to do with discard?
This makes me so happy to hear! Another favorite application is mixing the discard with just a touch of plain seltzer and using it as a light batter for homemade onion rings. Seriously, it's so good. I also mix it into my homemade granola before baking—it creates these super crunchy, toasted clusters. And I'm really only into granola for the clusters.
Next on my list is the salted honey focaccia. Any favorite things to do with it or eat with it?
I have a batch of this fermenting as I write this! It's one of my favorites! I personally think it pairs so well with many cheeses. Any cheese you like to drizzle honey on is a perfect match. It also makes a sandwich so wonderful that you'll want to tell your mom about it. My ideal combination is ricotta, hot pickled chiles to balance the honey, roasted fennel, and some arugula. Mamma mia!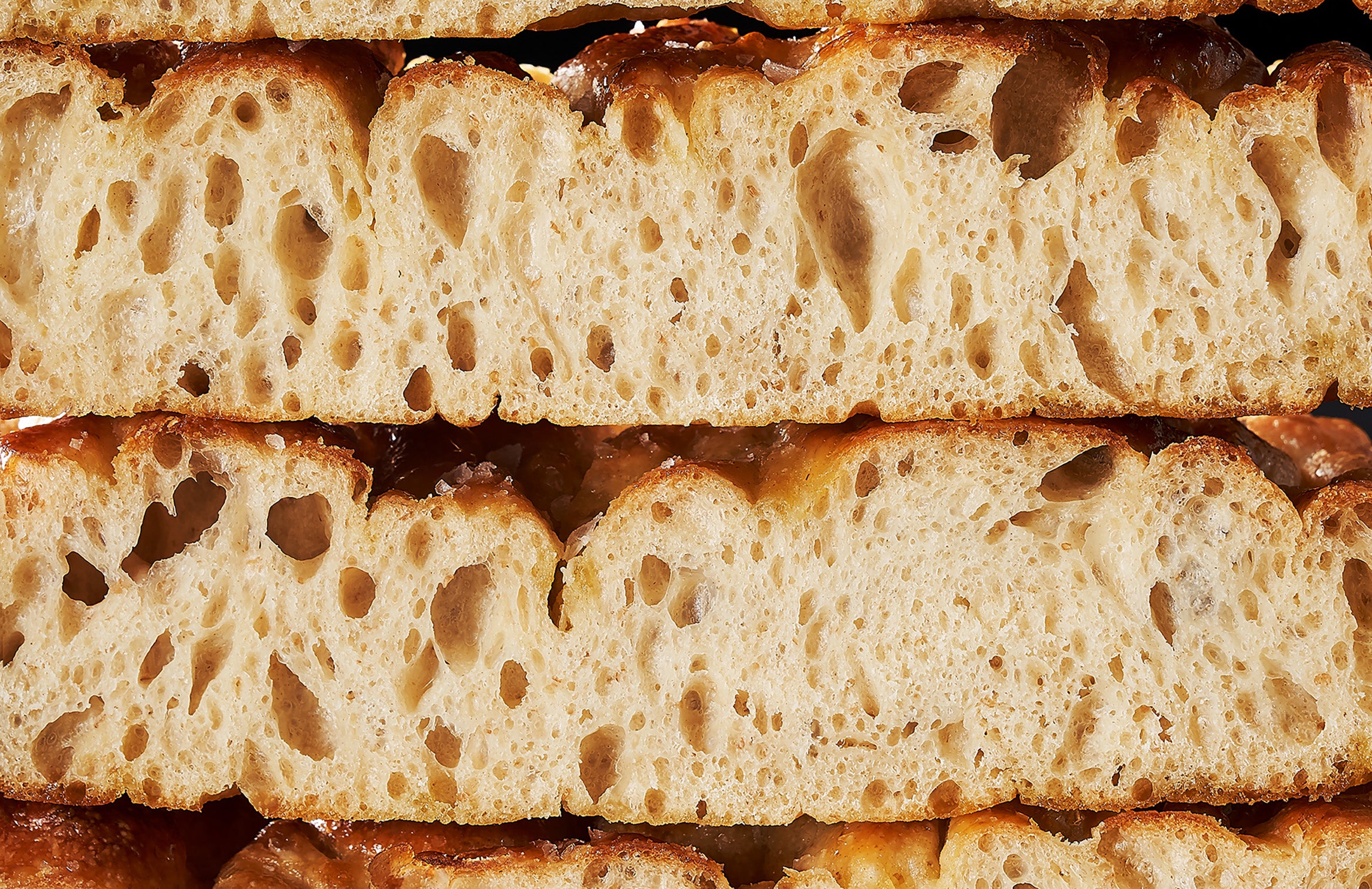 THREE EXCITING RECIPES FROM THE SWEET SIDE OF SOURDOUGH:
Malted Milk and Dark Chocolate Tart
Sourdough starter comes into play here in both the filling and the tart crust, adding a dynamic savory quality to the two types of chocolate.
Salted Honey Focaccia
Try this slathered with ricotta or as the base for a spicy sandwich.
Fig Dark Chocolate Brownies
These bring together the jammy sweetness of figs with the fruitiness of dark chocolate.