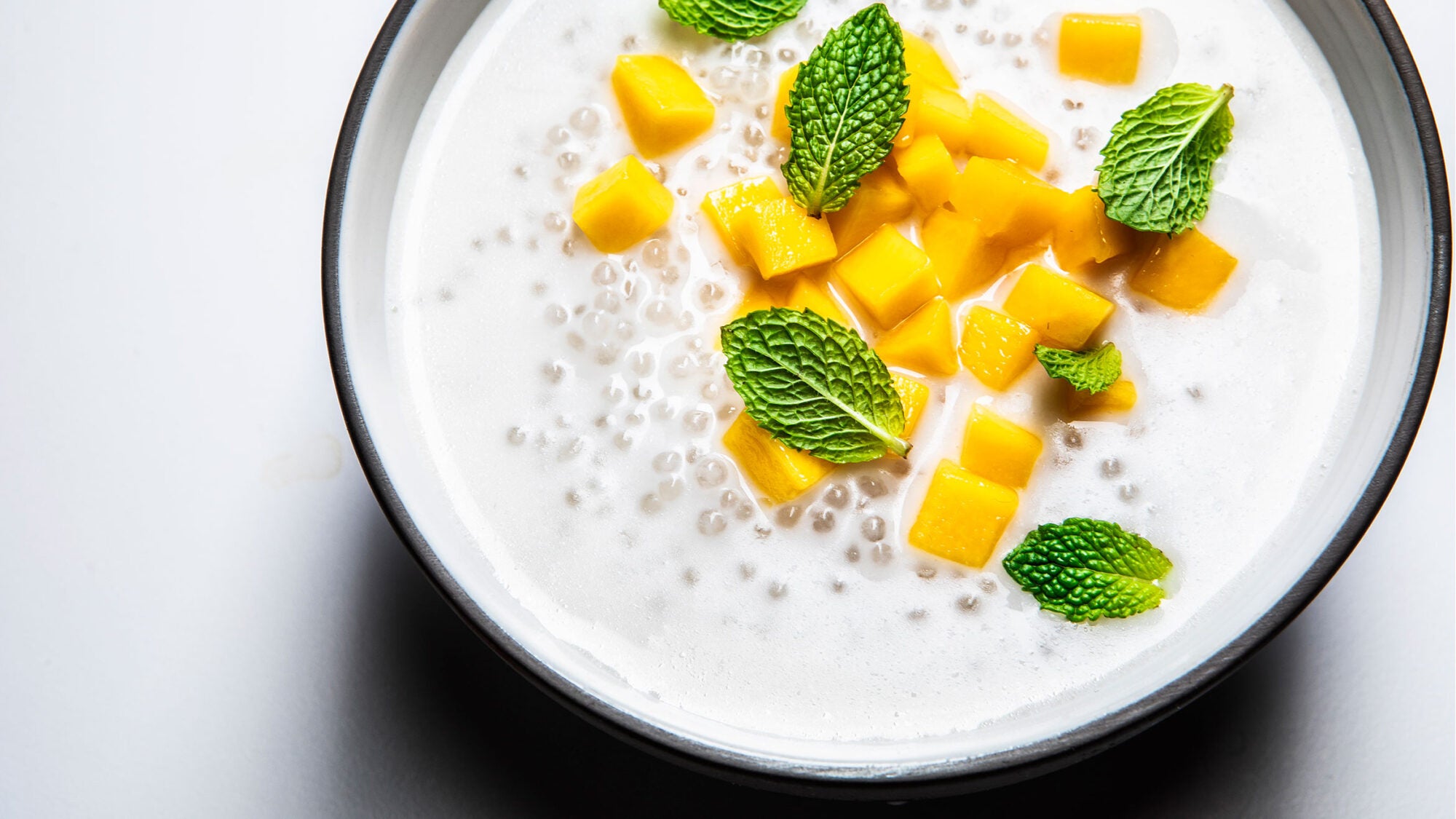 A sweet, textured soup made from coconut milk and tapioca pearls is all you need to end the meal.
The end of dinner at a Cantonese restaurant is often punctuated with a complimentary plate of sliced oranges and a gigantic ceramic serving bowl—complete with a ladle—filled to the brim with steaming soup. Tong sui, which refers to a whole subset of sweet, palate-cleansing soups (and literally translates to sugar water), can span the color spectrum with deep maroons of pureed red beans, inky black sesame seeds smoothly blended, or simple snow-white coconut milk gilded with tapioca pearls. The latter, known as sai mai lo, checks all the boxes for a low-key, large-format dessert with a bracket of possibilities to rival a March Madness lineup.
The coconut-tapioca soup quickly comes together in a saucepan on the stove before being doled out into little individual bowls, and it requires all of three shelf-stable building blocks: an entire can of coconut milk, a handful of tapioca pearls (the size of fish eggs and sold by Bob's Red Mill or at your local Asian grocery market), and just enough sugar to underscore coconut's natural buttery flavor. Once simmered all together, it melds into a cohesive soup flaunting a soft, creamy richness reinforced with a chewy toothsome quality—reminiscent of the milk tea full of marble-size boba that you might sip from a straw.
A bowl of milky tapioca may not have the healing properties of a chicken noodle soup or an herb-heavy Chinese broth, but it channels the snug, simplistic comfort of its savory cousins. Alternatively, if you treat it as a master recipe, you can build upon those three basic ingredients, and you can serve it hot or cold—for something more akin to tapioca pudding.
Take a cue from bubur cha cha, a Singaporean and Malaysian variation on the tapioca soup, and throw in cubes of steamed taro and Technicolor sweet potatoes (orange, purple, yellow) for starchy pith, or infuse the coconut milk with knotted pandan leaves to lend it a balmy aroma. Fashion glutinous rice flour into bite-size spherical dumplings to amp up the chewy element, or toss in strips of jackfruit for something closer to Filipino ginataang bilo bilo. Hong Kong's tried-and-true trifecta of chilled mango pomelo sago is loaded with refreshing tropical fruit—just blend the mango into the coconut milk, then top it with slices of the peeled citrus.
Soup doesn't always have to mean chicken, bean, or tomato. So why not end it on a sweeter note with tapioca?