Small Acts of Big Potato Chip Genius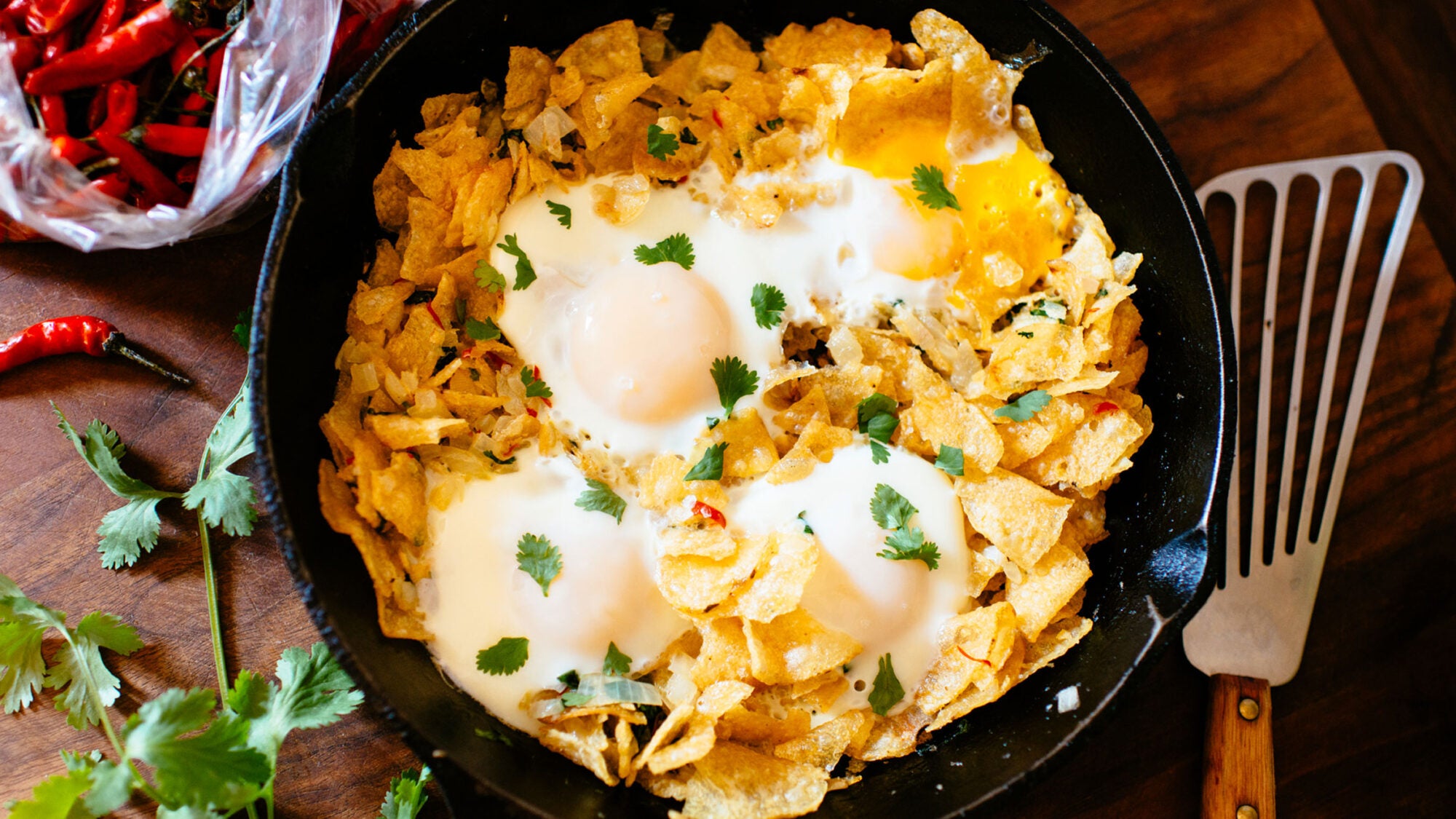 Anything bread crumbs can do, crushed potato chips can do better.
Potato chips have seen me through a lot of high points and low points in life. They were a guest of honor at the last big party I hosted before the pandemic, on New Year's Eve, where the Kettle Brand chips were nestled into the snack spread among some of the most economical caviars the markets of Brighton Beach had to offer. Snack-size bags of Herr's and Zapp's have been a faithfully upbeat road trip companion over the decades. I still think wistfully about a bowl of house-made chips I ate at a vermouth bar in Barcelona a few years ago, which arrived at the table draped with boquerones, piparras, and big green olives, and sprinkled with fiery paprika.
With or without these adornments, potato chips are pretty much a perfect snack food, in my eyes. But their sturdy structure, expansive flavor options, and preternatural crunch also happen to make them an indispensable ingredient in the kitchen. If you've ever woken up on a weekend morning, starving for breakfast, and managed to turn a half bag of Lay's, some leftover salsa, and a couple eggs into a makeshift batch of offbeat chilaquiles, then you know exactly what I'm talking about.
In fact, with half a bag of potato chips and a few eggs, you have a whole world of breakfasts at your fingertips. Boston chef Jamie Bissonnette even has a trick for scrambling chips into his eggs and then eating the whole thing out of the chip bag. In her book My Bombay Kitchen, Niloufer Ichaporia King writes about wafer par ida, a Parsi dish that has you toast potato chips in a pan with onion, garlic, ginger, and chiles, cracking eggs right on top and then sprinkling the whole skillet with fresh cilantro. Even tortilla española has been reimagined (by José Andrés) to bypass all of the arduous potato cutting in favor of a bag of potato chips.
Anything bread crumbs can do, crushed potato chips can do better. I highly recommend pulsing a few handfuls of salt and vinegar chips in the food processor to top your next casserole or coat your next chicken cutlet. If you don't have crouton time (or bread) on your hands, chips can be a saltier, crunchier way to top salads, or even a creamy vichyssoise.
Don't hold out for your next party to pick up a bag of sour cream and onion chips. It could be a while, and there's lots of cooking to do in the meantime.
Some Really Good Potato Chip Ideas:
For TASTE, Raksha Vasudevan writes about topping biryani with crushed potato chips as an act of childhood assimilation and lunchroom diplomacy.
In Juárez, Mexico, Maryam Jillani visits a holdover bar from the 1950s where the light beers are consumed alongside potato chips tossed with hot sauce and soy sauce.
Scott Hocker pays homage to Niloufer Ichaporia King's Parsi eggs with potato chips.
Have you ever wondered where the phrase "all that and a bag of chips" came from?
Food & Wine editor Kat Kinsman describes this family recipe for squash casserole with a potato chip crust as "gloriously caramelized mush," and, honestly, that sounds pretty great to me.
Skip all the mandoline busywork, and make your next tortilla española with potato chips, the way José Andrés does.
Do Ruffles belong in Rice Krispies Treats? Yes.
Eat your eggs out of a chip bag, the Jamie Bissonnette way.
With a small pile of ground pecorino and some black pepper, even your potato chips can receive the cacio e pepe treatment.