Sloppy, Messy, Second-Try Fish Pie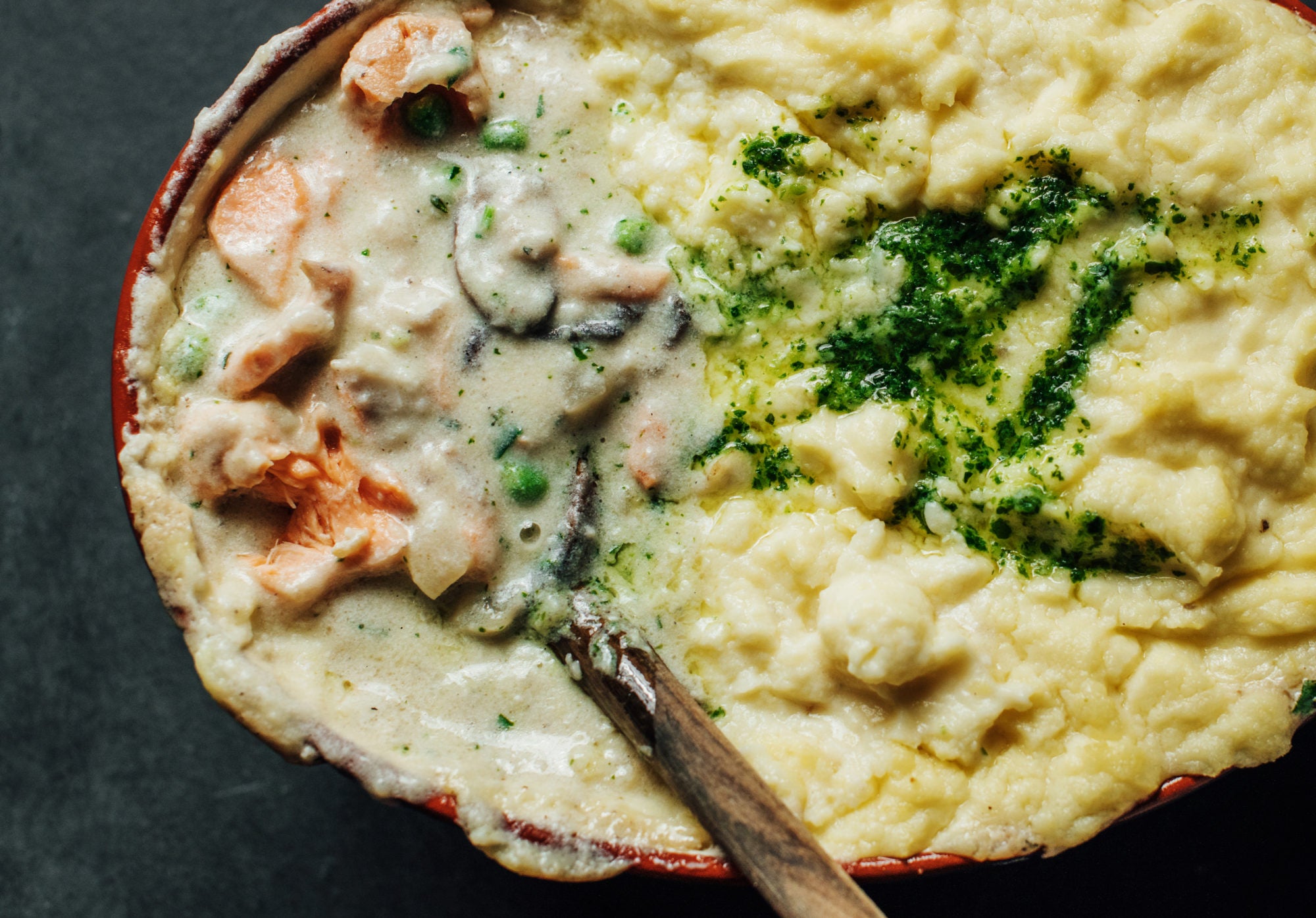 Follow the simple steps in a pie inspired by Darina Allen's Forgotten Skills of Cooking. Failure is an option.
We do not speak of failure. We do not cite its name.
We, the people who tell stories about food and recipes, exalt only the glossy termini of the kitchen. The recipes that work. The images that denote effortless perfection. The cooking experiments that wend their way to success, always. The endgame shines and sells; the messy, mussy process to arrive there does not.
The last 12 months have been hard. Finding new footing after my boyfriend and I stopped dating last year after 10 years together has been painful in a fresh way. The cold anvil of ruination drops into my stomach daily. I, like everyone, am alone in the world. I know, too, that I need other people, and my ex-boyfriend's absence is omnipresent. The days when I drag myself and my dog to Crescent Park, a lush public space that abuts the Mississippi River near where I live downriver in New Orleans, are momentous accomplishments. Most days, even the good ones, I feel like I have failed.
A few months ago, there was a glut of leftover mashed potatoes in my refrigerator after the first Thanksgiving without him. The mash was rich and tangy with sour cream. I thought of uses. Shepherd's pie. Cottage pie, which is shepherd's pie with beef in lamb's stead. Then I remembered: fish pie! For years, I have been drawn to the recipe for Classic Fish Pie in Darina Allen's Forgotten Skills of Cooking, published in 2009.
Allen founded and runs the famed Ballymaloe cooking school in County Cork, Ireland. The book's title implies that these are universal cooking skills, which we all know is inaccurate. There are no universal cooking skills. Instead, these are the forgotten kitchen skills of Allen's Irish home. The kind of longstanding cooking know-how, once the sustaining backbone of Ireland, that Allen fears is eroding. Bacon and cabbage with parsley sauce; brown soda bread; colcannon, the rugged mix of potatoes and kale; gooseberry and elderflower tart. Much of Allen's style of Irish food is what I want to eat. Much of it is also not at home in south Louisiana. Fish pie is. Catfish, black drum, redfish, and their piscine kin are found all over New Orleans, and I was at an advantage because I already had mashed potatoes on hand.
Fish pie requires many steps, but each is easy. You sauté onions and mushrooms in butter. Then you poach fish fillets in milk, along with thyme, bay leaf, and parsley. Best is a mix of kinds of fish, including a touch of smoked fish, if you are into smoke and the sea. Which you should be. The poaching liquid is then thickened with the palest of roux. A roux so blond it would madden a south Louisianan keen on the dank roux of the region's gumbos. Into a baking dish it all goes, then fluffy mashed potatoes are piped or scooped on top. Enter failure.
My leftover mashed potatoes were wrong for this fish pie. I thought I was being economical. Leave no leftover unemployed. The potatoes glopped, when they should have stood firm. The potatoes did not brown either, for they featured no eggs to incite darkening. I thought I was being resourceful; I was foolish.
I came of age in the 1980s, when the predominant American narrative thrown at a closeted gay teenager like myself was that being gay equals death. So I, and so many people I know, calcified a narrative to survive. We were told that the source of interpersonal happiness is couplehood. We are not taught that an ease with our own aloneness is good and right. We fumble and fall and break ourselves trying to mesh and match with another person. Like a gaggle of Humpty Dumptys, if Humpty were adhering to a frayed road map written in a language he only thought he read fluently. A language that he was taught is the best, rightest language. When it is not.
We learn from our failures. Such is their power: the ensuing discernments. I learned that too much liquid in mashed potatoes creates a sloppy topping for fish pie. I began the pie again, beating together mashed potatoes that stood tall on this new fish pie and went tan in the oven. I continue to learn that I am a different man than what society has intimated. My true birthright is to turn inward, to be at peace with my loneness. With or without other people. This forward motion happens in increments. Those roadblocks, those fumbles have names. I will call my failures by their names. I will repeat them and their names.
A Kitchen in New Orleans. Many years of eating, cooking, and writing about food have left Scott Hocker with many stories to tell. In this occasional column, he re-creates a dish tied to a distant, or sometimes recent, food memory.