Skinnytaste Slow Cooker Adobo Chicken. Good!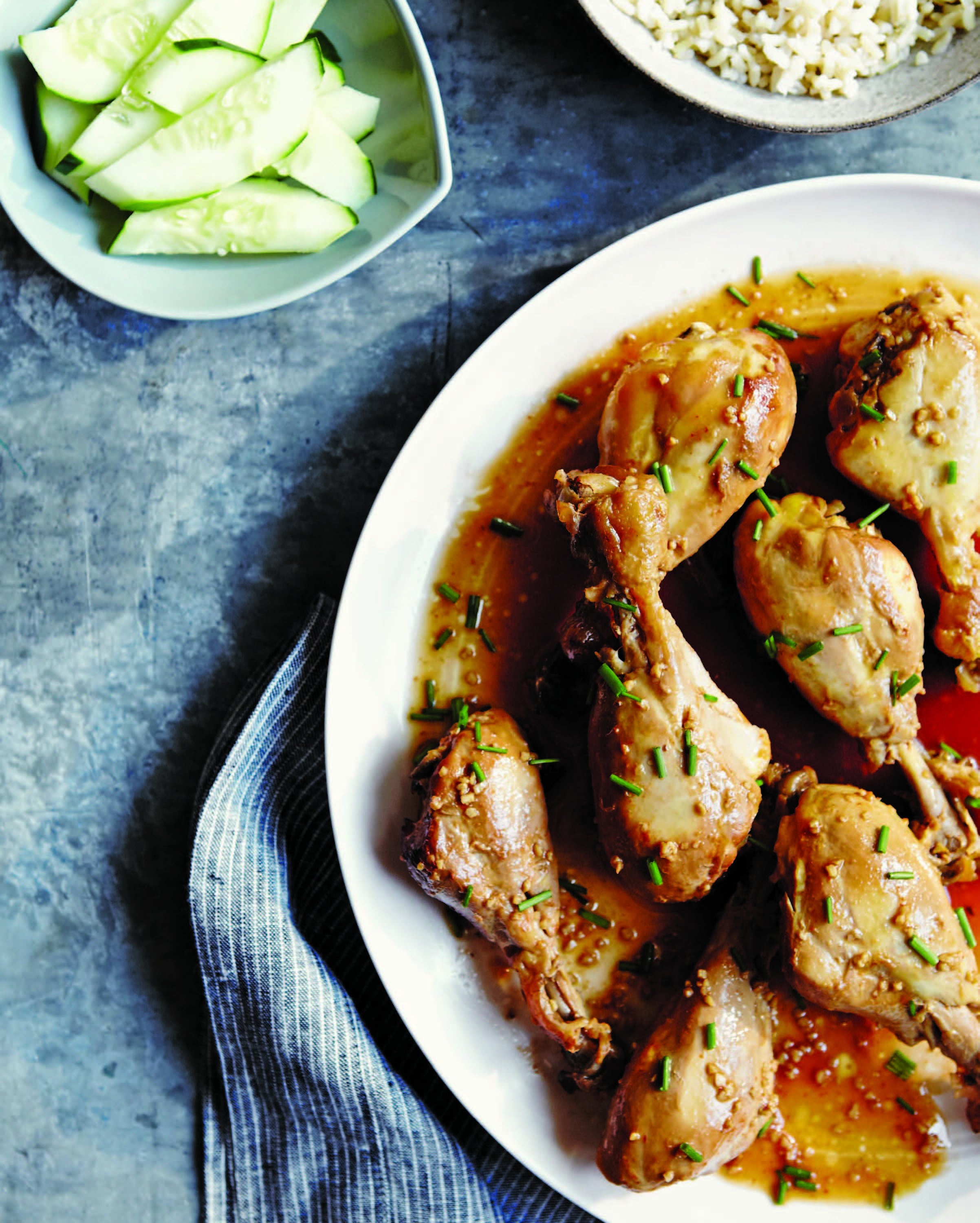 As of this writing, author Gina Homolka—a half-Colombian Long Island mother of two—is besting Bill O'Reilly, Bruce Springsteen, and Harry Potter on the fiercely competitive Amazon sales charts. That is, she landed at no. 2, a placement usually reserved for U.S. presidents and George R.R. Martin.
Homolka is a force in the cookbook game, no doubt, but one you might not necessarily be familiar with. She's behind Skinnytaste, a website she launched in 2008 to celebrate her love of cooking and photography. But unlike many (well, most) food blogs, which flitter around a general premise, Homolka stuck with a clear strategy: to offer recipes that, like the name suggests, are packed with flavor but not the fat often found in home cooking. Over the years she grew an audience, released her first book—a smash hit—and now is back with a new collection of recipes that utilize one of our great achievements in science and engineering: the slow cooker. There are 140 recipes included in Skinnytaste Fast and Slow, including crack versions of chicken and dumpling soup, spicy harissa lamb ragu, and Korean beef tacos.
"I love hearing what people consider comfort food," she tells us a few days before the book's release, buzzing with excitement. In leafing through the 300 pages, comfort is top of mind. We land on the author's shorthand slow-cooker version of the traditional Filipino preparation called adobo. In the Philippines, the robust marinade is ubiquitous and a point of national pride—a unique marriage of soy sauce, garlic, palm vinegar, bay leaves, and sugar that has roots in both China and Spain. A few years back, Homolka was introduced to a stove-top version of the dish by a Filipino friend named Liren, and she was instantly hooked.
"The combination of these flavors just works," she says, admitting that the challenge of cooking with a slow cooker is that the flavors can often be compromised when the pot is bubbling for hours on end. Homolka's fix is to boost the dish with ginger and sriracha, two ingredients not typically found in traditional adobo, but smartly used here. "It took me three tries to perfect this, but I think it came out really great."
After a test-drive, we couldn't agree more.
INGREDIENTS
1⁄4 cup reduced-sodium soy sauce
3 tablespoons red wine vinegar
1 tablespoon sriracha sauce
1 tablespoon dark brown sugar
8 garlic cloves, crushed
1 tablespoon grated fresh ginger
Freshly ground black pepper
8 skinless chicken drumsticks (1 3⁄4 pounds total)
6 bay leaves
1 scallion, chopped, for garnish
DIRECTIONS
1. In a medium bowl, combine the soy sauce, vinegar, sriracha, brown sugar, garlic, ginger, and pepper to taste.
2. Arrange the chicken in an even layer in the bottom of a slow cooker. Add the bay leaves and pour the sauce over the chicken.
3. Cover and cook on high for 2 to 3 hours or on low for 4 to 6 hours, until the chicken is cooked through and falling off the bone. Discard the bay leaves. Serve garnished with scallions.
4. Serve this over cooked brown rice with sliced cucumber wedges on the side.
Nutritional information: PER SERVING 2 drumsticks CALORIES 276 FAT 8 g SATURATED FAT 2 g CHOLESTEROL 179 mg CARBOHYDRATE 10 g FIBER 1 g PROTEIN 39 g SUGARS 5 g SODIUM 833 mg
Excerpted from Skinnytaste Fast and Slow: Knockout Quick-Fix and Slow Cooker Recipes by Gina Homolka. Copyright © 2016, published by Clarkson Potter, an imprint of Penguin Random House LLC. Photography copyright © 2016 by Helene Dujardin.