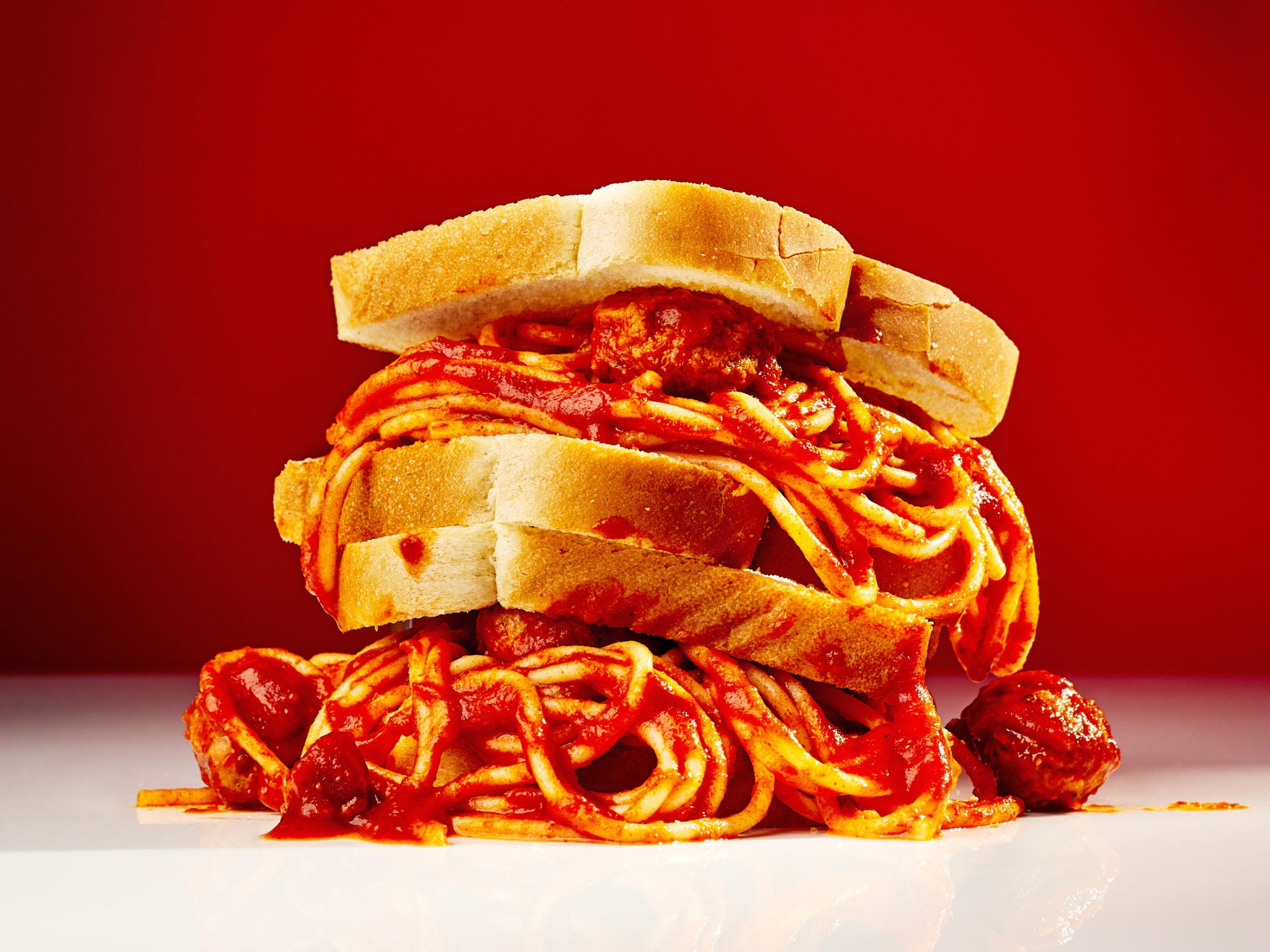 For chef Elliott Moss, the throwback spaghetti sandwich is a trip back to weird teenagehood.
There is only one hard and fast rule for spaghetti sandwiches, says Elliott Moss of Asheville, North Carolina's Buxton Hall Barbecue. "I would never make spaghetti and then eat a sandwich. That was always the next day."
The spaghetti sandwich is a staple of many a working-class household. In my home in Alexandria, Virginia, where my dad hauled other people's luggage at the airport for work and my mother managed apartment complexes, meals for me and my two growing brothers would consist of affordable, filling solutions like giant Tupperware bowls full of cooked spaghetti plus jarred tomato sauce cooked with ground beef for a basic, meaty red sauce—along with frozen garlic bread on the side. These meals were meant to last a few days, sometimes the week, and once we all tired of the marriage of pasta and red sauce, we got creative. The spaghetti sandwich of my childhood was cold spaghetti smooshed between two pieces of soft white bread slathered generously with Land O' Lakes butter straight from the tub.
Moss has been making "sketti sandos" since he was a weird kid growing up in Florence, South Carolina. His upbringing, working class to the core, is laced with chicken bog, hog's head hash, and memories of his grandfather building block pits to feed the fire department, all of which influenced his path to becoming a world-class barbecue cook. But when he's not holding all-night vigils to cook a whole hog or traveling in the name of barbecue, Moss is at home with his wife, Jennifer. On the stove, a batch of Sunday gravy simmers, with spaghetti and meatballs and a loaf of white bread at the ready.
Elliott's love affair with spaghetti sandwiches began in a fashion similar to my own: at home with a big pot of leftover noodles and sauce. His mother, Debbie, would often make enough to last a few days, an efficient move for a working mom.
"There was always white bread in the house, and I think one day I just folded some [spaghetti] up in a little half piece of bread and ate it like a taco." The sandwich evolved into two slices of bread, but always straight out of the bag, never toasted. "And one was never enough; I would almost always make another one," Moss recalls.
Moss has been enamored of Italian-American comfort foods ever since monthly spaghetti nights at his Aunt Terry's house in the late '80s. There was always a giant pot of spaghetti, store-bought tomato sauce flecked with peppers and onions, garlic bread, salad, and cubes of cheddar cheese, an odd garnish for the spaghetti that Moss still enjoys today.
As a teenager working at Chick-Fil-A (Moss is now a self-proclaimed Chick-Fil-Atheist), he started smuggling chicken home to transform into chicken Parmesan. Working at Stefano's, a mom-and-pop joint in his hometown, he tasted homemade lasagna for the first time (he had only known Stouffer's frozen lasagna) and picked up the art of lasagna making. This would later inform his process for pierogi lasagna, a layered dish made of frozen store-bought pierogis, red sauce, meat, ricotta cheese, and more cheese. "I like the starch-and-potato combination," he says.
Today, pierogi lasagna stokes nostalgia in his partner of 20 years, now his wife, who remembers eating the dish in the earliest days of their relationship, when times were extra lean. She still speaks of Elliott's grand "Tour of Italy," a sampler platter of fettuccine alfredo, lasagna, and chicken Parmesan, inspired by his time at Stefano's and Jennifer's then employer, Olive Garden. Back then Elliott would doctor up the dishes with spices and herbs to make it his signature romantic gesture.
Now, with decades of experience behind him, Moss revels in home cooking. He's traded semi-homemade creations for the pleasures of cooking real ingredients with patience and a chef's measured hand.
"The older I get, and the longer Buxton's been open, I don't get to cook like I used to. My role is more of a restaurant owner, so I cook at home a lot more than I ever have," he says.
What used to be a jar of Bertolli Four-Cheese pasta sauce is now a can of San Marzano's transformed over a slow Sunday afternoon with garlic, herbs, red wine, and the flavorful scraps from his whole-hog life. "Sunday gravy has become one of my favorite things to make. I'll put that up against most things," says Moss. And the spaghetti sandwich recipe? That gets a bit of the chef treatment these days, too, by virtue of his red sauce.