Sheldon Simeon Cooks Hawaii. Real Hawaii.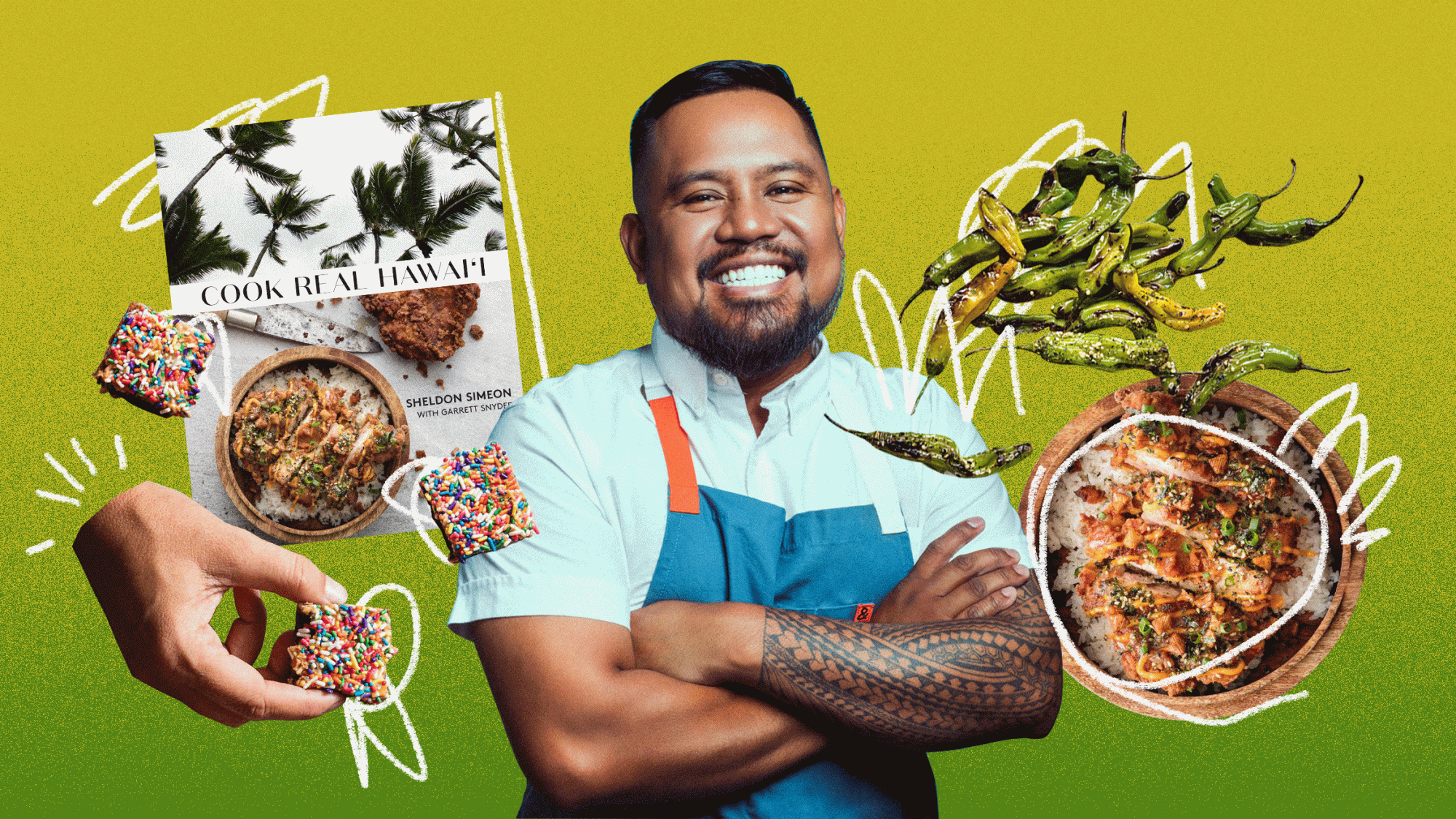 The Maui-based chef is putting his own spin on the Islands' flavors with furikake ranch and birthday cake butter mochi.
For Sheldon Simeon, cooking from the heart means digging into the rich, multilayered cuisine of his home state, Hawaii—but there wasn't always a clear place to start. He was raised on family cookouts with his dad at the helm, filled with pu pu platters and whole roasted pigs, and the soothing comfort of his mother's miki noodles, on the Big Island. Soon after, he attended culinary school and dove headfirst into the restaurant industry.
Simeon went on to open his first Maui restaurant, Star Noodle, and appeared on two seasons of Top Chef, where he grappled with the expectations of what he should cook as a chef from Hawaii and what that represented. In Cook Real Hawai'i, Simeon returns to his roots to celebrate the homestyle feasts rooted in island culture, but he presents them with his own inventive twists.
In a recent conversation we had about the book, he emphasized that the force behind many of these flavor combinations—like Pop Rocks–frosted chocolate butter mochi and a maximalist mochiko chicken showered with fried garlic, gochujang aioli, and a sweet miso glaze—is to humbly serve up ono grinds (delicious food) and have fun while doing it.
You talk about your journey as a chef, your time working in restaurants, and being on Top Chef, but also how you've been able to cut through the noise of people's expectations of what Hawaiian food is and what someone from Hawaii should cook. How did it feel to document it all in a book?
It was a huge therapy session to peel back the layers and really dissect those moments in my career and in my upbringing that influenced the way I cook and the way I view food. It's the relationship of a chef to our community, through these recipes that have been handed down. It was cool to see that all come together. I'm humbly patting myself on the back, because I can be true to who I am as a chef. I just feel validated that I can be myself and be so stoked to cook the food of the place where I was raised and the place where I live. And I feel that that's a huge blessing and opportunity, because I've been in the boat where you're a chef trying to please other people you're cooking for for different reasons. To now be able to share these family recipes and just truly cook from the heart . . . it's a blessing, for sure.
You mention early on in the book that you didn't want to include recipes for poi and kalua pig—two foods heavily associated with Hawaii. How did you decide on that?
It was always on the table to include those recipes, but as we went, we were like, how can someone at home really re-create poi? Poi is one of those things that most people don't like, because 90 percent of the poi that is out there is bad poi, unless you've had traditional heirloom varietals that have been taken care of, hand pounded, and all of that—then you'll see what poi is all about. And I didn't want to sell people short on that. They'll just be trying to make a makeshift recipe, when poi is such a respected and central part of Hawaiian cuisine. It's something so simple, a taro paste. But it has so much more meaning when you go through the genealogy of it.
That's also why I didn't include kalua pig. I think you could Google that enough and figure out kalua pig. Again, there's so many ways to make kalua pig in an oven, but unless you've actually tasted a kalua pig that's been raised on all macadamia nuts or whatever, and then you build this imu to cook it in, versus tasting it coming out of [a home] oven . . . The difference is so, so dramatic. So I didn't want to short people on those items where it looks so simple and it's been re-created in simple ways, but the best of it is only tasted by very few to learn to appreciate it.
You're a chef rooted in Hawaii, but you're also still observing what the restaurant trends are in the mainland—like your cascaron with chicken liver mousse and guava jelly. How do you go about interpreting those trends?
It's this balance of pushing the culinary boundaries of what Hawaii and Indigenous cuisine is, getting influence from what else is out there, and using that hype train or whatever to showcase your upbringings. And it's fun, just kind of navigating through that and finding that balance. It's still something that we continue to navigate—pushing the boundaries as a chef while you're still upholding and respecting the roots of the dish.
That poi and chicken liver mousse dish—we showed up to Pebble Beach Food & Wine [festival] with that the year before last, and people were freaking out about it, and we were stoked. To put it all together, it was so different from everyone else. And it was good to showcase that.
You definitely don't hesitate to build upon flavor, like your mochiko chicken that calls for two sauces and a ton of crunchy toppings. It's really nice to just see all those personal touches that you put into it, which have all come from different dishes that you've had throughout Hawaii.
I love that we have a platform with Hawaii as the example, where you have this super rad indigenous culture that is Hawaiian already—that alone is pretty lit. Then you bring all these other cultures to the party, and they're all bringing their influence into it, and you get something that's so rad, and that's the way I look at recipes. And when I think of it, a lot of times, there are people who are so stuck in their tradition of certain dishes. All we're trying to do is make delicious food, man.
There are definitely some combinations, like furikake ranch or birthday cake butter mochi, in the book that seem to embody that.
I'm so stoked that the chefs I've been surrounded by respect our culture. They respect where the roots of a dish come from, but we have this playfulness that we want to share with people. We don't want to take things so seriously. Like, I don't want to offend people by putting sprinkles on butter mochi. But you try to put that on it and, come on, that's just fun. So when we came up with that recipe, it was because we wanted to do something that was fun. That's what [my restaurant] Tin Roof was—that was made for Tin Roof. We wanted a spot where you don't have to take us too seriously, just come on in, and we'll give you good grinds. And why not finish with chocolate, peanut butter, and sprinkles? [Laughs.] There's a version where Pop Rocks find their way onto it. It's all fun.
But, you know, if you peel back the layers, there's a lesson that we can talk about when people ask, "So, is that a brownie?" Well, it's bibingka or butter mochi. We could talk about how it's a mochi-based dish that is influenced from the Japanese and Filipino and all of that. So you peel back those layers, and there's still a respect for what the original dish is.
You mentioned that maybe you didn't show it on TV when you were on Top Chef, but that there were plenty of moments when you kind of doubted the style of food you were cooking and that the big takeaway was "don't overthink it." How has that philosophy continued to play out in your cooking?
Food is just better when you're cooking from inside here, the heart. When you're trying to make it fancy for the wow factor or you're trying to please somebody, thinking that you know what they want to eat, and that's how you decide what you're going to cook . . . you're going down the wrong road. And I try to think of my aunties and my uncles, all of them. It's like, when they cook, they just cook because they want to nourish people and they want to feed people. No one's trying to get that on Instagram. I had to remind myself of that—to stop trying to do it for the fame or the glitter of it all. Food is so personal, so you should be thankful that you get to share this moment with people.
This interview has been edited and condensed for clarity.
FOUR EXCITING RECIPES FROM COOK REAL HAWAI'I
Pan Sushi Dynamite
This easy-to-make potluck recipe is a sterling example of local ingenuity. Think of it as a sushi roll without the rolling or, in haole terms, sushi casserole.
Blistered Shishitos with Furikake Ranch
The pairing of buttermilk dressing and umami-laden furikake will make you rethink the way you dress your salads.
Mochiko Fried Chicken
There are simpler mochiko recipes out there, but none of them offers the whole epic package of flavor, like this one.
Chocolate Birthday Cake Butter Mochi
It starts with a chocolaty base and ends with creamy peanut butter, raw sugar, Pop Rocks, and rainbow sprinkles.
MORE BOOKS TO BUY, READ, AND COOK FROM:
Last year, we spoke with Aloha Kitchen author Alana Kysar about all things plate lunch and spam musubi.
Last week, we caught up with Lauren Toyota to discuss her second cookbook filled with vegan comfort food, hot for food all day.
In The Pepper Thai Cookbook, out April 13, you'll find everything from traditional khao tod crispy rice to fresh reinventions like Brussels sprouts pad Thai.
If you read musician Michelle Zauner's moving New Yorker essay titled Crying in H Mart, look out for her upcoming memoir of the same name, out April 20.
 Padma Lakshmi tells the story of her life through recipes and fond cooking memories in Tangy Tart Hot and Sweet.