Sheet Pan Your Panzanella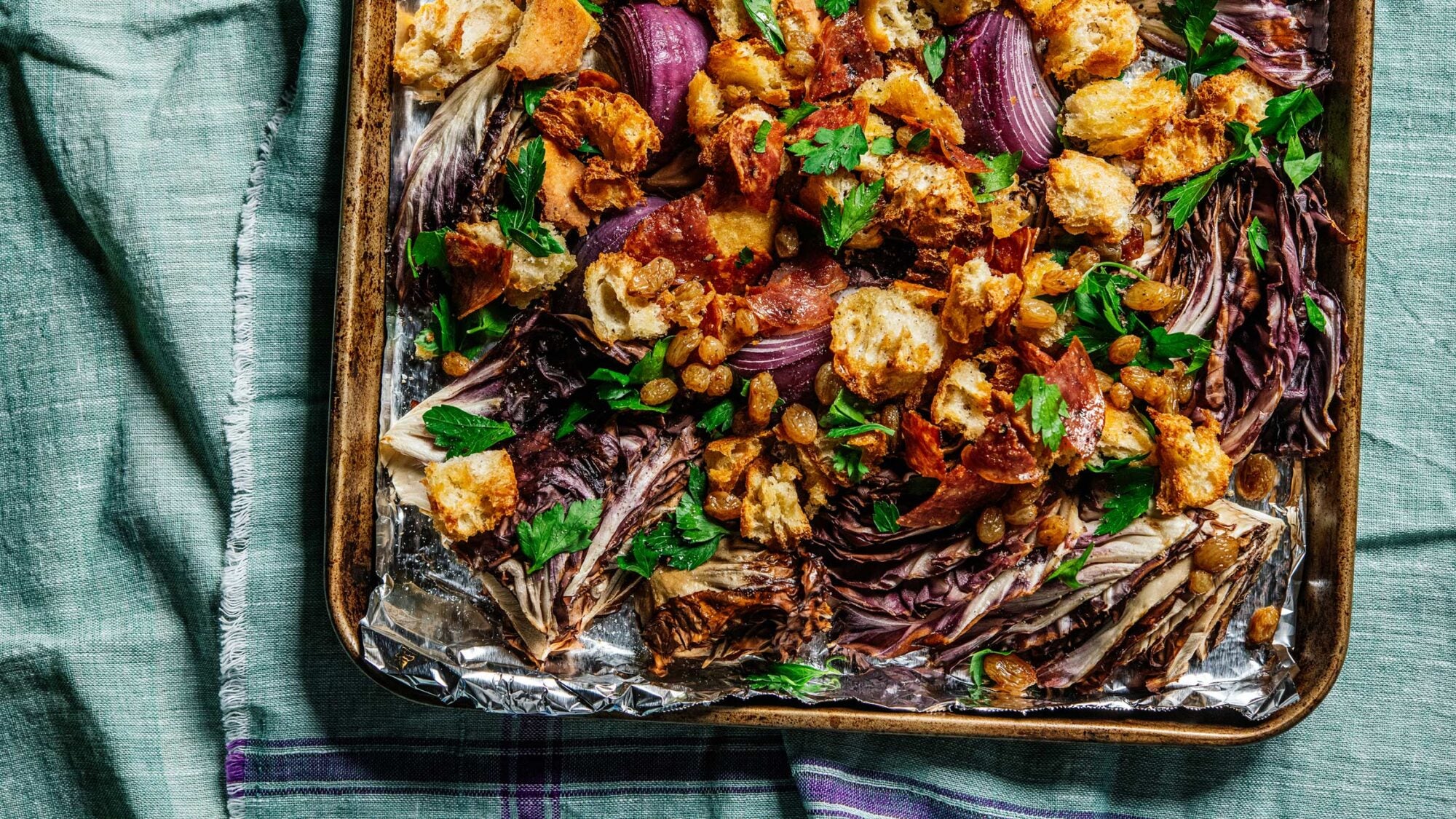 A roasted take on the classic Italian bread salad turns the summertime classic into a year-round affair.
Using panzanella as an excuse to eat bread and call it a salad is what gets me through most summers. But in winter, it's a pretext for turning some chicories or root vegetables into something savory and toasty. For those who haven't incorporated this rustic method of bread-reviving Tuscan genius into their phoning-it-in dinner routines, it usually goes something like this: You tear a stale, crusty loaf into little bites, toss them in a hearty amount of olive oil, toast them until they're golden brown and crunchy, and then mix them with fresh tomatoes, leaves of basil, pepperoncini, a few bits of dried salami, and a drizzle of vinaigrette.
Though most recipes floating around the internet and trapped in dusty books lean on juicy, summery produce to play off the crunchy bread, plenty of year-round vegetables (like kale, squash, and even Brussels sprouts) can be panzanella-ready with a little bit of cooking and coaxing. Better yet, most ingredients can be roasted right on the same sheet pan you use to toast your croutons, making a brilliantly colorful and textural one-pan meal.
The trick, I figured, is to add ingredients in order of cooking times, drizzling on a little bit of olive oil and salt with each new item. The things that take the longest—starchier vegetables like squash or beets, for instance, or wedges of onions that you want to be softened and lightly browned—go first. Next, add the bread, which soaks up some of the flavored oils on the sheet pan and turns crisp. Delicate finishing touches, like cheese (torn fresh mozzarella, for example, or some shavings of parmesan), fresh herbs (like basil or Italian parsley), and pickled peppers are added at the end, along with a drizzle of something acidic.
Taking inspiration from a Samin Nosrat recipe for roasted radicchio and Roquefort from Salt, Fat, Acid, Heat, I put this theory to the test recently. I started with a sheet pan of Italian sausages and onions, roasting them until the meat was cooked through and sweating and everything was golden brown. Then, I added the torn bread, tossing it in the sausage fat and toasting it until it was crunchy. Next came a few wedges of radicchio to add some bitter crispness to the mix. This I baked just long enough to soften at the edges. Borrowing a technique from a favorite Smitten Kitchen kale salad, I simmered some golden raisins in vinegar, concentrating the flavors of both into a fruity dressing to toss the whole thing with, along with some leaves of Italian parsley for fresh contrast, and lots of salt and pepper.
The second time I made the panzanella, I swapped the sausage out for a few thin ribbons of soppressata, which I added toward the end so that they would get a little bit crispy but not burnt. Paper-thin slices of fennel would be welcome in the mix, as would wide shavings of Pecorino, crushed green olives, or pickled peppers. The end result is a hearty, warming stand-alone meal that could also be served on a big platter as a hearty salad to accompany a roast chicken.