Searching for America's First Chicken Finger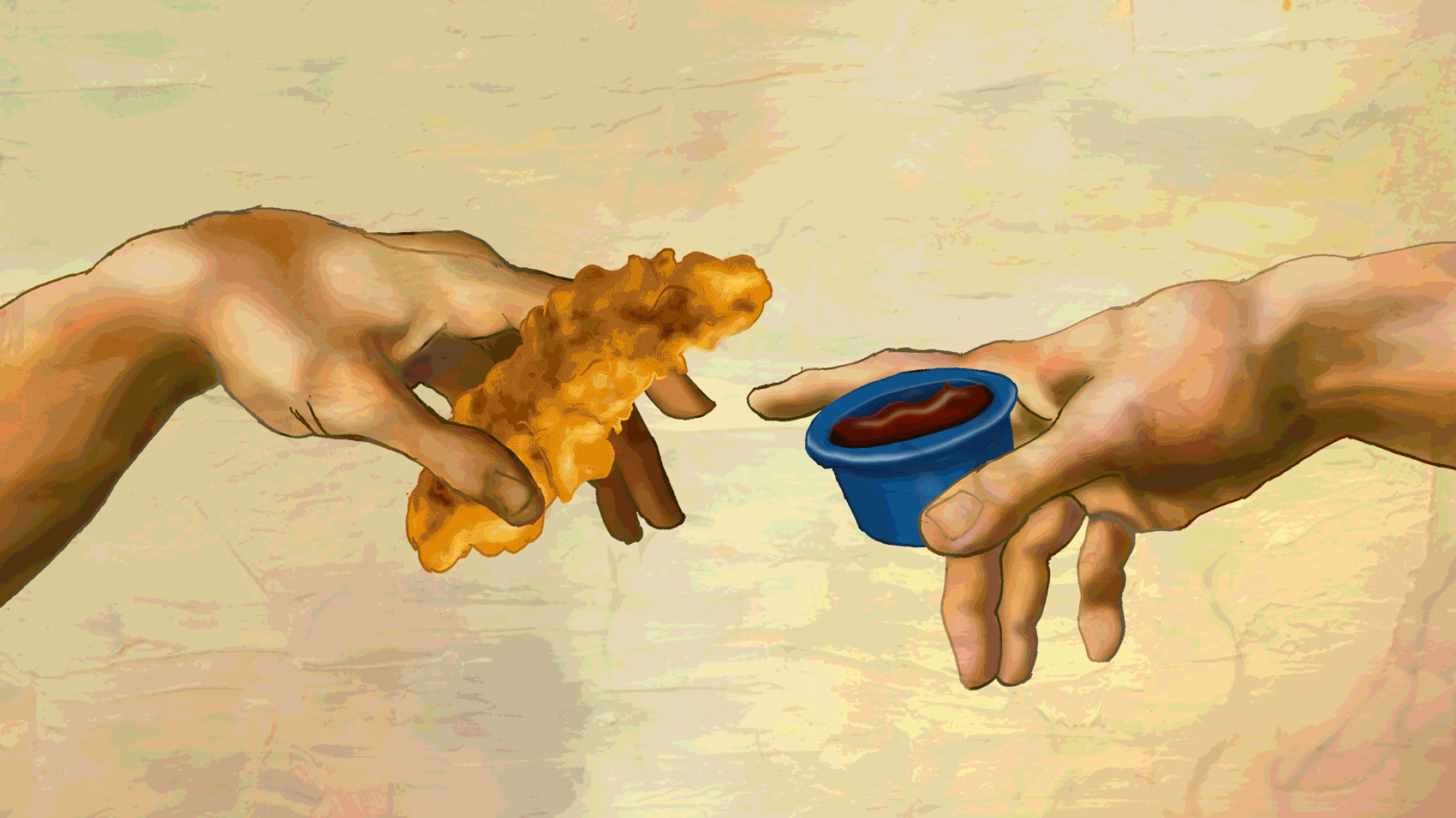 Some 34% of restaurants in the United States have chicken fingers on their menus. Can we point to number one?
In 1989, Applebee's opened their 100th restaurant. By 1998, they'd opened their 1,000th. I was born in 1992, near the start of this novelty boozy, sometimes-cold-in-the-middle, Tiffany-lamp-adorned explosion in the American restaurant scene. It was during this period that I ate a lot of chicken fingers.
As a family, we tested the waters of the full casual dining spectrum—Applebee's, Bennigan's, Ruby Tuesday, TGI Fridays, Friendly's, Perkins… They all had fingers. I rarely had to look at the menu to point a finger. 
Sometimes crunchy, sometimes crumbly, and always served with a sugar-buzzed sauce that could almost double as dessert, chicken fingers were the lifeblood of my Pennsylvania youth.
They went by many names, but they were always "fingers" to me. "Tenders" made me think of tendons and seemed like an excuse for adults to eat them without feeling childish. I remember being appalled when Burger King introduced "Chicken Fries" in 2005, unable to believe that there wasn't even a hint of potato in these so-called frites. Don't even get me started on McDonald's "Chicken Selects" (1998–2015). Where are we, a boardroom?
I've since learned that "tenders" is the only one of these monikers that is anatomically correct. The tender, or tenderloin, is a muscle under the bird's breast. Whether restaurants serve the actual tender or serve strips of the breast and call it a "tender" is up to them—however, the US Department of Agriculture does require that precooked "tenders" and "fingers" have to be made from breast meat. "Strips" don't. (Sorry to all the "strips" purists out there.)
The chicken finger, unlike the tender, is pure fiction. It's an imagined product of the animal, like fish sticks or meatballs. Kids don't know where it comes from, and they don't want to! They just know that it's salty, savory, and, more than anything, silly.
It's different from fried chicken, which has a complicated history all its own and is much scrutinized by restaurant critics and food writers. No one can say who the first people were to fry chicken, because every culture did it, hundreds of years ago. Modern techniques were developed in both West Africa and Scotland, and the method Americans know best was perfected by enslaved African women in the South.
But chicken fingers alone are a simpler, milder pleasure. Associated with kids' menus, picky man children, and drunk food, they are an American staple. I urge you to find a state fair or a roadside diner that doesn't serve them. 
The simultaneous ubiquity and inconclusiveness of the chicken finger jumped out at me. Not quite a tender, not quite fried chicken, it sounds like a nickname John Hughes would give a nerd, and still: one 2023 consumption report I found stated that 34% of restaurants in the United States have chicken fingers on their menus.
I had to know who the first person was to look at a boneless, battered twig of fowl and say, "That's a finger."
Most articles I read say the chicken-finger-cum-tender was first made in Manchester, New Hampshire, in 1974, at a hundred-year-old restaurant called Puritan Backroom. However, a blog called "Cow Hampshire" wrote a very thorough entry on chicken fingers that disputes this claim. They cite an ad for Mussari's Sun Valley Motel and Restaurant in Hazleton, Pennsylvania, that offered "french-fried chicken fingers" in 1966, eight years before Puritan Backroom supposedly first made them (sorry, New Hampshirites).
Furthermore, Spanky's Pizza Galley & Saloon in Savannah, Georgia, believes they made the first chicken finger in 1976. And Guthrie's, a chain in the Southeast, calls themselves "America's Original Chicken Finger Restaurant." The chicken nugget was invented by Robert C. Baker in a lab at Cornell University in 1963, but some sources credit him with fingers anyway.
Basically, this genesis story is a mess. No one agrees about what chicken fingers are or where they came from. Going down this rabbit hole had me asking, to quote my favorite Oprah meme, "What is the truth?" Is Puritan Backroom claiming they invented chicken fingers, or only tenders? Was Mussari's Sun Valley Motel and Restaurant really the first to make them? Do these restaurants have beef with each other, or are they strictly pollotarian?
I called a bunch of people to find out. Puritan Backroom told me that, to them, they're called tenders. "Chickens don't have fingers." I think they could use some imagination, but I respect a hard stance. They added, "Many of our customers call them fingers, and we don't care. We know they want chicken tenders!" which is certainly the most economical approach to this debate. But I needed distinction and facts. I asked if they had any message or official comment on other restaurants around the country who also claim to have invented chicken tenders. They said that they're not aware of anyone who made tenders before them, even mentioning that fast-food restaurants started putting them on their menus ten years after they introduced tenders to the world. I didn't burst their bubble.
Guthrie's had an almost identical response: "We've always had a focus on the finger, but it's okay if you call them tenders," along with "We know there are copycats out there, but we were the original." They believe they opened the "first ever chicken-fingers-only restaurant" in 1982. Sure, maybe they did, but I was looking for the holy grail, not the holy grail replica manufacturer.
Mussari's Sun Valley Motel and Restaurant, the spot in PA that advertised chicken fingers in 1966, has long been closed. I also found a lone pack of matches on eBay that advertised a cocktail lounge and banquet facilities. I would kill to eat chicken fingers in that Appalachian cocktail lounge in the '60s, alight with oil lamps and polka music. I bought the matches. 
While visiting my family this summer, I happened to be near the abandoned remains of Mussari's, and I recruited my mom to personally shuttle me to the archeological dig of our nation's first finger. My dad confirmed that he had driven past the vacant motel—"I think it's across from the Catholic church on 309," he said—and he was right. We pulled into the overgrown parking lot. My mom asked if I thought anyone was living inside. I got out of the car to look around. Through a window, I could see some upright mattresses and not much else. I walked around to the back, hoping for chicken fingers, but only found a bunch of broken glass and bedside tables, the wood curling from years of rain and snow. My mom told me to get back in the car, and we left. I regretted not trying to open a door (luckily, I did find this ten-minute video of a local exploring the building—no chicken inside either). My journey hit a dead end.
And then everything changed.
I thought I could rely on "Cow Hampshire," the blogger that found the chicken fingers from 1966. I thought the work was done—every stone turned, every finger accounted for. But then, in a moment of clarity, I logged into Newspapers.com and paid for the $12-per-month subscription, fully worth it for the trove I uncovered. I searched through hundreds of mentions of "chicken" and "fingers." I started in 1966 and went back from there. I scrolled past dozens of "KFC Chicken: Finger-Lickin' Good" ads. I saw fingers of all kinds: steak fingers, snapper fingers (ick), the occasional shrimp finger—and I swept them all aside in my search for chicken. This was my own personal National Treasure.
The earliest mention wound up being in a 1909 issue of The State, a Columbia, South Carolina–based daily newspaper. In a section called "Menus for a Card Party" written by Cornelia C. Bedford, chicken fingers are a suggested course in addition to lobster salad and "fancy cakes" (no recipe included). I could go on assuming that these were the chicken fingers I knew and loved, but there was a risk. While jumping back through time, I learned that "chicken fingers" can have more than one meaning.
In a July 1952 issue of the St. Louis Dispatch, I found a recipe for "chicken fingers" that will haunt me forever. The method? You pressure-cook a chicken until it falls off the bone and shred it. You roll out a pie crust and cut squares into it, and then you top the squares with the shredded chicken. You mix together cream of chicken soup and cream of mushroom soup, and you put a dollop of the soup combo on each chicken square. You fold over the squares and deep-fry them. They are, for better or worse, chicken fingers.
My world blew apart. Did nothing have meaning? Who's to say any of these chicken fingers were fried strips of meat? They could've all been soupy pie squares!
The earliest mention of fried chicken fingers I could find was in a 1948 write-up for a restaurant called Chickland in Saugus, Massachusetts—at the very least, they are described as "deliciously crisp," which sounds closer to the chicken fingers I know than the soup squares. Chickland closed down in the late 1960s, but it looked beautiful in its heyday.
If I learned anything from my chicken finger journey, it's that there is no one truth. No one invented anything. I went looking for order, but I was only thrust further into chaos. I don't trust Benjamin Franklin, and I don't trust the Guinness World Records. We're all just making stuff up and taking other people's ideas and saying we did it. I would love to be the inventor of chicken fingers, but I'm not. None of us are. Realistically, they were probably alive centuries ago. 
Feeling sad about mortgage hikes and all the closed-down restaurants of the past, I ordered delivery—the garlic and black pepper tenders from Klom Klorm Cafe in Bushwick. They are sticky, salty-sweet, and coated in some kind of frizzled cornflake topping that I scoop up with my fingers from the bottom of the box. Applebee's would not believe.