A New Chickpea From the Old World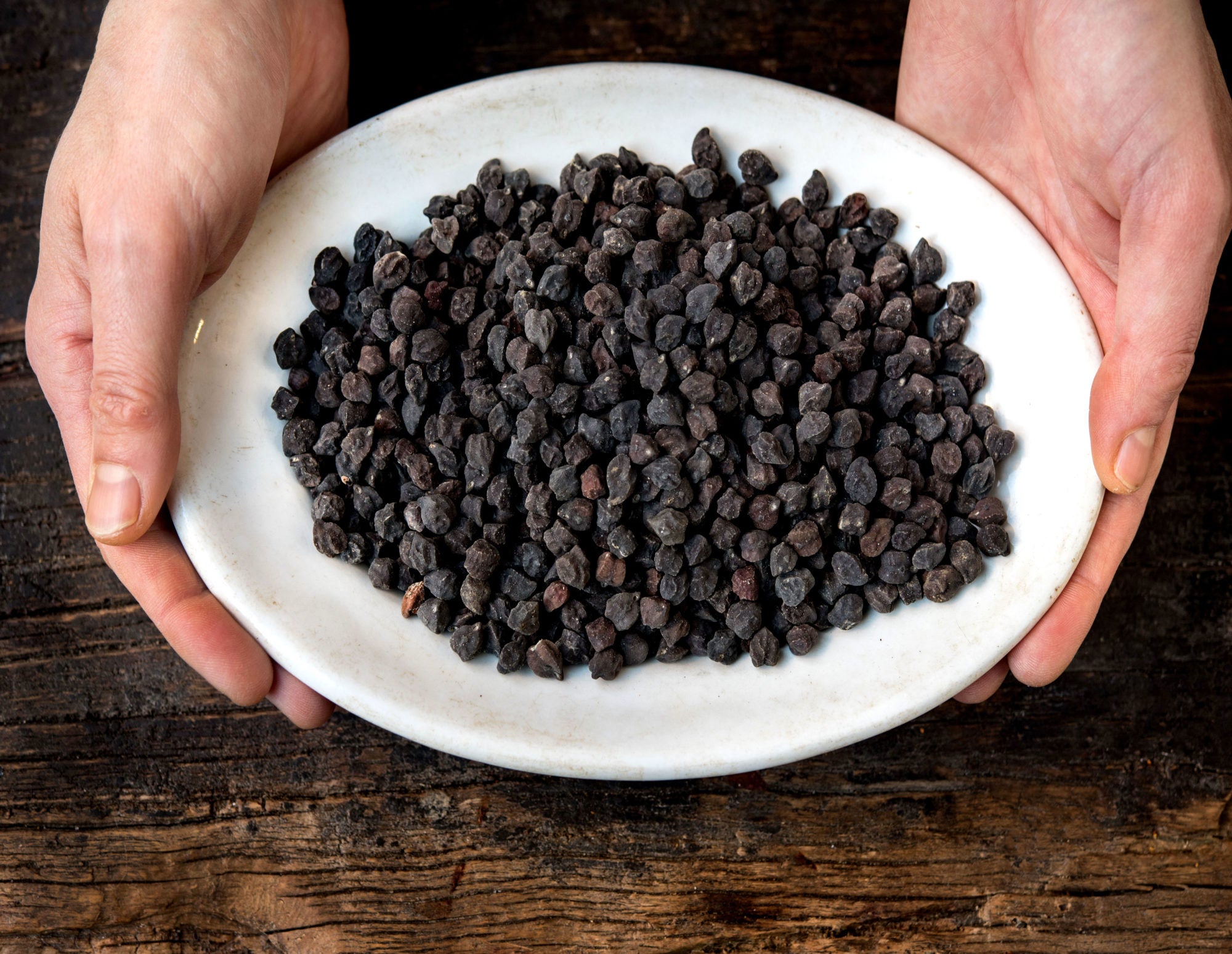 It may be a little trickier to find, but the black chickpea has an earthy flavor and a structural integrity that's worth seeking out.
Sometimes a recipe starts with a particular finished dish in mind, but more often than not it starts with a lone ingredient—an ingredient I'd read about in the past, or maybe once spotted at the farmers' market or while dining in a restaurant. But sometimes an ingredient simply finds me. This is what happened with black chickpeas.
While in Sicily last year, my husband and I spent some time driving around the seven hamlets of the municipality of Castiglione di Sicilia—in the foothills of Mt. Etna—in the province of Catania. We stopped in the tiny village of Solicchiata in search of a snack and stumbled upon a tiny gem of a store, Aromi e Sapori di Angela Savoca. It was stocked from floor to ceiling with a tempting array of local salumi and cured meat, cheese, wine, nuts, olives, bread, and various specialty products. We bought some cheese and nuts, and that's when I noticed the black chickpeas.
Compared to the white chickpeas that we're most familiar with, the black variety (known as ceci neri in Italian) has a dark, wrinkled outer skin and is much smaller. The black chickpea is also richer in fiber (about three times) and high in iron. Because of its thick, rough skin, black chickpeas need to soak and cook longer than their white counterparts, which may explain why they've never gained much popularity. When cooked for a long period of time, black chickpeas maintain more of their structural integrity than the white variety and have an earthier, more herbaceous flavor profile.
The majority of black chickpeas are grown in the Murgia, a rocky plateau in central Puglia, particularly in an area located southeast of Bari known as Murgia carsica. In years past, this territory was a fertile, agricultural haven of vineyards, almond and olive groves, and legumes, like ceci neri, that were well suited for the terrain. Until the 1950s, black chickpeas were commonly consumed, but their cultivation subsequently dwindled following the introduction of more profitable crops, such as olives and grapes. Legumes with much shorter cooking times arrived on the market, and thus the black chickpea lost its appeal.
Practicality aside, there is something about old-world ingredients like ceci neri that I find particularly appealing. As our agricultural system becomes less and less biodiverse, rare heirloom plant varieties, including beans, become an important link to a region's culinary history and traditions. You can still find them at some specialty Italian stores, and they're easy to buy online.
An ideal way to utilize black chickpeas is to toss them into a stew. A good stew needs to simmer for several hours to develop flavor, and black chickpeas readily hold up to the long cooking time. By the time the meat is fall-off-the-bone tender, the black chickpeas will have had ample time to cook. In fact, after several hours, they were pleasantly al dente. The other great thing about a stew is that you can (and in the name of flavor, should) utilize inexpensive, bone-in cuts of meat, including lamb, pork, goat, or beef. I went with lamb, as its stronger, assertive flavor pairs well with the earthy black chickpeas. If you happen have a Parmesan rind on hand, add it to the stew; the rind will lend umami to the dish.