To Find Good Korean Food in South India? It's Tricky.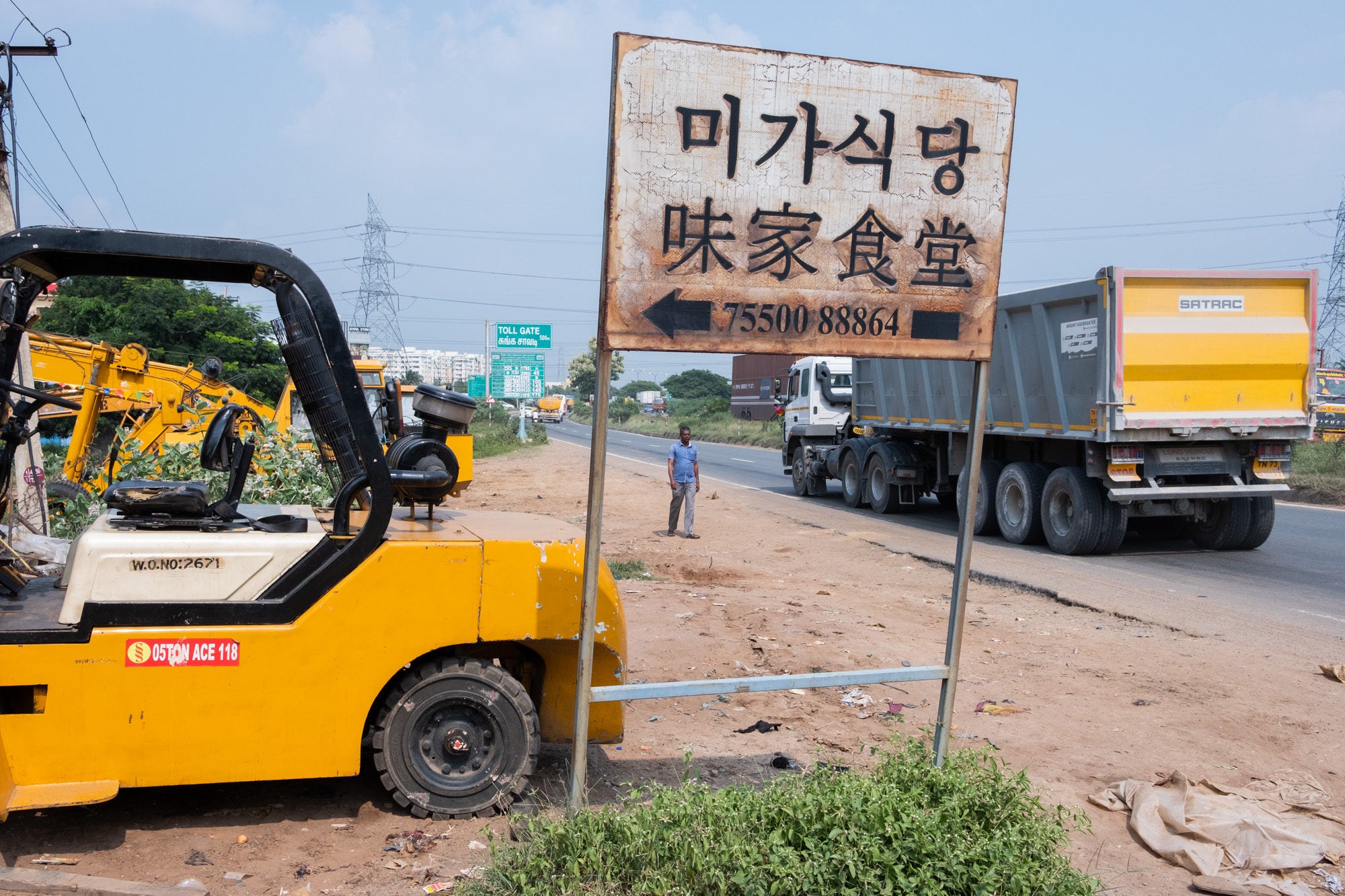 It's been 20 years since Koreans first came to India, so why is finding a good Korean meal there so difficult?
India opened its economic gates in 1991, finally allowing foreign direct investment in a country that was otherwise completely closed to the outside world—economically and culturally. Before this, we had one TV channel and two major conglomerates that sold us everything. Overnight, we were hurtled into the 20th century. We had The Simpsons, takeaway pizza, and fancy-ish cars.
Korean automaker Hyundai came to India in 1996, launching not just an Indian subsidiary of its company but a manufacturing unit that exported its cars out of India. The factory was built outside Chennai, a sleepy, South Indian coastal city in the state of Tamil Nadu. With an investment of over $3 billion, Hyundai is now the largest investor in the state. Along with Hyundai came Samsung, LG and its many vendor companies, banks, supermarkets, and of course restaurants.
Korean restaurants started springing up in the city a little over a decade ago, but there is still no knowing how many of them there really are. Most are hidden within unmarked buildings, some with just four or five tables, and their names can only be found on the Internet, in Hangul. To make it worse, there is no real Koreatown in Chennai. These aren't immigrants coming into a new country together, creating new lives. These are employees of multinational companies who live in the many upmarket apartments that exist around the city.
So I was intrigued when I found Cheong Ki Wa online. A Korean lady who lived in the same neighborhood as me had claimed the place had shut down, but there was a lone Google review posted just three weeks prior, and that seemed like it could be enough.
On a loud main road, full of traffic, around the corner from the Teynampet Metro and next door to an engineering college, almost two kilometers away from where it is marked on Google Maps, we finally came across an ugly-ornate wooden door, the restaurant's name emblazoned above. As we entered, a laughing (and obviously drunk) Korean man with a golf club slung over his shoulder brushed past us. We were ushered into a grimy, bare private room. There was the sound of glass shattering and laughter from the people (mostly men) in the room next door. It was only around 8 p.m., but clearly the party had already started. We settled into the vibe ourselves and got a bottle of soju. I wasn't complaining—it is a rare treat for two women to be out, having a drink in Chennai, without getting constantly eyeballed.
The banchan was laid out, and we ordered the kkotgetang. The crab curry arrived as a big, bright-red mess of deliciousness and soon we were a part of the big, red mess, too—the sauce was fiery and the crab sweet and in season.
When we finally stumbled out (soju in the heat and humidity of Chennai is not an experience you forget easily) onto the road, I was reminded of my first time in a Korean restaurant in Chennai, around 10 years ago, called InSeoul. I still remember the large, warehouse-size hall, loud and smoky, with steaming bowls of bibimbap and shirtless Koreans getting drunk. It seemed to be open (and full) at all hours of the day. It helped that it was the only place in the city one could eat a great meal, drink soju, then smoke a cigarette at the table (smoking indoors was rare then, and banned completely in 2018). It was a canteen for the many single Korean factory workers that lived in the city, but anyone could have a seat.
It was a world removed from that of the average vegetarian Tamil Brahmin (India's high-caste "priest" class) and Chennai's almost Prohibition-level alcohol laws. InSeoul eventually got busted and was shut down last year. The Koreans are more cautious now. Hyundai feeds its almost 3,000 Korean employees at its in-house canteen—every meal, every day. And no outsiders are allowed.
The sprawling 500-acre Hyundai factory sits a few kilometers outside Chennai, within a government-created SEZ (Special Economic Zone). These are specific geographical areas within which international factories get large tax breaks and can export goods out of the country directly from the zone.
The Hyundai canteen is run by Jo (he would not provide his last name), also the ex-owner of InSeoul. After a harrowing off-road drive through the SEZ, I pull up to his new restaurant to see Jo tending to his patch of chives and Korean corn outside.
Inside, his restaurant was already full of Korean men who had just gotten off work. His latest venture is a high-end space for Korean men from different companies to meet for a drink or a meal. The cozy interior, with black stone and tatami walls, contrasts sharply with the industrial disguise of the building outside—a steel gray corporate office with no signage, looming over his veggie patch.
Jo speaks English with a Tamil accent and knows the movers and shakers of the city. He has been here for more than 15 years. When he opened his first restaurant, Arirang, back in 2004, there were just two things on the menu: kimchi jjigae (kimchi stew) and doenjang jjigae (a hearty vegetable-and-meat stew with a fermented soya base), both staples of Korean cuisine. "We had 200 to 250 people coming in every day!" he laughs.
He has opened several restaurants since then. I asked him about InSeoul, and all he said was, "Its time had come." He did, however, tell me the story of his previous restaurant, a high-end Korean place that mostly catered to the Japanese expat community in the city. It was shut down a few months back by an Indian minister of parliament who claimed it made the area "too smelly."
The food is the best I'd had in a week of eating almost exclusively Korean food in Chennai. The ori bulgogi was a revelation, and I finally got proper perilla leaves with my bossam. This man obviously cares. "The rice is from North India, and the kimchi is made at the restaurant. I speak to the fishermen for their speciality of the day, and I always carry meat back in my luggage when I travel to Singapore or America. You know how difficult it is to get beef in India."
I do. Food recently got seriously political in India, when Prime Minister Modi's political party, BJP, banned the consumption of beef in the state of Maharashtra (a state on India's west coast that also contains Mumbai, our largest metropolis) last year. To top that, beef has looming religious connotations—Hindus don't eat beef, but Muslims do (and Muslims don't eat pork, but the Christians do). Even worse, our prime minister has never hidden his (far-right) Hindu background.
I had eaten at dining rooms in unassuming apartment buildings, shopped at supermarkets that sold products unapproved by the FSSAI (India's FDA), and called at least a dozen other Korean restaurants and businesses, none of whom were willing to talk to me or give me permission to take photographs. It can be difficult to navigate India's maze of food politics, and most Koreans would evidently rather avoid the trouble, cooking their food the best they can in shielded canteens and on quiet side streets.