Scenes From a Cricket Harvest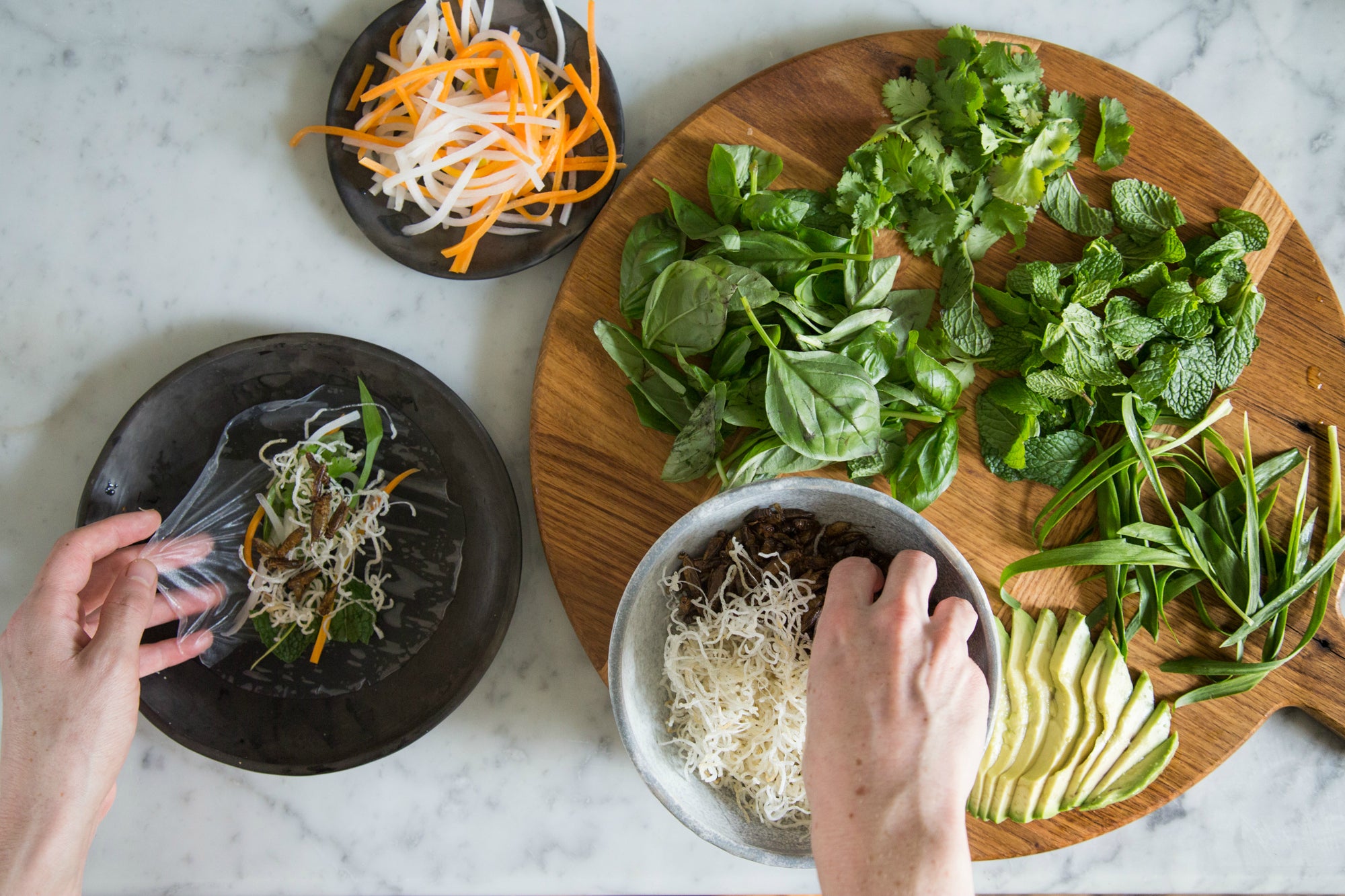 Eating insects is no longer a concept of the distant future. It's here! And bugs may soon be a pantry staple like olive oil and kosher salt.
Salad for President is the creative publishing project and Internet persona of chef and artist Julia Sherman. In 2014, Sherman created the first-ever MoMA PS1 Salad Garden, reimagining the museum's unused rooftop as a vegetable garden and performance space. A similar space was installed at the Getty museum in Los Angeles in 2015. And now there's a book, being published by Abrams Books in May. It's hands down one of the most original and smartly executed releases we've seen this year. Within the pages there are salad and vegetable-centric recipes, of course. And as they say, you should be eating more salad! So it's all good there.
But what brings the book alive is how Sherman sits with fellow artists to cook and talk about salad, but also their art—be it with Japanese ceramicist Yui Tsujimura, or musician and director Laurie Anderson, or photographer William Wegman. Everybody has something to say about salad—and also about their own unique spot in the creative universe. Here we asked Sherman to do what she does best: connect with an artist to bridge their creative passions with food.      
Artist Adam Brody is currently raising 1,000 crickets in his 450-square-foot Brooklyn apartment as a means of supporting his art and music practice, to increase his protein intake, and as a social experiment. In one of the stranger emails I've ever received, Brody invited me over to document the harvest of his very first crop of edible insects. In turn, I invited him over to my place to roast and eat them for lunch. Odd as this exchange might seem, this is not an entirely novel idea.
In today's U.S. marketplace, rarefied cricket products sit on the top shelf with other inflated food fads, sold as high-protein supplemental flour largely appealing to those members of the paleo set who are willing to pay anything to excel at their diet (cricket flour goes for $40 a pound). But Brody is exploring crickets' potential powerful impact on global food systems—they pack more protein per pound than beef, without the negative environmental impact. Set your squeamishness aside for a moment and hear me out. People have been eating insects since the dawn of time, and not for the shock value. This actually makes too much sense.
Brody's entire "farm" is housed inside a three-foot-wide plywood box that's nestled between his stove and the bathroom. I step inside his third-floor walk-up apartment, and the rhythmic chirping of crickets transports me to the middle of a country field. His living quarters are monkish, with nothing more than one or two paintings on the walls, a modest audio-recording setup, and big carboys of kombucha fermenting on the floor. The farm is the centerpiece of the home, and it is noticeably lo-fi. Beneath a gauzy mesh covering are unbleached egg crates stacked on a bed of vermiculite; plump little bugs are roosting within each cell.
Its contents are immaculate: Cricket poop is odorless, dry, and nearly invisible, and it's often packaged and sold as fertilizer. This makes sense, considering the creatures subsist on a virtuous diet of organic corn meal, oat bran, flax meal, sesame seeds, and dulse (on paper, this is all something I would happily snack on). On top of all that, they require very little water to survive—one of the many reasons why insects are considered a "future food."
I have arrived just in time for the momentous, if not a little somber, occasion of Brody's first harvest. Just two months earlier, this microfarm was seeded with the purchase of 500 baby crickets from Fluker Farms in Louisiana—an online purveyor of live reptile feed. Each female cricket lays between 100 and 300 eggs in her lifetime, so by this time they have laid thousands of eggs, multiplying Adam's holdings exponentially.
This was all part of his plan—for phase two of the project, he will relocate the unborn crickets to his friend's vacant basement, where a brand-new farm twice the size awaits. (That is as far as the expansion plans go, but Brody is in the market for additional rent-free real estate). Not entirely sure how to proceed, we clumsily corral hundreds of crickets into a 20-ounce glass jar using our bare hands. This procedure is not without runaways—a few nimble buggers pop out of the box and scurry under the fridge. Brody is shockingly undisturbed by the long-term implications of the escape, or maybe he is just anxious to get on with the task at hand: euthanasia by placing the jar in the freezer.
There is no doubt something creepy in the systematic killing of Brody's newfound pets, but compared to the slaughter of a farm-raised cow or pig, this process feels altogether progressive. There is no bloodshed, no fear of contamination or disease, no doubts about the sustainability of the task at hand.
Entomophagy, the eating of insects, is not new. In fact, it is practiced in 80 percent of the world's nations. Visit the state of Oaxaca in Mexico, the capital of delicious food, and you'll find heaps and piles of roasted crickets for sale at the local market. When I was last there, I tasted them ground up with spices and salt, sprinkled on just about anything, like Lawry's or Old Bay. In Thailand, I sat around a campfire with a group of cosmopolitan artists as they passed lightly charred grubs around for snacking (that's beetle larvae for the uninitiated).
Americans and Europeans are slow to the game, held back by cultural taboos that somehow classify entomophagy as primitive—while shrimp and lobster, the bottom-feeding bugs of the sea, are considered delicacies. But as Americans warm up to the concept, Brody fears we are missing the real opportunity in the product—not as a luxury supplement, but as a solution for world hunger and a sustainable source of everyday protein. Brody admits that the sight of bugs doesn't exactly make him salivate (especially the bugs he is raising), but as an artist and a thinker, he's interested in dismantling cultural taboos, beginning with his own eating habits and extending out into the world.
With all the conceptual and political reasoning duly noted, the only thing left to do was to eat. Back at my apartment, we season and slow-roast the bugs, letting them dry out and crisp up (they are said to retain the flavor of their last meal, which in this case was organic Granny Smith apples from the Park Slope Food Coop). We sprinkle them, fresh out of the oven, on a bed of herbs and vermicelli and roll them up tight in a rice-paper wrapper.
Our initial instinct is to hide them from view, tucking them into the center of the roll. They are nutty and savory, lending the right touch of crunch to each bite. After we taste our first roll, we push the crickets to the outside of the next ones so their little faces are visible. While I can't say I would choose the crickets over other protein options in the same dish, I can imagine how eating them would get easier with practice, until one day I wouldn't question it at all.
Having beta-tested the microfarm at home, Brody is now preparing for the Spring Sessions artist residency in Amman, Jordan, this fall, where he has been invited to set up a public cricket farm to coalesce with this year's theme: Utopia. He hopes to learn about Middle Eastern attitudes toward eating insects; though not currently eaten in this part of the world, grasshoppers (a close relative of the cricket) are specifically deemed halal in the Koran. Moreover, Jordan holds one of the greatest concentrations of Syrian refugees, and one has to wonder if crickets might hold a place in the future of humanitarian relief? While he doesn't imagine he can single-handedly reconfigure the refugee food-supply chain in a matter of months, it's exciting to think through the potential social and global impact of something so small and potentially delicious.
Brody is primarily a performance artist, but he has always balanced his music and artwork with a passion for living foods—fermentation projects are his number-one hobby. But like many of us (myself included), he wants to blur the lines between work and play in an effort to monetize his pastimes and enjoy his job as much as possible. So while the crickets might appear to be an arty experiment at first glance, he has an eye on the market—a cricket muffin company offered to buy his product via direct message just two days after he started the @bkcrickets Instagram account. At the moment, farm-raising crickets for consumption is not regulated by the USDA. Bottom line: It's anyone's game.