A Sandwich Queen Returns to Her Roots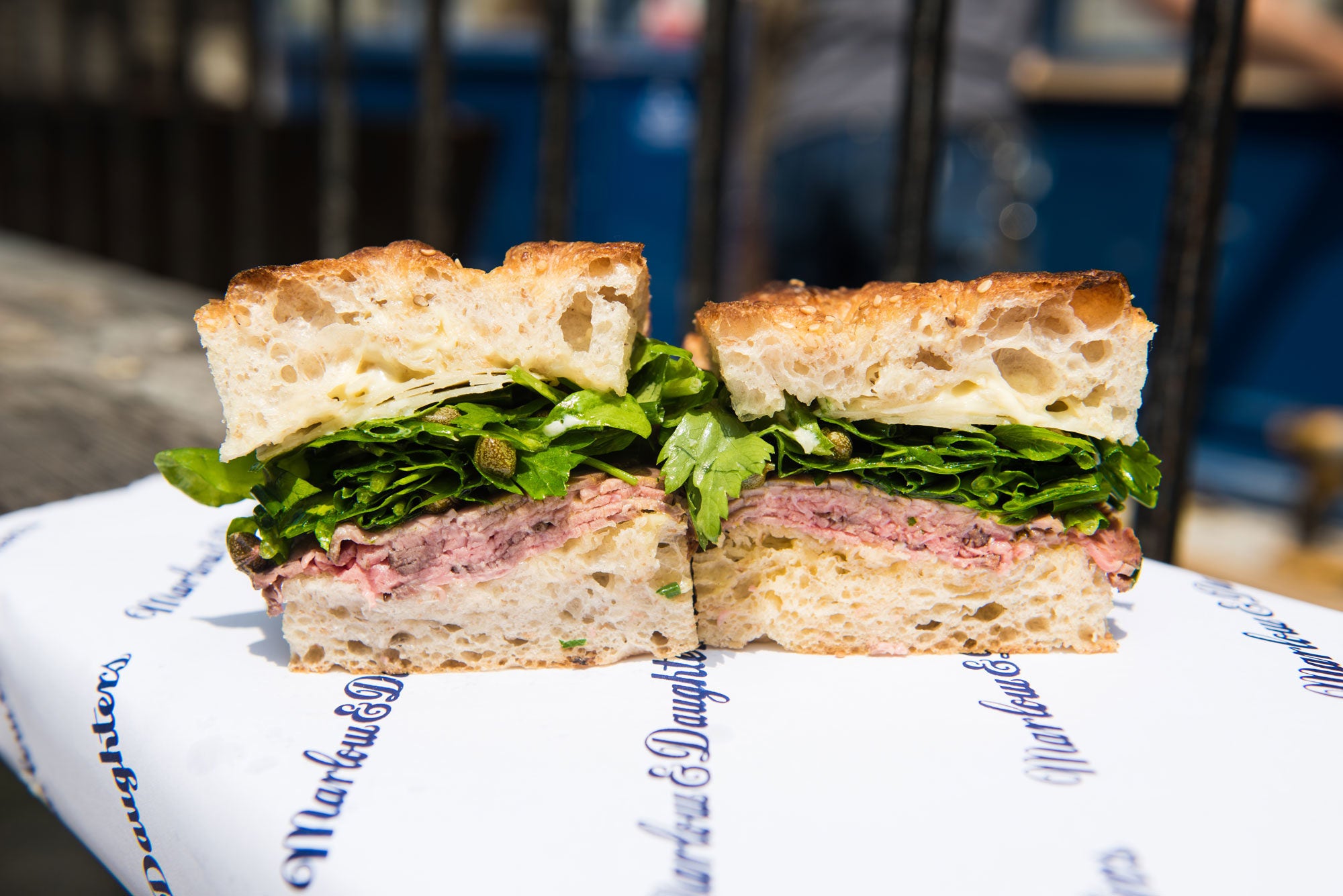 Saltie is still gone, but Caroline Fidanza hasn't gone anywhere.
There was once a tiny storefront in Brooklyn that made the best sandwiches in New York City. It was called Saltie, and I wasn't the only one who lined up for a bite—the sliver of a shop had a die-hard fan base and regularly appeared on best-of lists for their carefully composed and slightly oddball (sardines with pickled eggs and salsa verde) creations.
They were known for sandwiches like the Scuttlebutt, which involved hard-boiled eggs, feta cheese, crushed black olives, and a hefty handful of crunchy pickled vegetables and fresh herbs spilling out from an airy crag of aioli-smeared focaccia; and the Ship's Biscuit, featuring the most softly scrambled eggs and fresh ricotta on that same salt-studded Italian oil bread. Most Saltie sandwiches were vegetarian, though it wasn't dogma—silky chicken liver pâté and thin ribbons of smoked ham also had their place.
Saltie was a tightly run ship under the steady hand of its captain Caroline Fidanza, a veteran Brooklyn chef who had previously opened the now-mythic Williamsburg haunts Diner and Marlow & Sons with restaurateur Andrew Tarlow. The tiny storefront shop on Metropolitan Avenue was very much her baby, and when she decided to close it on the last day of 2017, it was with a simple note: "It's time to make a change and see what else there is to do out there. (Take comfort that it's not because of a rent hike.)"
An outpouring of support, and eulogies fit for a dead pop star, ensued. Tears were shed, though the silver lining was that the recipes lived on in the Saltie cookbook. Not long after, it was announced that Fidanza was rejoining Tarlow's Marlow Collective, this time as culinary director, overseeing menus at all six of his establishments—a homecoming of sorts.
Almost immediately, the question of whether Fidanza would bring Saltie back arose. But she demurred, instead reacquainting herself with the intricacies of her old restaurants, and the new ones that had opened in her nine-year absence from the group. She spent her days in the office, strategizing menus and business plans. Her responsibilities were less about day-to-day cooking and more about figuring out how to use food to bring new business to the collective.
And then, a few weeks ago, word trickled out that Fidanza's sandwiches were back. Not at a resuscitated Saltie (yet), but at Marlow & Daughters, a small butcher shop and market down the street from Marlow & Sons, the restaurant, and a 15-minute walk from the former Saltie grounds. People were curious: I got some version of an "omg wait is Saltie back?!?!" message three times in a week (I am not, for the record, the knower of all things Saltie, just a known fan and chronicler of Fidanza's moves). I wasn't exactly sure, so I went to see about a sandwich.
The short answer is this: No, Saltie is not back, but yes, Fidanza is making sandwiches again, sort of.
What that means is that she has, in her new role, developed a tight six-sandwich menu for the butcher shop, using the unique and extremely high-quality products that are already in-house. At Marlow & Daughters, those products are primarily meat, leading to a carnivorous menu of things like smoked ham with creamy tonnato, cornichon, provolone, and lightly dressed greens; roast beef with handmade mayonnaise, a roughly chopped herb and caper salsa, and thin slivers of Parmigiano; and a greaseless pan-fried schnitzel with cabbage slaw, all served on local bakery (and Marlow affiliate) She Wolf's focaccia.
There is, at the moment, no vegetarian option (though Fidanza is working on developing one) and nowhere to sit. Fidanza might be the one physically constructing your sandwich, but it's far from her main job—in fact, on the day I stopped by, she was training Tarlow's 18-year-old son on how to make aioli by hand so he could take over sandwich duties when she isn't there.
That said, the menu is unmistakably Fidanza. "Saltie always influences the way I make a menu," she says, sitting in the airy front-room café at Marlow & Sons on a break from the butcher shop. "That's my wheelhouse, so whether I'm even conscious of it or not, those flavors will always appear. All of these sandwiches have mayo and pickles on them, which was the basis for basically everything at Saltie. And I have so many more ideas—I could write a long, long list of sandwich menus," she says.
Which, of course, brings us to the question of whether Saltie as it is remembered will return in a new form, or perhaps be integrated into something that already exists. "I miss it, and I know other people miss it, so that makes it seem like something worth doing," she admits. "But that was a place and time and a group of people that feels very over, so I'm not sure if it makes sense to revive it in the same way. If I did something else, there would be elements of Saltie, but it wouldn't be relaunching," she says. Between the death of Saltie cofounder Rebecca Collerton last year and the ever-changing tastes of the neighborhood, Fidanza is in no rush to make major business decisions.
For now, she is content to manifest new sandwiches with existing materials, including this ultrathin, crispy schnitzel with celery-salt-enhanced slaw and creamy aioli. The technique can be used with pork or chicken, or even, in a nod to Saltie's plant-forward leanings, vegetables like eggplant or green tomatoes. "It's so easy to make—most people don't realize how highly achievable schnitzel is without a lot of technical experience," said Fidanza. "We could have done this at Saltie, for sure."