Sambal Oelek: Sriracha's Fiery First Cousin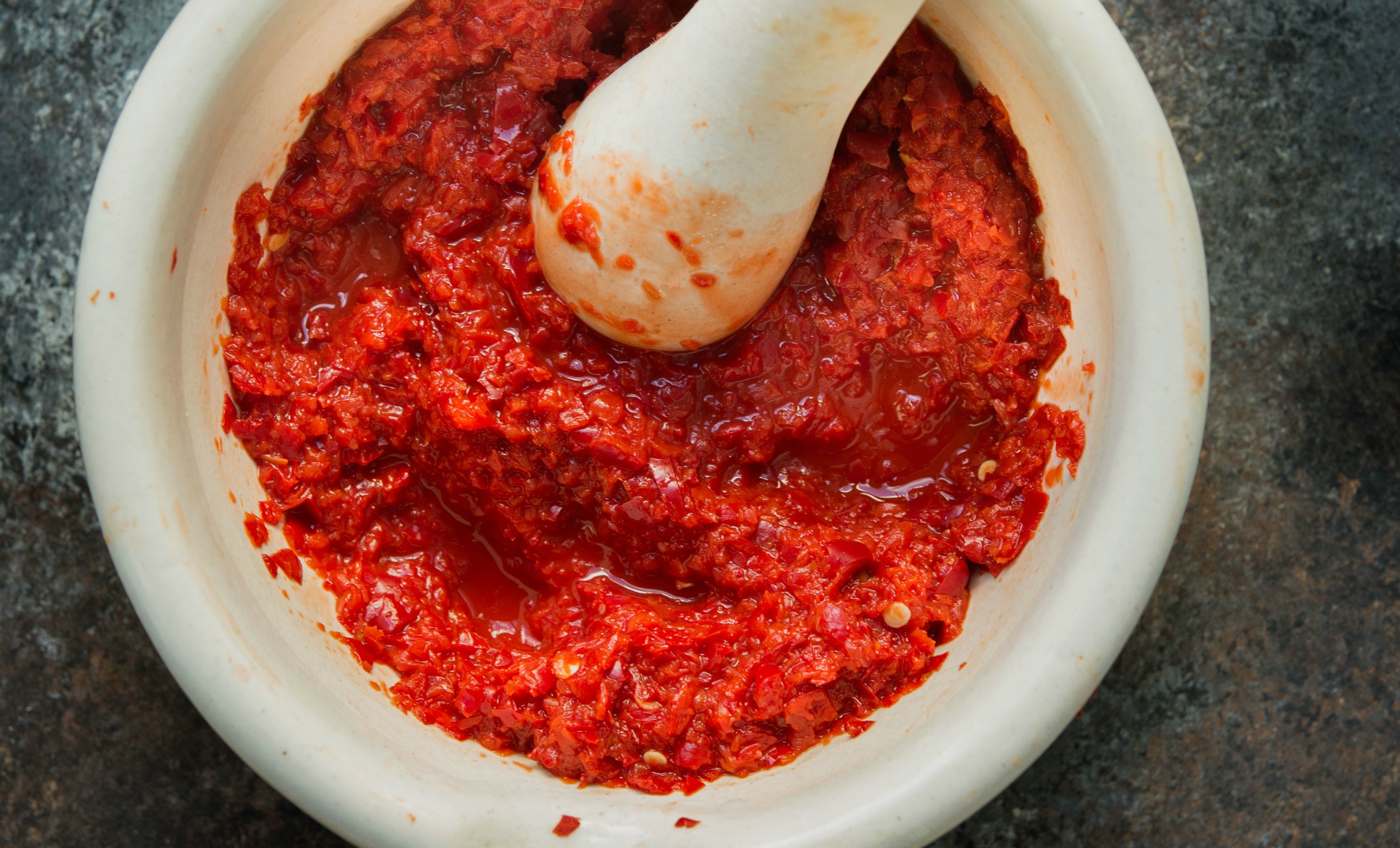 In Indonesia, sambal is served as a condiment with virtually every dish and meal.
Last year, I planted my first garden: one small raised bed in my tiny urban backyard. I planted one habanero plant (which produced enough chiles for several jars of hot sauce); one jalapeño plant (I waited for the chiles to turn red and smoked them to make chipotles); and two pimentos de Padrón plants—those small green peppers that are tapas-bar staples. I enjoyed Padrón peppers all summer long, simply pan-fried in olive oil and finished with coarse sea salt, and had space left over for eggplant and cucumber plants. Next summer, I'm devoting the entire raised bed to chiles.
I'm a chile addict, if you hadn't guessed already—just one of many chile pepper enthusiasts known as 'chile heads' or 'pepper heads' in some circles. A small but growing segment of the population that seek out the latest incendiary hot sauce, fiery salsa, or hottest chile known to man, which currently happens to be Smokin' Ed's Carolina Reaper, with 2,200,000 Scoville heat units (SHU). To put things into perspective, a habanero has only 100,000 to 350,000 SHU. You won't find me posting any crazy videos of eating ghost peppers on YouTube, but it's not all about the burn. Chiles have complex flavor profiles: There's a really nice inherent fruitiness to habaneros that complements their heat; there are smoky chipotles and earthy, raisiny ancho chiles. If you're one of us, you're always on the hunt for a new hot sauce or condiment. And one of the greatest, most dynamic ones around is sambal oelek.
These days, on grocery shelves, next to the ubiquitous Sriracha, you might find sambal oelek, in a small jar with a green lid. Manufactured by Huy Fong Foods, a big boy in the Sriracha trade, sambal is a spicy chile condiment widely used in Southeast Asia, particularly Indonesia, Malaysia, and Singapore, to add both heat and flavor to a dish. To be clear, there's nothing new about sambal; in fact, there is evidence that it was used back in ancient Javanese kingdoms. It just hasn't been on American radars, well, until pretty recently. This is sambal at its most basic: chiles and salt, pulverized into a sauce that's chunkier than Sriracha, without the garlic and sugar. "Oelek" refers to the Indonesian stone mortar and pestle used to grind the chiles into a paste. Distilled vinegar is sometimes added, as it acts as a natural preservative and provides a pleasant tang to counterbalance the heat.
Sambal oelek is just the tip of the sambal iceberg—one of the hundreds of sambal that exist throughout Indonesia, Malaysia, and Singapore. In addition to chiles (most commonly red Holland chiles, but cayenne or Fresno can also be used), sambal may include shallots, garlic, palm sugar, shrimp paste, fish sauce, lemongrass, kaffir lime juice, kaffir lime leaves, fruit such as green mangoes, tomatoes, or nuts. Some are cooked (matang), and some are raw (mentah).
In Indonesia, sambal is served as a condiment with virtually every dish and meal, such as grilled meats and fish, noodles, curries, stir-fries, and especially rice, to lend extra heat and depth of flavor. Some sambals are pure heat (like sambal oelek), some are fragrant (such as sambal matah, a Balinese sambal that includes floral lemongrass and kaffir lime leaves), and some are pungent (as in sambal belecan, which contains shrimp paste). Sambal matah pairs exceptionally well with grilled fish, meat, or chicken, whereas sambal belacan is typically served with rice or raw vegetables.
In Southeast Asia, sambal is an essential part of the cuisine. It is their answer to hot sauce, but it's more of a fiery, chile-based condiment, finely chopped or crushed in a mortar and pestle and, depending on the type of sambal, either added to dishes during cooking or served with the meal to add extra heat and flavor to dishes.
As someone who appreciates making things from scratch, I decided to head over to my local Asian market to stock up on ingredients to make sambal. For my homemade sambal, I pounded cayenne chiles, salt, water, and vinegar together in a mortar and pestle. My freshly made sambal had a bold, bright, liveliness to it; the store-bought variety was more subdued. The difference was like night and day—think jarred salsa versus freshly made salsa—though fresh sambal couldn't have been more simple to make.
Sambal Oelek
Makes 1 cup

To make your own sambal oelek, all you need are fresh long red chiles and salt (and, if you like, distilled vinegar, though it's not necessary). Traditionally, in Indonesia, cabe (chaw-bay) peppers are used to make sambal. They are most closely related in flavor to a cayenne or Holland chile—fairly hot (in the 30,000 to 50,000 SHU range) and sweet, but you can experiment with different chiles depending on what's available and your desired heat level. Fresno, red jalapeño chiles, cayenne, and Holland chiles are suitable alternatives. Fresnos tend to be milder, whereas cayenne and Holland chiles tend to be hotter, with red jalapeños falling somewhere in between. From there, it's just a matter of pounding by hand with a mortar and pestle, the traditional method, or pulsing in a food processor.
INGREDIENTS
1 pound red chiles, such as Fresno, red jalapeño, cayenne, Holland (or a combination)
2 teaspoons salt
2 tablespoons distilled vinegar (optional)
DIRECTIONS
1. Cut the stems off the chiles and halve them, lengthwise. Remove the center veins and seeds and discard. If you like more heat you can include some of the seeds. Roughly chop the chiles.
2. Pulse them in a food processor or pound with a mortar and pestle until they become a thick paste. You may need to add a tablespoon or two of water to encourage the chiles to form a paste. Season with salt and vinegar, if using. The sambal will keep for several weeks refrigerated in an airtight container.
Once you have sambal oelek, you can add it to just about everything: white rice or fried rice; scrambled, fried, or even deviled eggs; vegetable stir-fries; dressings or marinades; or just about any savory dish that needs an extra kick of heat. Here are just three easy ways to cook with sambal: 1) fried rice with sambal, 2) sweet and spicy sambal chicken wings, and 3) wok-fried cabbage with sambal.
Indonesian-Inspired Fried Rice With Sambal
Serves 4
The beauty of fried rice is that it is very adaptable and is the perfect vehicle for leftovers. Don't toss that leftover rice from last night's dinner: When leftover rice sits in the refrigerator, it dries out a bit, meaning it's more ideal to fry than freshly made rice. Have some leftover chicken in the fridge? Chop it up and add it to your fried rice. Vegetables you need to use up? Chop them up and add them to your fried rice, too. Last but not least, add sambal for a bit of heat. This fried rice dish is loosely based on an Indonesian (Javanese) rice dish called nasi goreng. It's delicious and simple, consisting of stir-fried rice with a zippy flavoring paste, spiced with sambal, and finished with kepac manis (a sweet Indonesian soy sauce). It's spicier and more assertive than your typical Chinese fried rice.
INGREDIENTS
4 tablespoons cooking oil (such as grapeseed or peanut)
3 eggs
Salt
3 scallions, sliced
3 garlic cloves, smashed to a paste with a microplane, garlic press, mortar and pestle, or side of a chef's knife
3 small shallots, finely grated with a microplane or box grater
1 to 2 tablespoons sambal, more or less to taste
3 cups cooked, day-old jasmine rice
1 to 1½ tablespoons kepac manis, Indonesian sweet soy sauce
For serving
Sliced cucumbers
Sliced tomatoes
Store-bought pickled vegetables
Store-bought crispy shallots
Sambal (optional)
DIRECTIONS
1. Heat the oil in a large wok over medium heat. When the oil is hot and shimmery, crack 1 egg into the wok. Season with a pinch of salt. When the egg whites just begin to turn brown and crispy (a minute or two), carefully turn the egg over with a spatula and cook another minute until the yolk is firmly set. Remove the egg and set aside. Remove all but 2 tablespoons of oil from the wok. Return the wok to the heat.
2. Whisk the remaining 2 eggs in a bowl. Add the eggs to the hot oil over medium heat and fry until scrambled, and then break up the cooked egg with your spatula. With your spatula, move the egg to the side of the wok. Add the scallions, garlic, and shallot and fry until soft, about 1 minute. Add the sambal and the rice. Stir to incorporate, and break up any clumps. Continue stirring constantly, taking care to make sure the rice doesn't burn. Stir and cook until the rice is heated through and coated with the oil, about 4 to 5 minutes. Add the soy sauce and continue stirring, another 30 seconds. Taste and season accordingly, adding more sambal or soy to taste.
3. Transfer the rice to a plate. Top with the reserved egg. Serve with sliced cucumber, sliced tomatoes, and pickled vegetables on the side of the plate. Top with crispy shallots. Serve with additional sambal, if you like.
Note: You can make your own kepac manis or sweetened soy sauce by combining ¼ cup soy sauce with ¼ cup molasses and 1 whole star anise in a small saucepan. Bring to a boil, decrease the heat, and simmer for a few minutes. Take off the heat, remove the star anise, and cool.
Sweet and Spicy Sambal Chicken Wings
Serves 6
Chicken wings doused in sticky, spicy sauce are classic. Honey and sambal are a winning combination; the mild heat of the sambal plays nicely with the sweetness of the honey. If you like your wings more fiery, you can always add more sambal. You can certainly grill or deep-fry your wings, but baking them is easier and less fussy. In order to achieve a nice crispy skin, I dry-brined the wings with salt and baking soda (a tip I learned from Alton Brown) overnight in the fridge. Dry-brining and air-chilling help to draw out moisture, resulting in crispy wings (nobody likes soggy wings). Baking soda, which is alkaline, raises the pH and improves browning capabilities.
INGREDIENTS
3 pounds chicken wings, separated into drumette and wingette, wing tips removed (freeze the wing tip for stock)
2 teaspoons baking soda
2 teaspoons salt
Sambal Sauce
7 tablespoons sambal, more or less to taste
6 tablespoons honey
1½ tablespoons soy sauce or tamari
2 tablespoons rice wine vinegar
2 teaspoons freshly grated ginger
2 teaspoons freshly grated garlic
½ teaspoon sesame oil
For serving
Chopped chives
Toasted sesame seeds
DIRECTIONS
1. Place a baking rack over a sheet pan. Wash the wings and pat them dry with paper towels. In a large bowl, toss the chicken wings with the baking soda and salt. Place the wings in a single layer on the baking rack. Rest, uncovered in the refrigerator, overnight.
2. Preheat the oven to 425°F. Remove the chicken wings from the refrigerator and let them come to room temperature as your oven is preheating.
3. Place the wings in the oven and cook for 20 minutes, flip, and cook an additional 20 minutes.
4. While the wings are baking, make the sambal sauce. Mix all ingredients for the sambal sauce in a bowl. Transfer to a small saucepan. Bring to a boil, then reduce the heat to a simmer. Cook, stirring until it thickens, about 3 minutes.
5. When the wings are done, remove them from the oven and place them in a large bowl and toss with two thirds of the sambal sauce to coat.
6. Transfer the wings to a serving plate, and spoon some more sauce on top of the wings. To serve, top with chopped chives and toasted sesame seeds.
Wok-Fried Cabbage With Sambal
Adding sambal to just about any stir-fried vegetable transforms it from dull to exciting. Mix the sambal with a bit of soy sauce and sugar, and the resulting subtly sweet, salty, and spicy combination pairs decidedly well with cabbage and elevates nondescript cabbage to something incredibly flavorful. I like to top the cabbage with roasted peanuts or sesame seeds for added crunch.
INGREDIENTS
1 to 1½ tablespoons sambal, more or less to taste
1½ tablespoons soy sauce or tamari
2 teaspoons brown or coconut sugar
1 teaspoon rice wine vinegar
1 tablespoon oil (such as coconut or peanut)
2 garlic cloves, minced
½ medium head green cabbage (about 4 loosely packed cups), very thinly sliced
1 carrot, peeled and cut into matchsticks
2 scallions, thinly sliced
Dry-roasted peanuts or sesame seeds, for garnish
Cilantro leaves, for garnish
DIRECTIONS
1. Combine the sambal, soy sauce or tamari, sugar, and vinegar in a bowl. Whisk to combine.
2. Heat a wok over medium-high heat. Add the oil. Add the garlic and cook 30 seconds.
3. Turn the heat up to high. Add the cabbage, carrot, and scallions. Stir-fry a minute or two, until tender-crisp. Add the sambal-soy mixture. Continue to cook, stirring, until the cabbage is wilted but still a bit crunchy, another 2 to 3 minutes.
4. Transfer to a bowl. Garnish with peanuts or sesame seeds, and cilantro.