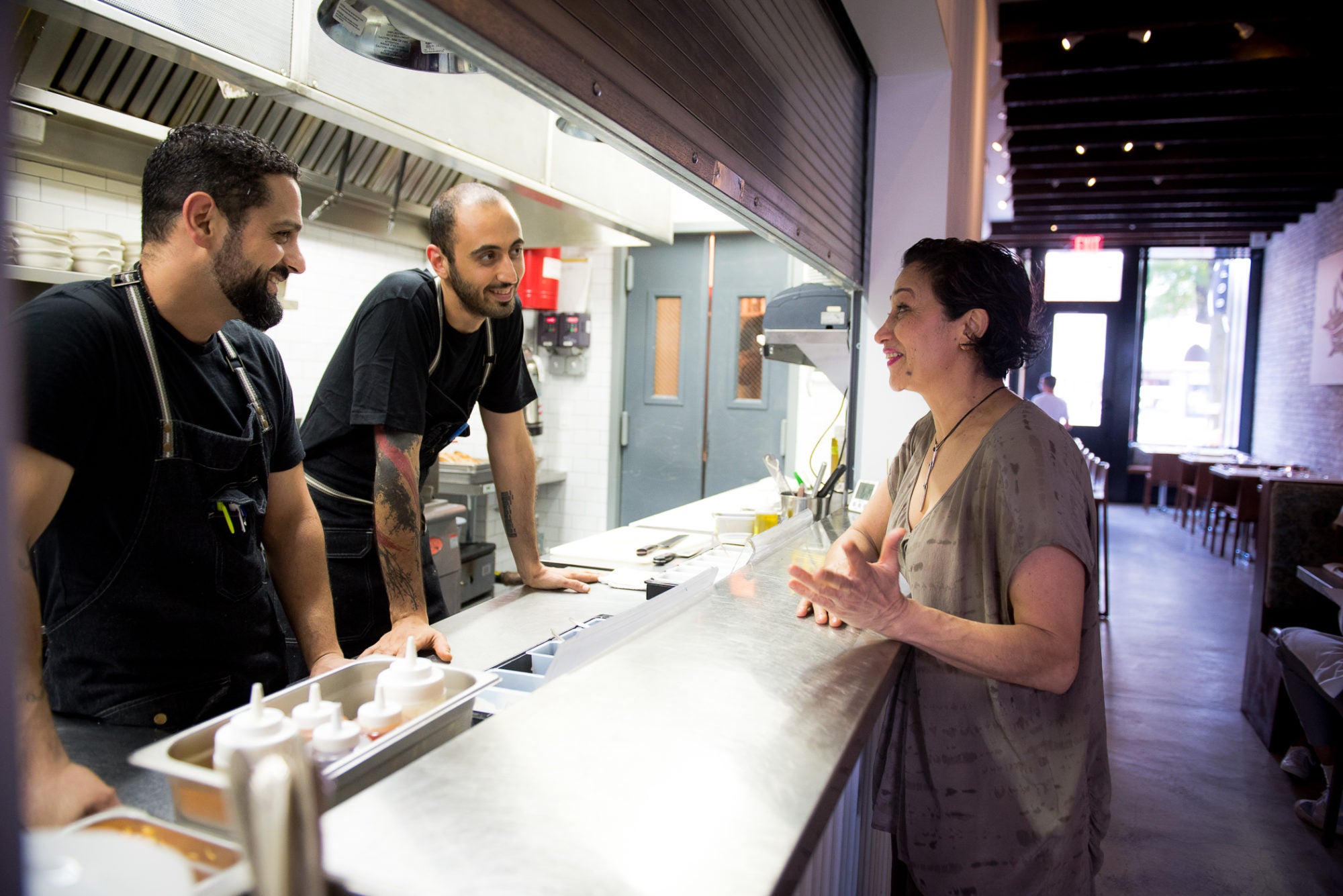 At new Prospect Heights restaurant Sofreh, owner Nasim Alikhani is cooking with the Persian flavors and flair of her home kitchen.
Chicken tends to be a good litmus test for someone's cooking skills. It's easy to catch eyes with buttery sea bass or crispy pork belly, but if a chef or a home cook can turn the oft-neglected, easily overcooked chicken into a juicy, tender, flavorful, must-have dish, it's usually a sign that there's some creativity and resourcefulness at play. At Sofreh, Nasim Alikhani's recently opened Persian restaurant on a leafy side street in Brooklyn's Prospect Heights neighborhood, it's pretty much impossible to find a boring, lifeless dish, chicken included, thanks to Alikhani's use of a bright plum sauce studded with barberry, turmeric, cinnamon, and saffron—classic Iranian flavors that seem to make a chicken sing.
While good Persian restaurants are a dime a dozen in Los Angeles (home to Iran's largest ex-pat community), only a few New York counterparts exist, serving mostly kebabs made from saffron-spiced ground beef, lamb, or chicken cooked on a grill in Manhattan and Long Island. Enter Sofreh, 59-year-old Alikhani's dream restaurant decades in the making.
As I sit in the welcoming but minimalist space waiting for Alikhani to emerge, saffron-tinged scents come from the kitchen. I recall my meal here in July, just a few weeks after Sofreh opened. My family and I feasted on the traditional Iranian dishes that Alikhani has transformed into upscale-restaurant fare: a spread made from eggplant, caramelized onions, walnuts, yogurt, and mint oil served with house-made flatbread; a pleasingly sour "ash" stew with whole wheat noodles, lentils, and cured yogurt; a spicy beef-and-potato patty in walnut pomegranate sauce; perfectly cooked saffron rice; and of course the half chicken served with a Persian plum and saffron sauce.
I take in the concrete gray tables and walnut chairs, the calligraphy carved into the plaster walls by Alikhani's husband, Theodore Petroulas, and the white arches behind the bar that recall Iran's Persian architecture. The downstairs bathroom is entirely covered with 1970s-era Iranian movie posters, the meticulous work of Alikhani's best friend, Rozhia Tabnak—the woman responsible for Sofreh's sleek design. She lives above the restaurant, while Alikhani's brother occupies the top floor (Alikhani and her family live in Manhattan). Alikhani and Petroulas bought the building six years ago after she first noticed it when dropping her nephew off at a nearby daycare. It wasn't for sale yet, but she waited patiently until it was.
When Alikhani emerges, we chat about her life and how food has always been central to it. Growing up in a middle-class family in Isfahan—Iran's third-largest city—she was indoctrinated at a young age to the idea of making everything from scratch by watching and helping her mother and aunts do everything from picking sour grapes to making ab-ghooreh (verjuice) out of them. Things at her restaurant are no different. She pickles all of the eggplants, carrots, broccoli, and cauliflower herself, makes her own carrot jam for the yogurt parfait dessert, and turns saffron, rosewater, and barberry into syrups that bring her drinks and desserts to life.
"Back then, 50, 60 years ago, there was no, like, even tomato paste—everyone would do their own stuff," recalls Alikhani. "And my mother, a teacher, would work tirelessly the entire summer to prepare all her pickles, all her jams—even lemon juice, lime juice—it was insane. My aunts were the same; my grandmothers were the same. I grew up around people who just were passionate about home-cooking food. Food was everything."
Alikhani's morning routine reflects this part of her upbringing. "I'm in the kitchen before anybody comes. I need an hour to myself," she says. "I just sit and reflect on the day, talk to the old ladies in my family in my mind, I meditate a little bit, and then by 9 a.m. I start cooking the sauces and other things that are on the list for me."
But she's also learned to let go. She discovered that while she's an excellent home cook and caterer, she's not good at working the line—being stuck in the kitchen while guests are seated in the restaurant. So she hired two experienced chefs, Ali Saboor and Soroosh Golbabae. Each day before service begins, she exits the kitchen to take a quick shower upstairs and returns in time to warmly greet her guests, welcoming them to her de facto home.
When I ask her about her chicken with plums and barberries, she insists that the recipe is not original. She takes a standard recipe, like a comforting chicken dish from her hometown of Isfahan that she knew had to be on the menu—a dish she grew up eating and one that her kids love—and updated it. In the more traditional version of the dish, the chicken is cooked in a pot together with a sauce of chicken stock, chopped onion, tomato paste, tomato, dried whole plums, barberry, turmeric, cinnamon, saffron, bay leaf, and other spices—all classic Iranian flavors. But Saboor suggested a change. "He ordered a beautiful Bell & Evans chicken, deboned it, marinated it in lemon juice, olive oil, turmeric, and saffron, and cooked it on a grill with a crispy skin," says Alikhani, who was impressed with his innovation. At Sofreh, the sauce is prepared separately without barberries and poured on top of the grilled chicken, and fresh barberries—sour berries native to parts of Europe, North Africa, the Middle East, and Asia that are a cornerstone ingredient of Iranian cooking—are used as a garnish.
Another favorite-with-an-update is the smoked eggplant, a dish from Northern Iran that is typically prepared with eggs broken into the sauce. "I never liked this—too tough for my taste—and the egg absorbs all the sauce and then you don't taste the egg," says Alikhani. "Egg is delicious. Egg is my number one meal. So we decided to use poached eggs on top instead, and we garnish it with a little bit of chile oil. It adds a little kick to it."
Alikhani has come a long way from her first few years in New York, where she arrived in 1983 after leaving law school in Tehran after the Revolution. "I did everything from babysitting to waitressing to working in the library of a university."
Her entrance into the world of cooking came when she started babysitting for a wealthy Iranian family. "The kids were eating food from a jar—I had never seen this; I could not believe it. Chef Boyardee. When I saw it for the first time, the smell of it would turn my stomach." Taking matters into her own hands, she began cooking rice and lentils for the children—all she knew how to do at the time. Before long, the children's mother asked her to cook more and more. "So I started calling my mother, getting more sophisticated recipes," she recalls.
As her own kids grew, she accepted catering jobs and took cooking classes, preparing for the next phase of her life when her girls would leave home and she could finally realize her dream. Despite her doubts, and the knowledge that few restaurants succeed ("My husband was in finance, so he knows"), Alikhani and Petroulas pushed forward, searching for years until they found the proper spot to share her passion for the one thing that has remained constant throughout her life.
Her mother, who continues to live in Iran at age 80, thought she was crazy when she told her about the plan to open a restaurant. "She jokingly said, 'Is everything OK with your marriage? What's wrong? A restaurant is hard work!' It was out of concern," says Alikhani. "But then she came here a few months ago, and she saw how I work hard but how much I'm loving it. So she's extremely supportive, and now she's very proud." She even follows the restaurant's progress on Instagram via Alikhani's cousins, who share the posts with her.
"Food is such cornerstone for me and all the women in my family," says Alikhani. "Food is everything."